Experts say isolation during pandemic can exacerbate eating disorder symptoms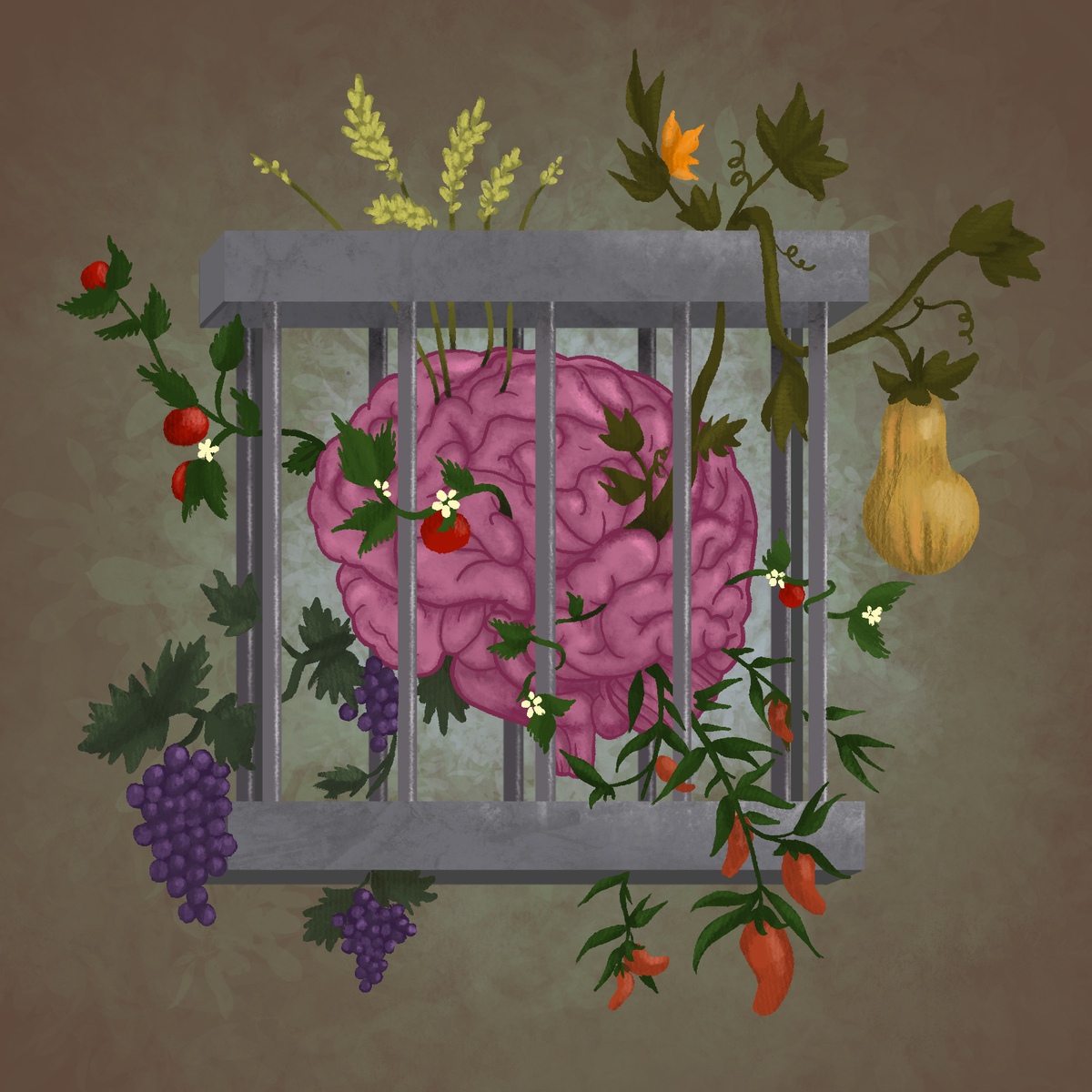 (Cat Nordstrom/Daily Bruin)
Editor's note: If you or someone you know may have an eating disorder, consultation is available from the UCLA Eating Disorders Program by calling (310) 825-5730 or visiting nationaleatingdisorders.org for more resources.
Beyond just isolating people in their homes with ease of access to food, mirrors and scales, COVID-19 has left students with eating disorders isolated from resources as well.
Amid the stress of social isolation, disruption to daily routine and a surge of dieting and weight loss videos online, the number of people reporting symptoms of eating disorders has increased due to the pandemic. The feeling of loss of control fostered by COVID-19 can leave those who have experience with eating disorders seeking control elsewhere – oftentimes by restricting, bingeing or purging their diets, said Paula Edwards-Gayfield, the assistant vice president at The Renfrew Center, a treatment center for people with eating disorders.
A study published in the "Journal of Eating Disorders" revealed that nearly 9 out of 10 people with eating disorders said their symptoms have worsened since quarantine started.
"One of the ways that The Renfrew Center conceptualizes eating disorders is that they're disorders of disconnection, as well as they can be emotionally driven," Edwards-Gayfield said. "During this pandemic time, I would say it's absolutely an emotional moment in our lives now that there is this uncertainty around (COVID-19) and the emotions of being socially distanced – we are social beings."
College students comprise the most affected age demographic of those with mental illness. According to data collected by the National Center for Health Statistics, people ages 18 to 29 have been experiencing symptoms of anxiety and depression at the highest rate compared to other age groups since the pandemic began. In September alone, around 50% of young adults reported experiencing either anxious or depressive symptoms.
[Related: Peer support app Unmasked aims to foster community through anonymity]
As a result, Dr. Danyale McCurdy-McKinnon, the clinical psychology director of the UCLA Fit for Healthy Weight Clinic, said she was inundated with patients once COVID-19 hit. She said many patients who had been in recovery or recovered for years relapsed and returned – leaving her unable to keep up with the demand. She cites the lack of support systems for students as the leading factor in the exacerbation of disordered eating habits. Amplifying the stress of seclusion and uncertainty about the virus, McCurdy-McKinnon said anxiety and depression are also on the rise – two diagnoses that can be comorbid with eating disorders.
"The age of prevalence of eating disorders peaks around late adolescence and early adulthood, which is a time of life where your social network and your peers mean the most to you," McCurdy-McKinnon said. "So having that taken away can be really hard psychologically."
To fill the void left by decreased in-person social interaction, many students have turned to social media. However, there is a notable fixation with weight online. Hashtags such as #weightloss garner more than 11 billion views on TikTok and more than 68 million posts on Instagram are dedicated to documenting people's diets. This bombardment of dieting and weight loss messages makes this substitution for a support system counterproductive, said Dr. Meghan Jain, a staff psychiatrist at The Renfrew Center in Los Angeles. For students who have a history of eating disorders or body image insecurity, promoting content that glorifies a culture of dieting can catalyze a downward spiral of thoughts – thoughts surrounding caloric intake, the nutritional value of food and body image, she said.
Thus, McCurdy-McKinnon deems this spiral the "compare and despair phenomenon," wherein people automatically feel inadequate compared to the unrealistic and idealized versions of others' online lifestyles.
These messages are often hidden in plain sight as people sometimes promote restrictive diets under the guise of clean eating, which can be misleading and breed fear and anxiety around food, McCurdy-McKinnon said. In reality, these supposed clean diets often restrict a majority of food groups, encouraging a dangerous and inflexible diet mentality. Edwards-Gayfield warns even jokes intended to be harmless such as the "Quarantine 15" – referencing the weight gained during quarantine – can be damaging because of its fatphobic roots.
"Those jokes reinforce the belief that if you are fat, or gaining weight, that something is wrong with you, and it's inherently a bad thing," Edwards-Gayfield said.
Other ramifications of the pandemic include the volatility of food insecurity. As a result of panic buying in fear of food shortages, the combination of empty supermarket shelves and a full pantry at home potentially leaves students with a history of eating disorders in a distressing environment, McCurdy-McKinnon said. For individuals with binge eating behaviors, she said working from home and being perpetually surrounded by food puts them in a vulnerable position – the brink of relapse. On the opposite end of the spectrum, she said individuals with restrictive eating behaviors were anxious about the scarcity of "healthy foods" – greatly limiting their options as to what they feel comfortable eating.
[Related: Students face mental health challenges in wake of pandemic, protests]
Although the conditions mandated by quarantine can compel students to feel hopeless, McCurdy-McKinnon offers a silver lining.
"If there's a positive thing that has come out of the pandemic, it's easier access to mental health care," McCurdy-McKinnon said.
Treatment options such as virtual therapy or outpatient programs not only entail more flexibility around college students' busy schedules but can also feel less intimidating for students who might feel embarrassed or hesitant to ask for guidance, according to McCurdy-McKinnon. By helping eliminate the stigmatized barrier surrounding treatment, Jain said online services are crucial in supporting students during this unprecedented time.
"The hardest part is that initial phone call, but in the meantime, it's helpful to just give yourself a lot of grace," Jain said. "Realize that this is a lifestyle, we're all going to eat every day for the rest of our lives — so have compassion for yourself."