'Gemini Man' effects team innovates new film technology to digitize character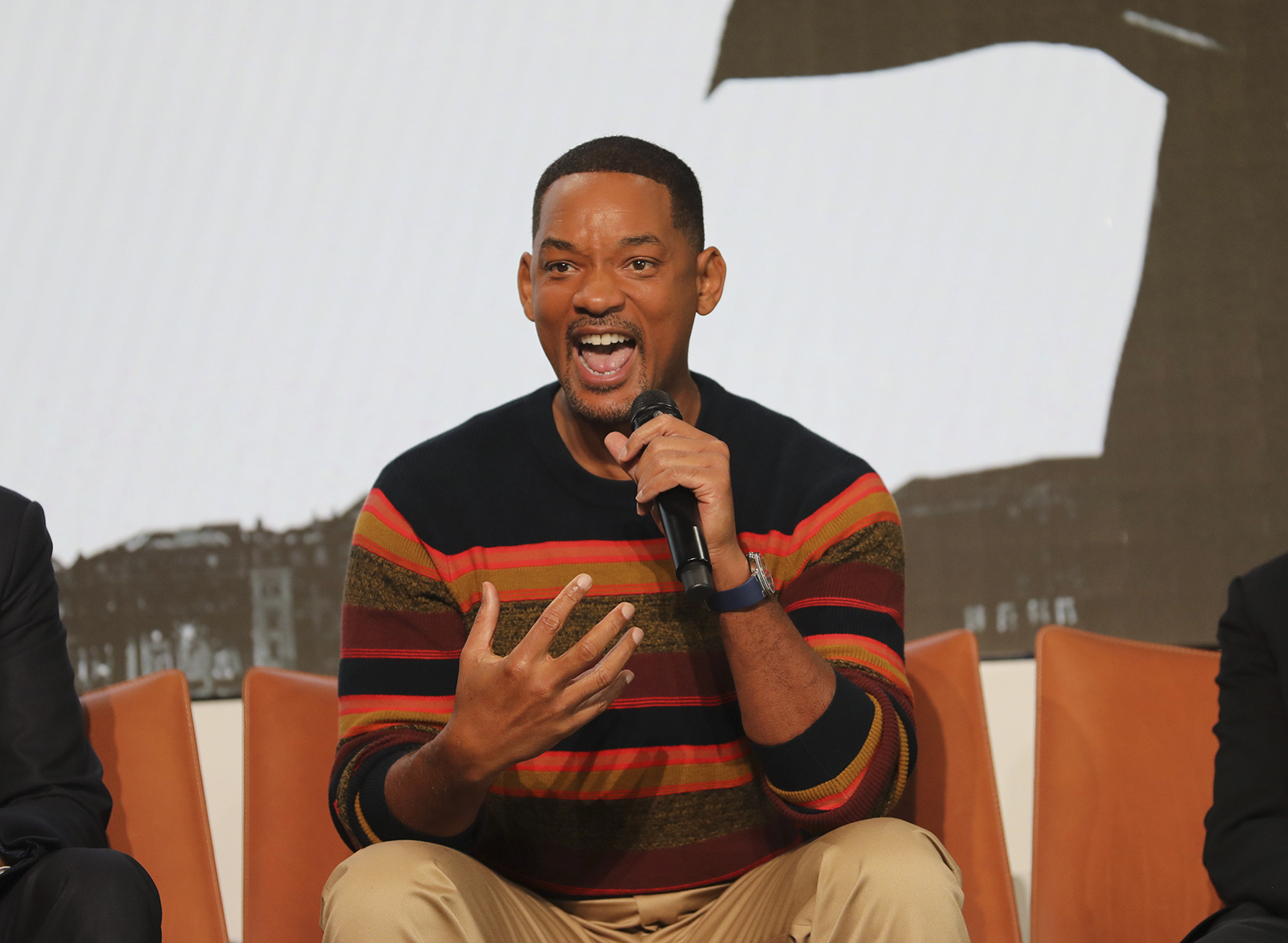 Will Smith stars as both Henry Brogan and Junior in Paramount's newest release, "Gemini Man." Smith sat alongside Ang Lee, Jerry Bruckheimer, Clive Owen, Bill Westenhofer and Guy Williams in a press conference panel discussing the technologically innovative film. (Photo by Ariana Saigh)
Director Ang Lee said he set out to create a digital Will Smith in "Gemini Man" that would be as realistic as the tiger in "Life of Pi."
"Gemini Man," Paramount Pictures' newest release, hit theaters Friday following a press conference Oct. 4 at YouTube Space LA. Lee sat in a panel alongside Smith, Jerry Bruckheimer, Clive Owen, Bill Westenhofer and Guy Williams, discussing their involvement in the film. Bruckheimer, one of the producers, said they had been working on this film for over 10 years, but up to this point the technology had not caught up with the writers' creativity.
But rather than wait on technology, Lee, Weta Digital visual effects supervisor Williams and visual effects supervisor Westenhofer collaborated to create the technology themselves, Bruckheimer said. What resulted was a film that captivated Smith in its philosophical underpinnings.
"I loved the idea that we all plant the seeds of our own destruction," Smith said. "We are our own worst enemies. I thought 'Gemini Man' was a really clever and creative way to say that we are the architects of our ultimate rise or fall."
[Related: How motion capture technology shaped characters in 'Avengers: Infinity War']
When Lee was first introduced to the concept of "Gemini Man," he said he was particularly intrigued by the character of Junior – a clone of Smith's character Henry's younger self – because of the existential questions the character raises. When Henry confronts his younger self, Lee said audiences are left to consider whether or not humans are simply the product of their genetic makeup.
"It's mind-boggling, the study into the science of aging and our structure and how our emotion connects with every tissue in our body," Lee said.
Beyond philosophy, Lee said he was also intrigued by the film's heavy technological components. After spearheading special effects-heavy films like "Hulk" in 2003 and "Life of Pi" in 2012, Lee said he knew it would be difficult – but ultimately possible – to create a believable clone of Smith for the big screen. While other films have experimented with de-aging – or digitally editing an actor's face – Smith said Junior is the first fully digital recreation of another human.
And despite his efforts as an actor, Smith also had an entire team of digital help in recreating his younger self. Williams said the effects team first created a digital replica of Smith as he is today, and then technologically de-aged it to create Junior. By first creating a digital interpretation of the older Smith, Williams said the stuntmen in action scenes were able to get closer to the camera, since the special effects team would later replace them with the digital Smith.
[Related: Second Take: Failure of 'Alita: Battle Angel' shows that costly CGI can't save a bad film]
Although many films have toyed around with incorporating digital humans into stunt work, Williams said technology had not yet broken the barrier between that and fully realized digital humans. But "Gemini Man" – the entire premise of which revolves around a clone – provided the opportunity to bridge that gap, he said.
"What we needed was … the commitment not just to have a couple of shots where you want to have a guy falling off a building, but to truly have a digital human standing in front of the camera, acting and resonating with the audience, delivering the lines and serving the story," Williams said.
And while Junior breaks the technological barrier, Smith still acted out all of his scenes, giving the special effects team something to base Junior's movements on. Smith said he and Lee watched clips from "Men in Black," "The Fresh Prince of Bel-Air" and "Independence Day" to help Smith embody the youthful innocence and authenticity of his past performances.
"There's an honesty before you actually learn where the light is, and before you learn where to stand and what makes people clap for movie stars in the theater," Smith said. "It's really difficult to recapture that not knowing."
But Bruckheimer said the film has more to offer than the digital technology used to create Junior. The film was shot at a high frame rate of 120 frames per second, which Bruckheimer said creates a much clearer image than moviegoers are used to seeing. Smith said such a high frame rate resulted in a picture so clear that makeup was visible on the actors' faces in the raw footage, which meant they had to shoot their scenes barefaced.
And as film slowly transitions to a more digital medium, Smith said he's also noticing a transformation in himself as an actor and as a person. He said he's noticed a shift from his younger mindset of trying to be the best to his current goal of trying to give back. Press conferences like the one for "Gemini Man" are opportunities for outreach to the next generation of artists and filmmakers, he said.
"In my younger days, it was ambition," Smith said. "I wanted to win, I wanted to put points on the board. Now I'm kind of growing into the position in my life where the main question that I ask myself before I do anything is, 'How is this of service to the human family?'"