Second Take: With 'Old Town Road' the memes have won, but music quality has lost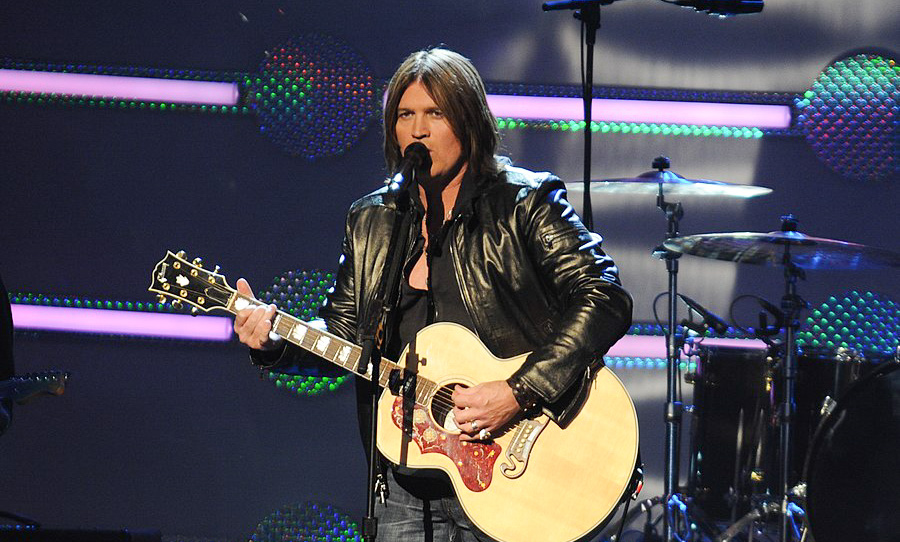 Billy Ray Cyrus collaborated with Lil Nas X on "Old Town Road," a country rap song that's become a viral chart topper. However, the increase in such meme-based songs might lead to an overall decline in musical quality, argues Deirdre Klena. (Creative Commons photo by Mass Communication Specialist 1st Class Mark O'Donald via Wikimedia Commons)
Collaborations can do a lot for a track. For some artists, they add credibility; for others, diversity. For Lil Nas X, it created a record-breaking cultural phenomenon.
Currently in its sixth week at No. 1 on the Billboard Hot 100, "Old Town Road" by Lil Nas X featuring Billy Ray Cyrus broke the one-week streaming record – previously held by Drake – with 143 million U.S. streams. At a time when collaborations between artists have been exploding – Post Malone and Swae Lee's "Sunflower" or the Justin Bieber-Ed Sheeran collab "I Don't Care," to name a few – "Old Town Road" takes the prize for most culturally relevant.
But being honest, "Old Town Road" is boring. It's not particularly outstanding in any way. It uses a simple trap beat with a slight twang overlay, which sounds like it could've been made on GarageBand by an amateur producer. The lyrics are amusing given the context – it's hard not to crack a smile at "I got the horses in the back"– but even the humor isn't that memorable.
The collaboration was perhaps unexpected, but the shock of a 20-year-old rapper teaming up with a 57-year-old '90s country star should've worn off by now. And Cyrus' triumphant return to music could be the cause behind the song's popularity, but other collaborations have also included artists involved with comebacks, such as Brendon Urie on Taylor Swift's "ME!" or Eminem on Logic's "Homicide," and these didn't garner nearly as much pop culture fame. The genre of commercialized, meme-able music that "Old Town Road" falls into is an increasingly popular and lucrative brand that arguably corresponds with a general decline in musical quality.
[RELATED: Second Take: Ariana Grande's new music video walks fine line between self-love and queerbaiting]
The popularity of "Old Town Road" is not a naturally occurring event. It was crafted by its creator, Lil Nas X. The rapper is skilled in creating online content primed to go viral, evidenced in the self-promoting techniques he used to advertise the single's initial SoundCloud release. Using clips from "Red Dead Redemption 2" and capitalizing on the growing interest in the black cowboy aesthetic of the "yeehaw agenda," Lil Nas X promoted his single as a dance challenge appearing on Instagram and the increasingly popular TikTok app.
Even now, the artist is ensuring relevance through incessant tweets – sometimes about the song, but often in connection to other culturally relevant topics like the Met Gala or Ellen DeGeneres. At times it feels like Lil Nas X's Twitter exists solely to create content that could become a meme.
The "yeehaw agenda" is just another culturally relevant topic Lil Nas X has chosen to focus on. "Old Town Road" did not always have Cyrus' star power and southern drawl – it took on new life when Cyrus agreed to the feature. The song had already received attention by the press and the public when it was removed from the Billboard country music chart, thus sparking a controversy regarding race in the predominantly white genre.
Originally a one-minute-53-second song with a borrowed beat from a Dutch producer, "Old Town Road" has now reached nearly unprecedented popularity. It also secured Lil Nas X a deal with Columbia Records – his average rapping and amateur meme-making skills seemed to have paid off.
The popularity of "Old Town Road" is an indicator of the direction popular music is going. Obviously, not all musicians are interested in making meme-able music. However, it seems there has been a recent increase in songs created with the intention to garner Internet attention. Kanye West has been a particularly potent figure in this trend. In April 2018, West released "Lift Yourself," a song that ended with the memorable catalog of words that rhyme with "poop." Then, later in the year, he released the collaboration with Lil Pump – a meme in his own right – "I Love It," which had an equally meme-inducing music video. Who could forget the two rappers dressed as lego-like men and the wildly offensive and derogatory lyrics?
[RELATED: Second Take: Kanye cannot back away from his political havoc with one tweet]
But the growth of meme-based music has, arguably, corresponded to a general decline in musical quality. The comedic commercialization of popular music tolerates a general pattern that creates songs that all sound similar. Further, it creates songs that generally demonstrate little musical ingenuity and diversity. Instead, artists follow a single prescription that makes a variety of songs that, ultimately, show little variety. One could be substituted for another at any time. Take, for example, any two songs classified as "SoundCloud rap." For the most part, it's all just midgrade trap beats and mildly amusing lyrics about money and girls.
It would be cynical to say that the future of music is doomed to be nothing more than a never-ending loop of internet rappers making goofy soundtracks to TikTok videos. To be sure, sometimes it's fun to listen to these internet-influenced tracks – ask any of UCLA's fraternities. Moreover, there is still a viable and lively community of artists who are still striving to create new, exciting music. But it is undeniable that there is a growth of songs made to be hits on Twitter rather than on Spotify.