Second Take: 'Spider-Man: Into the Spider-Verse' adds much-needed diversity to Marvel franchise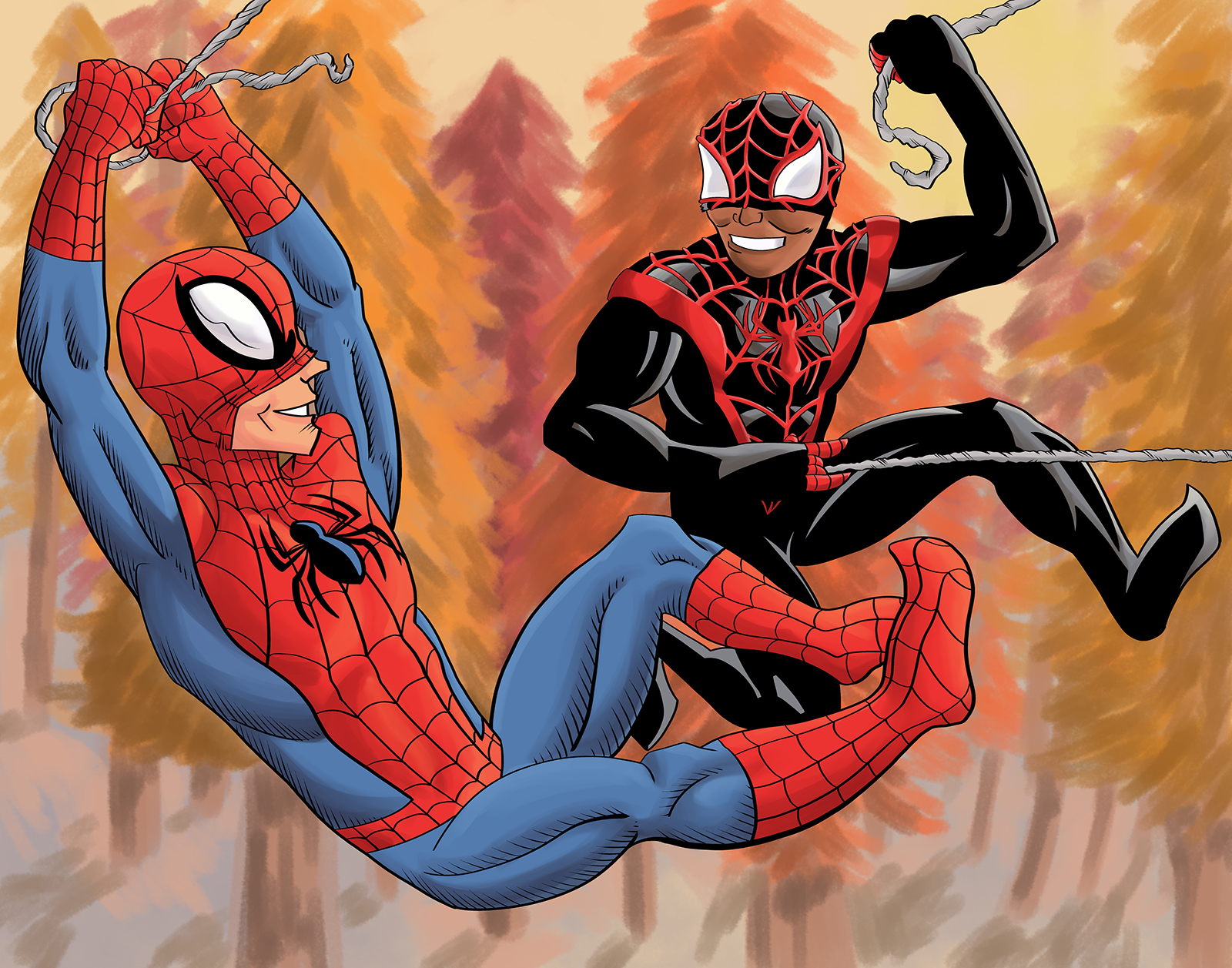 (Cody Wilson/Daily Bruin)
Peter Parker has donned the Spider-Man suit in countless films, but in "Spider-Man: Into the Spider-Verse," Miles Morales will be stepping into the famous web slinger's shoes.
Miles first appeared in the comics in 2011 when his character took on the Spider-Man mantle following Peter Parker's death. He will make his film debut in the new animated Spider-Man movie. The Afro-Latino teen has come to symbolize a new wave of inclusivity for some comic book fans, though his on-screen presence tells a more complicated story.
While "Into the Spider-Verse," which comes out Dec. 14, has earned widespread critical acclaim, the film also exposes a long-standing problem for Marvel Comics: Despite the breadth of the established cinematic universe, the franchise is painfully lacking in diversity. Miles' new starring role serves as a reminder of how far Marvel has come, but also how far the company still has to go in terms of representation.
Though Miles and Spider-Man are Marvel characters, "Into the Spider-Verse" was produced by Sony Pictures Animation and isn't part of the world of the Marvel Studios films – a result of character licensing and production deals – and instead takes place in an alternate universe. Though Miles' story is intriguing, it doesn't impact the larger narrative of the Marvel Cinematic Universe. Marvel Studios president Kevin Feige has hinted that Miles could appear in the MCU in the future, but no official plans have been announced – the MCU also already has Peter Parker, played by fan-favorite Tom Holland, as its own Spider-Man.
Holland does a wonderful job as Peter Parker, but it's impossible not to wonder what the MCU would look like if it had been Miles Morales who swooped into the battle in "Captain America: Civil War." At the time when Sony and Marvel reached the deal to share Spider-Man, the Marvel executives made a conscious choice to introduce the Peter Parker version of the character, despite the fact that the character has been featured in five different films in the preceding 12 years. No reason for the choice was ever given – perhaps Peter Parker's instant name recognition or the fact that Sony was developing "Into the Spider-Verse" factored into the decision.
Miles' story in particular is worth telling. As a reviewer from IGN said, Miles speaks to a different teenage experience than is often portrayed – his multicultural background represents the experiences of a growing population in America whose identity doesn't fit neatly into a box. Miles breaks the mold of many of the superheroes who have come before him and "Into the Spider-Verse" allows many young boys to finally see a hero who looks just like them.
The juxtaposition of "Into the Spider-Verse" and the overall MCU throws a stark spotlight on diversity, or the lack thereof. Marvel's numerous comic books showcase a range of diverse heroes, with characters such as Miles and the Pakistani-American Kamala Khan, who takes the mantle of Ms. Marvel. She too appears only in animation, featured on the incredibly diverse "Marvel Rising: Secret Warriors" series that almost exclusively stars women and people of color. While there seems to be more diversity in Marvel's peripheral animated work, it has yet to incorporate the same diversity into its flagship films.
There is a particular power that comes from seeing these heroes in live action. While it's inspiring to see them on-screen any form, audiences know that it isn't their world – there's a distance inherent in animation that distinguishes the on-screen world from our own. Seeing them in the MCU as well as in animated films like "Into the Spider-Verse" would be meaningful – placing them squarely in the universe in which we live and making them more real.
In recent years, the MCU has included more representation. This year's "Black Panther" was a huge hit, marking the first MCU film to star a hero of color. Similarly, 2019's "Captain Marvel" will mark the first Marvel film led by a woman. There are also signs of future progress in the MCU. Most recently, Marvel announced Monday it was moving forward with a film about Shang-Chi, the first Marvel film to be centered on an Asian character.
While it's important to celebrate representative films like "Into the Spider-Verse," it's equally important to remember that these firsts have been a long time coming. It's taken Marvel a while to center people of color and women in its cinematic storytelling.
Regardless of whether or not he appears in the MCU, now that he is on the big screen Miles can serve as a powerful reminder to children of color who grew up admiring Spider-Man but felt like they couldn't identify with him. At the 2013 Comic-Con, actor Djimon Hounsou recalled a conversation he had with his 4-year-old son. Hounsou's son said he wanted to be light-skinned so that he could be Spider-Man because the hero has light skin – he couldn't conceive of a Spider-Man that had dark skin like him. And now, five years later, a dark-skinned Spider-Man will be playing in theaters across the country.
Hopefully Marvel will be able to follow the lead of "Into the Spider-Verse" by creating an on-screen team of superheroes as diverse as the world they're tasked with protecting.