UCLA Sex Squad's performance aims to spread sexual health awareness through humor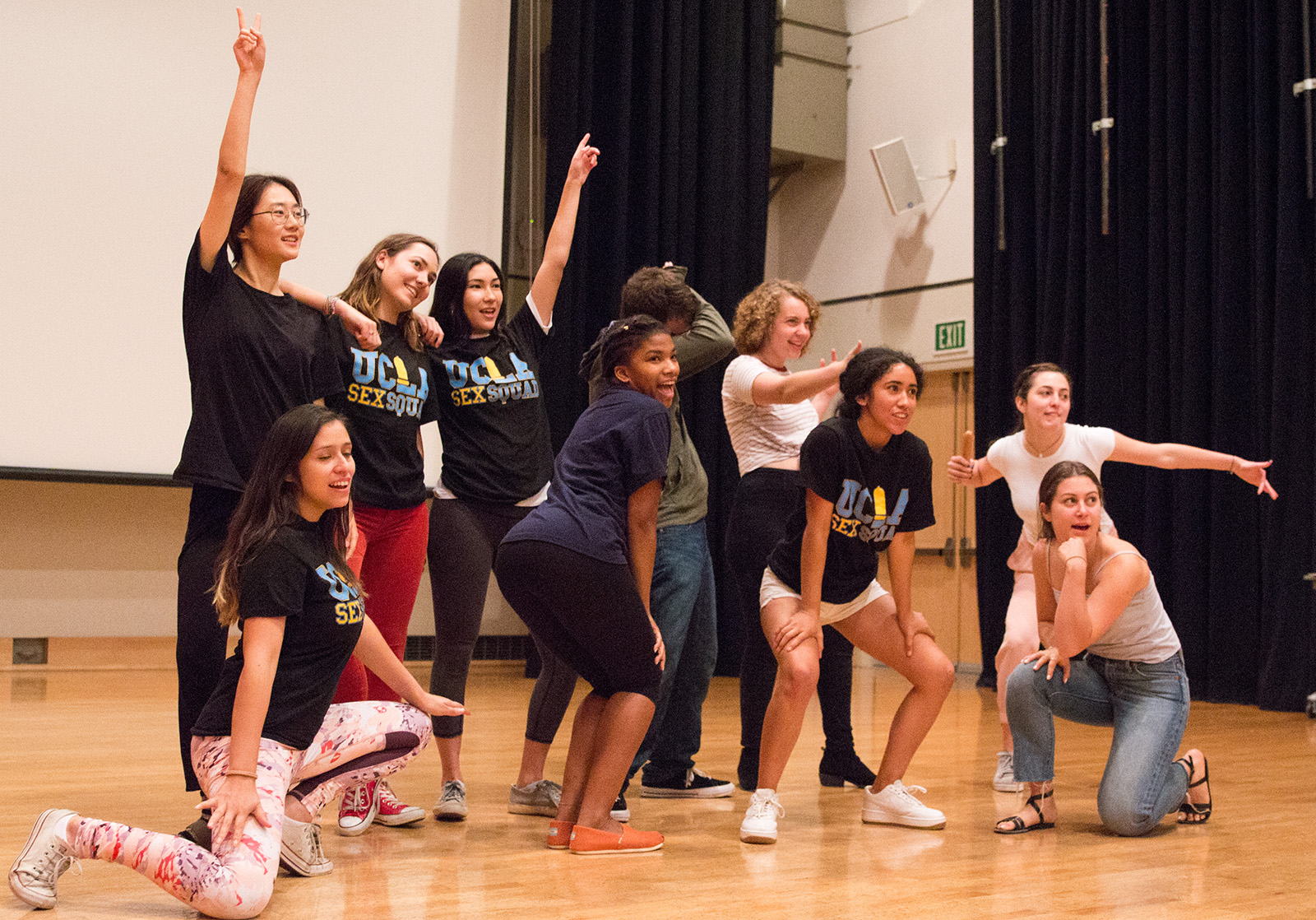 UCLA Sex Squad will celebrate its 10th anniversary and the 30th anniversary of World AIDS Day on Thursday with a performance in Glorya Kaufman Hall. They will perform songs and skits focused on sexual health, including one piece that imagines a future without AIDS. The anniversary show will also feature alumni and representatives from The Elizabeth Taylor AIDS Foundation. (Jenna Nicole Smith/Daily Bruin)
World Aids Day: 10th Anniversary of the UCLA Sex Squad
Glorya Kaufman Dance Theater
Thursday, 6 p.m.
Free
This post was updated Nov. 29 at 2:20 p.m.
A crowded room in Glorya Kaufman Hall will erupt into an improvised chorus during UCLA Sex Squad's show, singing about the six bodily fluids that transmit AIDS.
UCLA Sex Squad's 10th anniversary, which coincides with the 30th anniversary of World AIDS Day, will culminate Thursday night in a humor-driven performance meant to spread awareness about sexual health, said co-director Veline Mojarro. Working with co-directors Mojarro and Robert Gordon, the group is a collective of undergraduate students enrolled in "Performing Sexual Health: UCLA Sex Squad," a class that uses an arts-based approach – including theater, song, dance and scriptwriting – to discuss taboo topics within sexual education. The advent of World AIDS Day focuses on an idealistic future in certain skits, with the closing act imagining a world without AIDS. To achieve such feats, UCLA Sex Squad envisions a world benefited by comprehensive sex education unhindered by institutional barriers, Mojarro said.
"A lot of people don't realize that sexual health includes everything from putting on a condom to healthy relationships. Sometimes people have a hard time seeing the full spectrum," Mojarro said. "Anything that informs you making a decision about your body is spoken about in Sex Squad."
The anniversary show, in addition to student performances, will also feature guest acts including UCLA Sex Squad alumni, campus drag queen Lorelai and representatives from The Elizabeth Taylor AIDS Foundation, who will be speaking on World AIDS Day. The students themselves will engage in theater and personal storytelling, in which the students take the audience through phases of their lives using vignettes supplemented by castmates' performances. They also plan to perform both monologues and spoken poetry.
"Sex Squad is about creating a space where we can express our truth and ask ourselves questions that we might not always feel comfortable asking ourselves." Gordon said. "We're learning how to navigate these topics inside systems of power that make it harder for people to learn about sexual health."
Although the show will address the gravitas of topics like AIDS, UCLA Sex Squad members also refuse to shy away from more ridiculous means of disseminating their message, Mojarro said. The group will add a sexual health component, looking forward to a future where discussing such issues is less stigmatized, by rewriting Cardi B's "I Like It," a song already laden with overtly sexual overtones. Mojarro said the rewritten lyrics address female empowerment, body autonomy and sexual pleasure specific to female-identifying bodies, with lyrics such as "I like going to the clinic, IUDs all in my crotch."
"Sex Squad is very deliberately sex positive in that it's pleasure affirming and allows people to gauge what's right for them and not be afraid of the idea of pleasure," Gordon said. "Even the World Health Organization includes pleasure in their definition of sexual health, so Sex Squad is built around the fact that sexual pleasure looks different for every person."
For World AIDS Day, the show will also feature a "sexaphonic" choir to interactively teach the audience about the six fluids that can transmit AIDS when no barrier is present, such as breast milk and blood. Gordon said the room will be split into six parts, with one person leading each group that corresponds to each of the fluids. The interactive aspect creates a space where people can freely ask questions without feeling the shame or negative emotions typically associated with discussing sexual health, said fourth-year world arts and cultures student Aaliyah Sade.
"From the moment we start learning about our own bodies, it's all very scientific and distant," Sade said. "When you come at it from a lighthearted perspective, it opens the space for a dialogue of storytelling and most importantly change-making."
Since its formation 10 years ago, UCLA Sex Squad has intentionally begun to focus on intersectionality, Mojarro said. With the implementation of laws like the California Healthy Youth Act, which aims to provide sexual education for California's youth, Mojarro said she hopes that the efforts of UCLA Sex Squad will help to pave the way for similar legislation targeting the improvement of sexual health education, as well as more awareness on AIDS.
"The show represents the students' voices, their work and their truth. It's not clean; it's messy, it's complex and it's students dealing with the oppressive world that we live in and trying to navigate what it means to be sexual being in the face of that," Gordon said. "They're questioning what's health in the middle of this incredibly unhealthy world?"