Sugarcoated: Bumsan Organic Milk Bar soft serves swirls of flavors in creative cones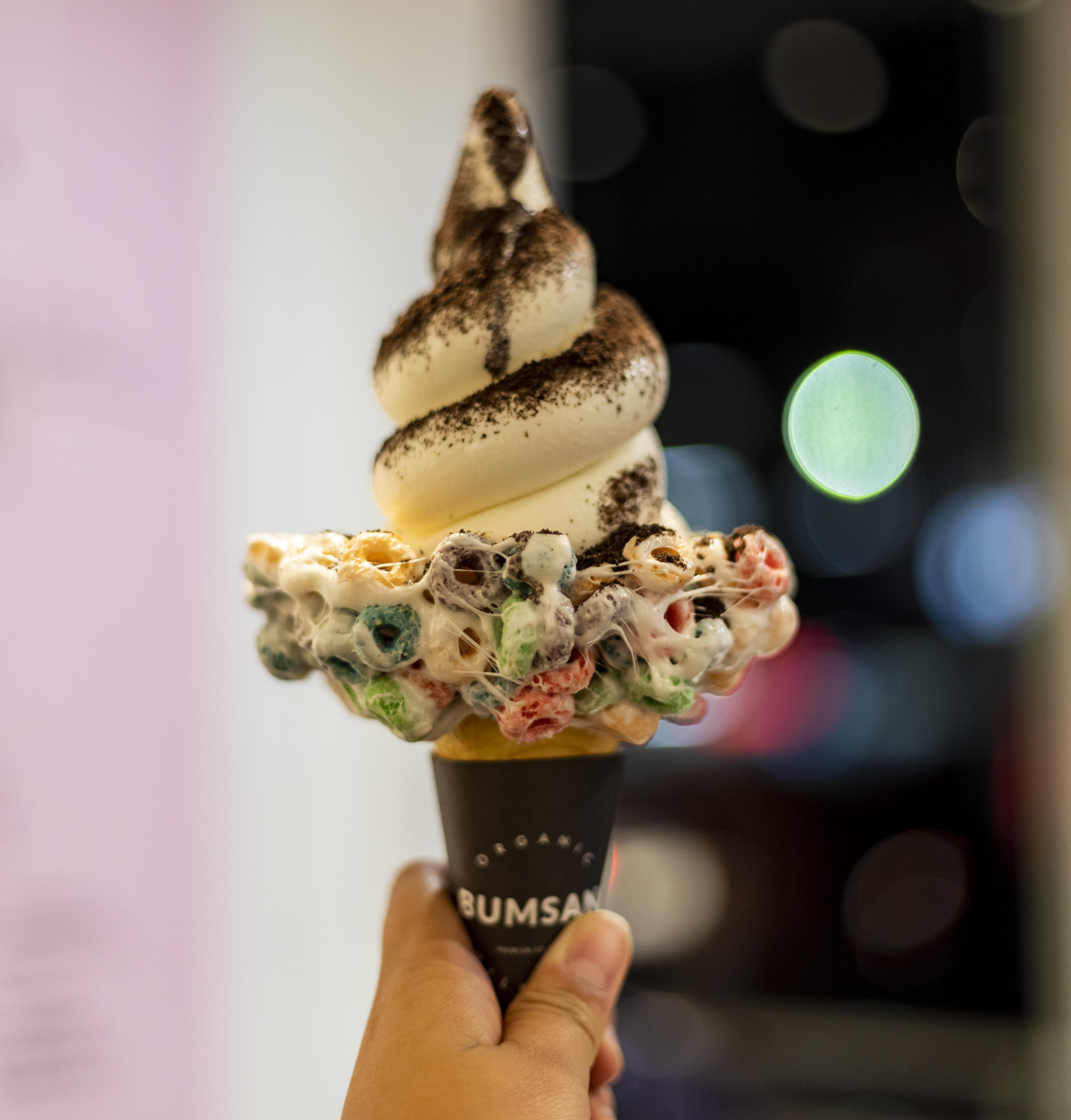 Bumsan Organic Milk Bar in Koreatown serves up ice cream of five organic flavors: true milk, matcha, chocolate, taro milk tea and pomeberry – a mix of pomegranate and cranberry. The ice creams are often served on premade cones that can be coated with toppings like sprinkles or cereal. (Kristie-Valerie Hoang/Daily Bruin senior staff)
Bumsan Organic Milk Bar
534 S. Western Ave.
Los Angeles
In an era when dessert is often evaluated by its Instagram potential, Los Angeles shines as one of the world's premier cities for sweet treats. Join Daily Bruin staffers each week as they visit different dessert joints, going behind the scenes to give you an exclusive look into the creation of trending sugary concoctions.
Creating the perfect ice cream swirl is a difficult art to master.
Claire Yoon, a shift manager at Bumsan Organic Milk Bar, said the task took her two weeks to execute well. Needless to say, my limited hour behind the counter was woefully insufficient.
The Koreatown ice cream shop stands slightly isolated from nearby eateries – a bubblegum-pink building flanked by parking spaces coveted in the area. With no seating space and two doors that customers can traipse in and out of, Bumsan becomes a quick stop for those craving a sweet treat.
In between taking orders, Yoon demonstrated how to make one of their signature orders. The treat features a wide-brimmed ice cream cone encrusted with sprinkles on the edges, filled with one of five organic flavors: true milk, matcha, chocolate, taro milk tea or pomeberry – a mix of pomegranate and cranberry. The shop also offers three swirls, combinations of flavors which include true milk and matcha, true milk and chocolate and taro milk tea and pomeberry. The premade cones were displayed stacked on top of each other in metallic gold holders at the front of the counter.

Near the side of the room, other cones lay upside down on parchment paper – these were rimmed not with sprinkles, but with breakfast cereals coated in gooey marshmallow. Yoon explained that the cereal cones, which cost an additional $2.50, were assembled in the morning.
To make the sprinkle cones, I first had to delicately dip the petaled edges into melted white chocolate stored in a heated pull-out drawer. Then, I had the option of choosing between nine different sprinkle varieties, eventually choosing to stamp my cone into a mix of round, pastel sprinkles.
The candy-coated rims took only a few seconds to dry. Then it was time to tackle the ice cream machines. The perfect swirl consisted of three rotations, stacked squarely on top of each other and then finished off with a pointed tip. Like any good structure, this process required a solid foundation, which my less experienced hands were unable to establish.
Though initially architecturally sound, my matcha and true milk swirl ended up sloping heavily to one side, which I quickly tried to rectify. I ended up with a more asymmetrical, avant-garde shape, rather than the Instagram-worthy form I was aspiring to replicate. Nevertheless, I charged onward to the topping station.
Each ice cream order comes with one free topping. I mulled over bowls of Oreos, mixed nuts, cornflakes, Fruity Pebbles and chocolate syrup. Yoon informed me that in order to make the crushed Oreo topping, they had to first manually remove the cream from the center of each cookie before grinding them down to a fine consistency. Aesthetically, I thought the Oreo would've clashed with the softer color palette I was going for.

I opted for the cornflakes, and found the most difficult part of dusting the ice cream evenly was positioning the angle of the cone. Too far sideways, and I risked a cartoonish ice-cream-falling-out-of-the-cone situation; too upright, and only the top of the swirl caught the cornflakes. I wasn't too bothered by this physics problem, however, as I anxiously awaited to take my first bite.
The taste of the ice cream was more robust than traditional soft serve, with a distinct milky flavor balanced well by the matcha. Yoon said their most popular flavor was the plain true milk, a statement I was initially suspicious of because of the trendiness of matcha and taro, but could understand upon tasting it. Ergonomically, I found that the wide brim of the cone made spillage a nonissue, as it caught the ice cream melting down rather effectively. The sprinkles around the brim felt quite hard as I bit down on them, but the texture of the cereal cones – which my friend used and I cheekily tried – remained quite malleable.
For someone who has always been a bit averse to the taste of milk, mostly due to my slight lactose intolerance, I found Bumsan's ice cream to be easy to eat. Its smooth consistency lies between that of frozen yogurt and gelato, and for a staunch bowl devotee, the shape and festive look of the cone almost made me switch loyalties.
Xu is a senior staff reporter for the Arts and Entertainment section. She was previously the assistant editor for the Lifestyle beat of Arts.
Xu is a senior staff reporter for the Arts and Entertainment section. She was previously the assistant editor for the Lifestyle beat of Arts.