Second Take: 'Joker' origin film calls for unique reinvention of archvillain character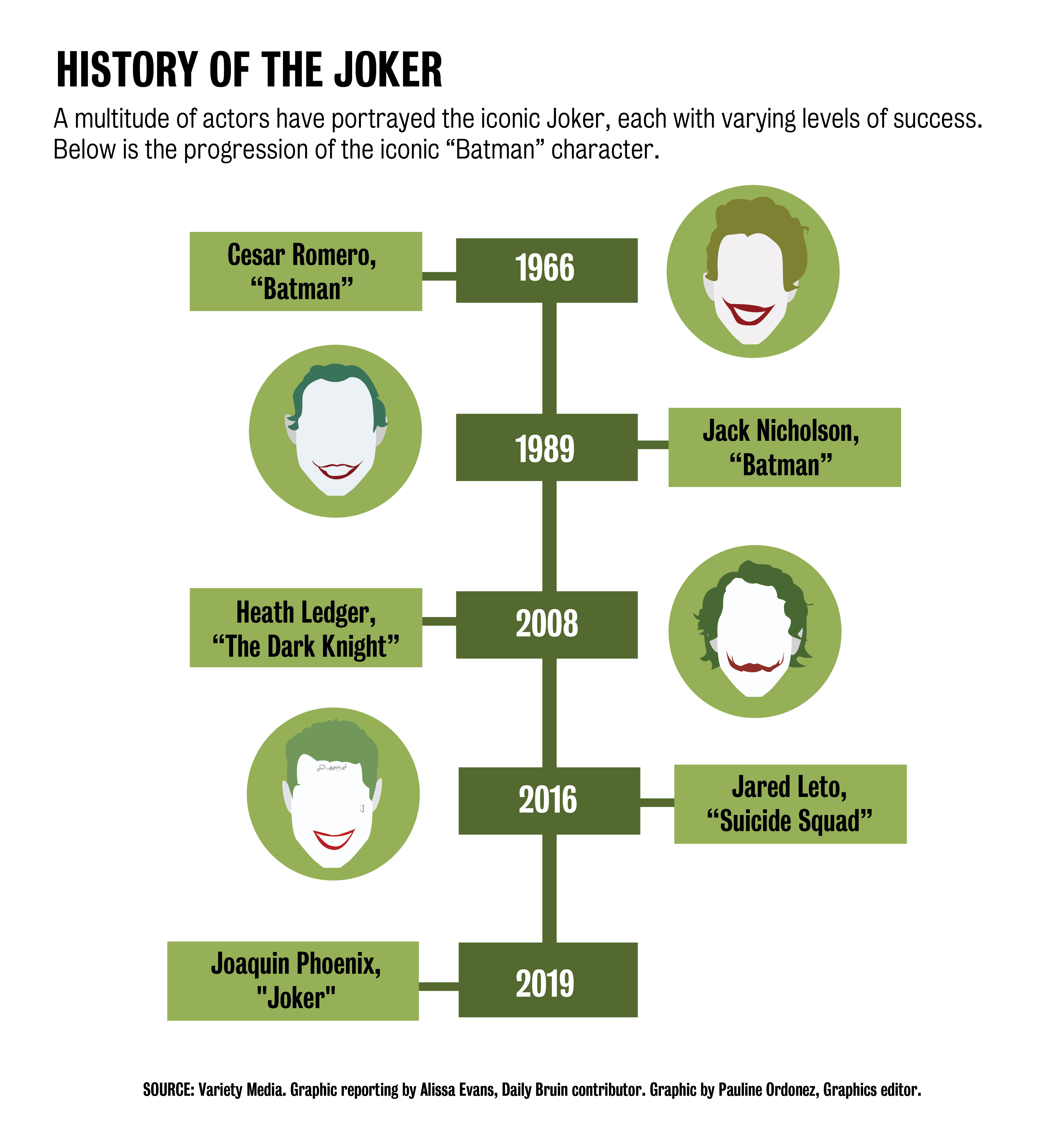 Warner Bros. is done clowning around.
In 2016, the critically condemned "Suicide Squad" left audiences frantically fleeing theaters to find solace in Christopher Nolan's The Dark Knight trilogy. And after box office disaster "Justice League" failed to revitalize the studio's reputation for mediocrity, DC Entertainment has gone back to the drawing board. It was recently announced that Joaquin Phoenix will don the iconic clown makeup in the upcoming Joker origin film, and the casting choice was met with general approval from fans. Despite his star power, Phoenix's challenge will be to distinguish himself from the legendary cinematic Jokers that preceded him. However, with an acting veteran like Phoenix helming the project, the real pressure is on "The Hangover" director Todd Phillips, whose script and direction will either successfully redefine the classic criminal or result in another overhyped blockbuster that isn't worth the $11.50.
It is no question that Phoenix can effectively embody the complexity, mania and pure chaos that comic book fanatics have come to expect from the Clown Prince of Crime. Phoenix is known for his evocative performances in critically acclaimed films, such as "The Master," in which he portrays a violence-prone, alcoholic World War II veteran, and "You Were Never Really Here," in which he steps into the shoes of a psychologically tortured hit man. Both roles proved his capacity to tackle dark, emotionally demanding characters and solidified his position as one of the greats in Hollywood.
But there is one obstruction hindering the powerhouse actor's ascent into super-villain stardom: Heath Ledger.
On July 31, 2006, it was officially announced that Ledger, known for his roles in romantic comedies and dramas, would portray the Joker in "The Dark Knight." Despite considerable backlash from fans who claimed his chiseled cheekbones and dreamboat stature did not fit the part, Ledger went on to deliver one of the best acting performances of the decade, one that won him a posthumous Academy Award for best supporting actor in 2009.
As opposed to Jack Nicholson's more comedic take on the character in Tim Burton's "Batman" in 1989, Ledger's darker, anarchist interpretation was less interested in sarcastic one-liners and more driven by the sole desire to wreak complete and utter havoc on the city of Gotham. By isolating himself in a hotel room to perfect the Joker's maniacal voice and incorporating unsettling ticks, such as the incessant lip-licking, Ledger quickly established himself as the gold standard for cinematic super villains in a grandiose acting display that should have put the character to rest.
Consequently, any actor who decides to try his hand at the Joker following Ledger's career-defining performance will be heavily scrutinized. For instance, Jared Leto's punk rock, gangster interpretation in the largely disappointing "Suicide Squad" caused derision among fans. Some applauded his crazed – some would even say erotic – take on the character, while others criticized his portrayal as being too over-the-top.
Phoenix will have to work diligently with Phillips in an effort to avoid joining Leto in the ranks of those who fell short of successfully reinventing the Joker. The seasoned actor will be tasked with concocting a vision of the Joker that infuses enough nuance so as to dodge direct comparison to Ledger's untouchable interpretation, while still maintaining the integrity of the character. And Phoenix, despite the enormous clown shoes to fill, has the talent to deliver. What is even more crucial, and perhaps what fans should be more weary of than Phoenix's acting, is Phillips' responsibility to provide his leading man with an intelligent script that transcends the confines of the superhero genre and revamps the Joker in a post-Ledger world. Just as Ledger's portrayal benefited from Nolan's masterful script, Phoenix will either be enabled or disabled by Phillips' screenplay.
In order for the Joker's origin story to separate itself from recent DC flops, including "Justice League," "Suicide Squad" and "Batman v Superman: Dawn of Justice," Phillips must shift the focus of the film from mindless action to meticulous character development. Whereas the Joker's missing backstory in "Suicide Squad" made for a one-dimensional character, DC's upcoming origin story will allow Phoenix to construct a more multifaceted archvillain. The expected R rating will give Phillips room as a filmmaker to delve deeper into the background of trauma and violence that likely shaped the Joker into the monster that he is today.
In contrast, part of what makes Ledger's Joker so enthralling is his lack of backstory. That being said, a glimpse underneath the cheap makeup facade will add a layer of depth to Phoenix's version of the character and provide audiences with an answer to the Joker's very own question: Why so serious?