Screening Science: 'The 12th Man' conditions should wrack the protagonist's body and mind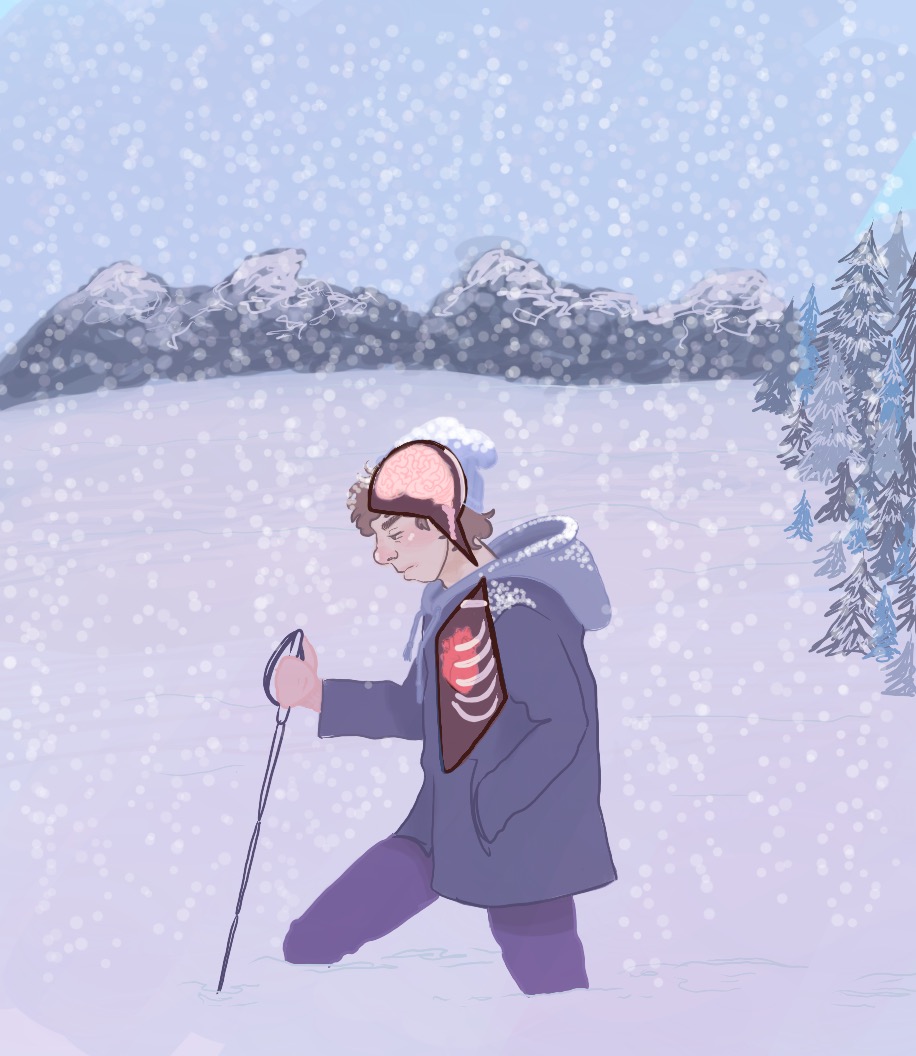 (Sarah Goldacker/Daily Bruin)
The brain is willing to sacrifice every part of the human body to save itself.
This self-preservationist anatomical phenomenon will be a key component in "The 12th Man," released nationwide Friday. Set during World War II, the film portrays the true story of Norwegian resistance commando Jan Baalsrud (Thomas Gullestad) as he makes a daring escape from the Nazis through the Arctic after a failed mission. Not only will he fight to avoid capture, but he will also survive the freezing temperatures of the barren, icy land. The director must have the actors accurately depict physiological and psychological responses to these environmental obstacles in order to tell a convincing story.
Baalsrud swims across 100 meters of cold water to hide on a remote island after his botched mission. Hypothetically speaking, the human body can withstand temperatures as low as minus 100 degrees Fahrenheit, although only for a maximum of 10 minutes. However, when the body is submerged in cold water at even 32.5 degrees, a person can only live for a maximum of 45 minutes. To survive, Baalsrud would need to immediately change into new clothes or wring out the water from his current ones. Otherwise, the water would absorb too much heat from his body.
As Baalsrud proceeds to trek across the Arctic, several physiological changes should affect his body. First, he would begin to shiver, thereby increasing heat production. When subjected to cold, muscles contract more frequently, producing a shivering motion. But because muscle contractions are an inefficient process, most of the energy used for the movement will be converted into heat. Basically, if we don't see Gullestad shivering on screen after 10 minutes in the Arctic, we'll know the director didn't do his homework.
Another bodily reaction that results from extreme temperatures forces the cheeks and nose to turn red. When skin temperature falls below 50 degrees, blood vessels will initially dilate to increase the flow of blood, an important heat carrier for the body. Eventually, the blood vessels will alternate between dilating and constricting in order to spread the heat or conserve it for more important body parts like the heart, lungs and brain. Obviously, when there's not enough heat, body parts – especially the extremities – will experience frostbite. We can expect frostbite to occur because of vasoconstriction, and accelerate in the presence of water, something Hugh Glass (Leonardo DiCaprio) from "The Revenant" was able to resist despite being soaked – either a cinematic inaccuracy or a miraculous anomaly.
In prolonged cold, the brain slowly cuts off blood from the outer parts of the body, progressing to the inner parts and slowly shutting each organ down until the brain itself dies. In real life, frostbite didn't reach Baalsrud's arms or legs, but it did manage to freeze his toes and destroy the tissue. Fortunately, frostbite doesn't start with the head or chest area, otherwise Baalsrud would have never made it to safety in Sweden.
Despite the abundance of snow and water, Baalsrud's condition would also quickly deteriorate from dehydration. Because blood vessels constrict in cold temperatures rises. To alleviate the increased pressure, the body releases fluids – mainly water – in the form of urine. If we can hold the film to a high standard of anatomical factuality, Baalsrud will feel thirsty often, and have incredible urges to urinate – urges the director probably wouldn't show much on screen.
Sure, Baalsrud could eat plenty of snow to stay alive. However, assuming snow has a density of 0.9167 grams per cubic centimeter, 8 cups worth of water is equivalent to 3.83 pounds of snow, which is in turn equivalent to 4.17 pounds of water. Because snow is less dense than water, Baalsrud would need to consume more snow than water to receive his 8 cups of fluids, while considering the effects of the cold temperature and contaminants on his internal organs.
And then on top of sharp, cold winds and crippling frostbite, Baalsrud will need to cope with being alone. The effects of social isolation have been well documented in academia: increased susceptibility to diseases, higher blood pressure, interrupted sleep patterns among others. In the 1950s, Donald Hebb, a professor of psychology at Montreal's McGill University, had volunteers go through sensory deprivation. Participants of his study had little to no human contact, were situated in soundproof cubicles and wore special gloves and headphones so they couldn't feel or hear anything. After only a few hours, they began to hallucinate, saying they saw squirrels marching or bright lights.
Another study in 2008 demonstrated that just making participants feel lonely caused them to anthropomorphize animals and objects, a phenomenon iconically represented by Chuck Noland (Tom Hanks) and his volleyball Wilson in "Cast Away." The Arctic is definitely blessed with a picturesque landscape and reindeer, but Baalsrud would need to survive without human contact nonetheless. In real life, the commando was said to have gone without communication for nearly four weeks, so audience members should anticipate mental hardships, whether it be in the form of mirage-like visions or irrational actions, as well as physical suffering.
Since the character's journey is based on a true story, we already know what will happen in the end. But seeing how the director portrays physiological and psychological obstacles will be the truly fascinating part of Baalsrud's journey.