Second Take: 'Fresh Off the Boat's' representational significance merits its renewal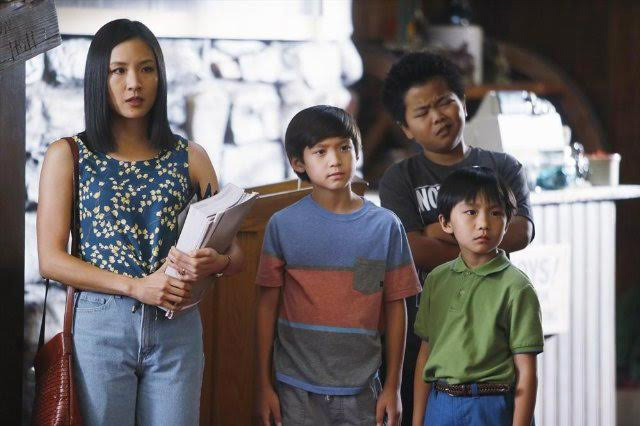 April 16, 2018 11:19 p.m.
"Fresh Off the Boat" is sending out an SOS – "save our show."
With potential cancellation on the horizon, the fate of the ABC sitcom hangs in the balance in this year's television renewal season, when networks decide whether to continue or cut their shows.
"Fresh Off the Boat" is a vital piece of representation for Asian-Americans in a television landscape that lacks diversity. The show's cancellation would mark the end of the first network television show to feature an Asian-American family in 21 years, and would be a loss acutely felt by the Asian-American community. In the face of potential cancellation and a recent controversial joke about the show in fellow ABC sitcom "Roseanne," it is essential members of the community advocate for the show's renewal – a fight that has been led by UCLA alumni and students.
UCLA alumnus and "Fresh Off the Boat" star Randall Park first took to the internet April 4 to make his case, releasing a 1-minute-45-second video asking ABC to renew his show. Park takes on a joking tone, saying, "I'm on my feet, but picture me on my knees – please renew our show."
The video circulated on social media, where members of LCC Theatre Company saw it. Park co-founded LCC, which focuses on Asian-American representation in the arts, in 1995 while he attended UCLA. His video plea spurred Arielle Bagood, LCC marketing director and fourth-year Asian American studies student, into action.
At one of LCC's biweekly rehearsals, Bagood asked the company to participate in a video supporting the renewal of"Fresh Off the Boat." In the video, LCC producer and second-year computer science student Darica Louie stands in front of the company to deliver a brief message, saying, "There's still not enough Asian-American representation on television right now, so it's not time for 'Fresh Off the Boat' to end."
While the show is certainly important in terms of representation, it serves up quality comedy as well. Its most recent fourth season averaged 3.83 million viewers per episode, only slightly lower than the previous season – "Fresh Off the Boat" averaged 3.94 million viewers in its third season in the 2016-2017 television season and was renewed.
However, due to the lack of shows featuring Asian-American families, it is impossible to discuss the show without also considering its significance within the modern television canon. The continual lack of Asian-American representation puts a lot of pressure on "Fresh Off the Boat," Louie said.
"There's a lot of groups relying on "Fresh Off the Boat" to try to show the rest of America what being Asian-American is," Louie said. "They can't get it perfect because you can only tell a narrow story with the time they have, but it still is going to contribute to an overall body of work that helps us gain more acceptance."
While it may seem that it's unnecessary for Asian-Americans to fight for acceptance in this day and age, rampant whitewashing, yellowface and Orientalism still pervade the industry. The community is still subject to dismissive forms of racism, as exemplified by a recent joke made on the reboot of "Roseanne."
In the sitcom's third episode, Roseanne and her husband Dan fall asleep on the couch while watching TV. When they wake up, Dan remarks they "missed all the shows about black and Asian families," a likely reference to ABC's lineup of diverse shows such as "Black-ish" and "Fresh Off the Boat." Roseanne quips, "They're just like us. There, now you're all caught up."
While the joke seems like an offhand comment, there's a lot more at work, as UCLA alumnus and actor Kelvin Yu pointed out in a nine-tweet Twitter thread. Yu argued the joke was reductive and belittled the importance and nuance of "Fresh Off The Boat" by implying that its only important aspect was to normalize the lives of minority families, rather than present interesting characters in humorous stories.
The joke cheapened the importance of "Fresh Off the Boat," and also denied the need for its renewal, characterizing the Asian-American experience as comparable and capable of assimilation into the narrative of white families.
"We have such a unique experience and cultures to share that are shaped by being both Asian and both American," Bagood said. "'Fresh Off the Boat' is still relevant as a show, especially because another show on that same exact network is trivializing our experience and the show's impact."
"Fresh Off the Boat" may tell a very specific story, but it also serves as one of the only forms of mainstream Asian-American representation on television. This alone makes the show's renewal part of something much bigger than individual cancellation – it has to speak for 5.6 percent of the total US population, simply because there are no other network television shows that give Asian-Americans the same type of voice.
Roseanne was wrong – Asian-American families aren't just like white families. They have to work much harder to get and keep a seat at the table.