Movie review: 'You Were Never Really Here'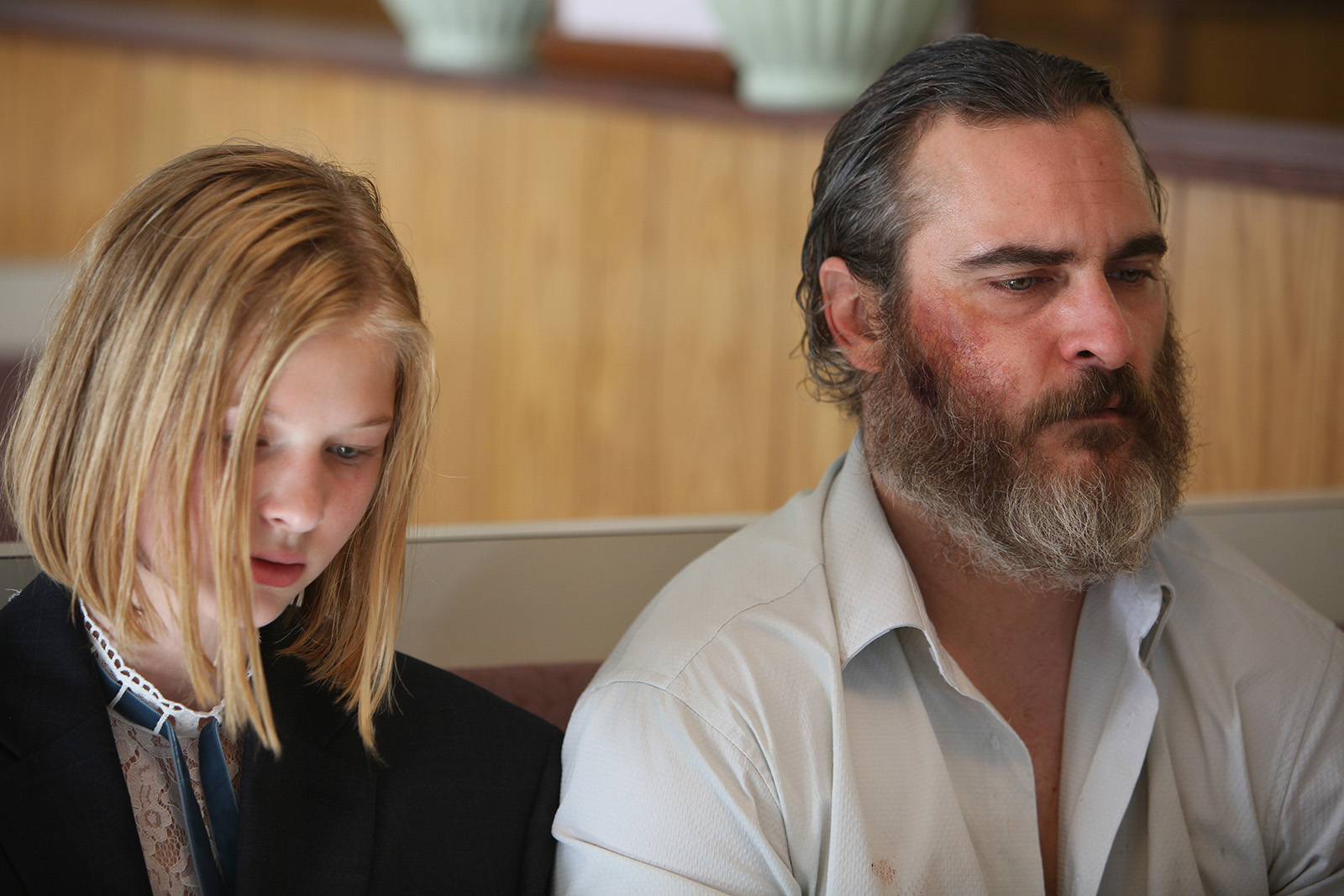 (courtesy of Alison Cohen Rosa, Amazon Studios)
"You Were Never Really Here"
Directed by Lynne Ramsay
Amazon Studios
Released Apr. 6
A morally sound hit man smashes in the skulls of sex traffickers and spearheads Lynne Ramsay's latest vigilante thriller, "You Were Never Really Here."
Directing the follow-up to her critically acclaimed 2011 psychological thriller "We Need to Talk About Kevin," the Scottish filmmaker returns to the big screen with a bitingly visceral and visually captivating masterpiece in which Joe (Joaquin Phoenix), a traumatized Iraq War veteran, earns his living by rescuing children from the sex trade. Armed with nothing but a 16-ounce ball-peen hammer, Joe ventures to recover Nina (Ekaterina Samsonov), the teenage daughter of Senator Votto (Alex Manette) who is being exploited by her captors.
While carrying out the mission, Joe uncovers a dangerous conspiracy that awakens his repressed nightmares and threatens to overtake his personal life. Through elliptical storytelling and a sparse script, in which the twitch of an eye speaks louder than any monologue, Ramsay expertly crafts a cinematic assault on the senses that leaves a haunting impression long after the credits roll.
Although Ramsay's nuanced directing plays a major role in the film's success, "You Were Never Really Here" is anchored by the expectedly committed performance of its leading man. Phoenix seamlessly blends sensitivity and brutality to create one of the most morally complex characters in contemporary cinema. Joe's barbaric nature when dealing with his enemies is juxtaposed with a humanizing tenderness in scenes such as the one in which he and his elderly mother (Judith Roberts) polish silverware together while singing "'A' You're Adorable."
The film also incorporates other popular, upbeat songs including Charlene's "I've Never Been to Me" and Rosie and the Originals' "Angel Baby," which stand in stark contrast to the extreme violence depicted on screen. Much like the iconic use of the pop-folk song "Stuck in the Middle with You" in Quentin Tarantino's "Reservoir Dogs," Ramsay offsets the grisly visual of a bone shattering under the force of Joe's hammer with unsettlingly joyful background music. Meanwhile, the synthetic beats and harsh strings that pervade the original score by Radiohead guitarist Jonny Greenwood create a threatening tone, often mimicking the sound of a heartbeat and evoking an intense sense of anxiety.
The frenetic editing style – complete with abrupt cuts and brief, unexplained flashbacks to Joe's childhood – mirrors his fragmented and clearly disturbed stream of consciousness. Ramsay offers a look into the broken psyche of an antihero who is tortured by searing images of the carnage of war and sickening memories of his abusive father, all of which play out on screen as they unfold in Joe's head. The constant close-up and symbolic shots of elements such as a ticking watch, tissues stained crimson from a nosebleed and a green jelly bean being crushed between two fingers elevate the film to the realm of cinematic poetry, as even the shortest cues serve an intended purpose.
Rather than relying on extensive backstories to provide exposition, Ramsay employs provocative visuals to tell her story. The recurring image of a man holding a plastic bag around his head as he gasps for air, the dilated pupils of a girl whose body was sold to men three times her age, the helpless expression of a mother hiding from her violent husband, among others, are all individual pieces of the puzzle the viewer must assemble. The effectiveness of Ramsay's image-dependent technique is also a testament to the talent of the cast members, who were able to convey an entire bittersweet spectrum of emotion with very minimal dialogue, through body language and facial expressions.
Joe leaves a trail of slit throats, smashed skulls and mangled bodies in his wake, but Ramsay chooses to focus more on the aftermath and less on the violent altercations themselves. If an attack does occur on screen, it is viewed through some other lens, such as a security camera or a mirror, which parallels Joe's dissociation from the violence.
Ramsay avoids blunt action sequences in order to emphasize the complexity of Joe's psychological trauma and highlight his seemingly paradoxical personality. The story is told from Joe's perspective, but Joe is like a silhouette of a character, his face often completely shrouded in shadow. The sensitive moments he shares with his mother portray an intimate, friendly quality, while his lack of backstory and offscreen battery make him feel like a complete mystery to the viewer – similar to the way in which he feels like a stranger even to himself.
"You Were Never Really Here" is much more concerned with the emotional fallout of a life tainted by violence than the violence itself. It does not shy away from gore and abrupt physicality, but what truly qualifies the feature as a master class in filmmaking is its gritty exploration of psychological trauma, which Ramsay argues is as damaging to the mind as a hammer assault is to the body.