Gamer's Guide: Video game romance, although inorganic, amplifies play experience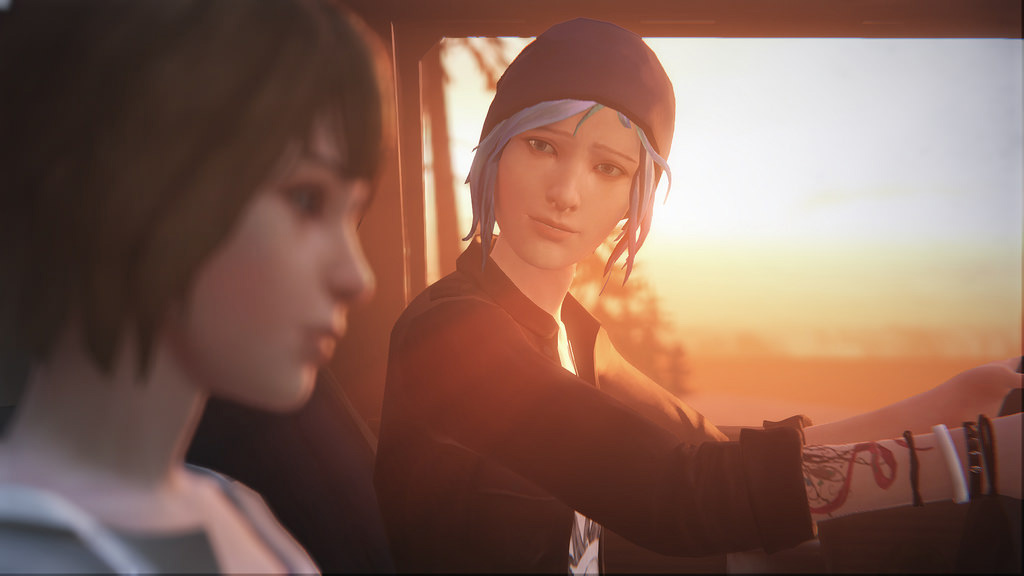 In DONTNOD Entertainment's hit game "Life is Strange," players can choose to instigate a romantic relationship between the two main characters Chloe and Max. Columnist Evan Charfauros argues the game utilizes romance to increase character investment. (Creative Commons photo by MrRiddell via Flickr)
Games have always been a huge part of the entertainment industry, but what makes them entertaining? Game makers expend significant effort making design decisions people often don't think about when they're playing each game. Each week, columnist Evan Charfauros will examine the pros and cons of different game mechanics as seen in the modern gaming industry.
Forcing your Sims to converse until they, ahem, "woohoo!" together is the epitome of video game romance.
Woohooing is about as deep as most game love gets; romantic storylines are usually shallow and contrived. Unfortunately for some of us, no one can find true love in a pixelated image – but that's not as much of a problem as it might seem. Rather, romance in games is another – and in many cases, a particularly effective – method for advancing the gameplay experience.
Nintendo's beloved "Fire Emblem" franchise is a series of turn-based tactical role-playing games in which players direct several characters across battlefield grids. Gameplay requires careful placement and calculation because characters who fall in battle are never revived – they are removed entirely from subsequent battles.
Some of "Fire Emblem's" most recent titles have integrated romance as a game mechanic. In "Fire Emblem Awakening," players have the option to play matchmaker with their party members – when two units battle side by side, their support rank can improve, eventually leading the characters to marry. A major plot development sees each of the married couples' children join the player's party after time traveling from the future in order to prevent an upcoming apocalypse.
In a game in which fallen units never recover, the addition of each new character becomes a huge advantage. Furthermore, the childrens' stats are determined by which parents they have, meaning players who deliberately pair their first-generation characters with their children in mind experience an extra layer of strategy. For example, Lucina, the first recruited child, may perform better physical or magic attacks depending on who her mother is.
But the actual development of character relationships in "Fire Emblem" is undeniably weak. Each time a pair of characters advances their support level, they can enter into a short conversation that portrays their everyday interactions. For specific pairings, characters can have up to four conversations and decide to get married at the end of the fourth. That's right, they talk three times and then propose – an idealized, unhealthy and unrealistic take on love if I ever saw one. Woohoo!
But "Fire Emblem" players aren't looking for a realistic portrayal of love – they're just trying to play a strategy game. And the romance in "Awakening" has a very tangible effect on the tactical and strategic implications of the game.
A different video game portrayal of romance emerges in DONTNOD Entertainment's hit game "Life is Strange" as well as its prequel, 2017's "Life is Strange: Before the Storm." The original game focuses on high schooler Max, who witnesses a deranged classmate kill her childhood best friend, Chloe. Max spontaneously discovers she can rewind time and uses her newfound power to save Chloe's life, then proceeds to pursue a mystery surrounding Chloe's missing friend.
Throughout the game, Max can use her power to thoroughly explore the consequences of various in-game choices. If the player chooses a dialogue option that upsets a character, they can quickly rewind and choose a different option. Inevitably, Max ends up using her power to revive Chloe from death several times, but her continued manipulation of time leads to long-term consequences for everyone involved.
The game develops into an emotionally tumultuous experience that explores various themes about morality and humanity. Unlike "Fire Emblem," "Life is Strange" relies heavily on story rather than strategy, and at the heart of said story is the relationship between the two girls. Max confides in Chloe about her power and the two work together to solve the mystery, sharing several comforting and intimate moments along the way. Player choices influence whether the relationship between the two characters becomes explicitly romantic.
Spoiler alert: The final choice in the game requires the player to either sacrifice Chloe to repair the timeline or allow everyone else in the characters' small town to succumb to a hurricane caused by her temporal interference. It's the final nail in the coffin in a roller coaster of emotions throughout the game, and the player's investment in Max and Chloe's relationship further complicates the choice.
However, once again, the presented romance is rather unrealistic. The player has little agency in deciding romantic partners and can woo Chloe simply by choosing to kiss her halfway through the game and by selecting positive dialogue in a few of their conversations. The game utilizes romance in much the same way many Hollywood movies do – a means to build character investment.
Despite their vast differences, "Fire Emblem" and "Life is Strange" both employ thoughtful use of romance. While I could criticize the relationships involved for being rushed or one-dimensional, I instead applaud the game designers' use of relationships in amplifying the main draws of each game.