Movie review: 'Game Night'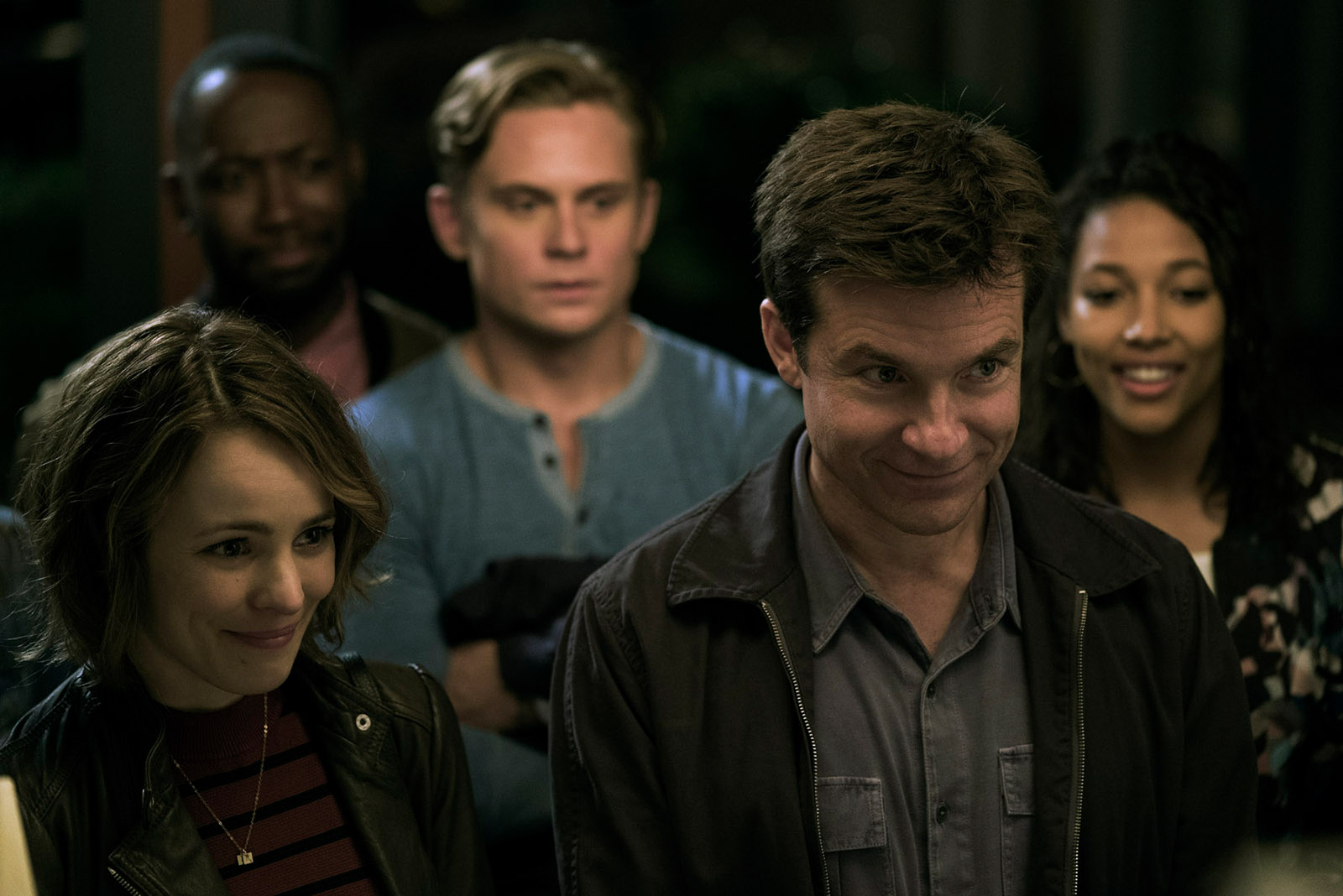 (Courtesy of Hopper Stone)
"Game Night"
Directed by John Francis Daley and Jonathan Goldstein
Warner Bros. Pictures
Feb. 23
February 22, 2018 10:47 pm
A movie is bound to be entertaining if its main characters play "Dance Dance Revolution" at their wedding ceremony.
Directors John Francis Daley and Jonathan Goldstein's latest action-comedy "Game Night" follows a group of friends who find themselves unwittingly involved in the world of organized crime during a weekly game-night gathering. Captivating humor outshines an unremarkable plot, resulting in a moviegoing experience that is a decent alternative to your weekly game night.
Ultracompetitive couple Annie (Rachel McAdams) and Max (Jason Bateman) host weekly game nights, but become disgruntled when Max's charismatic and wealthy brother Brooks (Kyle Chandler) invites their whole group of friends to a game night at his mansion. Brooks, who often humiliated and competed with Max as a child, sets up an immersive murder mystery scavenger hunt in which players won't know whether events are real or part of the game. Bent on victory, Annie and Max go to absurd lengths to assert their status as game-night professionals.
The night becomes more than just a game when the group of friends witness actual criminals kidnap Brooks while they relax on his couch eating cheese, thinking he organized the commotion himself. As the players begin to realize Brooks is in legitimate danger, their recreational competition becomes a frantic rescue mission.
The trailer might hint at a suspenseful thriller, but "Game Night" is a comedy at heart. The juxtaposition of the innocent suburban game players in a cutthroat underground crime setting ultimately leads to plenty of laugh-out-loud moments as the characters amateurishly tend to a bullet wound or attempt to infiltrate a villain's lair. McAdams' comedic talent particularly stands out – in one scene, while Annie and Max still believe they're part of an elaborate role-playing simulation, she forces a group of hardened criminals to mimic her yoga pose while holding them at gunpoint.
Billy Magnussen excels as the hilariously dim-witted Ryan, a game-night regular who brings a new date every week. Magnussen delivers Ryan's lines in an amusing manner, whether they be repeated inquiries as to whether or not Max can perform autofellatio or adamant claims that "Fight Club" is real. Other notable supporting actors include Jesse Plemons, who plays Max and Annie's creepy neighbor Gary, who never gets invited to game night. Plemons' deadpan dialogue delivery succeeds in making viewers uncomfortable, while simultaneously eliciting sympathy for his lonely character.
However, the skillful performances are not enough to mask the uninspiring plot, which is the film's weakest feature. Despite "Game Night's" highly unlikely premise, key events, such as an important revelation Brooks makes to his brother, are disappointingly cliched. The plot also relies on shocking developments about minor characters, which are too unbelievable to be compelling. The script impresses on a small scale with singular scenes featuring witty dialogue, but the major plot points form a narrative weakened by cliches.
Focusing on action rather than comedy also hurts the later parts of the film. As the game players descend further into the world of crime, scenes shift to show more of their desperate escape attempts and less of their clever quips. Though gun fights and car chases can be exciting, the ones in this movie feel generic and don't have the same charm as the jokes.
On top of its ridiculous story, "Game Night" tries to squeeze in family-related themes that feel out of place among the action and inappropriate humor. Some scenes show Max and Annie contemplating having children, while others examine Max's broken relationship with his brother. The serious segments don't quite belong and take up time that could be filled with more lighthearted humor, which is the film's main redeeming quality.
"Game Night" succeeds most when it embraces its cheesiness. An early scene shows Max and Annie's first meeting at a trivia competition, when they simultaneously answer "Tinky Winky!" when asked the name of the purple Teletubby. Immediately, the two drift toward each other as if in a low-budget romantic comedy, and the camera zooms in on their beaming faces. The scene cuts to the two of them aggressively kissing in a subway train, capitalizing on the absurd premise of their initial attraction.
Though a sensationalized plot and a few cliches dampen the film's impact, they are not much of a problem for viewers looking for laughs. Entertaining performances and well-written jokes make "Game Night" a truly killer comedy, even if it's not a narrative success.