Playing the Villain: Villains with familial ties to heroes are complex, compelling characters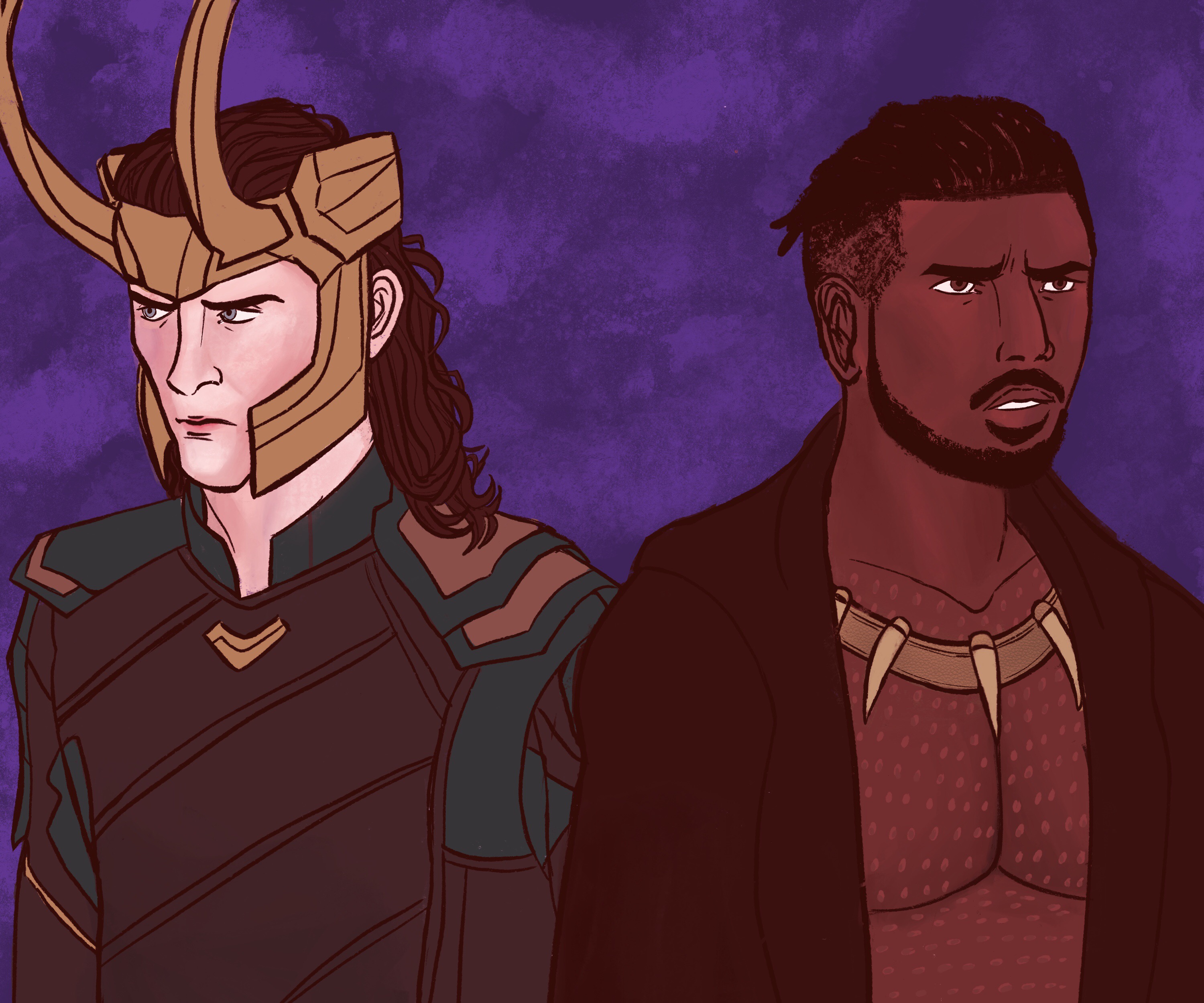 (Courtney Fortier/Daily Bruin)
A movie is only as good as its villain, and a good villain is much more than a monster with maniacal laughter or a sinister-looking entity surrounded by henchmen. From the anarchist Joker to the cunning and brutal Annie Wilkes, countless successful films have earned their iconic status thanks to their antagonists. Each week, columnist Tiger Zhong will discuss the strengths and the weaknesses of the villains from new releases as well as classics, exemplifying the narrative effects of their villainous acts. And yes, there will be spoilers.
An adopted brother with daddy issues and a newly reconnected cousin with belligerent tendencies show that family members can make some of the most compelling Marvel movie villains.
The Marvel movie factory mass-produces superhero movies, but at times they do create intricate, memorable villains. The lineages of the villains in both "Black Panther" and "Thor" adds a level of complexity to their character motivations missing from other Marvel villains, which makes audiences more sympathetic to their actions.
"Black Panther," with its roaring critical acclaim and box-office success, made history both culturally and financially on the backs of some great performances, including that of Michael B. Jordan as Erik Killmonger. Killmonger remains a constant threat to the Black Panther throughout the film as a skillful combatant and a goal-orientated competitor for the throne of Wakanda.
Killmonger knows when to strike, when to run and when to kill off his teammates for his own advancements. After several calculated actions move him closer to the throne, the movie reveals that Killmonger is T'challa's long-lost cousin around the halfway mark. Not only does Killmonger being the son of a Wakandan royal legitimize his claim to the throne, his lineage also adds an additional layer of character complexity – his desire for the crown comes not only from his power-hungry nature but also because he seeks vengeance on behalf of his father, who was killed by T'Challa's father, King T'Chaka.
Revealing this legacy makes the audience more sympathetic toward his actions. Killmonger was deprived of the home and family he could have had in Wakanda, and the more bloodthirsty he becomes, the more we see a man broken by his family's rejection of him.
But as I watched "Black Panther" on the big screen, Killmonger's ambition, willingness to betray his allies and unfortunate past also reminded me of another classic Marvel villain – our beloved god of mischief, Loki. Even before Loki learns his true lineage halfway through the film, he is forced to live in Thor's shadow.
Loki leaves behind his friends to achieve his goal of becoming king and earning respect, much like Killmonger. His burning desire for power and recognition elicits sympathy from the audience, since his unfortunate childhood now appears to be the reason he schemes for the throne. Audiences can see through his superficial "god of mischief" facade and observe a lonely boy who grew up seeking the approval of a father who was not his own.
By highlighting the villains' relationships with their families, the movies also complicate the heroes' journeys. The Black Panther has to not only physically overpower his daunting rival, but also contend with the consequences and moral dilemma that result from his father's decision to abandon Killmonger as a child.
Thor's journey also becomes more complex: The prince, who must defend Asgard, needs to fulfill his duties to his kingdom by putting an end to Loki's invasion. However, in doing so, he must go head-to-head with his brother, whom he initially adored. Thor has to deal with the knowledge that Loki is adopted and that he is willing to commit treason against the throne.
Killmonger and Loki stand out from replaceable Marvel villains like Destroyer and Malekith. By complicating their antagonists and connecting them to their protagonists by blood, the films force their heroes to answer complex moral questions while they attempt to triumph over their villains.
Killmonger and Loki maybe won't do well at your family Thanksgiving gathering, but they sure make great movie villains.