Gamer's Guidebook: Expensive expansion packs make trading-card games less enjoyable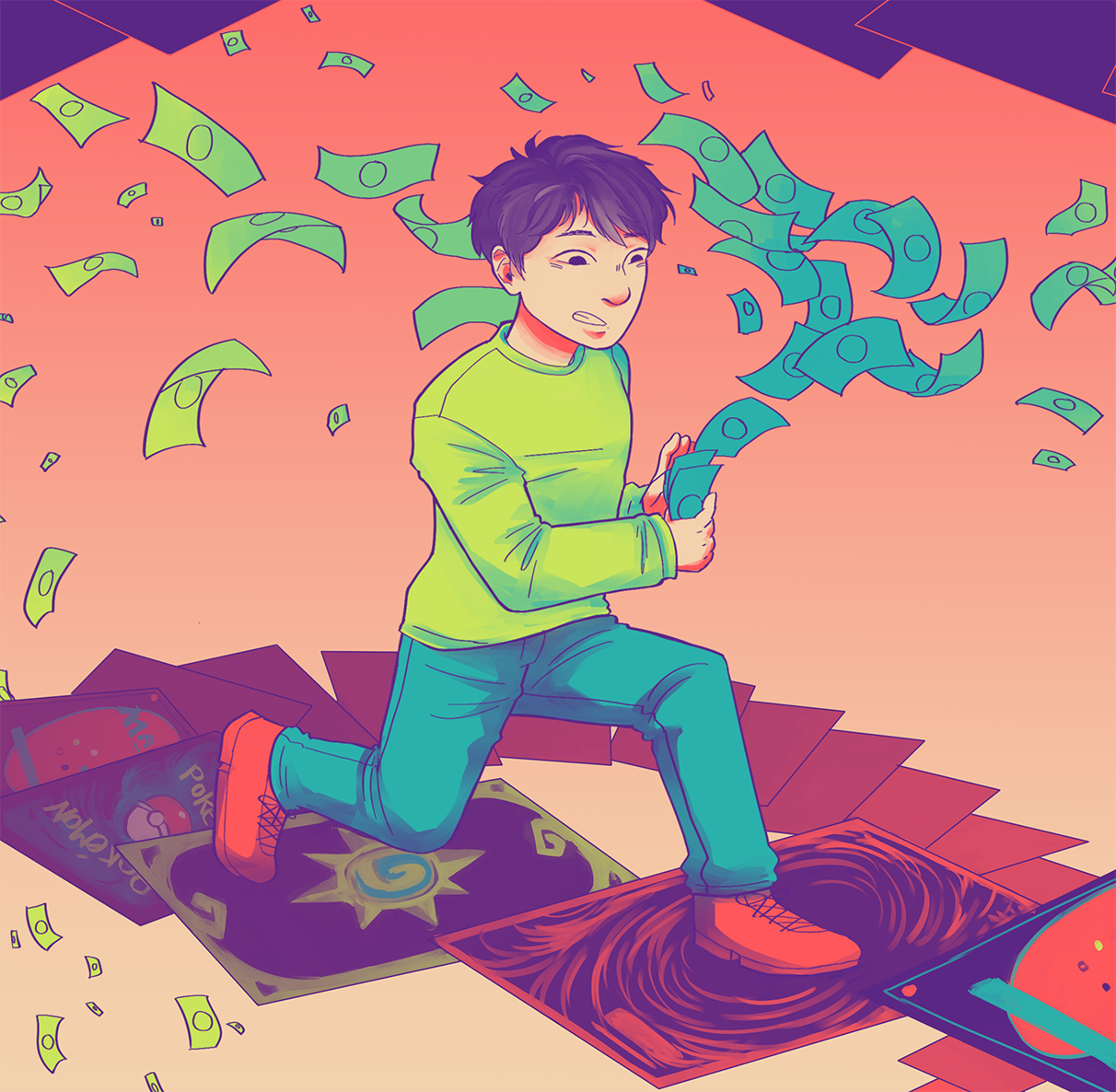 February 14, 2018 12:25 am
Games have always been a huge part of the entertainment industry, but what makes them entertaining? Game makers expend significant effort making design decisions people often don't think about when they're playing each game. Each week, columnist Evan Charfauros will examine the pros and cons of different game mechanics as seen in the modern gaming industry.
I used to play Magic: The Gathering with my dad and my brother at the dining room table as a middle schooler.
Two of us would select our decks and sit across from each other, setting out a 20-sided dice to keep track of our life totals, and then the fun would begin.
One of my decks was illusion-themed, another focused on casting enchantments and still another was filled with vampire fighters. But my favorite deck to use involved discarding very powerful creature cards and then "resurrecting" them from the grave without having to pay their high mana – magical energy for playing cards – costs. I always looked forward to defeating my family members at least a few times a week.
Unfortunately, as fun as Magic and other trading-card games are, playing them eventually transitions from an enjoyable pastime to a game of financial catch-up.
Trading-card games – also known as collectible-card games – require players to build their own card decks with only a fraction of the cards printed for the game. The genre also encompasses games backed by well-known franchises such as "Yu-Gi-Oh!" or "Pokemon." Unlike traditional tabletop games, trading-card games operate on the serial release of expansion sets, which each contribute hundreds of new cards to play.
A booster pack, the staple of any trading-card game, usually contains 15 random cards from a single expansion and tends to cost around $3. But buying the pack means taking a gamble because the cards inside could be useless for any given player's deck.
This is, in middle school, where the "trading" portion of the game would kick in. But adult players who seek specific cards for their decks go online or to game stores to buy cards that other players have already pulled out of booster packs. Players who can't afford to purchase the better cards and have to gamble are at a disadvantage.
For reference, most cards in the current Magic set, Rivals of Ixalan, can be found online for less than a dollar. But it's not unusual for rarer cards to cost anywhere from $3 to $10 each, which adds up fast for 60-card decks. For some older cards, the price has no limit; the most valued Magic card of all time, Black Lotus, sells for thousands or even tens of thousands of dollars.
And because new expansion sets continue to release, players can't just buy the best cards once and be done with it. A Magic deck with the best cards in one expansion could lose to a new generation of cards from the next expansion set just three months later. Players have to continue to invest money into increasingly valuable cards if the people they are playing with do, lest they fall behind on the latest card combinations and strategies.
I only had any fun playing Magic when I was younger because my dad, an enthusiastic Magic player, was willing to spend hundreds and hundreds of dollars on cards. Likewise, I have a shoebox full of Pokemon cards that my parents could afford to buy for me as a kid. Now, as a college student blowing his budget buying math textbooks and Carl's Jr., continuing to buy new trading cards is out of the question.
Some game publishers have attempted to capture the spirit of trading-card games while alleviating the need to spend money. The release of Dominion in 2008 popularized the genre of deck-building games, which require players to build their card decks during the game rather than before. All players have access to the same pool of cards and spend in-game currency rather than real money to draft their preferred cards.
Dominion only requires a single purchase and provides the excitement of building a customized deck without impeding players who have tighter budgets. The game does continue to release expansions – the latest of which published in November – but they feel far more optional than new Magic sets. Whereas players have to buy more Magic cards to adapt to their opponents' latest decks, Dominion opponents always have the same set of cards to choose from. Deck-building games employ a more financially viable approach for players that more card game publishers should consider adopting.
Trading-card games have also made their way onto the internet in the form of games like "Hearthstone." While the game does include microtransactions for paying players to add better cards to their decks, free-to-play players also have the opportunity to get new cards as they play more games. Theoretically, players can eventually customize their decks to their liking without spending any money. "Hearthstone" contrasts with the online version of "Magic," which players have to pay just to set up an account and then spend more money to acquire additional cards.
To the credit of "Magic" developers, they recognize the financial barriers of their printed game and attempt to alleviate them to some extent. Reprints of coveted old cards help keep their prices down, and the "drafting" game format levels the playing field as players build small decks out of randomized booster packs. But cheaper cards and booster-priced matches don't fully handle the wallet-draining problem that continues to haunt trading-card games.