Stress Less: Painting can help students brush up on how to relax from school life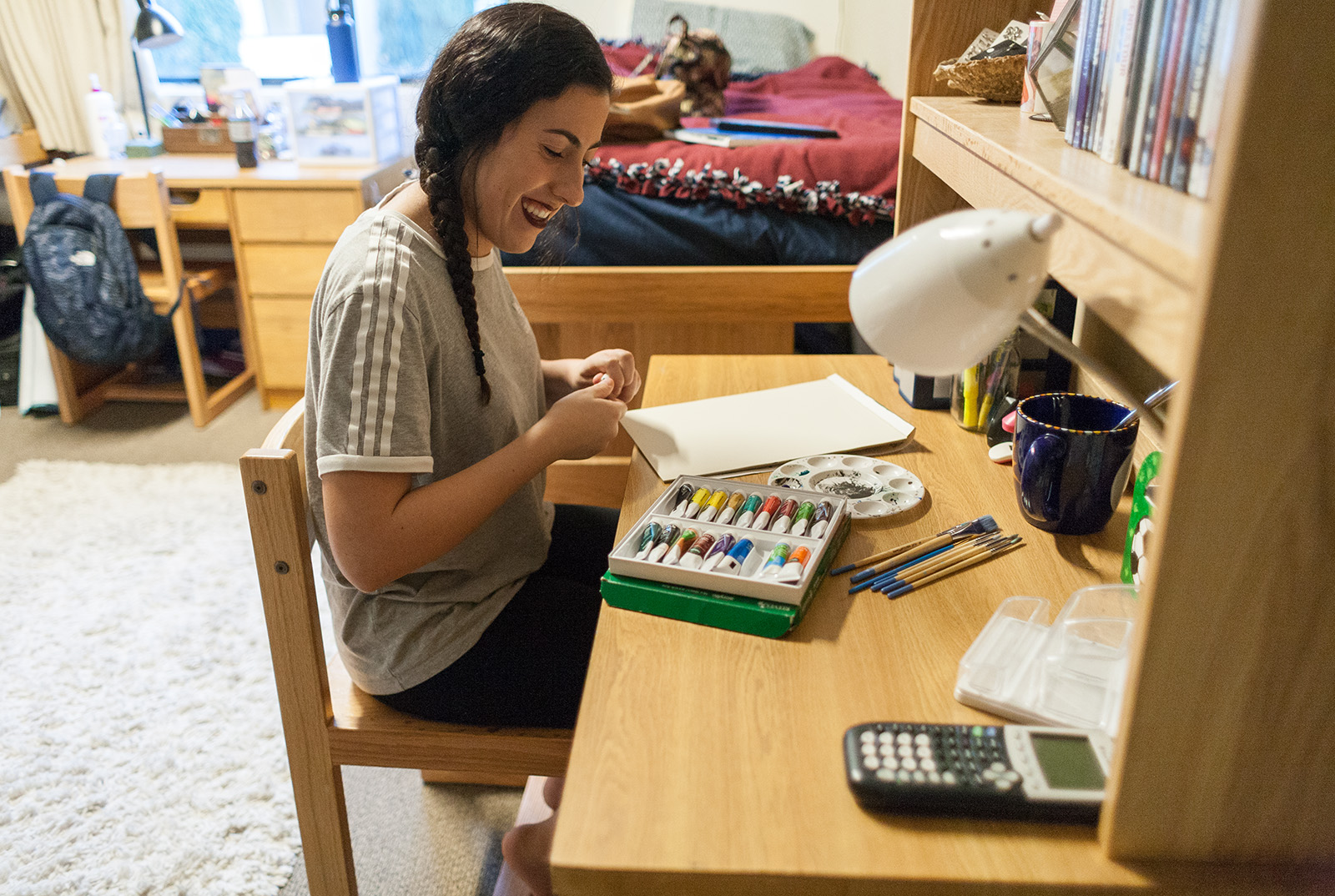 Alissa Evans, a second-year cognitive science student, tried painting as a way to reduce stress. She painted a mountain landscape at night and a sunset on canvas and canvas paper respectively. (Mia Kayser/Daily Bruin)
Alissa Evans' experience with stress stems primarily from her inability to definitively choose a major, a recently received D that taints her otherwise mediocre GPA and her complete and utter confusion regarding the abstract concept commonly referred to as her "future." In the midst of a mid-college crisis, the Daily Bruin columnist decided to try a different stress-relieving activity every other week of winter quarter and chronicled her quest for mental homeostasis in Stress Less.
An average student's daily academic routine likely does not include painting.
However, a study published in Art Therapy, the official journal of the American Art Therapy Association found that 45 minutes of creative activity, regardless of talent or artistic experience, significantly reduced the body's production of the stress hormone cortisol. Over break, the mere idea of winter quarter threatened to shatter my increasingly fragile academic resolve, and so blind trust in science prompted me to try canvas painting as a means of stress relief.
Stress has been a dear friend of mine since the hormone-ridden days of early high school. While juggling a part-time job at a cafe, year-round soccer, an excessive number of Advanced Placement classes and a practically nonexistent social life, meltdowns were commonplace and a constant fear of failure was the norm. Unfortunately, my stress levels only increased in college, during which I found that a single test can alter the entirety of my future.
My artistic career began in a first grade art class where I consumed more Elmer's glue than the U.S. school system should have allowed. As I grew older, I moved on to a more sophisticated palate by eating paint, and then to actually painting, which became a hobby. While far from an art connoisseur, I try to channel the minuscule fraction of artistic ability inherited from my great-grandfather, an experienced painter, into decorations for my room and the occasional cheap but meaningful gift.
The aim of my experiment, however, was not to create a flawless piece radiating professional artistry, but simply to use each stroke of the paintbrush to ease my overly stressed brain. And once I accepted that objective, it worked.
I practically crawled into my dorm room after a seemingly endless first day of class, baggy grey sweatpants pulled up past my belly button and hair in a wildly tangled knot on top of my head. I rubbed my dark under-eye circles – a reminder that I haven't slept in four days – before transforming my cluttered desk into a makeshift painting studio.
As the soothing melody of Busta Rhymes' "Calm Down" pervaded the room, I tried to transition my thoughts from distributed artificial intelligence to art and aesthetics.
My stress resurfaced when I was suddenly confronted by the overwhelming reality that I had no idea what to paint. While I would normally resort to plagiarizing someone else's idea on Pinterest, it felt important to shift the emphasis from what I was painting to the act of painting itself. I brainstormed for about 30 minutes, came up with an idea – albeit novice and unoriginal – and I painted it. Simple.
With a mindset less focused on the quality of the art, it became notably easier to get lost in the long brush strokes, the vibrant colors, the texture of the paint and the bumpy surface of the tightly stretched canvas.
When a slip of the hand smeared the carefully blended colors and nearly convinced me to throw the painting in the trash and drop out of school, the gentle voice of Bob Ross reminded me that there are no mistakes in art, only happy accidents. And although I might expect Bob Ross to rethink his assertion after witnessing my messy artistic process, which includes painting over mistakes every five minutes, I made a conscious effort to be content with any and all outcomes.
By concentrating my energy on something other than nominal scales and 19th-century philosophy, I was able to activate more creative mental processes and give the technical side of my brain a much-needed rest. I would be lying if I said the multitude of assignments I had to do never crossed my mind. But the act of painting, of creating, made the inevitable cram session at 3 a.m. less daunting, and even encouraged more effective and concentrated studying.
The finished product could be marketed as a loose interpretation of Vincent van Gogh circa 1890, if van Gogh was blind and talentless. And while the painting confirmed that I should never pursue a career in art, it served its purpose of redirecting my focus and resetting my brain. I can honestly say the positive impact that the two-hour painting session had on my mental state was well worth the minor setback in studying.
That being said, the stress relieving effects, although palpable while painting, did not extend much beyond that single day. In order for it to serve as an effective, long-term stress reducer, small blocks of time should be dedicated to painting, or any other creative activity, as often as possible. I painted again three days after the first session, and although I had significantly less time to devote, the familiar calming effect was ever-present.
Painting might feel unpleasant to those who believe they lack the necessary skills or the creative inspiration. However, once I was able to let go of my inhibitions and simply enjoy the process, painting acted as a powerful stress reliever.