Alumna plays with Barbie dolls in satirical film about Hollywood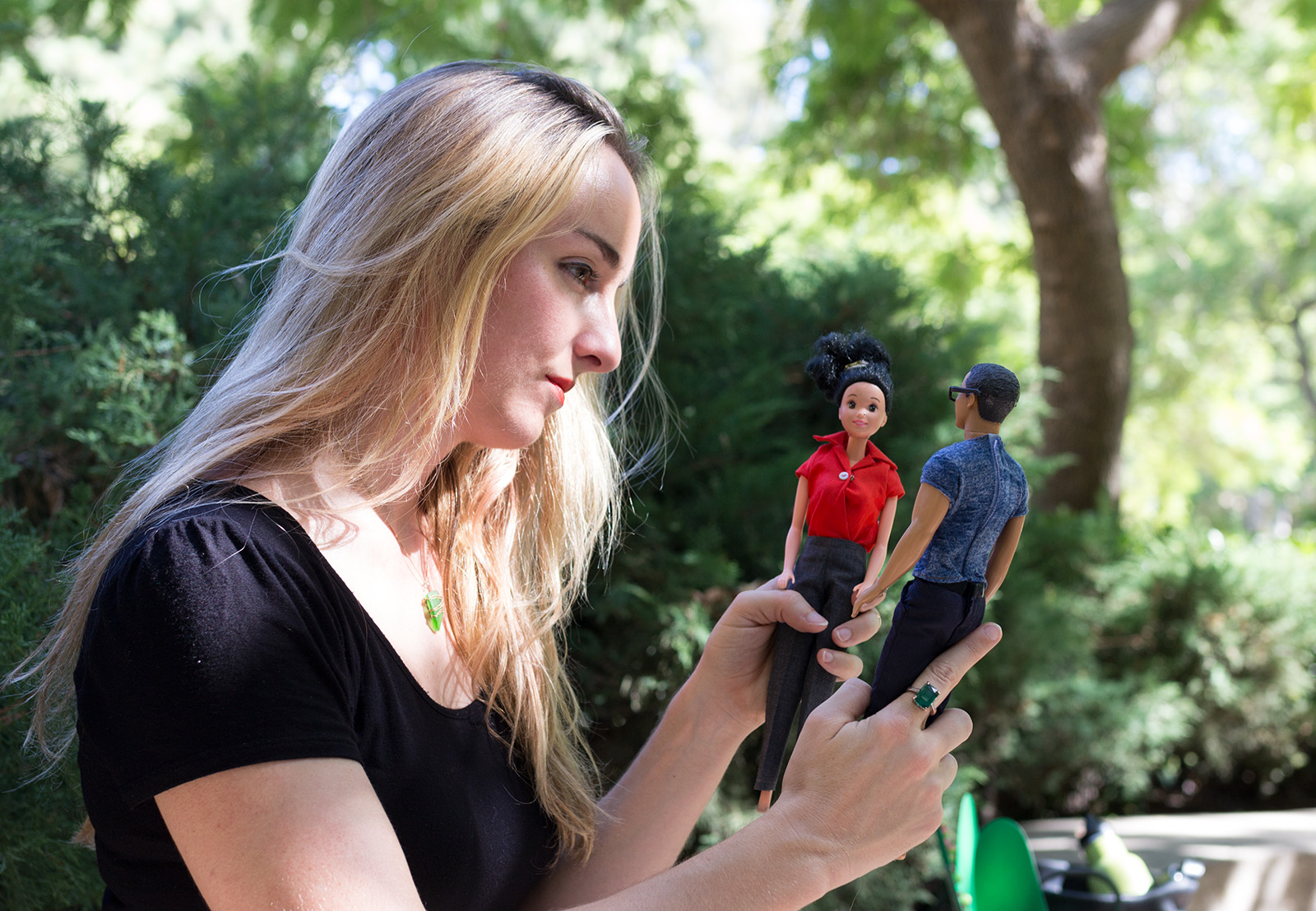 UCLA alumna Ava Bogle directed "Meryl Fuckin Streep," a short film that features Barbie dolls as characters. In the film, two writers go into a meeting with Hollywood producers to pitch a film script. On arriving, they discover that the producers are living, speaking Barbie dolls. (Chelsea Zhang/Daily Bruin)
Ava Bogle constantly played with Barbies as a child and now, she is directing them in her short film "Meryl Fuckin Streep."
In the film, Bogle, a UCLA alumna, uses Barbies dolls to satirize Hollywood and the filmmaking experience. The ideas of artistic integrity and selling out are explored in surreal ways by using Barbies as characters, Bogle said.
"The subject of selling out in Hollywood seems like the perfect foil for using Barbies," Bogle said. "Their kind of soulless expressions, I thought, (were) fitting for the producers in the film."
"Meryl Fuckin Streep," produced, directed and written by Bogle, tells the story of two writers going into a meeting with Hollywood producers to pitch a film script. However, once they arrive, they discover that the producers are living, speaking Barbie dolls, intent on transforming the writers' indie road-trip film into an action blockbuster starring Meryl Streep. Since completing the film, Bogle has entered it into various film festivals, and most recently, it won the "Best Experimental Film" award at the Lady Filmmakers Festival.
Bogle was initially interested in the idea of combining Barbies with live-action film elements after playing with them throughout her childhood. Although older films like "Superstar: The Karen Carpenter Story" used Barbie dolls to tell a story, Bogle was unable to find a film that combined the dolls with real-life elements, so she set out to film one herself.
Jesse Lumen, the film's co-executive producer, said Bogle's use of Barbies as characters with their own voice actors was something no one had ever tried to pitch to him before.
"That's the kind of thing that no one else is going to come tell you, nobody else is going to think of that," Lumen said. "That's so brilliant and inventive and interesting and experimental."
Bogle said she loosely based the story on some of her past meetings within Hollywood. She tried to capture the feelings of her experiences to explore the idea of compromising one's artistic integrity and to get audiences to question what would make them sell out, she said.
"It goes obviously in a more extreme, surreal direction," Bogle said. "It goes into this crazy space that is not my experience, but it's kind of like a general mishmash of different experiences."
Using Barbies to convey the surreal aspect of the film required a combination of practical camera techniques and actor collaboration, Bogle said. While filming the Barbies, Bogle and her cinematographer Ilan Levin used a macro lens – a lens that focuses on objects very close to the camera – in order to match the size and scale used for the humans and Barbies.
Bogle also had the voice actors for the Barbies sit across from the actors playing the writers, to help them focus and direct their reactions to human beings rather than inanimate objects. The interaction helped the voice actors as well, who used their experience on set to inform their own performances when prerecording the dialogue in the studio, said Rachel Avery, who played a female Barbie producer.
"(We) went to set and sat with the actors and started improving and using that moment in order to make it feel really real," Avery said. "So truly, (Bogle) took something that's typically difficult and made it really fun and creative."
The callous Barbie character that Avery portrayed was then juxtaposed with Meryl Streep, the actress that the Barbie producers were intent on casting for the writers' script.
"Meryl Streep is kind of a symbol to me, the pinnacle of success in Hollywood while also maintaining integrity," Bogle said. "So I thought it was funny, this idea of selling out over someone that's the pinnacle of integrity. … That kind of speaks to a lot of irony in Hollywood."
Although the film inserted Barbies into real-life scenarios, Bogle had not thought of her film as unconventional or experimental until she began showing the film at festivals such as the Lady Filmmakers Festival and the Mill Valley Film Festival. At the festivals, her film was placed into programs with other experimental films and Bogle said she enjoyed discovering how attendees perceived her film.
"I was surprised to win 'Best Experimental Film' because I actually didn't realize the film was experimental until I won that award," Bogle said. "It's funny when you make a piece of work and you just kind of don't really put it in these boxes."