The Quad: Playlists to help you get through the daily routines as a Bruin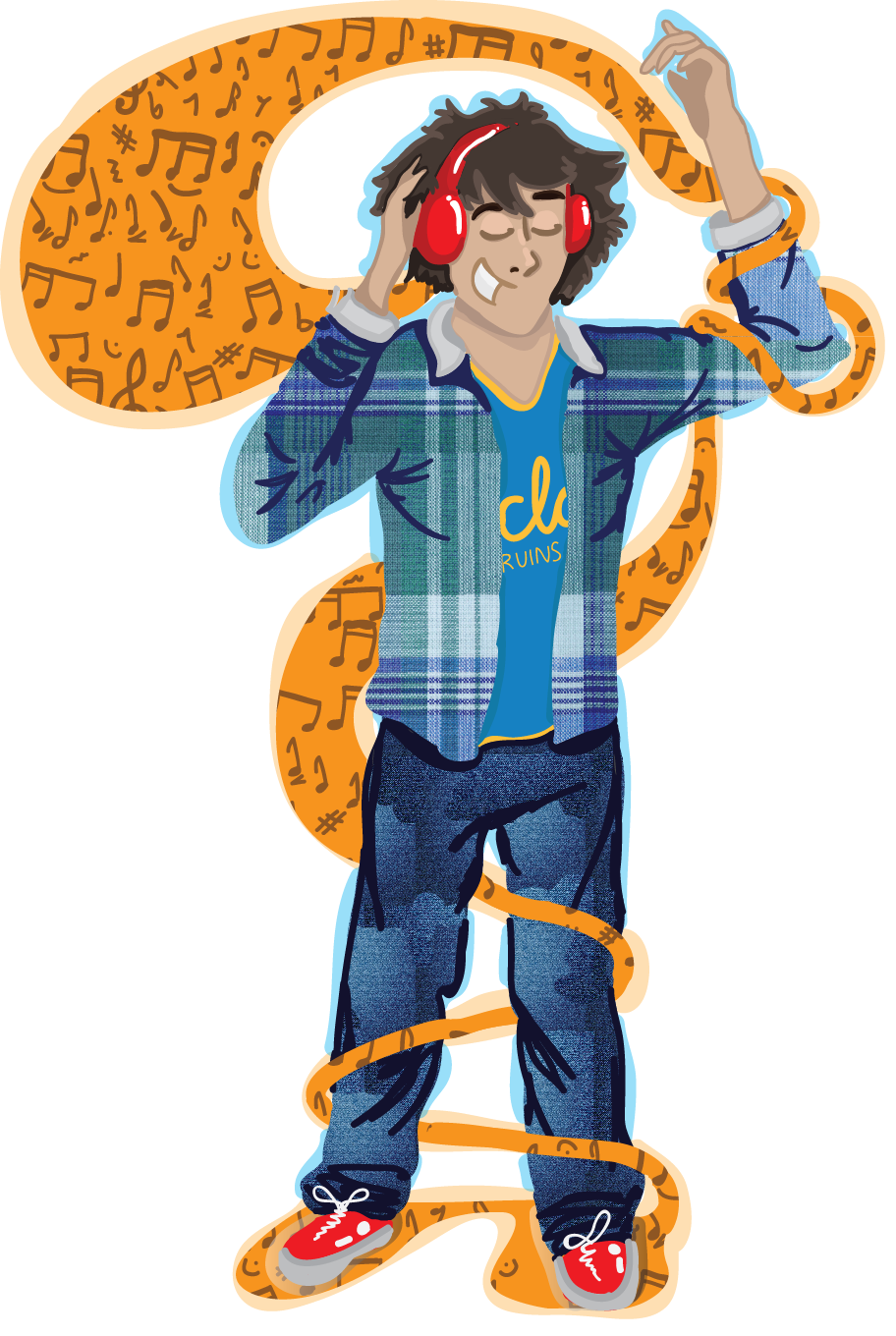 (Shreya Mantri/Daily Bruin)
Welcome back to a new school year, Bruins! Here are a few playlists for all of your school-year necessities, including walking to class, studying and showering.
Going down Bruin Walk
We all need an upbeat playlist to get us going and make the trek to class more bearable. Here's to dodging flyers on Bruin Walk and trying to make it to the public affairs building on time.
This list – a medley of genres from hip-hop to electronic and dance – features a few of KYLE's better hits than "iSpy," some older Kanye West songs and a variety of other artists'. Some of my favorites are "Falling," a perfect match of Snakehips' music with Malika's smooth vocals, "Let's Go" by Khalid, "Champion," my favorite Kanye song of all time and "Pretty Thing" by Broods, a masterpiece of electro-pop.
Studying
The best study playlists are a laid-back and chill mix of acoustic, indie and electronic music — relaxing enough as to stay focused and not get distracted from your work, but exciting and upbeat enough to not get bored.
"Bloom" by The Paper Kites starts with the most calming guitar-picking pattern ever that carries on throughout the whole song; accompanied with simple but sweet lyrics and melodic whistling, this creates a soothing song for the soul. "Rain Clouds" by The Arcadian Wild and "Waves" by Dean Lewis are two of the most ineffably beautiful songs that I could listen to on repeat forever, thanks to a lethal combination of impactfully poetic lyrics, dynamic instrumentation and stunning vocals.
Some of my all-time favorite artists are on this playlist, including Noah Kahan, who has a voice reminiscent to that of the lead singer of Passenger but with an amazing blend of guitar and electronic instrumentals. Also included is The Ransom Collective, an indie folk band that channels Of Monsters and Men through upbeat folk instrumentation, seamless harmonization, trade-off between male and female singers and abstract lyrics.
Turn up/Pregame/Get psyched
Whether you're getting ready to go out or just getting ready for the first week of class, here's something to help you get pumped.
This is a blend of old and new, since older hits such as "Ignition (Remix)" by R. Kelly and "Gold Digger" by Kanye West and Jamie Foxx will always be a good idea. Some newer ones include "Heatstroke," my favorite track from the album "Funk Wav Bounces Vol. 1," and "Next to You," a great collaboration by Twista and Jeremih.
Shower
Here's a perfectly concise 15-minute playlist for all of your singing-in-the-shower needs. When the playlist is done, so are you.
The ghosts of Bruin Bash past
Relive the past years of Bruin Bash greats including Chance the Rapper, Anderson .Paak, Madeon, Matoma and Ty Dolla $ign. All of these songs – but especially both Matoma songs, "Old Thing Back" and "Party on the West Coast" – are perfect if you want to pretend that it's still summer, because of their upbeat nature, energetic instrumentation and infectious optimism.
Love is love
Whether it's that lost connection from your discussion last quarter that you still yearn for, or the cute guy you met during move-in, it's always great to have a playlist to accompany this new year filled with new possibilities.
No love song playlist is complete without Colbie Caillat and Ed Sheeran, but I also rounded it out with some other tunes including "Power Trip" by J. Cole and Miguel and "I Think I'm in Love" by Kat Dahlia.
This is admittedly a cheesy but cute playlist, but Lin-Manuel Miranda said it best: "And love is love is love is love is love is love is love is love, cannot be killed or swept aside / Now fill the world with music, love, and pride."
Michelle Lin is a Daily Bruin Quad contributor. She writes about everything, but especially likes lifestyle and informative pieces.
Michelle Lin is a Daily Bruin Quad contributor. She writes about everything, but especially likes lifestyle and informative pieces.