Theater Review: 'Hamilton: An American Musical'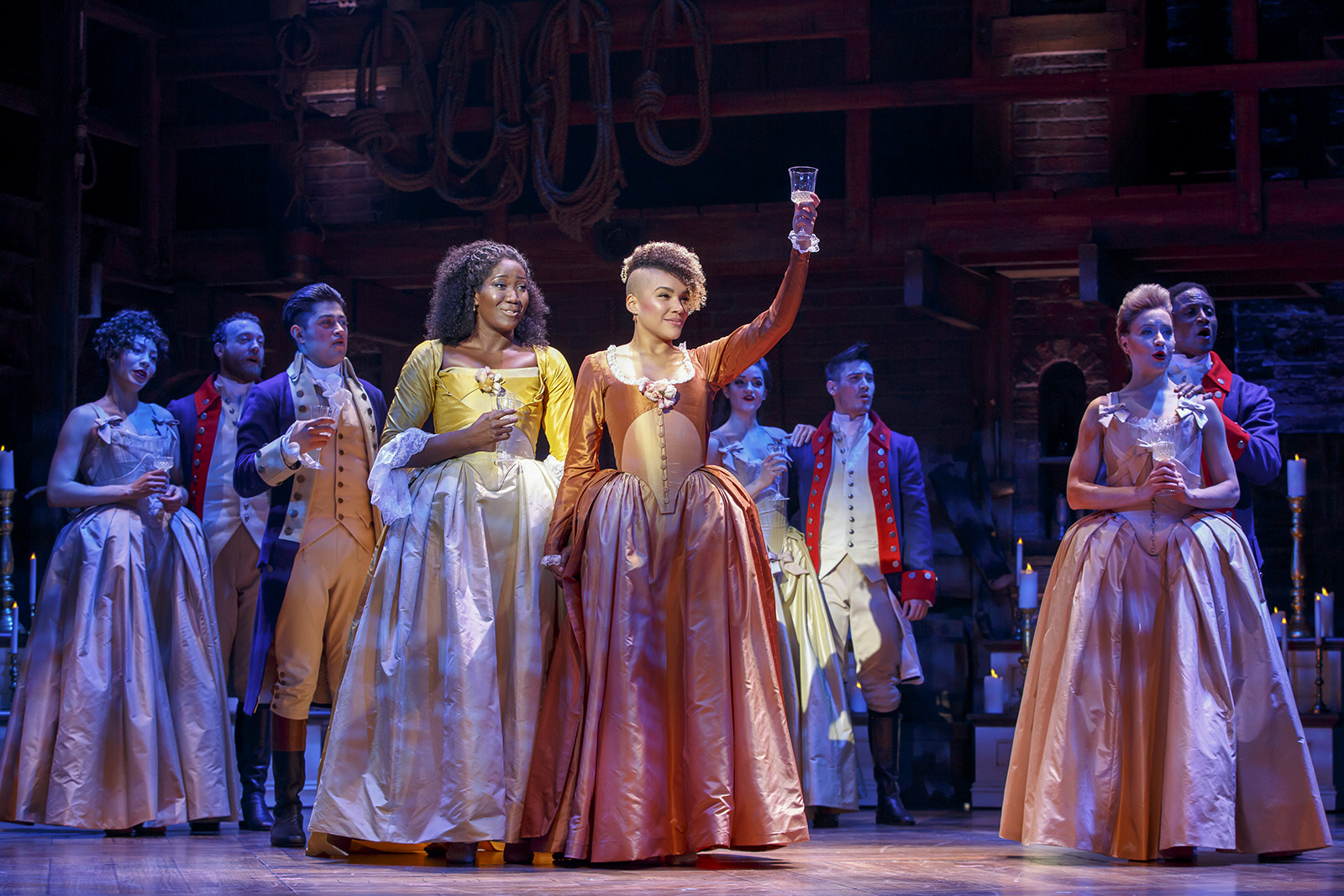 (Courtesy of Joan Marcus)
Angelenos don't have to "wait for it" any longer – "Hamilton: An American Musical" has arrived at the Hollywood Pantages Theatre, and it is breathtaking.
From its intricately crafted lyrics and melodies to its nuanced performances and spellbinding choreography, "Hamilton" serves up a captivating experience only made more poignant given the country's current political climate. The 11-time Tony Award winning show, which opened Aug. 11, will run in Los Angeles until Dec. 30 as part of the show's first national tour.
"Hamilton" is not your average musical – the show juxtaposes historical themes with the modern music styles of rap and hip-hop. In addition to its contemporary sound, the show also casts actors of color to transform the history of America, telling a story that feels relevant and modern despite its age-old origins.
[Related: Theater review: 'Irving Berlin's White Christmas']
"Hamilton" tells the story of Founding Father Alexander Hamilton (Michael Luwoye), following his journey as a "young, scrappy and hungry" immigrant eager to take up arms in the American Revolutionary War. Through the course of the show, Hamilton evolves into an embattled political figure plagued by scandal and tragedy as he attempts to help shape America's emerging government, desperate to leave behind a worthy legacy.
"Hamilton" is written by the prolific Lin-Manuel Miranda, who wrote the music, lyrics and script for the show. His ability to cross genres and spheres of pop culture makes the show accessible to multiple generations. In one song, he pays homage to The Notorious B.I.G.'s "Ten Crack Commandments" which younger audiences will be familiar with, and in another, carries out an extended metaphor that compares Hamilton to Macbeth, thereby engaging older, classical theater buffs. While the songs succeed in narrating the plot, strong performances from the show's two lead actors, Michael Luwoye and Joshua Henry, bring their lyrics to life.
Luwoye infuses a searing passion in Hamilton that is apparent from his first appearance on stage. He delivers his first major monologue in the show-stopping song "My Shot," displaying fiery determination to prove himself as well as simmering anger at the injustices faced by the colonists. As the show progresses, Luwoye conveys the increasing weight Hamilton faces as he struggles to implement his own political plans in the face of tragedy within his family. The emotional trials come across particularly well in songs such as "It's Quiet Uptown," where Luwoye breaks down and cries with heart-wrenching authenticity.
Early in the musical and throughout his life, Hamilton meets his match in Aaron Burr (Joshua Henry), an early friend and political adversary who ultimately shoots him in a climactic duel. Henry conveys Burr's emotional arc through a tonal evolution. In the first act, Burr toes the line between restraint – urging Hamilton to "talk less, smile more" – and exasperation at the difficulties he himself faces, such as his inability to advance in his career and life.
But by the second act, as Hamilton begins to actively foil Burr's political pursuits, Henry takes on an increasing desperation that transforms into a plea for understanding from the audience. Henry's nuanced portrayal of the character make Burr empathetic and tragic, instead of the "the villain in your history books" that Burr describes himself to be.
The cast as a whole is deftly talented, with standout performances from Emmy Raver-Lampman and Jordan Donica. Raver-Lampman shines as Angelica, Hamilton's sister-in-law and tragic love interest, dazzling with her wit and grace in songs such as "The Schuyler Sisters" and "Satisfied." Donica charms as the slimily charismatic Thomas Jefferson, particularly in the multiple "Cabinet Battle" scenes – debates between Jefferson and Hamilton styled as contentious rap battles.
The staging of "Hamilton" also adds to the richness of the characters and story. Though the show is set on a simple backdrop of wooden scaffolding and brick, the choreography is stunning. One of the strongest examples comes in the pair of songs "Helpless" and "Satisfied."
"Helpless" follows Eliza, (Solea Pfeiffer) Hamilton's wife, as she falls in love with him, chronicling their story from the moment she spots him at a ball to their courtship and eventual wedding. "Satisfied," begins at the wedding as her sister Angelica gives a toast to the groom and bride. As Angelica stops to reminisce, the choreography literally goes backward, aided by a rotating circle centerpiece built within the stage rewinding through the dance movements of "Helpless" to the story's starting point, which is then told from Angelica's point of view. The scene is a piece of theater magic, carried out with flawless precision by well-rehearsed dancers.
It goes without saying that "Hamilton" takes on an urgency in today's political climate of racial division. The decision to weave people of color into the narrative of the founding of our country – an acknowledgement of their importance and belonging in society today – is a revolutionary one that adds meaning to the show as a whole. The musical retells the narrative of the country's founding, claiming it for immigrants and revolutionaries and painting an altered picture of the country's origins.
"Hamilton: An American Musical," acts as a spectacular piece of theater, a rallying cry to action and a reminder of unity, making it easily one of the best and most important shows of this generation.