A Taste for Adventure: Foie gras a tasty introduction to the world of fancy eating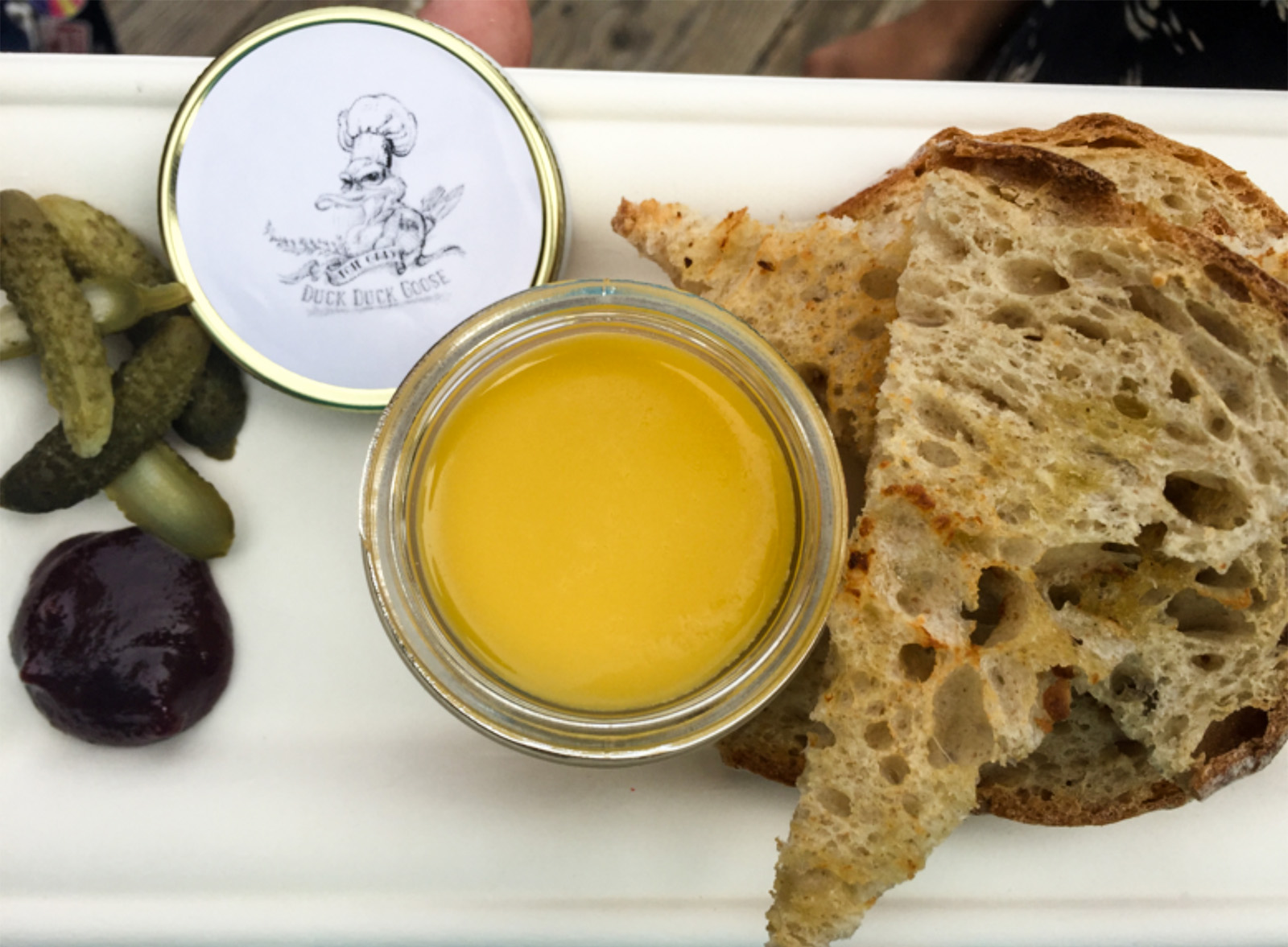 Daily Bruin columnist Matthew Fernandez tries duck foie gras in the first edition of "A Taste for Adventure." The duck entrails were served with a thick layer of fat on top and cherry jam and cornichon pickles on the side. (Matthew Fernandez/Daily Bruin)
The melting pot of Los Angeles brings together cultures and cuisine from all around the world. The city's markets and restaurants offer menus that may be a little different from the typical dining hall menu. Each week, columnist Matthew Fernandez will plunge into LA's culinary scene and warily try food he's never eaten before.
Random pop-up events and food opportunities happen all over Los Angeles at any given time, which make it easy to find odd eats. From food truck dollar tacos to fancy bird gut butter, you never know what LA's foodies will serve up next. We're blessed like that.
So when an event notification showed up on my Facebook feed for the Smorgasburg market event on the Santa Monica Pier, I had to choose between writing my paper and eating some market food.
Priorities, right? I was planning on going to the beach anyway.
My roommates and I arrived at the pier to find it more packed than usual. Food stalls were crammed side by side and offered everything from Peruvian tacos and lobster tails to egg roll burgers and bubble waffles. But one vendor caught my eye.
[Related: Check out Daily Bruin's comprehensive guide to LA eateries along main street boulevards]
Unlike the stalls around it, the Duck Duck Goose Foie tent had no line. A few curious groups tentatively paused, but upon discovering what foie gras was, gave an "ew" and quickly moved on to try the market's other offerings.
Foie gras is a French dish made from the livers of fattened water fowl, typically ducks or geese. As migratory birds, water fowl have the ability to store fat for long journeys, which allows for a high fat content in their livers.
I've known what foie gras was ever since it was referenced in Disney's "Ratatouille," which, along with the occasional Food Network show, forms the basis of my culinary knowledge. Although French liver paste is a dish that I have never wanted to try since I'm not in the habit of eating entrails, I decided to try it for the sake of this column.
In most cases the dish is seared; however, Duck Duck Goose Foie's foie gras is cured in pink salt, pepper and sugar for two days. The resulting spread is served cold so that it does not melt into a soupy mess, which I found out the hard way after I stuck the leftovers in my pocket.
The food stand served its foie gras in a small glass container with five slices of toast, cherry jam and cornichon pickles on the side for $12. A thick layer of yellow fat sat at the top of the glass, which I mistakenly spread across the first slice of toast.
Biting into the fat was an oily, bland experience made worse by the sudden realization that I had actually just bitten into a thick layer of fat. The piece of toast was completely covered in fat and I didn't realize my mistake until I had already finished the piece. In essence, I had just eaten a fat sandwich. Feel free to cringe.
The actual liver spread beneath the fat was a brownish gray color and had a thick, cream consistency like grainy butter. The flavor was savory and meaty with a slight saltiness. Overall, the spread has a rich taste with a lingering aftertaste that transitions into slight bitterness.
By itself, the foie gras was not too strong, so it took me a few bites to really get a handle on the flavor. It's gentle enough to avoid having an overpowering meaty or bitter taste, yet strong enough to serve as a base for other flavors, hence the jam and pickles.
[Related: Whipping up a vanilla cheesecake using an unlikely oven]
Spreading jam on top of the foie gras created a salty-sweet flavor profile that enhanced the sweetness of the jam. The salt counteracted the acidity of the pickles and left them with a satisfying sourness.
Eaten together, the liver, jam and pickles create a meaty, sweet-sour combination that makes for an excellent sandwich, almost a fancy alternative to a burger.
I'm a very finicky eater, and I find the concept of eating organs weird, plus the bitter, iron taste of cooked liver is usually a little strong for me.
However, I enjoyed foie gras. Had I not known what it was, I never would have guessed that the salty meat paste was made of bird guts. The depth of flavor elevates the foods it is paired with, making them fancier than they actually are.
Since it's a spread, it's also very light and won't weigh you down or make you feel bloated like most meat dishes.
Foie gras isn't an everyday food – normally $50 per pound. But if you have the money and aren't too hung up on what it's made of, then foie gras is an easy foray into the world of fancy food.