Student duo shares original comedy sketches on YouTube channel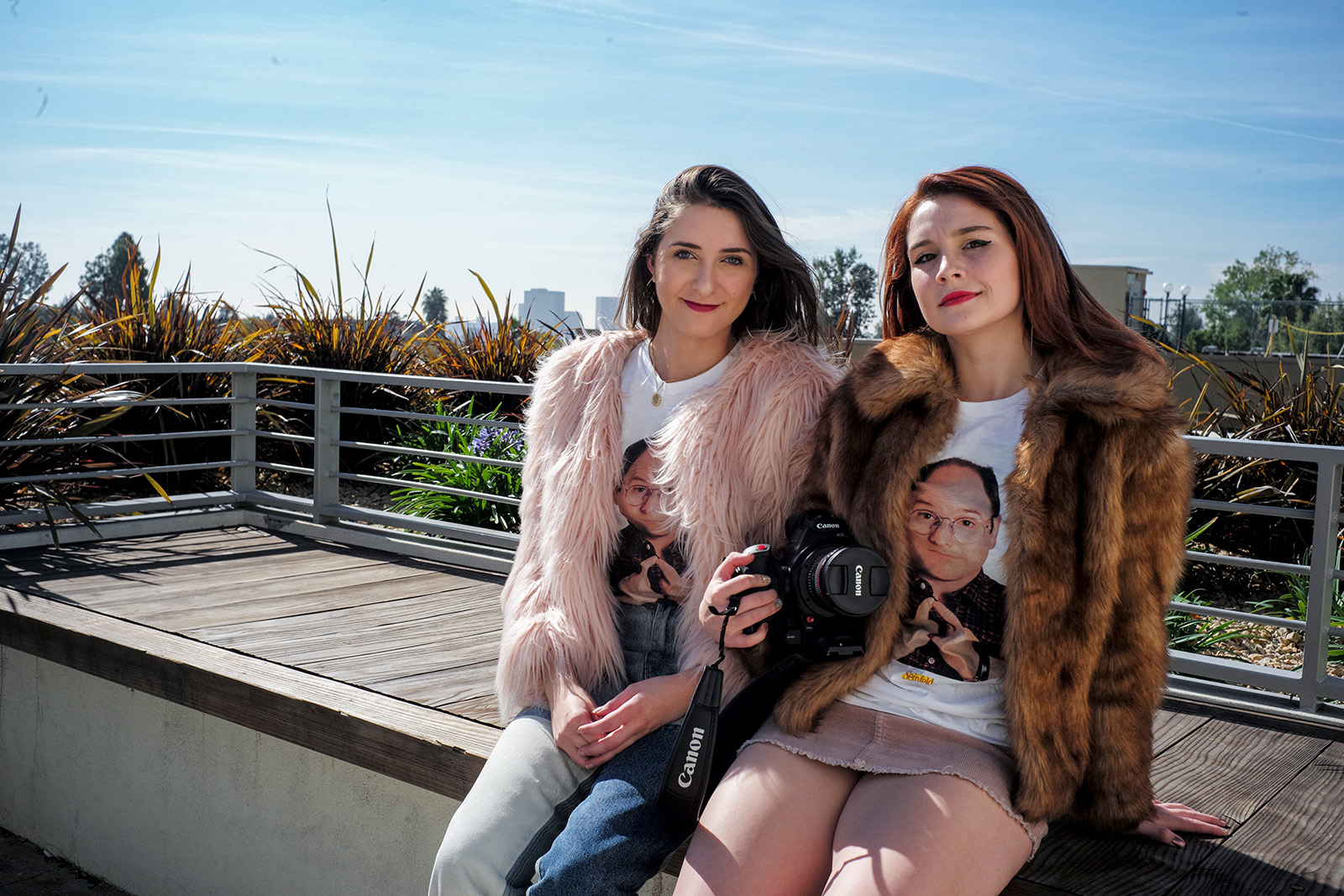 Students Sydney Heller (left) and Olivia DeLaurentis (right) run their "Barely Legal Comedy" Youtube channel in addition to their studies at UCLA. In their popular video "Phone Sex," the duo portrays imaginative phone sex operators. (Marley Maron/Daily Bruin)
A talking omelet is the last thing one might expect to find in a video titled "Phone Sex" with glossy red lips as the thumbnail.
In the video, which has been viewed about 35,000 times, two girls running a phone sex business shock their customer when they imagine themselves as an omelet and falafel as part of the role play.
"Phone Sex" is part of a growing collection of skits by Barely Legal Comedy, a YouTube channel that fourth-year theater student Sydney Heller and third-year film student Olivia DeLaurentis use as a space to express their passions for screenwriting, filmmaking and acting through offbeat comedy sketches.
Heller and DeLaurentis run a web series on their channel about a platonic dating business called "Sugar Babies" and released the third of an eight-episode run Friday. Their collaboration is a way to pursue their passions.
"If it makes us laugh – even if it doesn't make sense, like having an omelet whisper to people – we'll build off of it and that's a sketch," DeLaurentis said. "We'll lose our ability to talk or breathe while writing stuff because the jokes are so much funnier to us than they probably ever will be to anyone else."
[Related: Student finds voice through radio show hosting]
DeLaurentis and Heller met in their first and second years at Agoura High School through an improv training program called ComedySportz. It wasn't until they competed in a tournament together that they realized their potential as a pair, Heller said.
Their YouTube journey started with the NBC Playground comedy contest in 2014 that called for applicants to submit their own pilot ideas for a show, along with previous work. After filming two comedy sketches that received positive feedback from family and friends, Heller and DeLaurentis saw the contest as a chance to build a portfolio even though they didn't win.
Heller and DeLaurentis then turned to making YouTube videos on their Barely Legal Comedy channel as a way to further boost their portfolio.
Yet 16 YouTube videos later, they still admit to getting stage fright. Whenever they get nervous for improv performances, they warm up by singing and dancing together to "Lip Gloss" by Lil Mama to get out of their heads and up on stage.
Enjoying each others' company is what's kept Heller and DeLaurentis unafraid to perform in front of the camera for YouTube, DeLaurentis said.
[Related: BuzzFeed producers, UCLA alumni credit comedy foundation to improv]
Even now they lounge on a couch in matching "Seinfeld" T-shirts in DeLaurentis' apartment, where much of the filming occurs. Scattered around the apartment are Barbie doll heads and giant printouts of Selena Gomez, random props left over from their videos.
"They're different performers – Sydney can turn into any character at any second and Olivia is a beautiful storyteller," said ComedySportz improv coach Natasha Arnold. "But the thing that both of them have is that they're risk-takers. They're willing to do whatever it takes for the comedy."
"Sugar Babies" has been a challenge in consistently coming out with new content while balancing school, DeLaurentis said. The comedy pair will often film during the day, edit at night and have the video up by the next day.
The students both agree the best ideas come to them while they're eating, drinking smoothies, driving or just hanging out. Ideas from their sketches range from relatable situations like introducing yourself in class to fabricated scenarios such as a postapocalyptic makeup tutorial.
"We've written a last minute sketch over FaceTime while driving back from road trips with our dads, which was a weird coincidence," Heller said. "Our dads were pitching jokes, too."
Heller and DeLaurentis cast friends from their improv group to play the outlandish roles in their sketches, including a creepy guy who doesn't believe in evolution and likes to scrapbook in the first episode of "Sugar Babies."
"We save the worst things for ourselves," DeLaurentis said. "If somebody has to be sprayed with a hose or slapped or covered in garbage, it's going to be one of us."
Heller and DeLaurentis also said they try to create a fun atmosphere for their guest actors so they have as much fun as the girls do collaborating with each other, making sure people won't have to wait on set for hours.
"We shot like three scenes in three separate locations in two hours – they're very fast," said "Sugar Babies" actor Kurt Maloney. "We probably did two takes a scene. I felt like such a diva being like, 'Can I get a third take?'"
Starting a YouTube channel is a stepping stone for them to reach a wider audience and move onto bigger things, DeLaurentis said.
The goal with "Sugar Babies" is to prove the duo can hold up a narrative comedy show; they want to work toward writing for networks like Hulu and Netflix, Heller said.
"It's important to get stuff out there even if it's not perfect – it should just be funny enough or good enough for you," DeLaurentis said. "It's never going to be perfect – what matters is that it makes people laugh."