Jazz, funk and R&B group Fine Print takes best overall at Spring Sing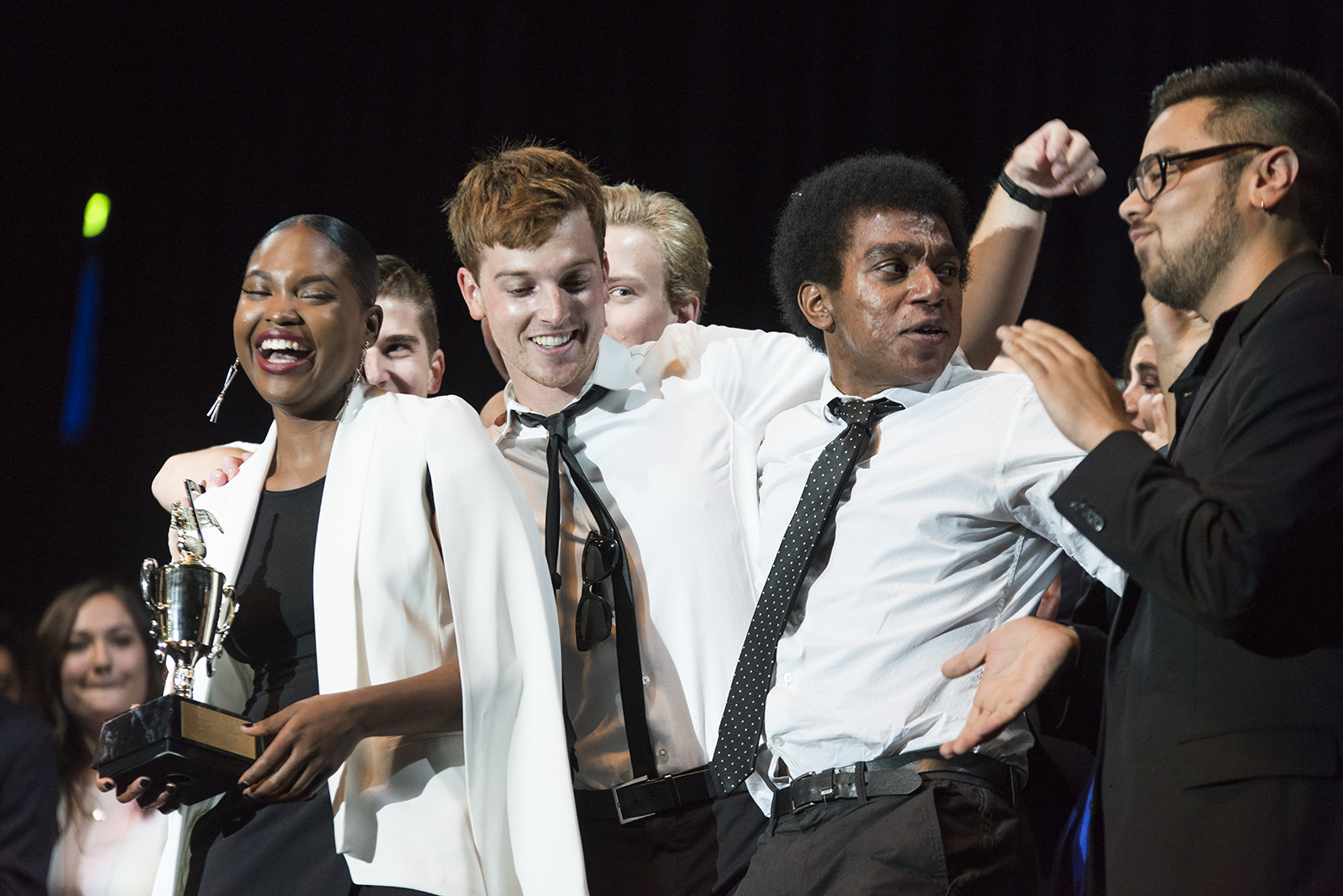 Jazz, funk and R&B band Fine Print took home The Northern California Alumni Grand Sweepstakes Award for best overall performance and The UCLA Las Doñas Award for best band entry for its performance of its original song "Move On." (Miriam Bribiesca/Daily Bruin)
The orginal article stated that Red Hot Chili Peppers' bassist Michael Balzary performed. In fact, the band's guitarist Josh Klinghoffer performed.
This post was updated on May 17 at 4:22 p.m.

On Saturday night in Pauley Pavilion, a surprise performance by Red Hot Chili Peppers' Anthony Kiedis and Josh Klinghoffer and skits by comedy group Company were interspersed with a cappella groups, dance teams, bands, solos and duets taking the Spring Sing stage.
This year's Spring Sing celebrity judges included rappers Shwayze and Sky Blu, "So You Think You Can Dance" star Jeanine Mason, YouTube star Kingsley, "The Parent Trap" actress Elaine Hendrix, "Mean Girls" actor Jonathan Bennett, model Sophie Simmons, "Awkward." actor Beau Mirchoff, "Lizzie McGuire" actor Clayton Snyder and Academy Award-winning actress Kathy Bates.
Kiedis, the lead singer of the Red Hot Chili Peppers and a political science student at UCLA from 1980 to 1981, was presented with the George and Ira Gershwin Award for Lifetime Musical Achievement. In his acceptance speech, he thanked the UCLA Alumni Association even though he said that receiving awards can be detrimental to inspiration.
"A lot of successful songwriters start off having a great connection to life and the awards start coming and suddenly they have nothing to say," Kiedis said. "But I am grateful to (the UCLA Alumni Association) for pointing out someone who writes songs."
After Kiedis' speech, he brought fellow bandmate and guitarist Klinghoffer on stage to perform Red Hot Chili Peppers songs "Otherside" and "By The Way," and a cover of "If You Want Me To Stay" by Sly and The Family Stone. Their performance earned a standing ovation from the audience.
The Northern California Alumni Grand Sweepstakes Award for best overall performance was presented to the band Fine Print. The band, which performed its original song "Move On," was also awarded The UCLA Las Doñas Award for best band entry.
"I started laughing, I couldn't believe it. … I was not expecting it all, but I am so thankful," said fourth-year ethnomusicology student and Fine Print vocalist Teira Lockhart Church. "We all love jazz so much, so it was really wonderful for us to bring our love for jazz and soul music to the stage."
The Bruin Choice Award went to ACA Hip Hop for its dance performance, which was set to several songs, including Flume's remix of "Tennis Court" by Lorde.
Signature A Cappella took home the UCLA Prytanean Alumnae Award for best a cappella entry. The group's performance of a medley of songs by the Beatles garnered standing ovations from judges Sky Blu, Shwayze and Clayton Snyder.
Reeva Gestre, a first-year psychobiology student and member of Signature A Cappella, said she was surprised the group won an award after not making it past Spring Sing auditions in previous years.
"We took a huge chance by doing Beatles songs which are so different from the traditional a cappella set-up of powerhouse voices and popular songs," Gestre said. "We were speechless."
First-year ethnomusicology student Priscillia Omon and fourth-year ethnomusicology student Alan McDonnell were awarded the Rose Bowl Bruins Award for best duet entry for the their performance of McDonnell's original song, "Who Cares."
The UCLA Mortar Board Award for best solo entry was presented to third-year ethnomusicology student Natalie Brainin, who performed her song "Forever."
Other notable wins included The Inner Sanctum, which won the best group director award and third-year art history student Lashon Halley, who received the Gold Shield Alumnae Esprit de Corps Award for best overall participation. The Best Company performance was awarded to the skit "Flight of the WalkingJay."