Best friends show off wit, comedic banter in original program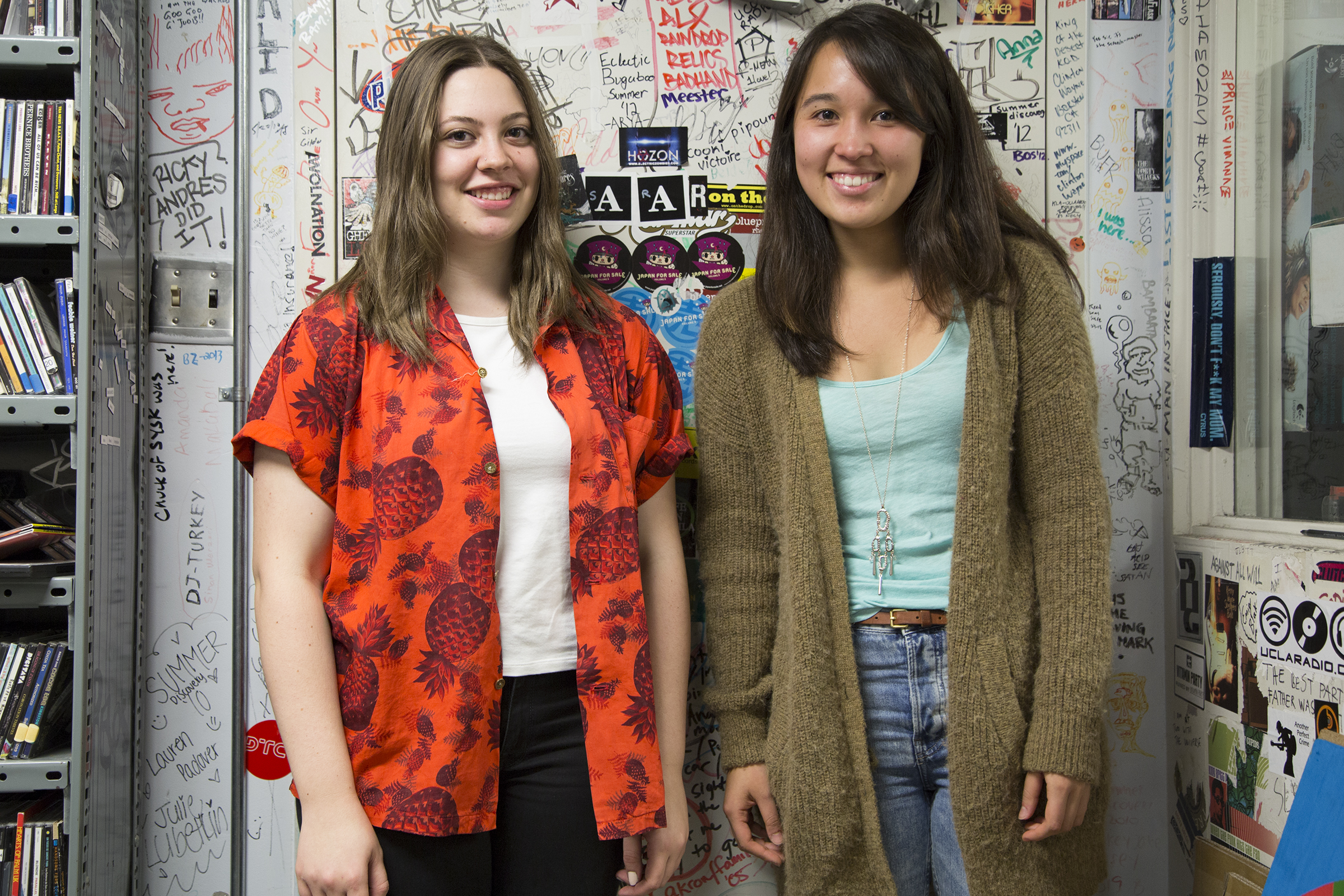 Second-year computer science student Kim Seltzer and third-year global studies student Aliya Kamalova will host "The Best Friends Show" at Nerdmelt on Friday. (Owen Emerson/Daily Bruin)
The friendship started with a rejection.
Last year, Kim Seltzer, asecond-year computer science student, applied to be on the staff of UCLA's comedy magazine Satyr.
Aliya Kamalova, current editor in chiefof Satyr anda third-year global studies student, interviewed Seltzer and did not accept her to the staff. But Seltzer continued to submit articles to the magazine and Kamalova said she took notice of Seltzer's improved work. When the two ran into each other at a party, Kamalova convinced Seltzer to reapply.
Seltzerwas accepted to Satyr in July 2014. She said she and Kamalova became friends quickly after that. Seltzer, now the assistant editor of Satyr, and Kamalova host a UCLA radio show, titled "Satyr Presents: How Do We Get Your Job?" Since summer 2014, Seltzer has interned at the comedy venue NerdMelt in the back of Meltdown Comics on Sunset Boulevard. Kamalova joined the intern staff November 2014 when Seltzer recommended her.
Listen to a clip of "Satyr Presents: How Do We Get Your Job?" with Nolan Fabricus:

In the spirit of friendship, the two have gotten the chance to host a show at NerdMelt, called "The Best Friends Show," which will feature several different well-known L.A. comedians who will tell a story with their best friend onstage with them for moral support, fact-checking and additional comedic effect. The inaugural show will take place Fridayat 7 p.m. in the NerdMelt Showroom with a lineup including Jake Weisman, Beth Stelling and Ian Abramson.
The NerdMelt Showroom hosts a variety of stand-up acts, podcasts and other alternative styles of comedy. Seltzer said she has seen shows at the venue since she was in high school; it's where Seltzer performed at her first open mic.
Seltzer and Kamalova said they got the idea for "The Best Friends Show" on a car ride backfromtheir internship at NerdMelt.
"I've done stand-up in the past but I always feel like I'm funnier when I'm just hanging out with my friends, joking around," Seltzer said. "So we thought 'OK, that's a common problem for comedians,' so if we just bring their friends onstage then they have to be funny."
They pitched their idea to their boss, Hannah Kyle Crichton, program director at NerdMelt. As Kamalova and Seltzer pitched it, the duo will host the show, but its focuswill be on the stories told each week by five guest comedians and their respective best friends. Crichtonsaid shewas enamored with the idea and happy to give the pair of interns a shot at creating a show. After she realized the venue's student stage was booked, she even pushed for the show to be performed on the NerdMelt main stage, where Crichton said intern shows are seldom held.
"It's a great idea, and it's fun to be able to give them the opportunity to do it," Crichton said."If I didn't like it I probably would have said, 'Come back with something different.' But it's really fun and it works perfect for two best friends like them to host it."
Crichton brought on fellow NerdMelt intern Katherine Leon, a recent Chapman University graduate, to help co-produce the show. Once the project received the green light, the three worked together to contact comedians, create a lineup andorganize publicity for the event. Seltzer said now there is not much else to do but make T-shirts for the opening night.
The rapidly approaching first show is a test run to see if "The Best Friends Show" can become a permanent gig. Leon is confident that it is the strong friendship between Seltzer and Kamalovathat will make "The Best Friends Show" a success.
"Their chemistry and their banter towards each other is how you can tell they're best friends," Leon said. "They just bounce off of each other so well."
As for their future in the comedic world, Seltzer says they are trying out every kind of job to see what they like doing. The pair writes and edits for Satyr and produces and hosts their radio show. Creating and hosting a stage show, Seltzer said, is a perfect additional comedy format to try out.
Kamalova said the premise of the show stemmed from how much she and Seltzer love doing comedy as a pair. She said she is still amazed that their idea will soon become a reality.
"I remember the first time I went (to NerdMelt) … I thought, 'It would be so cool to work there,' without any thought of actually working there," Kamalova said. "And now it's really crazy that we have a show."