Balloon & Panel: Anime, manga encompass diverse genres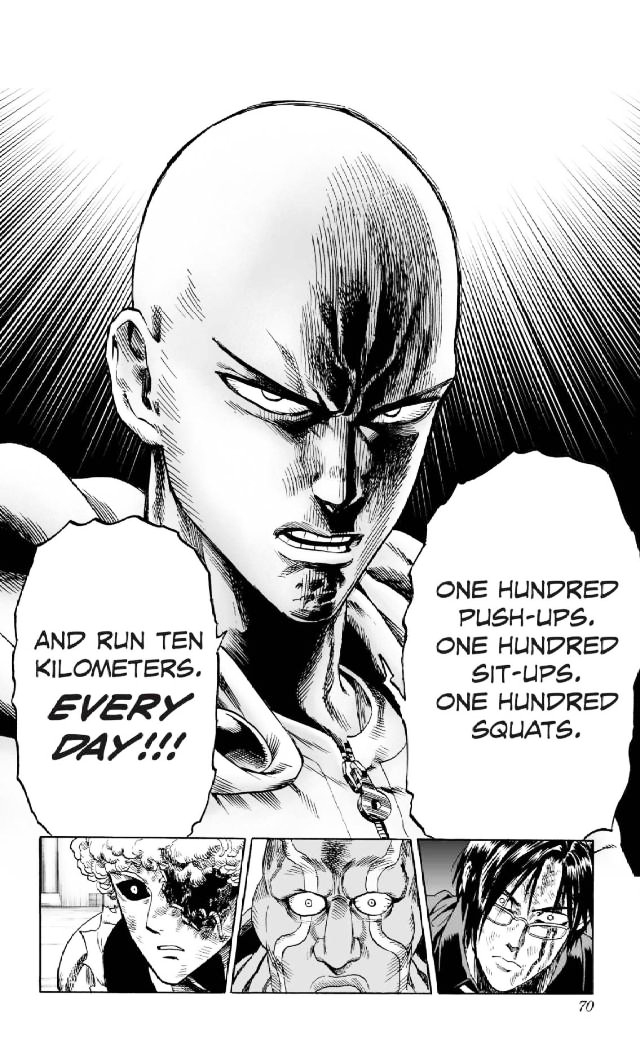 In this week's "Balloon & Panel," columnist Josh Greenberg discusses Japanese anime and manga, such as Yusuke Murata's "One-Punch Man." (Courtesy of Yusuke Murata)
Comic books are everywhere – Marvel and DC Comics are mining decades of story lines for a huge slate of movies and television shows. But comics are more than a source to be mined for superhero blockbusters. New creators are dealing with issues every month in ways that couldn't be done in other formats – issues of comic books. Or manga, in this case.
Hayao Miyazaki, director of "Spirited Away" and also writer of the "Nausicaä of the Valley of the Wind" manga, thinks anime is getting worse – and I agree with him, to a certain extent.
Some of his feelings derive from his position as a grandmaster unsatisfied with the realities of publishing. Anime – Japanese animation – and manga – Japanese comics – are tightly tied together, and to a certain extent, to discuss one is to touch upon the other. Out of the top 30 best-selling manga, the only one without an animated adaptation is Yusuke Murata and One's excellent and self-explanatory "One-Punch Man."
Manga is an incredibly varied field and a larger market than comics in the United States, where it's crossed over since the early 1990s. In the past decade there has been a stultifying level of bland sameness across vast stretches of the industry.
It says a lot that the last fun manga I read is one that's been running since the '80s. "JoJo's Bizarre Adventure" recently received an animated adaptation and is getting an official translation. Muscled action-hero descendants punch vampires and vampire-associated weirdos through the ages with increasingly clever and increasingly bizarre powers, like the ability to turn parts of your body into string. It doesn't look like anything else on the market, but it's an exception.
I wonder if much of the aesthetic standardization is due to the stress manga artists are under. Mainstream American comics are 22 color pages per month, but manga is often 22 black-and-white pages per week. That's a workload resulting in near constant 16-18 hour work days. At around four hours per finished page – a reasonable rate – it takes 88 hours to draw a week's worth of manga, without adding in writing and lettering.
To lessen the slack, manga artists often employ "assistants" to draw in background characters, scenery and other details. It's not a healthy environment to work in, contributing to a huge burnout rate, that only the most dedicated can deal with. I can't imagine it does creativity any favors, either.
Top-selling manga sell millions of copies, and like Harry Potter, waves of copycats and derivatives follow.
This is, frankly, disappointing. I read manga when I was younger, like many, because it was so different from anything coming out in the United States. Today, there's a lack of originality seen, and as Miyazaki pointed out earlier this year, it reflects a disconnect from the real world.
That's why the response to "Attack on Titan" has been so strong everywhere. It's a fresh take on the zombie genre like nothing else out there. Hajime Isayama has built a compelling story around the world's last, fortress-like city, where human survivors cower from 15- to 50-foot tall cannibalistic giants and soldiers use steampunk jetpack acrobatics to take them down. Its art style is blotchy and ugly, and the titans have a grotesque anatomy that makes them all the more terrifying.
Judging a varied medium like manga by the latest top-selling, simple and teen-targeted books overlooks swathes and decades of great comics. There are dramatic works with considered themes I'm always going to love, like Naoki Urasawa's sci-fi "Pluto," and Makoto Yukimura's Viking avenger-turned pacifist farmer epic, "Vinland Saga." There is entirely too much manga for one person to read in a lifetime.
Women and Japan's LGBT community are becoming more visible, too, with creators like Rumiko Takahashi and "Fullmetal Alchemist" creator Hiromu Arakawa working in traditionally male-and-heterosexually dominated genres.
Japan's market for fan works is huge too, with creators at the quarterly "Comiket" producing thousands of professional-level fan comics. It is the same sort of fan fervor I'm starting to see on Tumblr, the kind that builds its own interpretation out of someone else's work.
American manga readers are always going to be on the outside looking in. It's always translated, always read right-to-left, but it's important to see that there's an incredible variety of themes and stories.
What are your thoughts on anime and manga? Email Josh Greenberg at [email protected].
Three Netflix-Ready Anime:
"Gurren Lagann" by Kazuki Nakashima
"Gurren Lagann" is about personal growth as expressed through the medium of shouting and giant robots. It's about people who are so stubborn that they drill right through their problems, depicted as giant robots.
"Puella Magi Madoka Magica" by Gen Urobuchi
Faustian bargains from an adorable animal turn teens into magical girls in exchange for fighting reality-destroying witches forever. It's a creepy, deconstructionist take on the genre.
"Knights of Sidonia" by Tsutomu Nihei
Genetically altered people protect the last generational spaceship from monsters. It's adapted from a manga by the writer of the stark, architectural manga "Blame."