Syncopated Ladies taps into innovative techniques in Fowler performance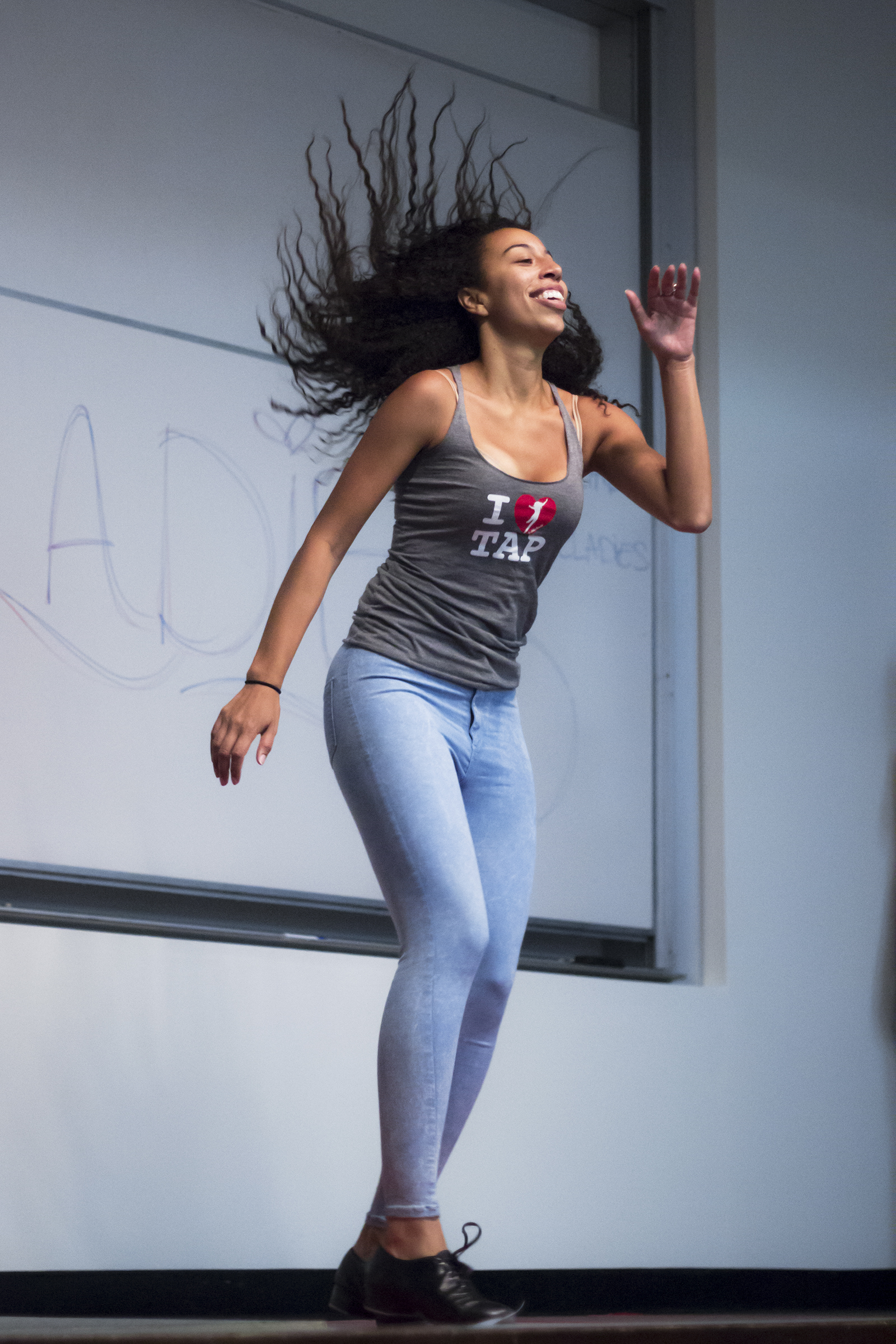 Maud Arnold, a dancer of tap troupe Syncopated Ladies, performed at the UCLA Fowler Museum Sunday. Arnold's dance group gained national attention after performing a hip-hop inspired tap dance on "So You Think You Can Dance."
(Felicia Ramirez/Daily Bruin senior staff)
The Syncopated Ladies are not a typical jazz tap group, incorporating hip-hop moves through every simultaneous stomp and click of the heels.
The all-female tap dance group won national attention this May with its performance on the popular dance competition show, "So You Think You Can Dance." On Sunday, the group performed some of its repertoire, including a cappella pieces, at the UCLA Fowler Museum.
The group, which consists of six professional tap dancers including its creative director Chloe Arnold, formed in 2003 in Los Angeles. While the dancers pursued their own tap careers alongside their individual projects, which ranged from film to music, in different parts of the country, the group still performed gigs around the Los Angeles area.
Regardless of personal careers, however, the group remains tightly connected, Arnold said. She said falling back into routine with each rehearsal is seamless to them, like a family reunion.
"We come together well because of our shared love for tap, our work ethic, passion, respect, drive and ambition," said Maud Arnold, who is one of the group's members. "We all have very similar dreams and visions for our future. Nobody's a slacker."
The group's transition from performing occasional gigs at tap festivals and small venues to becoming YouTube and "So You Think You Can Dance" stars was marked by a single goal-changing conversation, dance group member Sarah Reich said.
"One day, (Chloe Arnold) said, 'You know ladies, I just want to rock out. Let's solidify this group as who we are,'" Reich said. "We decided we wanted to show tap as the style of today, not just the typical jazz stuff people think of tap as."
In order to differentiate itself from traditional tap dancers and identify with its audience, Syncopated Ladies incorporate modern dance styles into its tap dancing, such as hip-hop.
The group began gaining momentum in 2012 with its release of several YouTube videos choreographed to popular songs by artists including Rihanna and Beyoncé, whom the group cites as a main source of inspiration.
"Beyoncé is so powerful, hardworking and generous," Chloe Arnold said. "When you feel that power and that fire, it's infectious. It makes you imagine yourself embodying that kind of magnetism."
Syncopated Ladies' "Beyoncé Tap Salute," set to the song "End of Time" and choreographed by Chloe Arnold, was shared by Beyoncé on Facebook in January and currently has over 500,000 views on YouTube.
The group's fan base expanded and its YouTube success brought it to the attention of American Idol judge Paula Abdul, who arranged for the group to perform on Season 11 of "So You Think You Can Dance" in May. It's tap rendition of Beyoncé's "Flawless" propelled the group to win the first crew battle, a performance in which it were pitted against popular dance group "Poreotics."
"Being on 'So You Think You Can Dance' was really nerve-wracking," Chloe Arnold said. "We knew it was vital for our art form, not just for ourselves as a group, but for tap dance as a whole."
Although the spotlight Syncopated Ladies enjoyed from "So You Think You Can Dance" has dimmed since, Reich hopes that the dancers' careers will continue to flourish in new formats. They are currently looking to tour, produce new videos, continue their dancing boot camp series and start their two-week show run in New York this month.
Reich said Syncopated Ladies hopes that, through tap, it can inspire dancers and non-dancers alike to pursue their dreams.
"I hope that people feel empowered and inspired" Chloe Arnold said. "I think that if we show our energy, our passion, love and strength, it can make people feel something outside the genre (of tap)."