Spring Sing Profile: Hooligan Theatre Company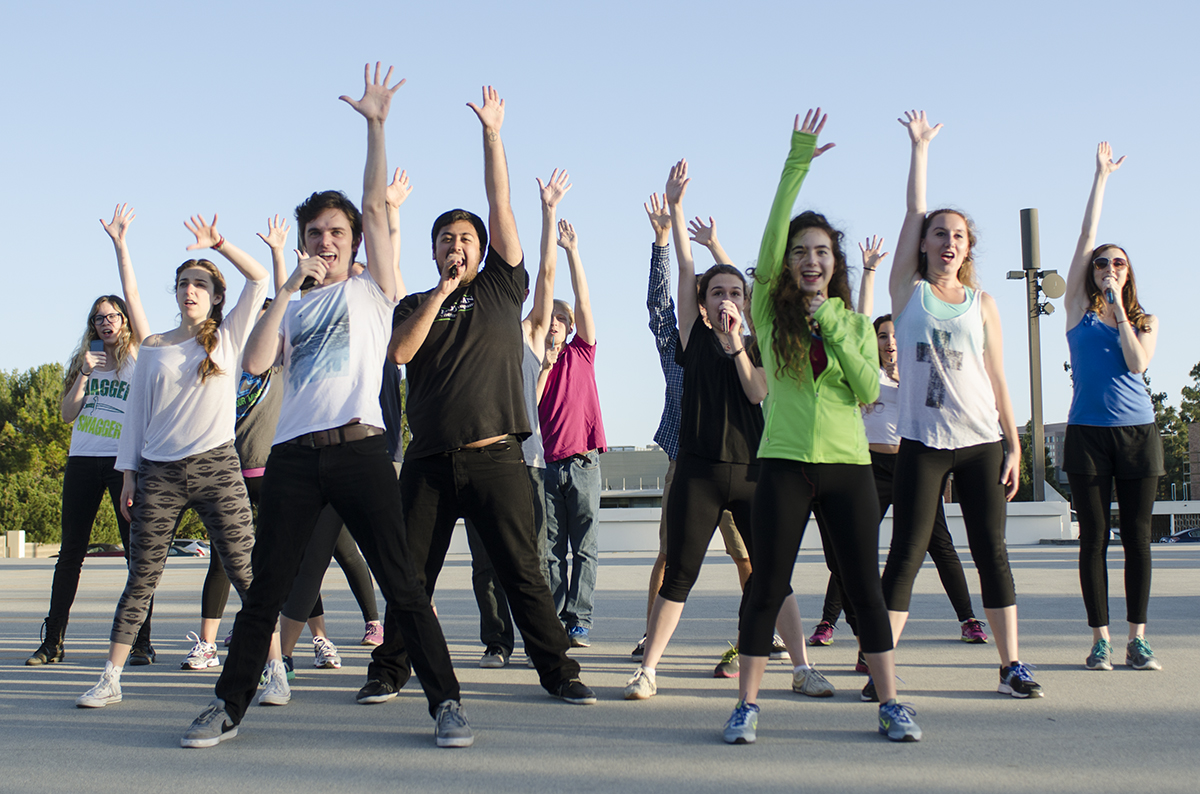 The student-run Hooligan Theatre Company ensemble will take the stage at Spring Sing 2014 for the second time Friday, set to perform a variety number. Their performance will be a four-minute musical romp, centralized around an undisclosed theme.
(Jessica Zhou/Daily Bruin)
For Hooligan Theatre Company's Spring Sing co-writers and directors Sara Ashley Beil and Aaron Fish, it was the moments after delivering their Spring Sing pitch to their ensemble after weeks of a creatively draining scripting process that were the most nerve-wracking.
Beil, a second-year English student and Fish, a second-year mathematics student, refrained from sharing many specific details about their upcoming performance, but did say that it will be a four-minute musical romp centralized around an undisclosed theme.
"It'll make you never want to leave UCLA," Beil said. "Or maybe it will. Depending on how you look at it."
In its debut at Spring Sing last year, the ensemble presented a modern UCLA twist on the classic "Beauty and the Beast."
"Bruin and the Beast" followed the tale of a good-hearted Bruin and an angry, misguided Trojan. While this year's theme will be different, the production number will still focus on a main plot as would its other performances.
"We try to really concern ourselves with the storyline and making it be like a real musical," Beil said.
Aside from their Spring Sing number, the entirely student-run Hooligan Theatre Company annually produces three musicals and one play. This year's productions include "Curtains," "Fiddler on the Roof," "Legally Blonde: The Musical" and "No Sex Please, We're British," which the troupe is currently rehearsing.
Because of their background as a theater company, Fish and Beil said they stress the importance of incorporating each of the ensemble members.
"Something we try to do is give everyone a purpose; this is why we're all on stage," Beil said. "These are all characters, they're not just backup dancers."
Ellie Martino, first-year english student and member of the ensemble, who has been rehearsing the piece for months now, said she shares her enthusiasm for the piece, citing it as "high-energy".
"I think I speak for the entire cast when I say that we love it so much," Martino said. "We're all told to smile throughout the whole act, to look nice for the pictures, but you don't need to tell us that because it's just such a fun number."
For the two co-writers, seeing their original script and song come to life after months of planning and rehearsing with the ensemble holds the most reward.
"I'm just so excited to it on stage with lights, and sounds, and costumes, and in front of 9,000 people in Pauley Pavillion because it is such our baby," Beil said. "I remember struggling to come up with a good concept for it at first, and hoping that it wouldn't be too cheesy, and I think it's come a long way."
Fish said students can look forward to a performance that engages both the traditional Spring Sing and decidedly Hooligan aspects of the UCLA community within their number.
"Spring Sing is one of the best performing traditions of UCLA, and the fact that over the last couple of years, we've become part of it and can bring something that's both a huge part of that tradition but also very uniquely 'Hooligan Theatre' is what excites me the most," Fish said. "Everyone who gets up on that stage is amazing, and it's an honor to be a part of that group."