Global Grub: Flavors of Belize offers treats that pack heat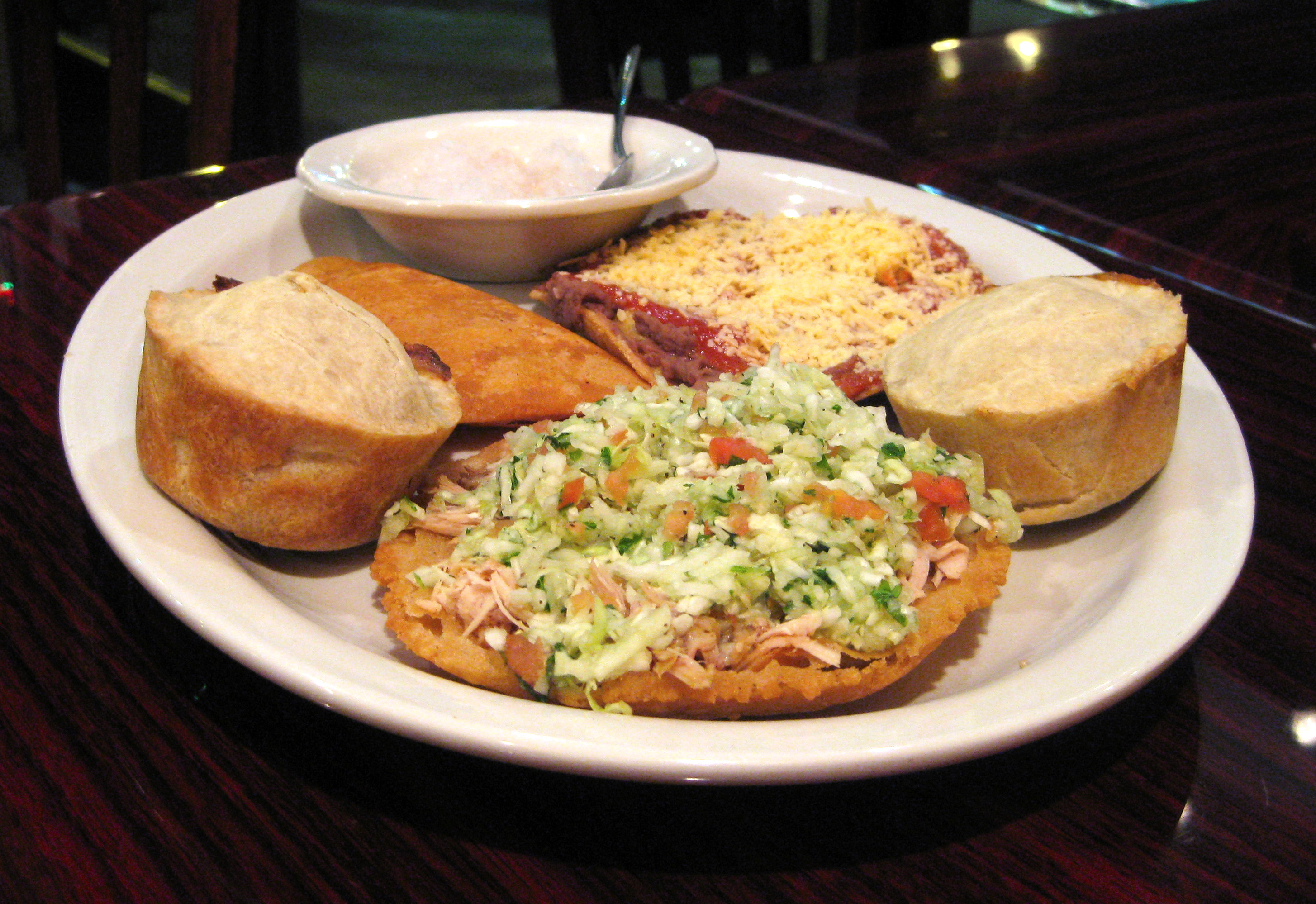 The menu at Flavors of Belize includes salbute (shredded chicken topped with cabbage on a fried tortilla) and garnache (refried beans, tomato and onion sauce and strong Dutch cheese on a fried corn tortilla).
October 27, 2011 11:49 pm
Located at 1271 S. La Brea Ave., Flavors of Belize is run by a short, vibrant woman named Diamine Pariente who chats with guests and says things like "You girls look 16."
My roommate and I are both 21, but we didn't hold it against her because we enjoyed her restaurant's food. Her mother, Zelda Pariente, cooks the same food her children grew up on in Belize.
Instead of ordering two entrees, my roommate and I ordered and split several smaller items, each ranging in price from $1.50-$4.50: meat pies, the three-item sample plate, rice and beans and two types of tamales.
When Diamine Pariente attended the equivalent of high school in Belize, meat pies were the typical lunch for students. On her first day of school, after looking for a cafeteria, she found a line outside a cafeteria window.
"Everyone went up to the window and said "˜two meat pies, two Cokes,' or "˜two meat pies, two Fantas.' I said, "˜Is today meat pie day or what?' and somebody said "˜You must be new here, huh?'" Pariente said.
Apparently everyday was meat pie day, and I don't know if I'd mind all that much. Each meat pie has a soft, crisp shell and is filled with sauce and spiced ground beef. They're about the size of a normal apple (one that hasn't been shot up with growth hormones).
In order of my personal preference, the sample plate included one salbute (shredded chicken topped with cabbage on a fried tortilla "" also comes with fish or beans and onion or cabbage sauce), one garnache (refried beans, tomato and onion sauce and strong Dutch cheese on a fried corn tortilla), and one panade (corn tortilla stuffed with fish). Each was about the size of two fists pressed together.
The rice and beans are cooked together in coconut milk. While I'm still not a huge fan of coconut-flavored anything, the rice is good (according to my roommate), and the onion sauce "" literally seasoned diced onions "" masked most of the coconut taste.
There are two types of tamales on the menu, the ducunu (corn tamale) and the traditional Belizean tamale. The former is made from ground young corn, seasoned and steamed in its own husk, while the traditional tamale is filled with chicken and cooked in a roasted banana leaf.
My roommate liked the sweetness and strong presence of the corn in the ducunu, while I thought the chicken in the traditional tamale was well-made. It also helped that, while the ducunu is the size of a normal tamale, the traditional tamale is the size of someone's forearm.
There's only one reason I would hesitate to recommend this place: Everything was spicy. Maybe it's assumed that, by nature of us being in a Belizean restaurant, we knew the food would be hot and were ready for food with an extra kick. We weren't. But luckily, the spiciness didn't block out or mask the different flavors. I could still taste the strong corn flavor of the tamales, the onion undercurrent of the tomato and onion sauce and, unfortunately for me, the coconut flavor of the rice and beans. My mouth was burning, but it didn't spoil the meal.
And even if it had, I probably would have come back just to hang out with the owner.
E-mail John at [email protected] if anyone has ever grossly underestimated your age. "Global Grub" runs every Friday.