Columnist eats at Simpang Asia, an Indonesian restaurant that becomes an instant favorite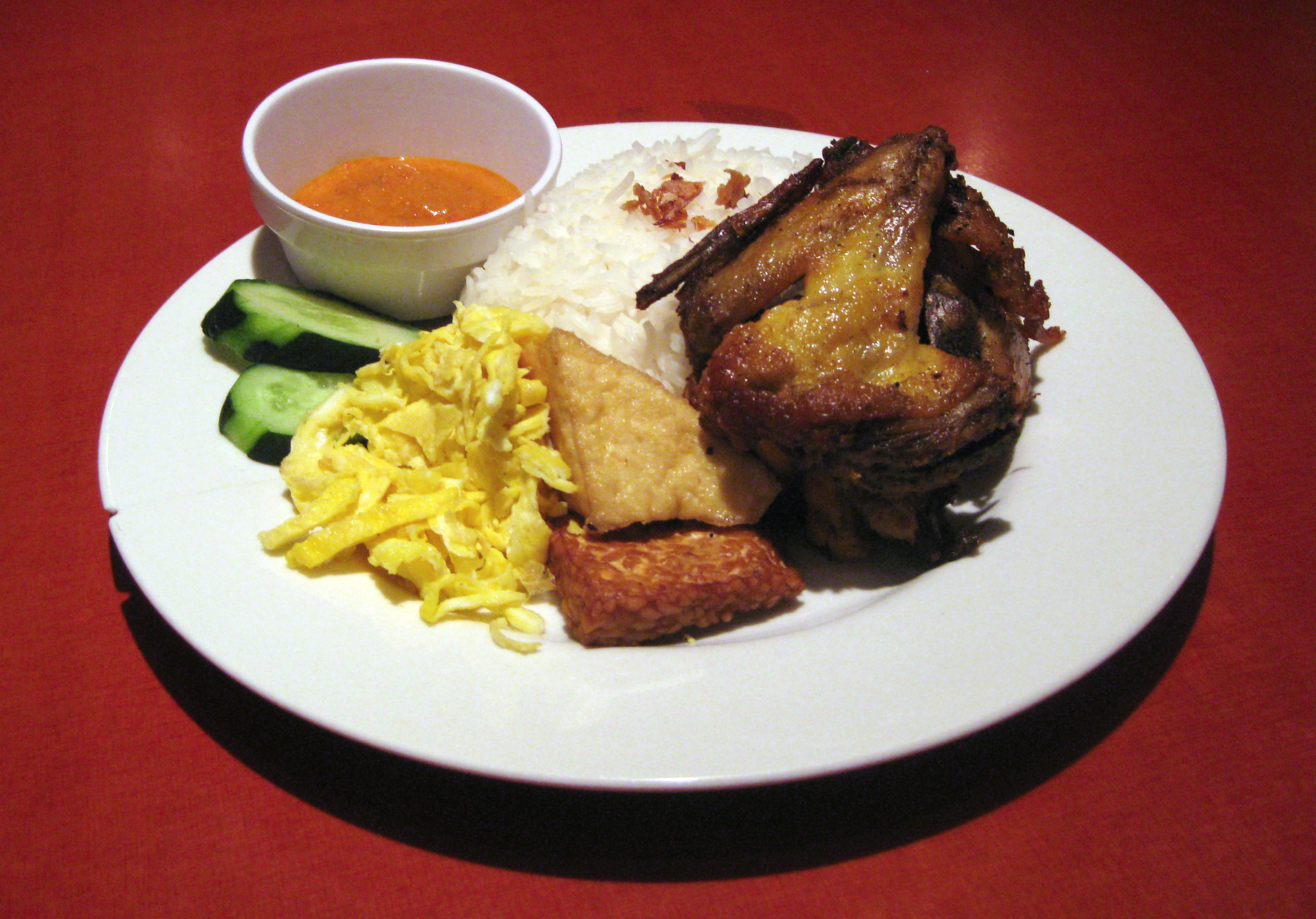 The nasi uduk is a rice dish served with turmeric yellow fried chicken, tofu, scrambled, shredded eggs and sayur asem (tamarind vegetable soup) served at Simpang Asia.
October 21, 2011 12:29 am
This week I found myself in the all-too-familiar situation of trying to find a restaurant open late at night. Good news: Simpang Asia, an Indonesian restaurant located at 10433 National Blvd., is open until midnight and is within walking distance of the number 12 Blue Bus stop. Bad news: If you go at night, you will end up walking through a pitch-black residential neighborhood where sidewalks seem to be optional.
Once again, lesson learned.
That is not to say it was not worth it. Simpang Asia's take on Indonesian food is tied with my Persian cuisine trip as my favorite so far, with last week's Russian meal placing second and Wirtshaus' sausages and rabbit stew at a very distant third. Simpang Asia also had the best selection of vegetarian options of all the restaurants I have visited, which my vegetarian guest really appreciated.
For appetizers, we ordered the lumpia semarang (Indonesian-style egg rolls) and a vegetable fritter listed as spider (bakwan). The egg rolls were a mix of chicken, dried shrimp and bamboo shoots, and were sweeter than the Chinese equivalent. The vegetable fritter was a combination of deep-fried, diced-up veggies. They reminded me of vegetable egg rolls, just with a crispy, not flaky, outside layer.
In comparison to my other trips, I had a hard time deciding what to order as an entree. There were too many things I had never heard of. Beef rendang (chopped beef, slow cooked with coconut milk and spices), rice dishes wrapped in banana leaves and several kinds of egg dishes were just some of the options I wish I had tried. Instead, one of the waitresses recommended I try the coconut rice plate after I said I was not a fan of spicy food.
The nasi uduk is a rice dish served with turmeric yellow fried chicken, tofu, scrambled, shredded eggs and sayur asem (tamarind vegetable soup).
For a few minutes, I was obsessed with trying to figure out what they had put in the tamarind soup to get the sweet but salty flavor. Our waitress, Kurina Fanny, said it was the tamarind fruit based broth; it also contains long beans (similar to green beans), softened red-skin peanuts, Siamese pumpkin and corn.
And, like the name suggests, the rice tasted slightly of coconut and lemon grass. Even though I'm not a fan of anything coconut-flavored, I thought the rice went well with the eggs or the side of peanut sauce. While I personally cannot compare it to Thai peanut sauce, my friend said it was thicker and had a more intense peanut flavor. I could eat that peanut sauce with anything. It made the rice better, the tofu better, the eggs better and even the chicken, which had the best combination of flavors out of anything, better.
Meanwhile, my friend was raving about the sayur lodeh (vegetable curry soup). I can imagine someone who enjoys the taste of coconut liking the soup a lot and even appreciating the way the coconut milk and the curry base flavored the soup's diced potatoes and carrots. I tried one spoonful and I'd had enough.
If I'm being honest, I don't think I really experienced all that Indonesian food. I could have been a little more daring with my entree selections and a little less cheap (I don't want to use "thrifty" because that has a positive connotation. I was just being cheap.) For example, the pisang bakar (grilled banana with chocolate sprinkles and cheese) would only have been $4, and I would be lying if I said I had not spent a good 20 minutes wondering what the combination of chocolate, bananas and cheese would end up tasting like.
Email John at [email protected] if you know where she should go next week. "Global Grub" runs every Friday.