Endangered Series: _Fox's new show 'Breaking In,' featuring college-aged characters, has comedic perks despite some problematic elements_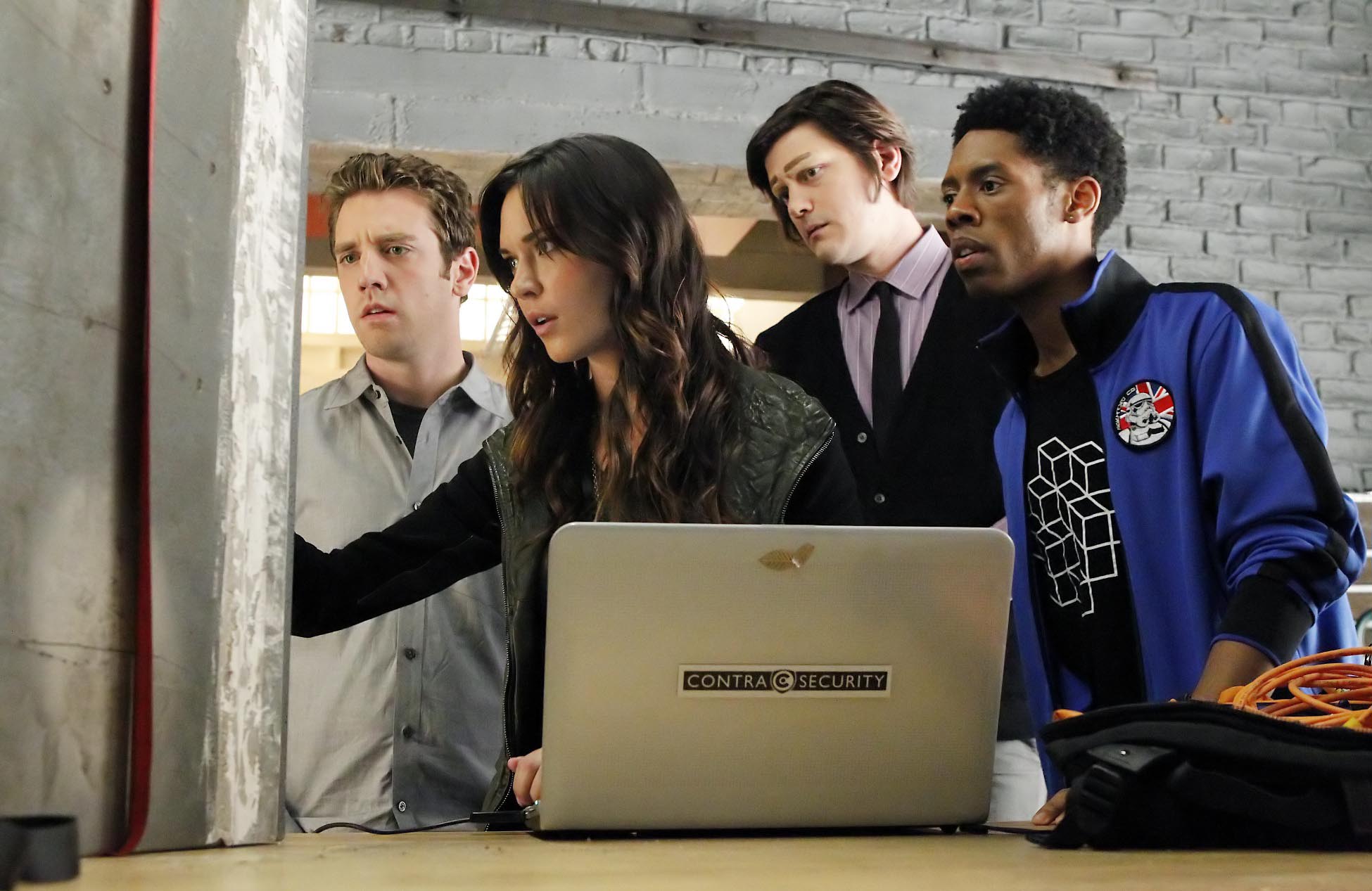 New Fox comedy "Breaking In" showcases a cast of college-aged security experts. Amid the wacky heist plots is genuine heart and lovable competence.
Credit: Jordin Althaus/FOX
High school is familiar territory with TV audiences. "Glee" is immensely popular, and many of the subplots in family dramas or comedies revolve around the exploits of children who are of high school age.
But the televised focus on scripted American life usually manages to skip the college years. If covered at all, they seem to be restricted to caricature-laden depictions of wild partying and shown on ABC Family. While the action of Fox's new comedy "Breaking In" lingers on a college campus for only a few scenes, the show draws heavily on the comic cohesiveness of its young cast.
"Breaking In" follows the inner workings of Contra Security, a firm hired by wealthy citizens and corporations to break into their various strongholds, testing their elaborate, building-protection systems.
While the premise may come off as something dramatic enough for a spot on TNT's weekend prime time lineup, this show distinguishes itself by focusing more on office hijinks than elaborate heists.
To best describe the show in the usual elevator pitch format, it's as if Handsome Rob from the latest version of "The Italian Job" started a side consulting firm and only hired recent college graduates.
The newest member to the electronics team is super computer hacker Cam Price (Bret Harrison), a recruit plucked forcibly from a technical school he had scammed his way into. He joins a core staff of budding security experts who all inhabit his age range. Chief among them is Melanie (Odette Annable), the lovely safe-cracker who quickly snags Cam's affections.
What's most intriguing about "Breaking In" is that, rather than having the token college kid play coffee runner, Contra Security is primarily staffed by promising, talented young people. In most prospective work fields, there's the expectation that new hires rise from the bottom, doing grunt work until earning a desired post. Here, the college-aged kids are the stars.
Like any mid-season replacements, "Breaking In" has some minor, clunky elements that are definitely reparable. For a show based around young people, some of the references aren't particularly timely. Using "I Love College" is perfect for a Spring Sing 2009 closer, but probably not for an opening soundtrack clip for a half-hour Fox comedy premiering in 2011. One character's "catchphrase" in the pilot episode is "Boom goes the dynamite," an Internet meme that peaked about five years ago.
Stacked against the multitude of comedies on TV that use frequent pop culture references, "Breaking In" sometimes seems a little off.
But for every awkward laugh, the show delivers on some genuinely funny set-ups. The office's lovable tech wizard, Cash (Alphonso McAuley), is a delight and usually good for a few hearty chuckles per episode. Even though he sometimes acts similar to Troy and Abed from "Community," his prankster side adds another dimension to his character and the overall flow of the show.
"Breaking In" also makes great use of the whip-pan flashback, a feature that many fans of "Arrested Development," "Scrubs" and "Family Guy" may enjoy, depending on their preferred level of non sequitur.
Christian Slater rounds out the ensemble as the biggest name among a cast of relative unknowns. Watching Slater as Oz, Contra's head honcho, it's possible that the actor's recent TV troubles stem from his being cast in dramatic roles rather than comedic ones.
It may get old seeing Oz come out on top in nearly every episode arc (in addition to creating psychic PowerPoint presentations and messages from a sentient copy machine, he can also read lips), but for now, he's a strong asset. His comedic chops belie the fact that he's 41 years old, as his playful banter feels right at home with the staffers nearly half his age.
For college students who used to make "Smallville" regular Thursday-night viewing, this show may be most intriguing for the return of Michael Rosenbaum, who gained notoriety for his version of Lex Luthor. As Melanie's boyfriend, it's been wonderful seeing him trade in his bald head and evil scheming for a fauxhawk and bumbling ineptitude.
Ratings have been slowly dipping since the series premiere, but enough people seem to be watching that the show will last until next broadcasting season.
If Fox does decide to make it a featured part of its non-animated comedy branch, this is the kind of show that could be fairly popular with the college crowd. If nothing else, it's a helpful reminder that life isn't doomed to be one giant internship.
If you gave up on "Smallville" the second time that Chloe magically came back to life, email Greene at [email protected]