UC Green New Deal Coalition seeks to promote environmental justice, sustainability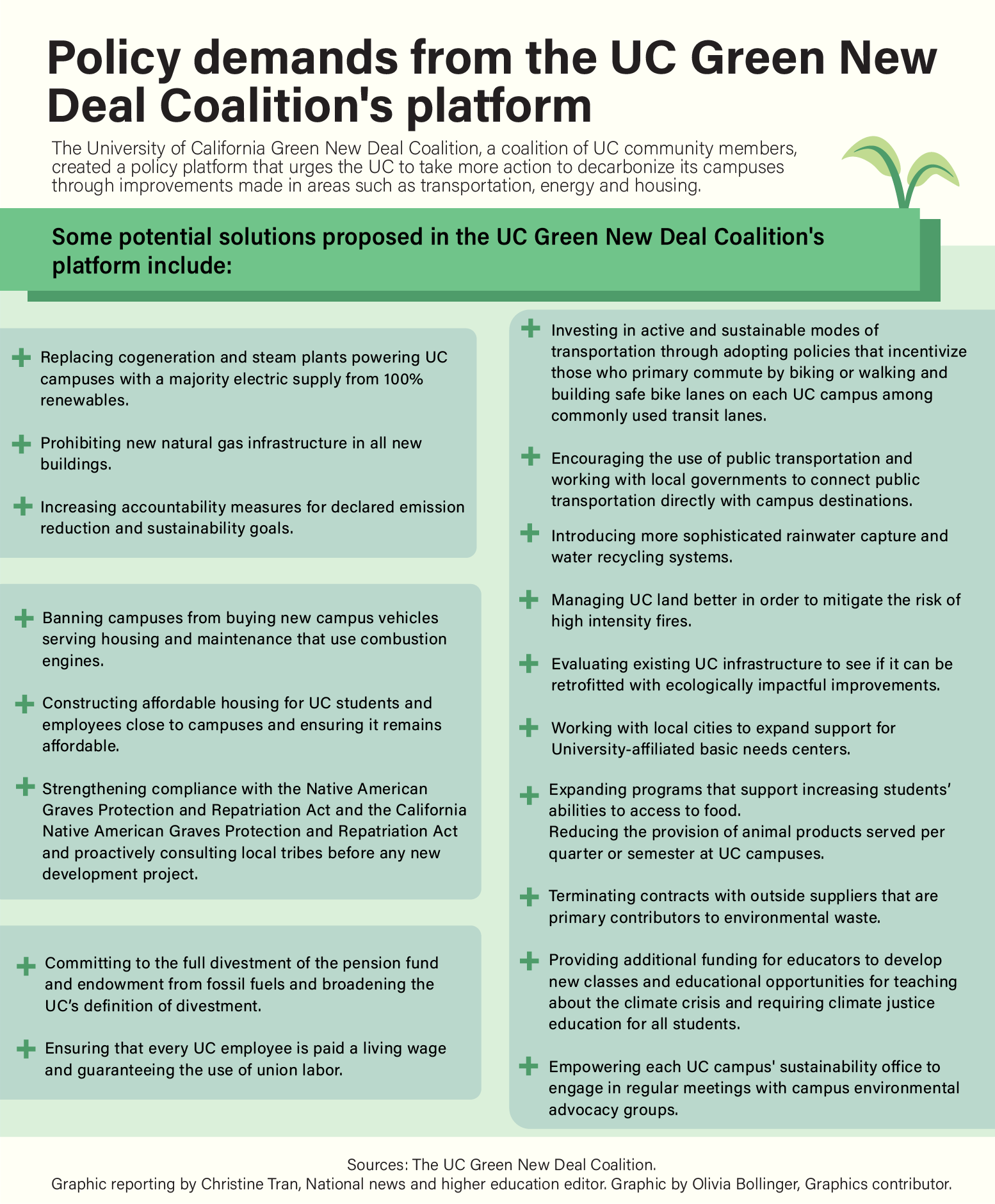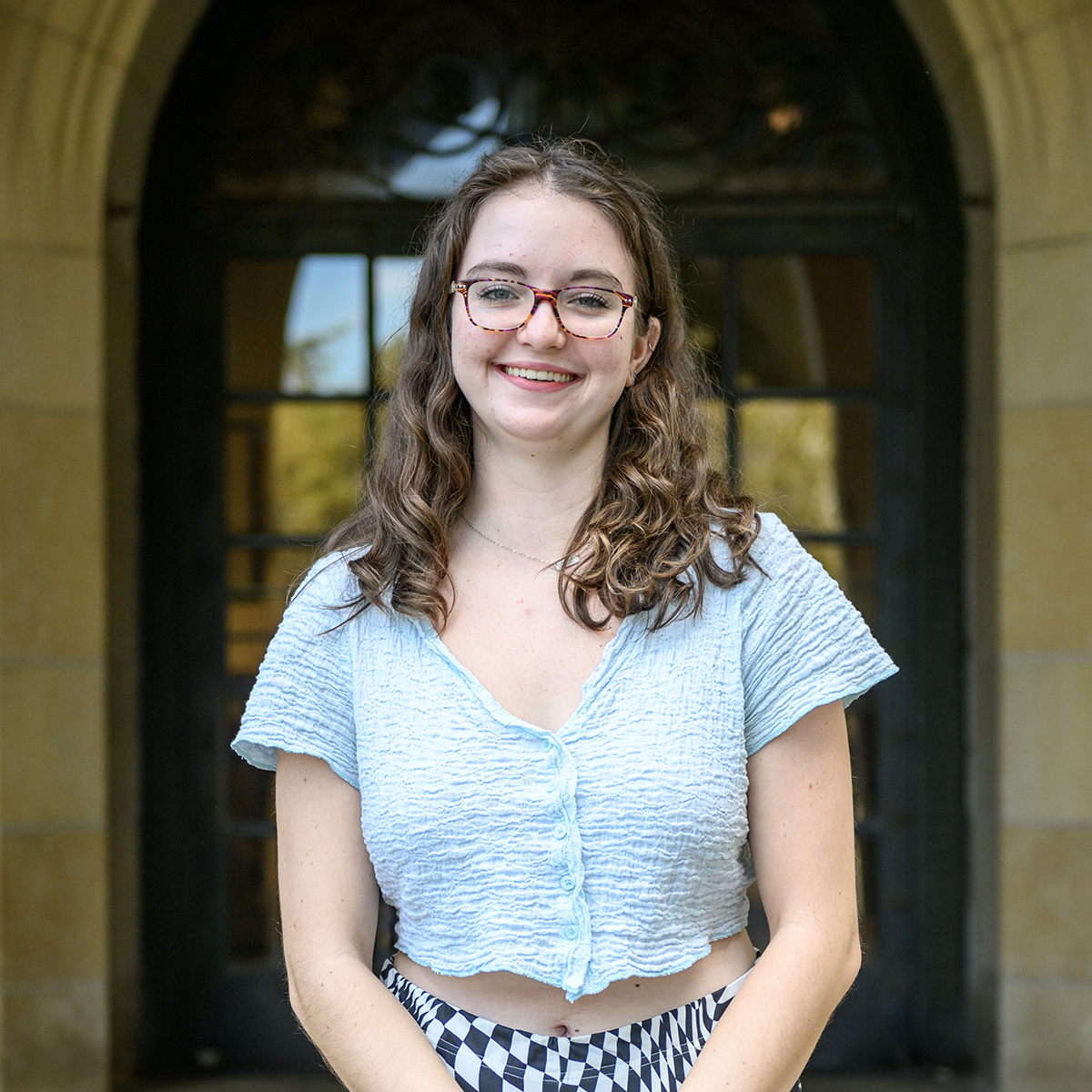 This post was updated Feb. 3 at 12:57 a.m.
A coalition of University of California community members is calling upon the UC to implement more concrete actions to promote environmental justice across campuses.
In 2019, individuals from various campuses formed the UC Green New Deal Coalition to call on the UC to transition to being a more equitable and environmentally friendly institution, according to its mission statement. The UC GNDC created a platform with recommendations for reducing carbon emissions and is currently running a petition to advance its fight against climate change.
With more than 140 policies, the UC GNDC seeks environmental justice measures that promote the reformation of energy systems, transit, food systems, waste disposal, divestment and education to mitigate the effects of climate change.
Cathy Gere, a history professor at UC San Diego and one of the founding members of the UC GNDC, said she believes the UC falls short in its set goals and expectations.
One of the UC's major climate goals is carbon neutrality by 2025, according to the UC Office of the President. This goal aims for zero-net greenhouse gas emissions from the UC system. However, this objective does not necessarily hold the schools accountable for their emissions, Gere said, because they are not required to lower their own carbon emissions.
"Carbon neutrality basically amounts to paying other people to not emit carbon dioxide on your behalf," Gere said. "It's like paying someone to go on a diet for you and expecting to lose weight."
Monica Nelson, a physical oceanography graduate student at UCSD, said the UC gets a lot of media attention when it sets a climate policy goal but none when it doesn't reach it.
"They had a … zero waste by 2020 goal and that goal just went out the window. Nobody talked about the fact that we didn't achieve it," she said.
This lack of accountability allows the UC system to claim it is making progress toward its goals, but in reality, it's cutting corners, Nelson added.
There are many areas where UC policies need improvement, said Grace Sandel, a third-year society and environment student at UC Berkeley.
The University can reduce its carbon footprint by targeting waste and compost management, developing better transit systems, and retrofitting campus buildings to improve energy efficiency, Sandel said.
Unfortunately, it is hard to get the UC administration to commit to many policies, such as decreasing animal products, Gere said. Consumer demand from students and faculty may make implementing these changes unpopular and may make UC members unhappy with new protocols, she said.
Sandel said she also recognizes the level of time commitment, organization and cost required for implementing effective policies.
"But I just think that since the system is so large, that kind of … change is actually quite complex to do, even though it might seem like just a little shift," Sandel said. "I think if they actually committed to it, they could do it perhaps easier than they originally think."
Gere said the UC hesitates to implement energy system policies because of the costs. However, creating plans and setting policy goals to go fossil fuel-free will move the UC in the right direction, she added.
Currently, the UC uses cogeneration plants that burn methane gas to produce electricity, and these plants are the largest source of campus emissions, Nelson said. The UC could reduce its emissions if it focused on phasing this out, she added.
Another pressing goal of the UC GNDC is fixing and developing the transit systems. However, the coalition's transportation platform is not as specific because each campus has its own transportation needs, Gere said.
The need for local support is one reason why students are an important facet of the coalition, Sandel said.
At UC Berkeley, Sandel said she is involved in writing and editing components of the policy platform, as well as facilitating different policy meetings.
"It's really great to get all those different voices and figure out how we can include the whole UC system," Sandel said.
There are many different ways for students to get involved that don't have to do with policy writing, said Luis Garcia Chavez, a third-year political science student.
The UCLA GNDC was created in order to make a coalition more specific to UCLA since it is a large institution and might need different policies than other UCs, said Angel More, a second-year environmental science student.
There are three different core teams in the UCLA branch – marketing, internal logistics and policy writing. Within the policy writing branch, More said there are subgroups that focus on curriculum, energy and carbon, pollution and toxics, housing, food, labor and transportation.
UCLA community members can also help organize protests and rallies, as well as help educate students on where UCLA falls short in its policies, Garcia Chavez said.
"We're not just like an aggressive hostile group," Garcia Chavez said. "We also want to work with UCLA administration where we can."
More said she believes the message of the UCLA GNDC is to inspire students and faculty to take initiative and make a change when they see an injustice.
"We want to act as that pressure group to really push UCLA to be the thing they state they want to be," Garcia Chavez said. "A place where there's equality, where it's green, where it's pro-union, stuff like that."
The UCLA GNDC has made contact with UCLA's sustainability office to make its presence known to those officers and to set a foundation to work with them to improve the campus's climate policies, More said.
Even though implementing climate policy across such a widespread institution is difficult, Gere said, the UC GNDC has already advanced conversations on campuses related to becoming fossil fuel-free.
To move forward in climate justice, it is important to build local organizations on each campus in order to tackle systemwide issues, Gere said, adding that UCLA emits the most carbon out of the whole system but has the lowest number of activists.
Sandel added that some UC campuses are currently overrepresented in advocacy efforts, and it is important to have widespread involvement since each campus has different needs.
Both Gere and Nelson said they think members of the UC, especially students, need to realize their ability to pressure the administration to make these changes.
"Anyone in the UC happens to be in a very big and powerful institution with an enormous carbon footprint, and so they can have a voice," Gere said. "(Students' voices are) the most important voice for any administrator or the regents, that's who they care about."
Hamilton is the 2023-2024 News editor and a Copy staff member. She was previously the 2022-2023 national news and higher education beat editor and a national news contributor. She is also a third-year gender studies and political science student minoring in professional writing.
Hamilton is the 2023-2024 News editor and a Copy staff member. She was previously the 2022-2023 national news and higher education beat editor and a national news contributor. She is also a third-year gender studies and political science student minoring in professional writing.