Despite a STEM background, alumnus Sally Qiu inks own path as tattoo artist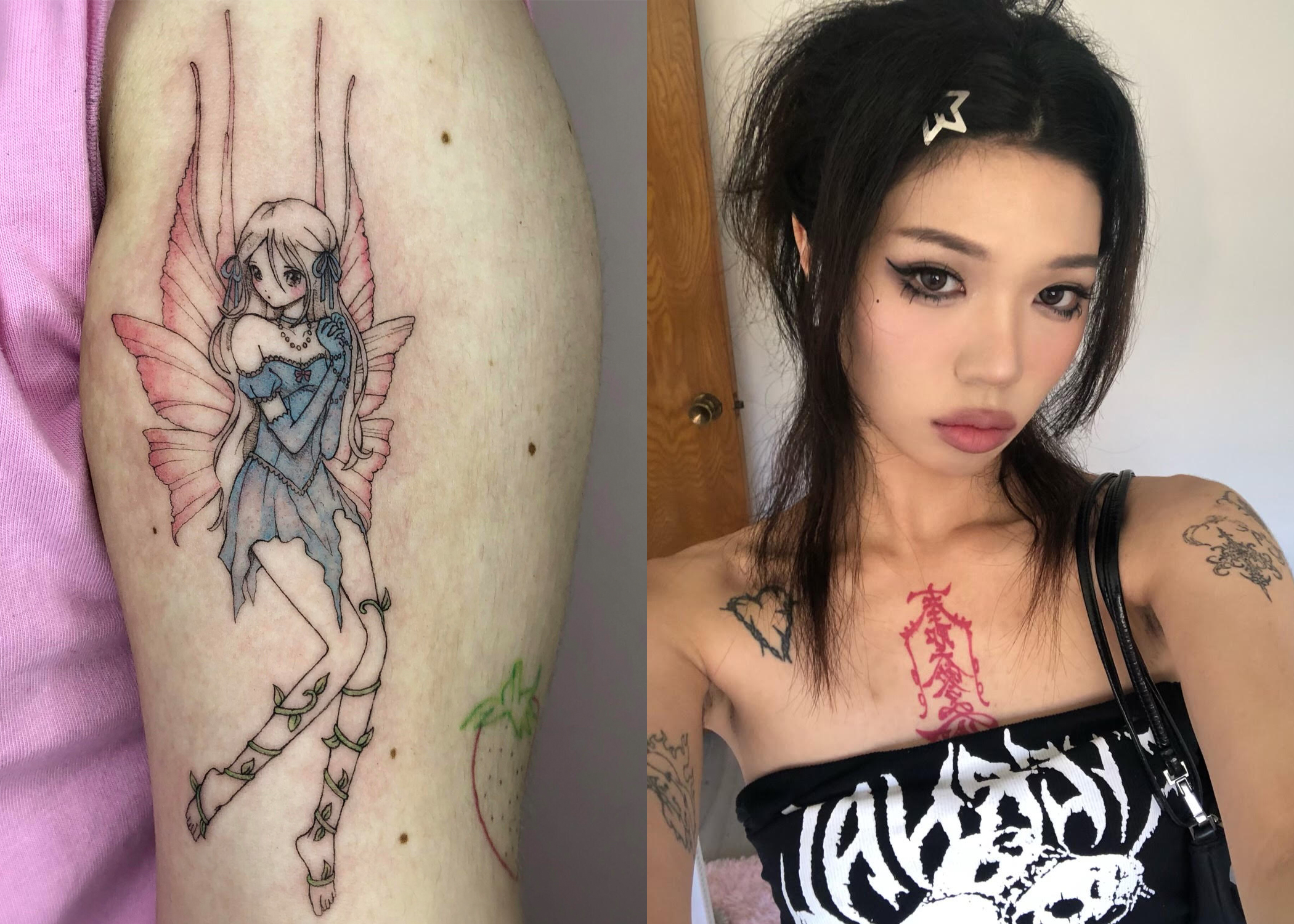 Sally Qiu (right) is pictured next to one of her fairy tattoos (left). The alumnus currently works as a tattoo artist despite their background in biology. (Courtesy of Sally Qiu)
This post was updated Nov. 28 at 7:40 p.m.
Sally Qiu is breaking down boundaries with every move of their tattoo machine.
The alumnus works as a tattoo artist in Los Angeles, diverting from their background as a molecular, cell and developmental biology student. For Qiu, drawing had always been a passion, and she said it felt natural to transition those skills into tattooing. Qiu's journey in tattooing began when they decided they wanted more tattoos and taught the skill to themselves.
"Even though I always liked drawing, I kind of forced myself to do something STEM or medicine-related to prove a point to the world, I guess," Qiu said. "During the pandemic, I got into tattooing because I just personally wanted more tattoos. … Obviously, there weren't any tattoo shops open at the time. So I just started tattooing on myself and it eventually became a full-time job."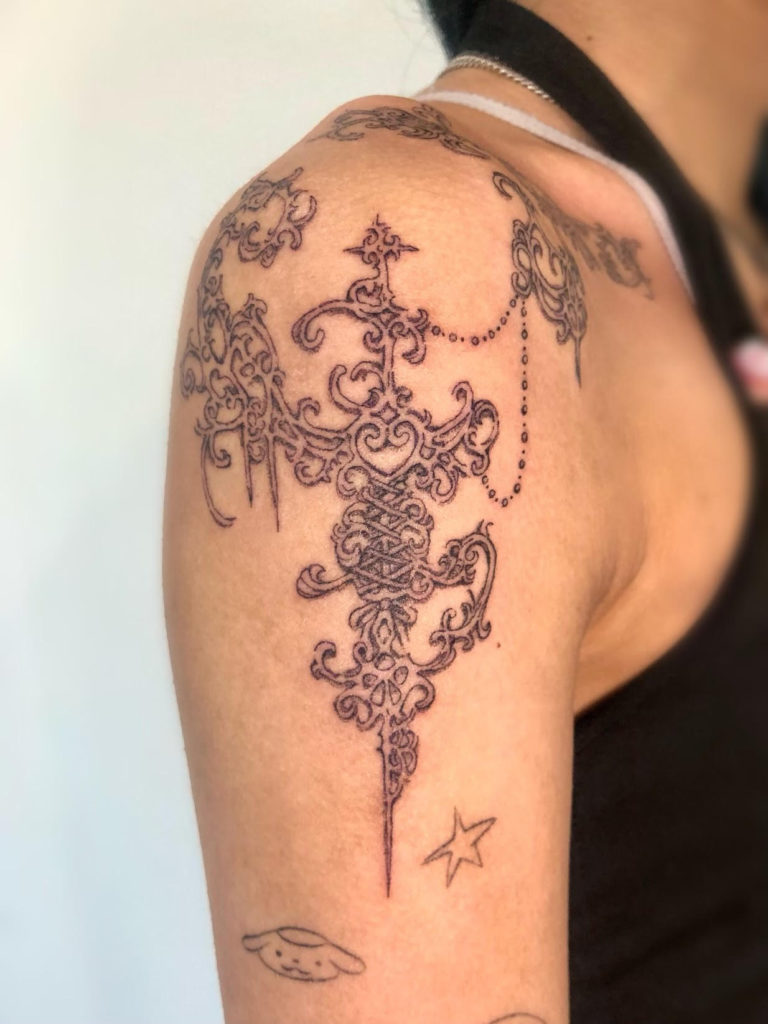 [Related: Student Christina Williams tells clients' stories through ink]
Lydia Liu, a fellow alumnus and one of Qiu's longtime friends, said she deeply admires Qiu's humble beginnings and willingness to go after opportunities without the fear of failing. She said Qiu's ability to expand her following was also impressive to watch, as it quickly grew from their circle of friends to strangers, accumulating in Qiu's more than 7.3k followers on Instagram. Furthermore, Liu said the most valuable thing anyone can learn from Qiu is to not second-guess the decision to pursue an unconventional career such as tattooing.
Qiu said she has taken the profession more seriously after getting hired at Girlxfriend LA Tattoo Studio, which is overseen by Milla Sofia Press. Reflecting upon the shop's atmosphere and relationship between tattooers, Press said Qiu plays an integral role in the shop's supportive environment, where the tattoo artists see themselves more as friends than coworkers. Similarly, Qiu said they strive for a positive relationship with their clients, wanting them to leave the studio with an intricate piece of artwork and a new friend.
"I think it's probably similar to how people develop relationships with their hairdressers and nail techs," Qiu said. "They see their tattooer as a friend, which is really nice."
Although Qiu said her STEM background may not have necessarily influenced her tattoo designs, it has shaped her love for an organic, bony and fleshy aesthetic of tattoos. However, Qiu said they have shifted to a more delicate style because they find it much more enjoyable to design. Press added that she had Qiu design a logo for the tattoo studio's Instagram that encapsulates the hyperfeminine style of the shop.
Despite Qiu's successes as a tattoo artist, they said they have also faced substantial challenges in the industry. Most notably, Qiu said it is common for tattooing to be viewed as an unconventional and unrespectable industry, especially by older generations. Furthermore, Qiu said, the tattoo industry is largely male-dominated, which can act as an obstacle for many women or nonbinary tattooers to gain recognition or support within the community.
"Sometimes I will encounter male tattooers who will do a guest spot at my studio, and they will always mansplain everything," Qiu said. "Maybe it's because we're young and we're women."
[Related: UCLA student-run flea market 10:42 builds community, highlights small businesses]
Liu said Qiu's journey toward learning how to stand up for themselves was largely caused by the switch of becoming more confident in their abilities as time went on. Liu said she emphasizes her joy and pride in seeing how Qiu's career has grown. Regarding their future plans, Qiu said that they plan on pursuing tattooing until they naturally decide to move on or until another opportunity presents itself. Qiu added that she has long-term goals of eventually shifting her career to something more in line with their molecular, cell, and developmental biology major but is content now as a tattoo artist.
"I don't really know how far my tattoo career is going to go," Qiu said. "I don't really mind however far it goes because I eventually plan on using my degree and going to PA school or something, but I would love to continue tattooing for as long as I can."