Student-run TikTok page michelle.reads offers a place for book lovers to connect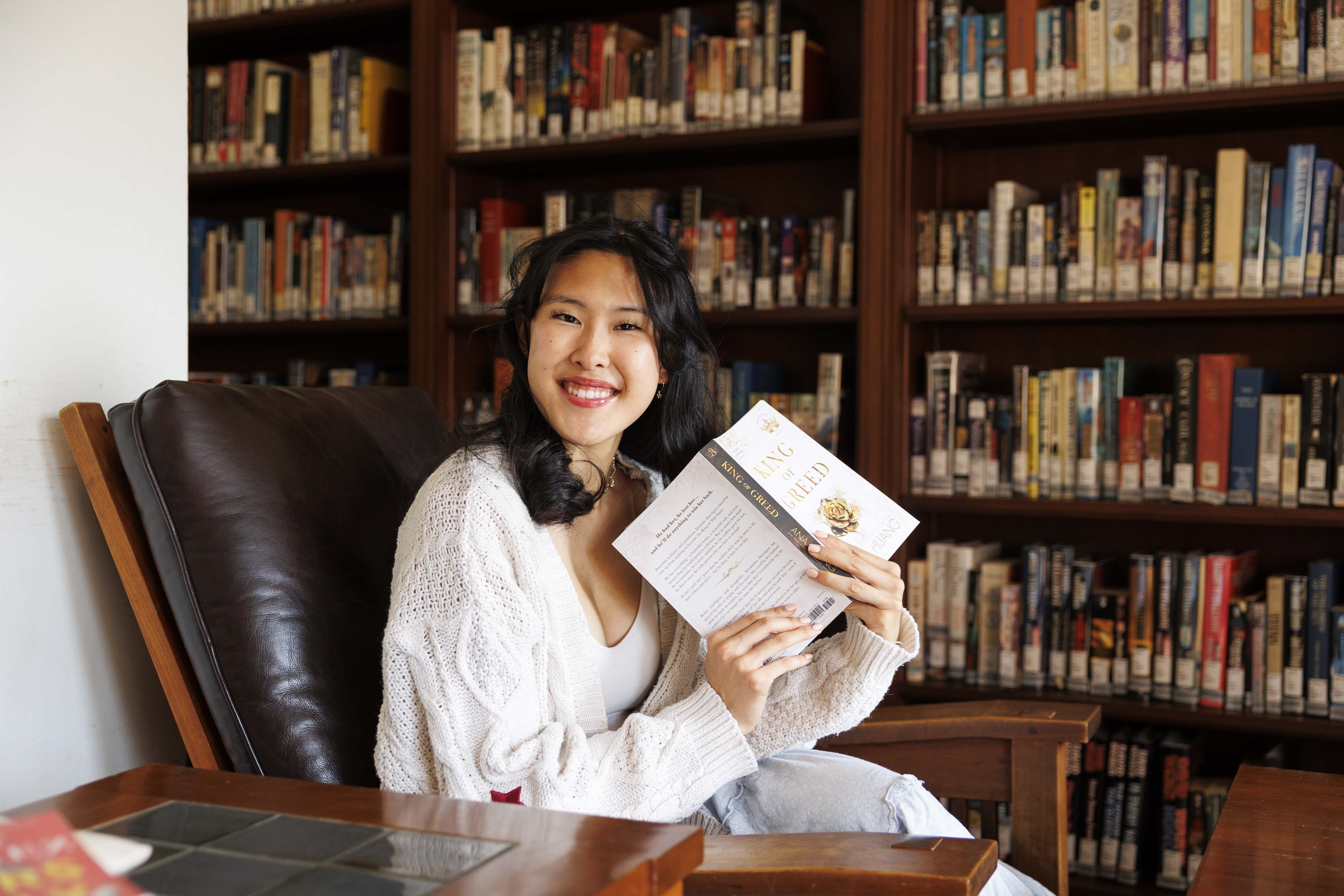 Michelle smiles at the camera as she holds a copy of "King of Greed" by Ana Huang. The second-year physiological science student runs the TikTok account @michelle.reads. (Megan Cai/Daily Bruin senior staff)
This post was updated Nov. 12 at 8:09 p.m.
Michelle's enemies to lovers story is with books.
The second-year physiological science student said she started the TikTok account michelle.reads in late 2021 in search of a place to connect with others through her passion for reading. Although Michelle said she wasn't looking for a big platform, she encountered many other readers who shared her passion and taste in books.
"I have met up with a lot of them (content creators) in book events and they're all super sweet – it's really nice to see people that you meet online in person," Michelle said.
[Related: The Quad: BookTok brings back print books, builds 'tight-knit communities']
Although Michelle said reading wasn't her favorite activity when she was younger, she began to engage in it more during the COVID-19 pandemic. One day on her way home from track practice, she spontaneously stopped at a bookstore near her house and bought one of her friend's recommendations, "They Both Die at the End" by Adam Silvera, she said. From that point forward, she said she hasn't stopped reading.
Even though Michelle's friend is also a reader, there weren't many people in her life interested in books, Michelle said. Thus, when it came to talking about reading, she said only a few individuals could converse with her. For this reason, Michelle said she began her account, hoping to find others who shared her love of literature.
Michelle said her page mostly features romance novels because that is the genre she reads the most. Nevertheless, she said she highlights mystery and fantasy as well. She also includes music that she enjoys in her videos as she said she likes to connect the songs she's listening to with the books she's reading. She said she uses this approach to provide more creative recommendations, such as suggesting books tied to particular songs.
"Listening to music and reading both give me a form of escape in life," Michelle said. "They let me escape life but they also ground me in life, where I can find things that I relate to in the songs and the books. But they also give me the words to vocalize what I'm feeling without me having to vocalize the words myself."
Reflecting upon whether her relationship with reading shifted after creating the account, Michelle said her love for reading has stayed the same. She said she has never felt obligated to read for a post, always jumping at the opportunity to read whenever she can. Michelle now gravitates even more toward reading because of how different it is from her STEM work, she said. However, she said she used to dislike reading because it felt like a school task.
"In high school, you're forced to take a lot of English classes," Michelle said. "Not all of the books interested me, and I just felt like being forced to read made it seem like a more grueling laboring task. But I will say once I started reading, … I actually wanted to read the books to see if maybe I would like them."
Since starting her page, Michelle said she's been able to meet authors she admires, as well as receive early book copies, PR packages and even the possibility of assisting an author in a future event. Furthermore, she said the account has also allowed her to build friendships with people, such as other UCLA students and content creators.
For example, Michelle's friend and fellow content creator Ayman Chaudhary said she met Michelle at a book event after seeing her on TikTok, and they continued to connect through social media. Chaudhary said Michelle's account is the place to go for great recommendations, as well as motivation to keep reading. Rachel Johnson, the friend who got Michelle into reading, said since she created the account, the roles have reversed, and Johnson is now the one receiving book recommendations from Michelle. Similarly, Chaudhary said Michelle's account inspires her constantly with its creative, funny and relatable content.
"There's so many people in this book community that have a lot to offer, but I feel like Michelle has something unique to offer with how relatable she is," Chaudhary said. "She's really just like one of the girls. People in her age group – in our age group – find her relatable and trust her when it comes to book recommendations and music. She's like a force to be reckoned with."
[Related: UCLA alumnus promotes representation on BookTok, Bookstagram with 'vietgirlreads']
Two years after starting her account, Michelle said she's beginning to branch out to Instagram and has toyed with the idea of creating a YouTube channel in the future. For now, she said she hopes her page inspires others to read in the same way other creators did for her at the beginning of her journey.
"I hope that people will love reading just as much as I do because BookTok was a major driving factor in why I started to read books," Michelle said. "So if people could see the scenes that I'm posting about, and they're like, 'Oh my goodness, I would love to read a book like this,' and they also fall in love with reading just like I did, I think that'd be amazing."