Ebb & Flow festival dances for environmental action at Ballona Creek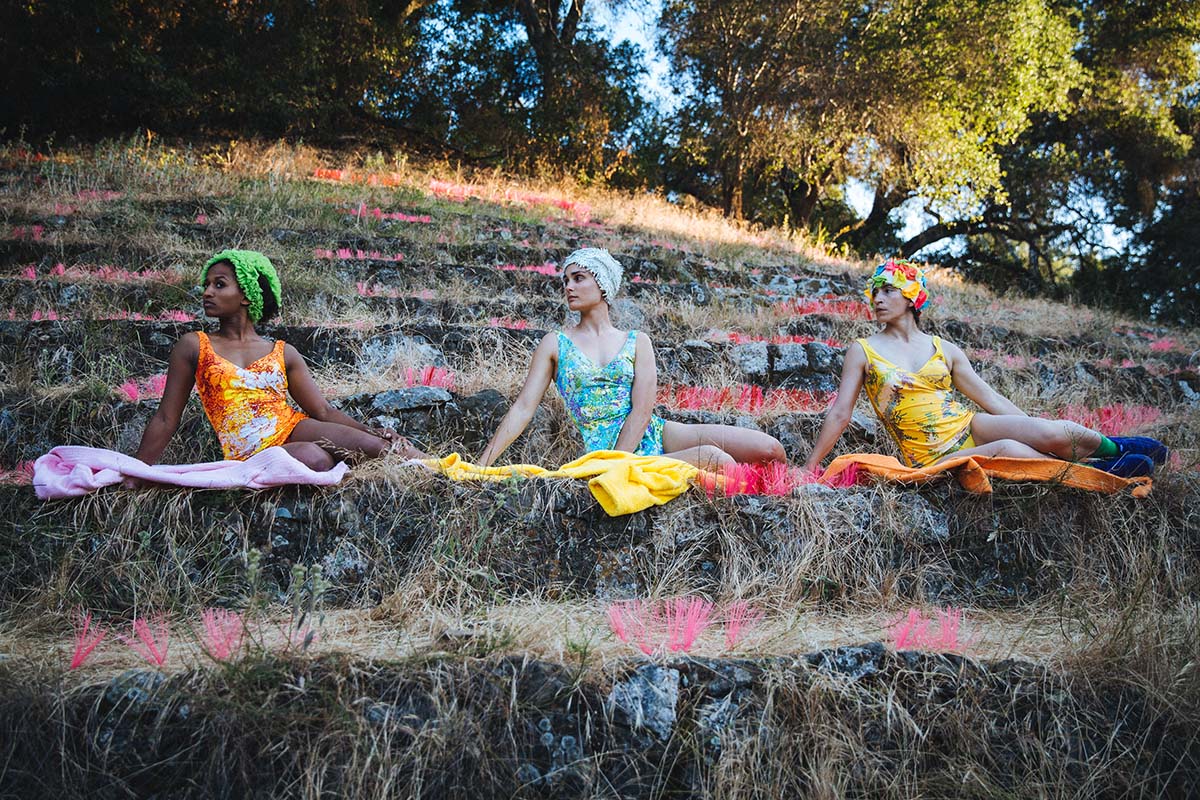 (Left to right) Himerria Wortham, Haylee Nichele and Toogie Barcelo perform their site-specific piece, entitled "Lake Enchanto," in 2017. This Saturday, Heidi Duckler Dance's Ebb & Flow arts festival will take place at Ballona Creek. (Courtesy of Heidi Duckler Dance)
"Ebb & Flow @ The Creek"
Heidi Duckler Dance
Ballona Creek
Sept. 23
10 and 11 a.m.
When trying to make a splash, things are bound to Ebb & Flow.
Taking place at Ballona Creek, Heidi Duckler Dance's biannual Ebb & Flow festival explores themes of climate change and environmental activism. The free community arts festival has partnered with nonprofits Ballona Creek Renaissance and Heal the Bay to provide site-specific performances Saturday at 10 and 11 a.m. during Coastal Cleanup Day. Serving as the largest storm drain in the Santa Monica watershed, the creek holds a historical significance that alumnus Shoji Yamasaki said he strives to instill in the participating artists as the festival's creative director.
"You're performing in Ballona Creek, (where) there's so much politics and so much pollution," Yamasaki said. "There's so much to this land that you're performing in. It's not just like, 'Oh, I'm just performing in my backyard.' It's a very different energy."
[Related: The 'Ahorita!' gallery, featuring five alumni artists, reflects present life]
Creating site-specific work for 38 years, alumnus Heidi Duckler said her company was founded on the idea of making art in an environment, rather than bringing an environment into a performance space. Describing it as a vulnerable act, Duckler said Ebb & Flow performers will be dancing anywhere from the storm drain's bridge and surrounding pathways to its waterway with the hopes of encouraging spectators to view the space slightly differently.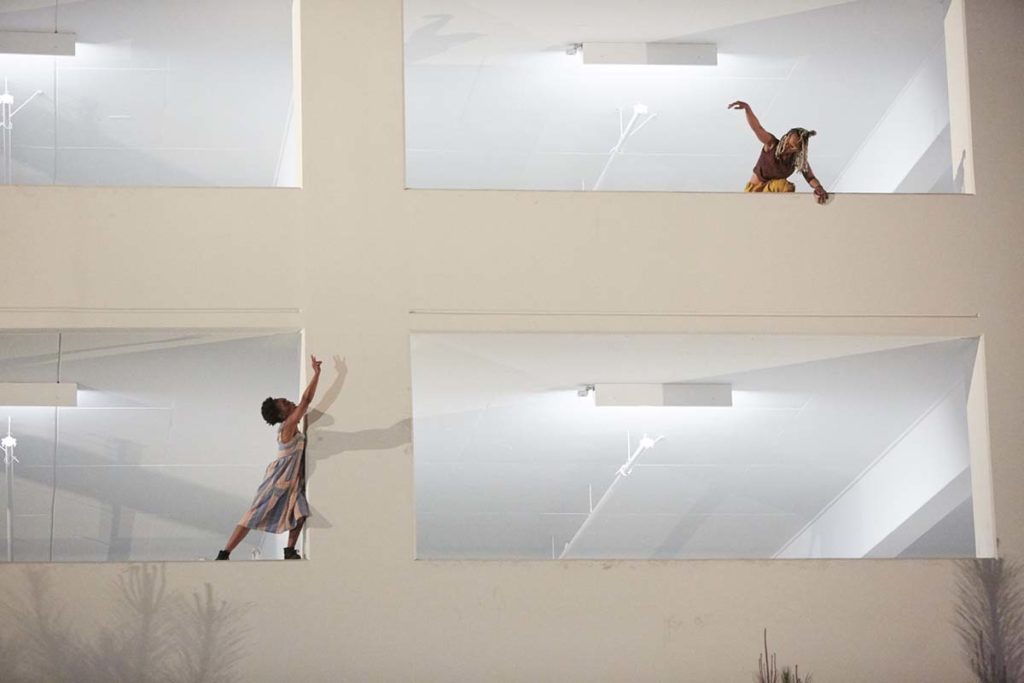 With each artist taking a different choreographic approach, Yamasaki said the performance's throughline is the thematic exploration of the environment and the current issues impacting it. Though the festival is open to artists of all mediums, Duckler said the emphasis is on action and discussion about climate change through the lens of art and culture. She said part of the reason she started Ebb & Flow was because she values the creation of art that is relevant to the current state of the world.
"Artists are very important … to speak to the conditions that we live in," Duckler said. "They say things in a way that give meaning to situations and conditions of our world, that give you pause to think about things in a very different way and it's very important that artists are heard."
As she approaches her second Ebb & Flow, marketing coordinator Sharice Bryant said she has learned how anything can be changed through the use of the arts. The entertaining nature of performance, she added, helps audiences engage with raising awareness in a new way. Through attending the festival and reading the performance descriptions, Bryant said attendees can gain a newfound curiosity to learn more about these issues.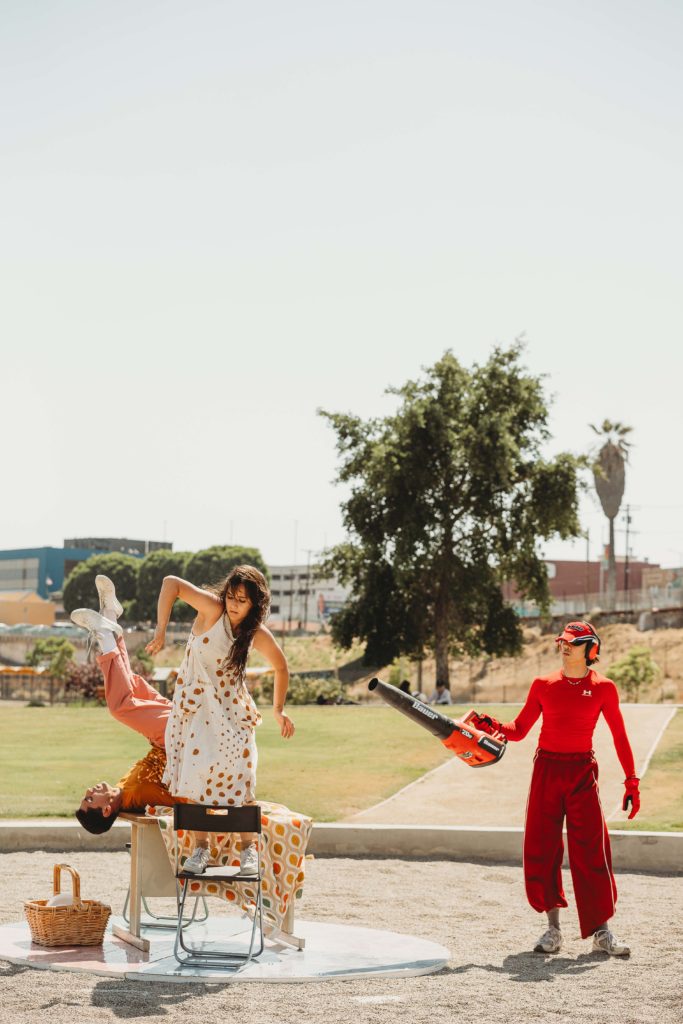 Split between groups and solos, the five acts are spread out across the creek, Yamasaki said. Because these pieces are not taking place on a traditional stage, he said the artists embark on site visits to decide which specific section of the creek they each want to develop a piece for. The result is an immersive festival, he said, that encourages attendees to naturally travel downstream as they collect trash.
"This is such a perfect way of coming with your friends and going to see a performance and then also (to) pick up trash and do something good for the environment," Yamasaki said. "This whole festival has so much meaning to it just because it's not just 'Let's all just sit and watch a performance,' but it's an active, engaging performance."
[Related: Coastalong Music and Sustainability Festival returns with bike-powered festivities]
As part of its Ballona Creek debut, Duckler said Ebb & Flow's partnership with Heal the Bay and Ballona Creek Renaissance came about with the idea of attracting different attendees and inviting them to take on the roles of both spectator and volunteer. Regardless of whether they attend the Coastal Cleanup Day or Ebb & Flow, Yamasaki said everyone at the collaborative event will receive the same buckets and protective equipment. The Ebb & Flow artists will not be able to participate in the cleanup, but have been instructed to not leave a trace of their performance in the spirit of furthering the event's cause, he said.
Ultimately, Bryant said she hopes attendees leave the festival feeling proactive and looking for ways to help. Even small changes, such as adding a recycling bin, can have an impact, she added. In her case, she said she's found herself recycling more after joining the dance company. For Duckler, the festival's name is a testament to each person's ability to be resilient, empathetic and create waves of change.
"Ebb & Flow refers to – of course, water and the tide and how it comes and goes – but (also) how things are always in a constant state of flux," Duckler said. "Nothing is stagnant about our thinking and about our will and about our power to be agents of change."