UCLA Department of Chemistry and Biochemistry names 2 new teacher-scholars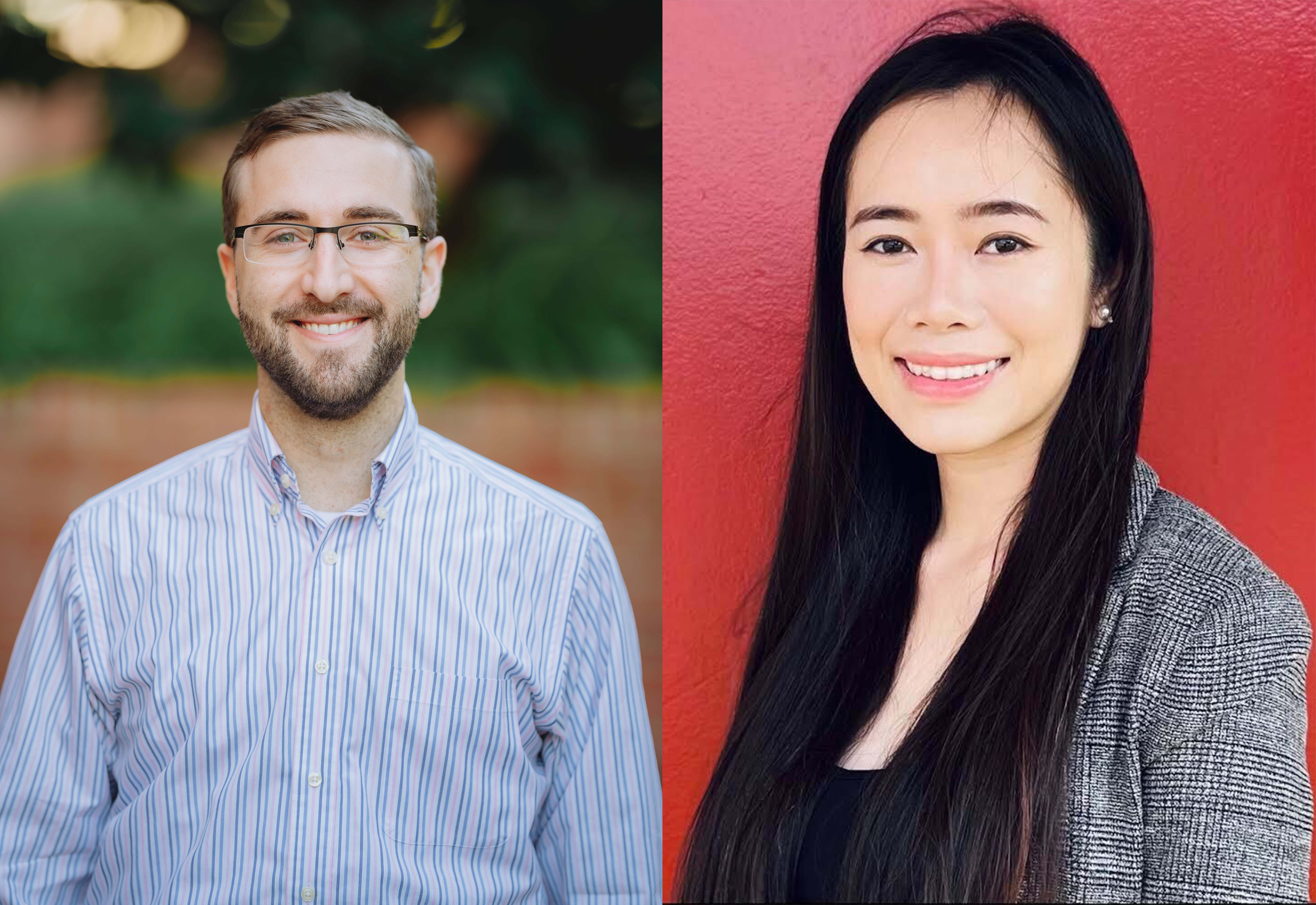 Former teacher-scholar Daniel Nasrallah (left) and newly announced teacher-scholar Chau Ngo (right) are pictured. The Department of Chemistry and Biochemistry's teacher-scholar program offers postdoctoral scholars the chance to not only work on research but also simultaneously teach undergraduate courses at UCLA. (Courtesy of Daniel Nasrallah and Courtesy of Chau Ngo)
Sept. 21, 2023 11:45 p.m.
The UCLA Department of Chemistry and Biochemistry is bringing in two new teacher-scholars this academic year while saying goodbye to two former scholars.
The two new scholars, Rajat Maji and Chau Ngo, joined the program in July. Maji will teach Chemistry 30A: "Chemical Dynamics and Reactivity: Introduction to Organic Chemistry" and Chemistry 14D: "Organic Reactions and Pharmaceuticals," while Ngo will teach lower-division general and organic chemistry lab courses this coming winter and spring, according to a press release from the department.
The Boyer/Cram/Libby Teacher-Scholar Program enables postdoctoral students in chemistry and biochemistry to simultaneously gain teaching and research experience at a high level, said Neil Garg, a distinguished professor and vice chair in the chemistry and biochemistry department.
The scholars simultaneously build connections, research, publish papers and teach undergraduate courses on subjects in which they are experienced, Garg said. Through this program, scholars build a solid teaching foundation that they might not be able to find in most postdoctoral programs, he added.
"This program, I think, provided … that balance between being a researcher and a teacher," he said. "Not many applicants looking for a professor job have that type of pretty solid teaching experience. Most people do a postdoc, and that postdoc experience is usually 100% research."
Ngo said she applied to the program because she wanted to interact with students beyond the ways teaching assistants can. She said the program will give her the opportunity not only to be an independent teacher but also to immerse herself in her research, which focuses on new molecules that can be used to study proteins.
She added that she was surprised to find that there are many resources at UCLA that students and instructors can take advantage of.
"I did attend one workshop (about) … new faculty teaching and engagement," she said. "During that workshop, we basically had a chance to meet with new faculty and discuss the teaching experience as well as learning more about all of the available resources at UCLA."
As the new scholars joined, former teacher-scholars Daniel Nasrallah and Kristopher Barr left the program. Nasrallah, a former member of Garg's lab who was part of the program for three years, will join the faculty at Roanoke College in Salem, Virginia, as an assistant professor, according to the press release.
Garg said he felt Nasrallah was a perfect fit for the teacher-scholar program because of his enthusiasm for connecting with and helping people. For example, when classes were moved online during the COVID-19 pandemic, Nasrallah and his students made chemistry-themed Zoom backgrounds to engage with the material they were learning despite not actually being in a physical lab, Garg said.
Nasrallah said in an emailed statement that the program gave him firsthand experience in juggling the responsibilities of being a professor. He added in the statement that the program also gave him an advantage when applying for faculty positions.
"When I was applying to tenure-track positions, I was told my professor or record experience … made my application stand out. Simultaneously, I could also talk about the groundbreaking research I was able to do at UCLA," Nasrallah said in the statement. "I think this made me a very strong candidate."
Barr, who was also a teacher-scholar for three years, will leave the program to teach at California State University, Dominguez Hills, according to the press release. Barr said learning to balance research and teaching was a challenge.
"The teacher-scholar (program) is the first time that I actually got to see and try to strategize to have that balance, because as a graduate student, the responsibilities are usually told to you," Barr said. "But as the instructor of record, you have a completely different type of paradigm, and you have to be flexible with that."
As he moves forward, Barr said one of his main focuses at CSU Dominguez Hills will be building educational communities, especially for underrepresented groups. He added that he wants to demonstrate that students can be successful even if they do not follow a traditional educational path, having worked full-time during his associate's degree and then taken time off after his undergraduate degree himself.
With the school year beginning, Ngo said she looks forward to navigating the post-COVID-19 classroom environment. Finding the best teaching methods for her classroom will be a challenge, especially because she wants to ensure these methods are beneficial and equitable for everyone, she added.
Nasrallah said in the emailed statement that most importantly, the program was an opportunity to interact with and instruct a new generation of students – something he said was a very fulfilling experience.
"The most valuable thing I have learned through the program is that I picked the right career and I love what I get to do," he said in the statement.
Contributing reports by Anna Dai-Liu, science and health editor.