Film and Photography Society provides experience, community for aspiring creators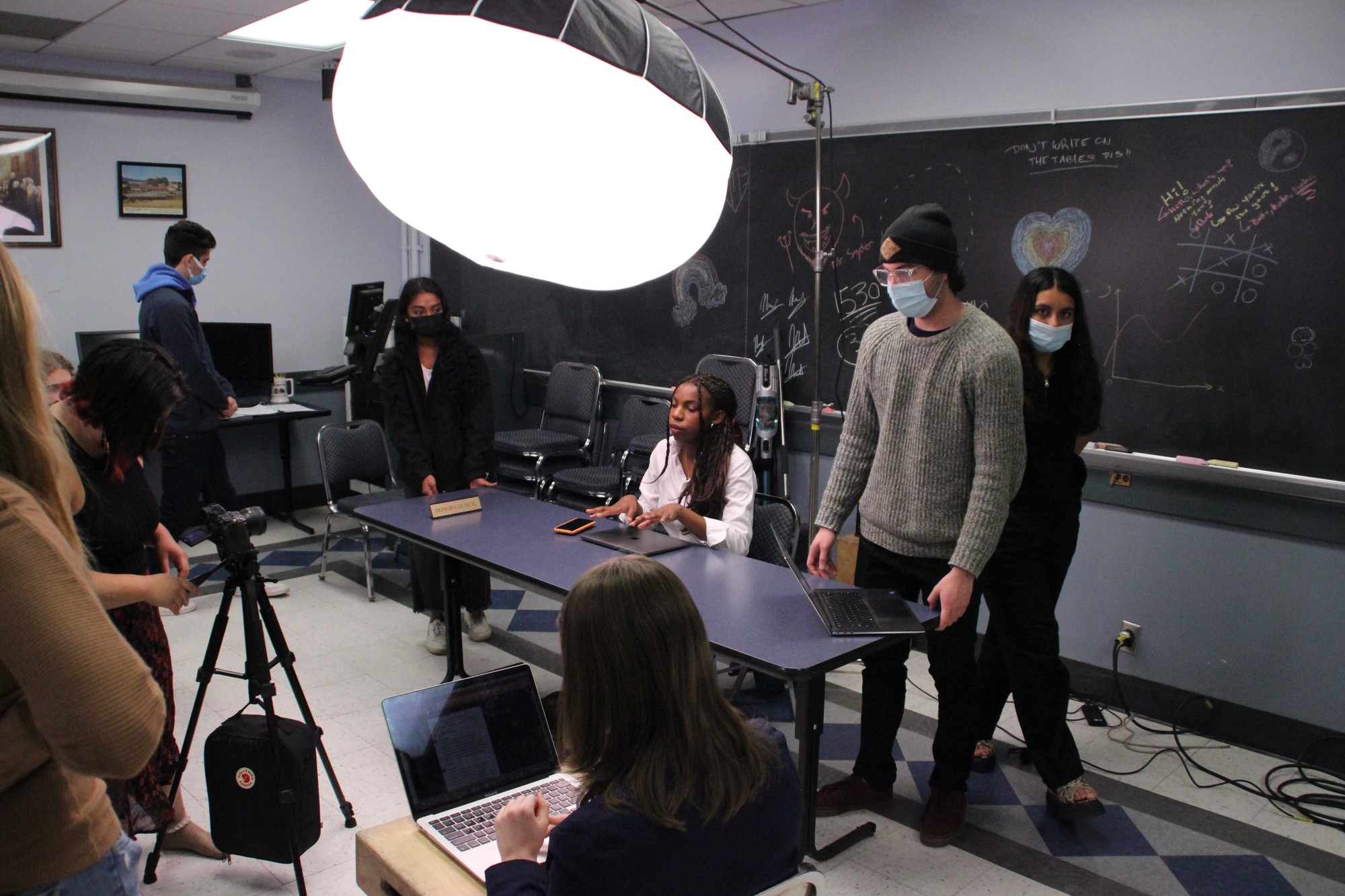 Members of UCLA's Film and Photography Society prepare to shoot a scene for the short film "St. Michael's Honour Council," written and directed by student Ian Cardamone. The campus organization strives to provide firsthand industry experiences to student filmmakers and photographers with multiple in-person productions each quarter. (Courtesy of Hannah Hope)
The Film and Photography Society is shining a spotlight on creators of all skill levels alike.
Located in one of the film and media capitals of the world, the Film and Photography Society (FPS) at UCLA aims to provide firsthand industry experiences to filmmakers and photographers regardless of experience level. In addition to providing experiential opportunities for members to enhance their skills, FPS hosts a variety of workshops and speaker panels for members to learn more about film and media from alumni and professionals in the entertainment industry. FPS President Samantha Umbay, a fourth-year film student, said the club enriched their film education by providing them with both a dynamic network of creators and a safe space to grow their filmmaking skills.
"FPS has been really involved in getting people who are really new to the industry into film and photo in-person productions," Umbay said. "We've been really focused on doing productions as close to industry standards as possible but also making sure members have the opportunity to learn and develop."
[Related: UCLA chapter of AMIA celebrates moving image through the art of preservation]
Umbay said they joined FPS during their freshman year because they were interested in how the club supplemented what they were learning in their film classes with practical production experiences. Since undergraduate students are not given the opportunity to work on film sets as often as MFA students, the club hopes to provide a range of hands-on experiences for people who might have an interest in pursuing the industry, they said.
Every quarter, the club produces three films and two photoshoots so members can learn about the different roles on a professional set, Umbay said, including involvement in production design, writing and cinematography. Through these experiences, FPS helps members develop specific interests in the aspects of the film and media industry they would like to pursue, Umbay said. In particular, Umbay said their role as a producer for an FPS film further inspired them to seek a career in film production.
Typical FPS club meetings consist of a variety of activities, such as planning upcoming shoots, networking with industry experts, conducting creative exercises and discussing updates in the entertainment and media industries. FPS film staff member and fourth-year psychology student Alexandra Manzo said she hopes to continue curating educational workshops to teach members about specific aspects of filmmaking and photography. Whether hearing about professional set experiences or learning about possible career opportunities, Umbay said witnessing the skills and successes of their peers, alumni and industry professionals – such as alumnus and writer Marion Dayre from Marvel's "Echo" – has provided them with a clearer idea of how to pursue their film career.
"I feel like the industry is hard to break into, especially if you're not given the resources and the ability to say that you've been a part of sets," Umbay said. "In FPS, we've had members who have started with just a baseline interest in production design, and now they're animating and doing stop motion or using production design for Disney. I know a member (who) started with an interest in costume, and now she did stop motion for 'Barbie,' which came out a couple months ago."
A notable aspect of the club is its weekly "Writer's Circle" meetings, which fourth-year anthropology student Erin Bashir, an FPS film staff member, coordinates. During "Writer's Circle," students get to share screenplay ideas and drafts with each other for feedback and collaboration, they said. In addition, they said scripts and screenplays can be selected by the board to be turned into one of its quarterly films.
Screenplay submissions for the quarterly productions are anonymous, which Umbay said is one reason why writers are able to share their diverse experiences in their writing and have their stories be told through film. Umbay added that through storytelling and celebrating diverse voices in FPS, they hope to inspire more diverse representation in the film industry by empowering future filmmakers at UCLA to get involved in the arts. Bashir said the nurturing and collaborative environment that FPS develops has inspired them to ultimately pursue writing professionally.
"I want to go primarily into screenwriting," Bashir said. "I think the biggest way FPS has helped me in terms of writing is that it's just gotten me to actually write and made me more enthusiastic and motivated to actually write."
[Related: Emma Fiske-Dobell wins college comedy award for script 'Shakespeare's Sister']
Manzo said because the club accepts people of all majors, backgrounds and experience levels, the community she joined at FPS has helped make UCLA's large campus feel smaller, especially as a transfer student. Manzo added that members often advertise career opportunities to each other and support each other's career advancement, which makes the club's environment feel more collaborative rather than competitive, as it places an emphasis on building supportive connections within UCLA and the industry. Through being a part of the FPS community, Umbay has been able to not only develop their technical skills but hone the leadership skills needed to become a better filmmaker, they said.
"Being a part of leadership for three years within this community has taught me the importance of making sure that everyone is getting the support that they need in order to be on set," Umbay said. "Because of that, I feel like I've been able to communicate my visions to directors in order to get their visions across. … Being a part of FPS has given me the insight as to how to tell different people's stories … and understanding how it can affect the greater UCLA and regional area."