'Every meal makes a difference': Lives Without Knives advocates for veganism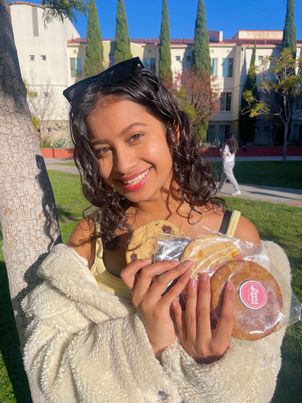 Chandni Sacheti holds four vegan cookies. The second-year cognitive science student founded Lives Without Knives when she was a high schooler in Hong Kong. (Courtesy of Chandni Sacheti)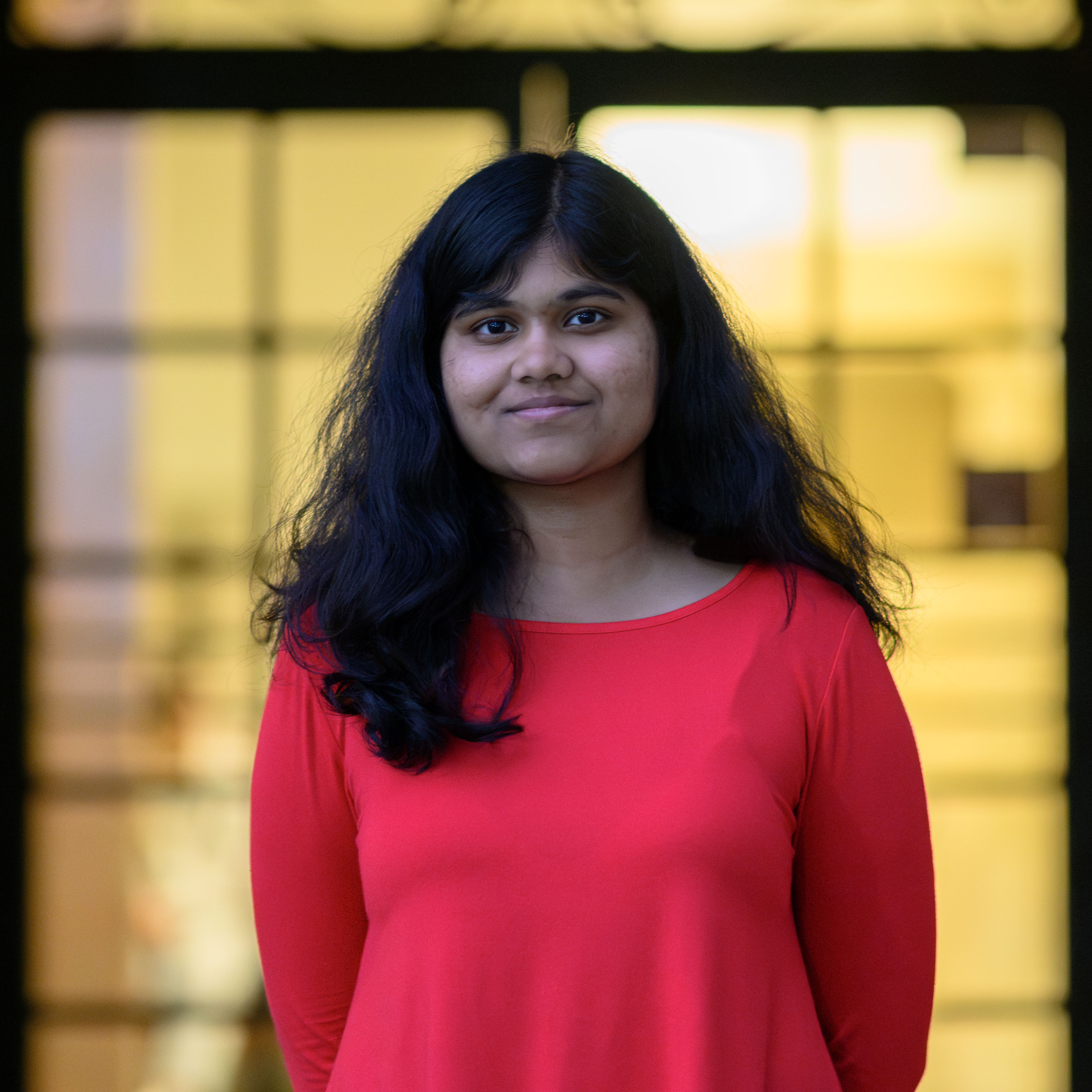 A student-run social enterprise is encouraging Westwood to taste a plant-forward lifestyle.
Led by second-year cognitive science student Chandni Sacheti, Lives Without Knives works to redefine and simplify the concept of veganism for people of all ages. Sacheti, who founded the organization while attending high school in Hong Kong, said she started Lives Without Knives after learning that meat and dairy production are linked to worker exploitation, water depletion, deforestation, global hunger and mass extinctions.
"I realized how much we need change in our system, in our community and in the choices we make, because it's up to us consumers to choose what world we want," Sacheti said. "Every time we pick up a fork and knife, we can pave the way to a better future."
[Related: Bruin cooks up plan to promote culinary skills through meal kit, social media]
Since the goal of Lives Without Knives is to demystify veganism, Sacheti said she hopes to uplift individuals to make small, conscious dietary changes, such as going vegan for a week or a month. To achieve this mission, she said the organization employs a three-step approach. The first step, she said, is educating on plant-based habits via the organization's blog, webinars and social media platforms. Sacheti said the second step involves partnering with local vegan businesses to showcase how to adopt sustainable dietary choices.
Finally, Sacheti said the third step is represented by the 10-day vegan challenge package. Although vegans can still participate, she said the purpose of this project is to introduce non-vegans to a plant-centric diet without putting pressure on them to adopt it completely. Each challenge is designated a day that introduces participants to veganism in a fun and nonstressful way, Sacheti said. Previous packages, Sacheti said, have included vegan pancake ingredients and a $10 voucher redeemable at a vegan restaurant.
"We wanted to introduce a challenge you can do just for fun," Sacheti said. "Whether it be for our planet or health, it's something you can just engage in for your own personal fun."
One of the principal philosophies associated with Lives Without Knives, Sacheti said, is prioritizing collaboration over competition. She said the best way to achieve a greener future is through working alongside, rather than against, organizations with the same goals. When establishing the social enterprise's presence on campus, Sacheti said she discovered two similar clubs: Bruins Opposing Speciesism and the UCLA chapter of Plant Futures Initiative. Recognizing their shared visions, she said she and a few members from Bruins Opposing Speciesism and Plant Futures Initiative decided to form the Animal Welfare Alliance at UCLA – which unites all three organizations under one umbrella.
Through the Animal Welfare Alliance, Lives Without Knives has engaged in several joint events with Bruins Opposing Speciesism and Plant Futures Initiative to promote their collective goal of embracing a plant-forward lifestyle, Sacheti said. Some of the events they took part in last year, she said, were a vegan potluck picnic and socials at vegan street fairs.
These collaborations have led members to make changes in their own lifestyles, said Animal Welfare Alliance director of administration and second-year human biology and society student Sarahjeet Dosanjh. Originally vegetarian and a member of Plant Futures Initiative, Dosanjh said exposure to the values of Lives Without Knives motivated her to become vegan.
"We really wanted to celebrate the community aspect in this kind of space that can be really difficult to go through alone (as a vegan)," Dosanjh said. "It was just a beautiful display of what collaboration at this level can look like when you really, really are passionate about something and you want to see it happen."
[Related: Westwood Food Co-op provides local produce, supports farmers rights]
Despite not being a member of Lives Without Knives or its sister organizations, Sacheti's friend and second-year mathematics/economics student Jiya Barman said she has reduced her meat consumption after hearing Sacheti talk about her group's mission. Regardless of whether or not students will want to join her organization, Sacheti said she wishes they will understand the environment-friendly impact of consciously making plant-forward dietary choices.
As she looks forward to the upcoming academic year, Sacheti said Lives Without Knives will primarily be collaborating with various local vegan businesses to organize different workshops and events that emphasize the importance of sustainability. For example, she said she is planning a weeklong vegan fair highlighting different plant-based vendors. By attending the fair and other organization functions, Sacheti said she hopes students will start implementing small, yet significant changes to their lifestyles.
"I'd rather have a million nonperfect vegans than 100 perfect vegans," Sacheti said. "I want people to think that they can take small steps towards a better future and just know that every meal makes a difference."
Chadive is the 2023-2024 lifestyle editor. She was previously an Arts staff writer from 2022-2023. She is a third-year comparative literature student from Garnet Valley, Pennsylvania.
Chadive is the 2023-2024 lifestyle editor. She was previously an Arts staff writer from 2022-2023. She is a third-year comparative literature student from Garnet Valley, Pennsylvania.