Second take: "Barbenheimer" revives box office, but sustaining success remains a challenge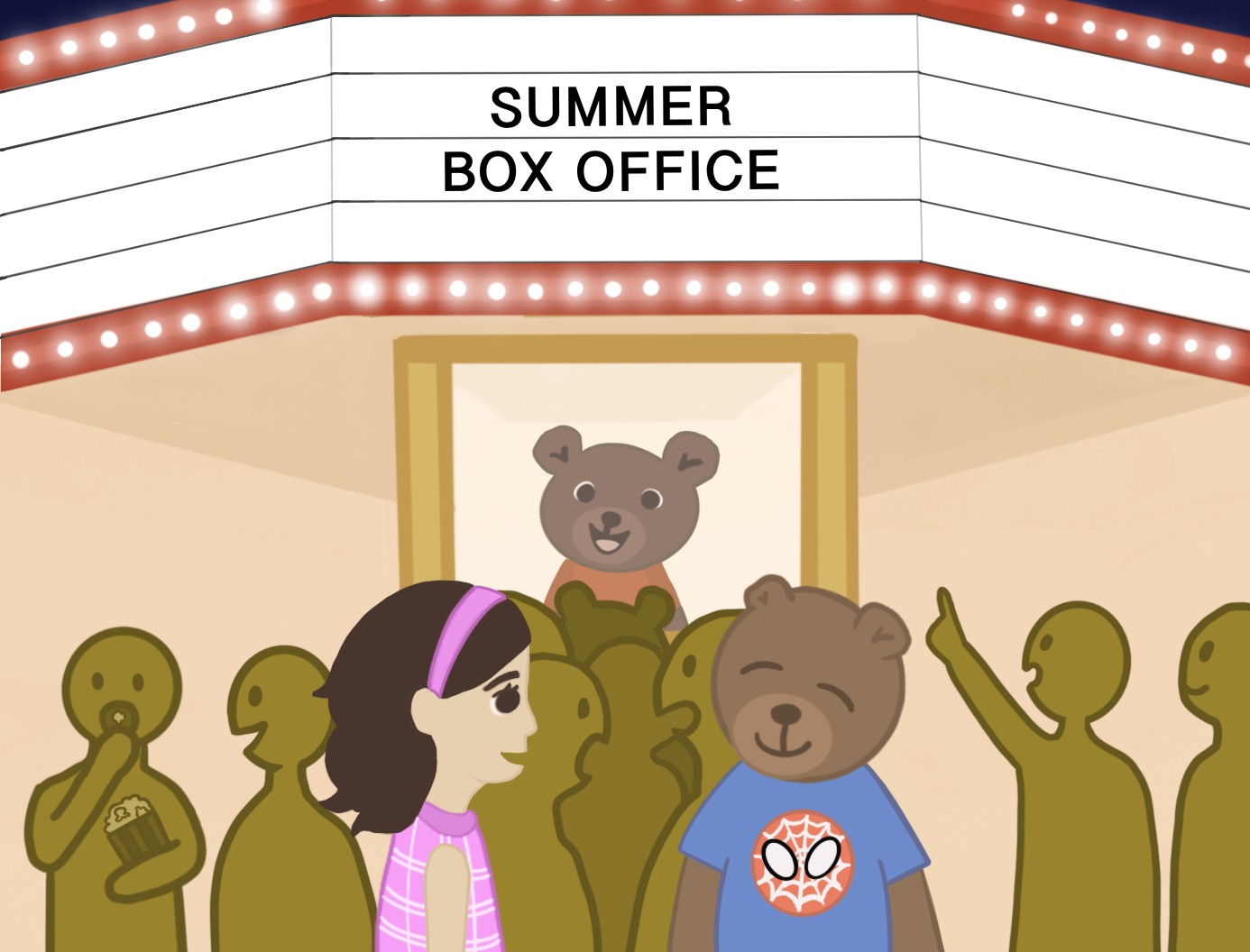 (Ashley Ko/Illustrations Director)
This post was updated Sept. 27 at 8:27 p.m.
"Barbenheimer" reinvigorated summer cinema for the first time in a long time – yet it might not be enough to endure through fall.
The rise of streaming services has caused movie theaters to become less popular in recent years because of the convenience of watching new releases from the comfort of one's own home. Cinema experiences are also becoming increasingly more expensive with ticket prices rising and concession costs inflating. Yet this summer, crowds flocked in waves to watch the "Barbie" and "Oppenheimer" double feature July 21, indicating a change of fate for the future of theaters.
[Related: Film review: Life in plastic may be fantastic, but 'Barbie' connects through the human struggle]
This summer boasted a phenomenon that boosted in-person theater tickets and brought cinema back to life, heavily because of the theatrical event referred to as "Barbenheimer." Theaters were not completely dead prior to "Barbenheimer," as the release of "Minions: The Rise of Gru" in 2022 showed comparable results, with teenagers flocking to the theaters dressed in suits and promoting the film across social media.
However, this summer's double feature sensation triumphed over the minions' brief success, as the hype generated across multiple generations. Some of the success of "Barbie" and "Oppenheimer" can also be drawn back to a rise in "superhero fatigue," the argument that many moviegoers are tired of the sheer number of superhero films – as seen with the June release of "The Flash" that barely broke even by grossing only $268 million worldwide.
Combatting the rise in "superhero fatigue," "Barbie" and "Oppenheimer" brought something different to cinema screens and blew every expected summer blockbuster release out of the water. Social media also helped make "Barbenheimer" a major event, with filmgoers showcasing their outfits for the occasion and presenting their plans to see both films back-to-back.
On the day of the premieres, many people were seen in bright pink Barbie-inspired outfits to celebrate the long-awaited film. "Barbie" inspired people to dress up and celebrate because it was regarded as an experience to be shared and appreciated by women. Essentially, "Barbenheimer" brought the life and excitement of cinema back to the public with the immense effort and care displayed by the films' creators and fans alike.
Similarly seen last year with "Top Gun: Maverick," social media heavily boosted the success of summer films. "Top Gun" drew out old fans of the original film to support the sequel, while new fans were drawn in partly because of viral videos featuring the actors in the film, notably Miles Teller and Glen Powell. That being said, "Barbenheimer" still conquered "Top Gun" because of the clever promotion of "Barbie" and the organic social media marketing that drew film buffs to "Oppenheimer." Cinephiles were also lured in by Ryan Gosling's Ken and Cillian Murphy's J. Robert Oppenheimer because these roles catered to a niche group of men online that relate to the characters, as well as ones previously played by the two actors among their complex filmography.
The success of "Barbie" was also caused by the film's innovative marketing efforts beyond social media, such as styling Margot Robbie in iconic Barbie outfits for premieres around the world, again showing the deep level of care put into the film. There were also multiple marketing campaigns including a Barbie themed Xbox, an entire bookable Barbie DreamHouse Airbnb and classic Barbie-pink posters, images and character profiles. Altogether, everything about the film could be quickly associated with a theme as simple as glitter and pink, and thus the titular character became the star of one of the most anticipated films even before the pandemic.
Another interesting marketing choice from Warner Bros. was its promotion of the film for both people who love and dislike Barbie, referencing the complicated history of body image the doll has projected onto women over the past decades. The film was able to bring together women from all walks of life and allow them to bond over the experience of being women, while also representing the "Kens" of the world with a cautionary story about toxic masculinity.
When considering the success of this summer's double feature, it is important to note that "Barbenheimer" was not a marketing campaign, but rather an event that occurred naturally on social media simply because of the films releasing on the same day with humorously different aesthetics. The success of "Barbenheimer" is unlikely to be replicated because of how surprisingly polarized the two films were. There will never be another "Barbie," nor another "Oppenheimer," and it is unlikely that studios will be able to serendipitously plan two contrasting films about notable figures and events in a way that could force another similar sensation like "Barbenheimer." The success was truly pure luck, and not forced – which is what made it so special.
[Related: Film review: 'Oppenheimer' employs unprecedented technical brilliance to redefine biopic genre]
While more creative, nonsuperhero films are being produced, it is unlikely that this level of success will be able to be duplicated. Although summer blockbuster films are on the rise, people seem to be more drawn to view a film's theatrical release if it is an original, and not merely another sequel or remake, which contrasts Hollywood's current trend of nostalgia.
Film buffs are likely to be the only group who will consistently prefer to see films in theaters due to their adoration of the craft, while the majority of the general public seemed to only be drawn out for the memorable "Barbenheimer" event. The season's succeeding installations of "Mission: Impossible" and "Indiana Jones" failed to bring the crowd to the big screens despite being films from major franchises that released this summer. That being said, social media is driving out more moviegoers for original films, which goes to show that the public is in need of a refreshing theatrical event to be lured back to cinemas.
While summer cinema traffic increased this season, it is unlikely to repeat throughout the year without a distinctly pink and explosive element.