Battle of the Editors: Which players will become the new stars of UCLA Athletics?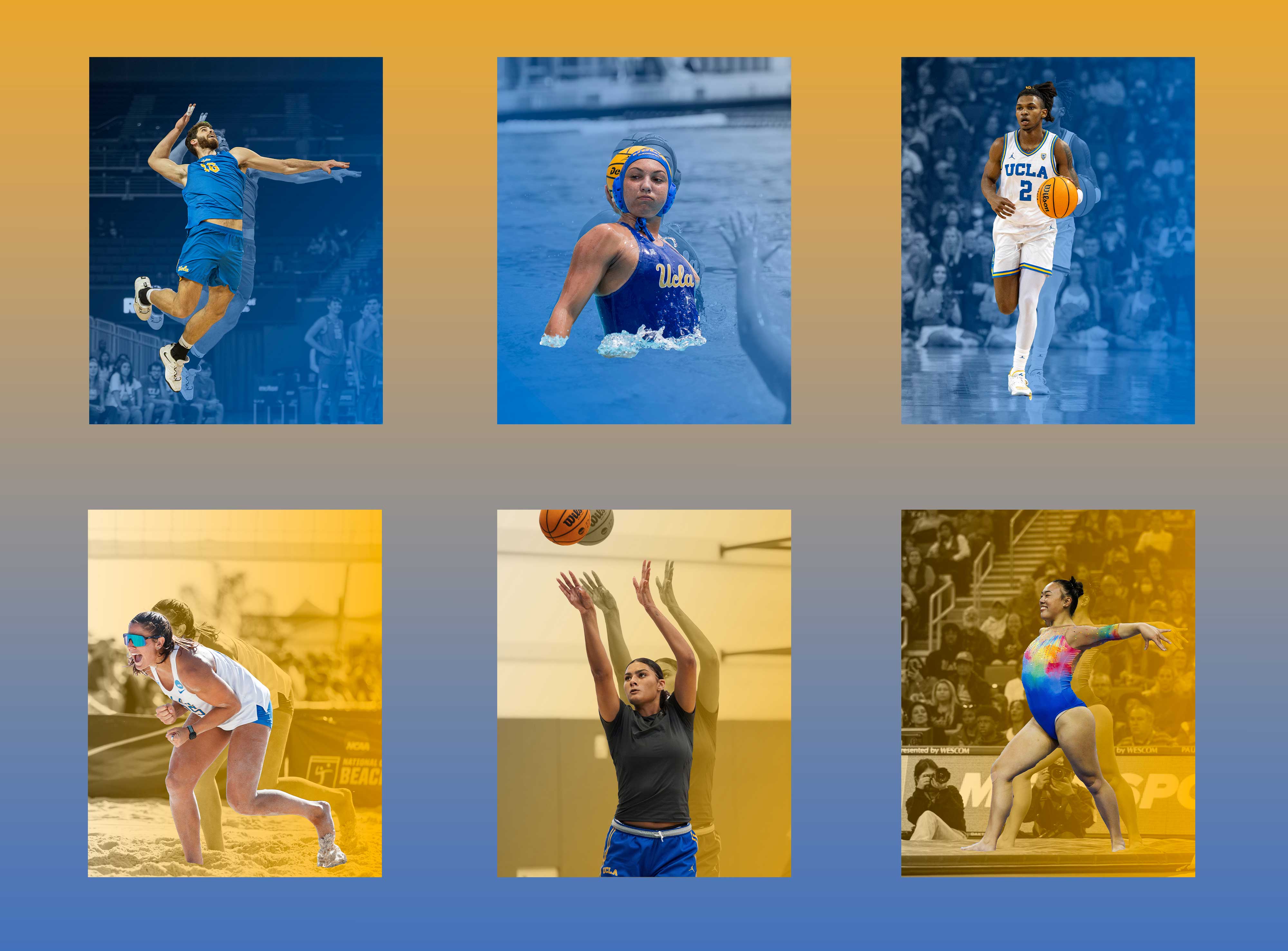 (From top to bottom: Brandon Morquecho/Assistant Photo editor, Joseph Jimenez/Photo editor, Courtesy of UCLA Athletics and David Rimer/Daily Bruin senior staff. Photo illustration by Joseph Jimenez/Photo editor)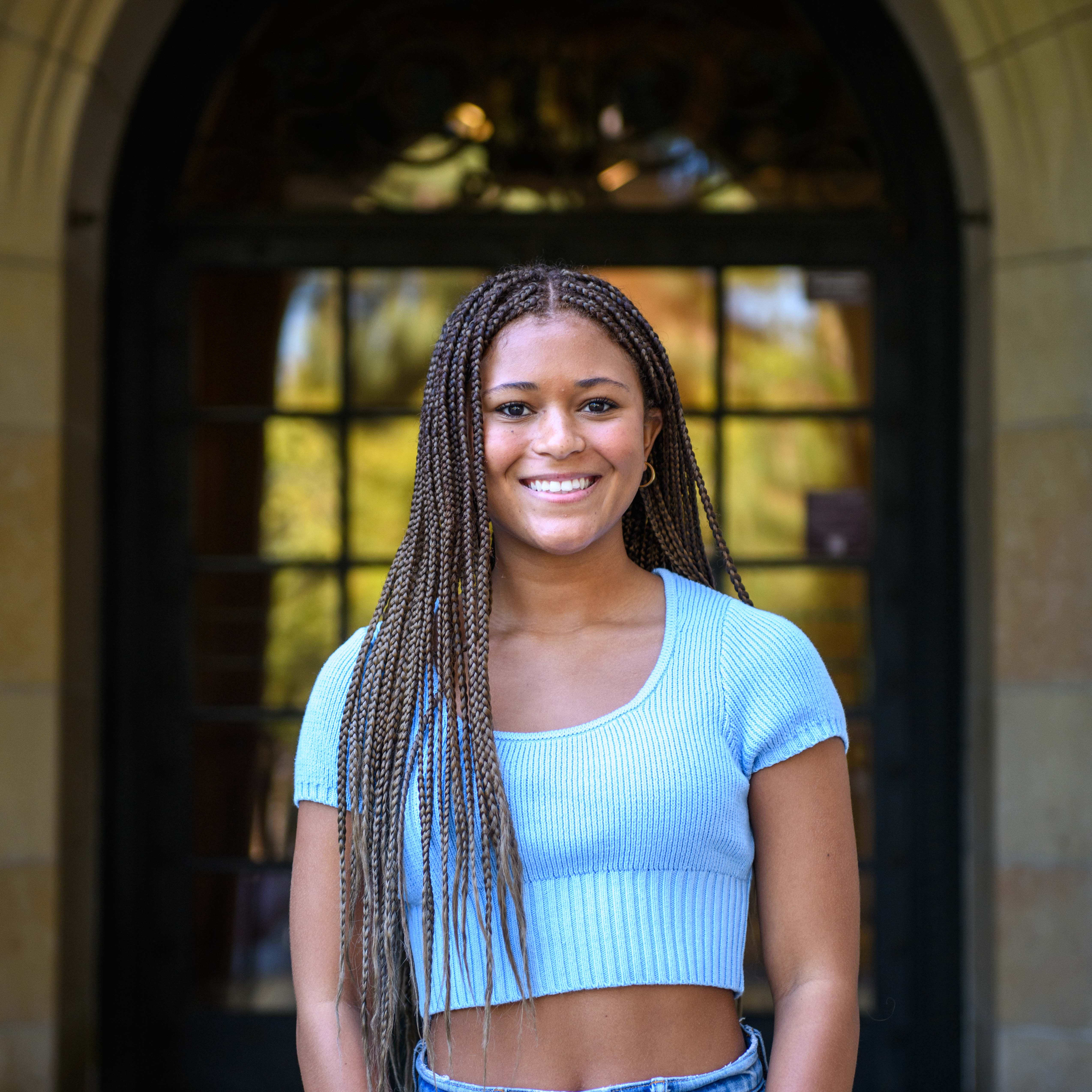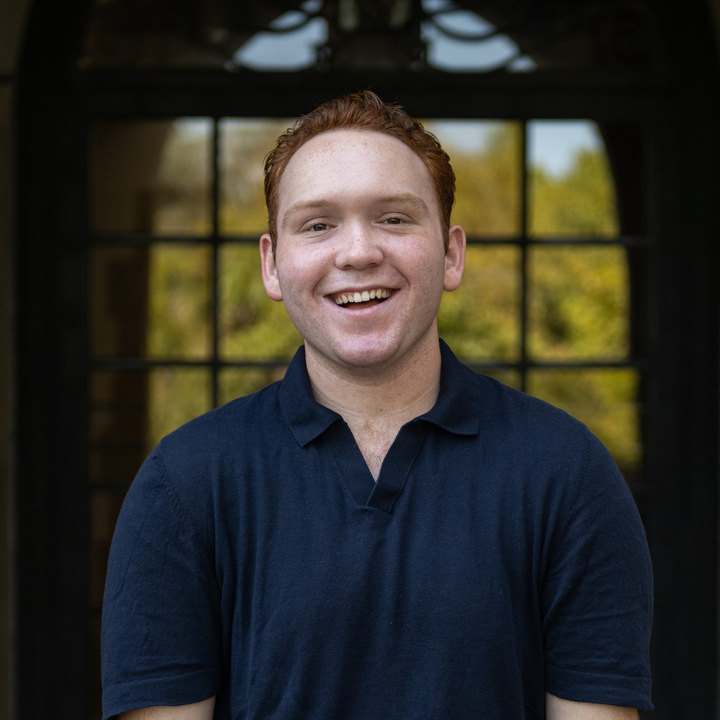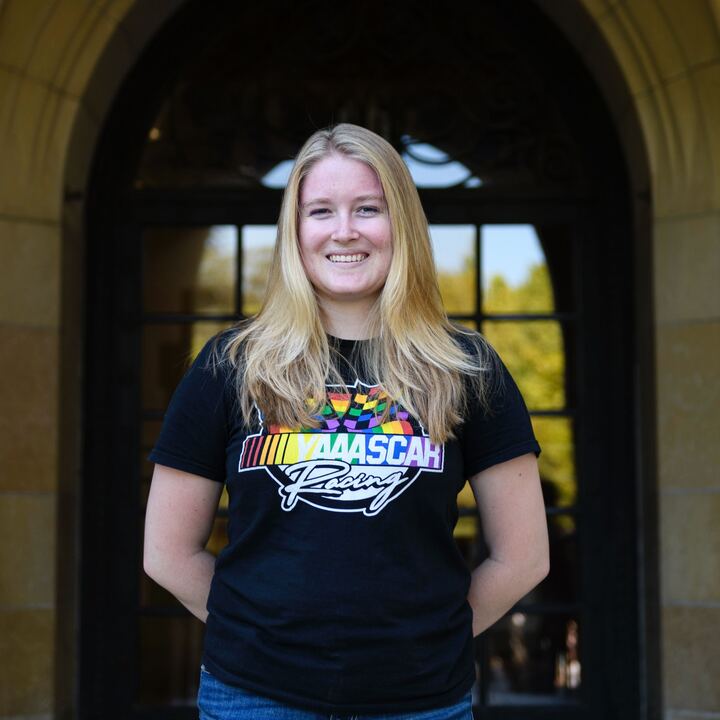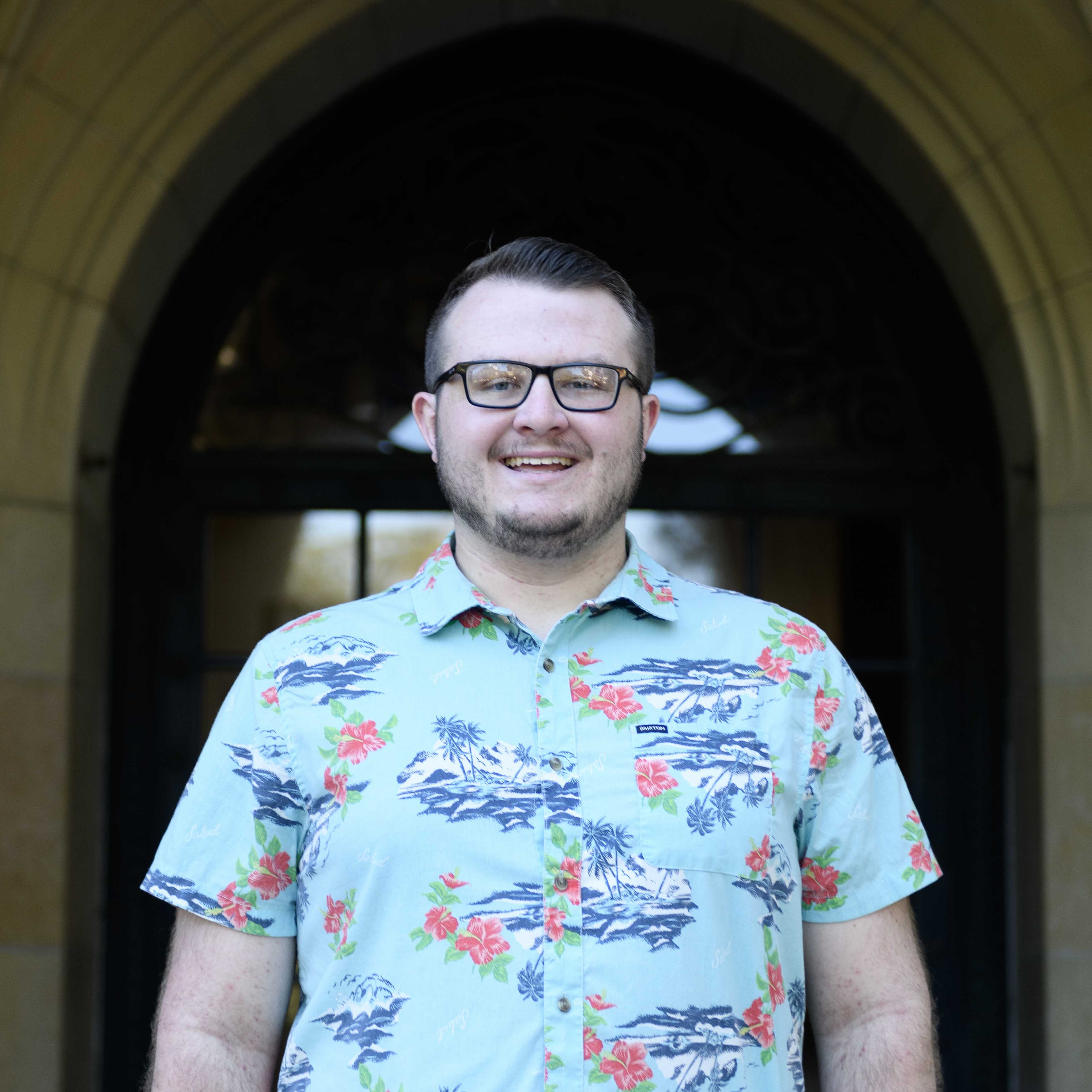 UCLA Athletics has no shortage of stars. Players like Reilyn Turner, Kiki Rice and Cody Schrier turn heads each time they don their uniforms. But every year, a new cohort starts to shine. Now, the Daily Bruin Sports editors discuss which players will take that step forward and become stars.
Dylan Andrews, men's basketball
Joseph Crosby, Sports editor
Coach Mick Cronin has his work cut out for him.
Eighty percent of his starting five have left UCLA for the NBA, and eight new faces are heading to Westwood to plug the holes.
Needless to say, UCLA men's basketball's coaching staff is hard at work scheming for the season ahead.
With so many question marks surrounding the Bruins, rising sophomore Dylan Andrews has the chance to fill those gaps in a big way.
Andrews is poised to be the Bruins' starting point guard, and even in limited playing time last season, he showed flashes of stardom. The former four-star recruit earned Pac-12 Freshman of the Week honors after an 11-point, six-assist performance against Denver, and his rate stats — albeit in a small sample size — show promise for what's ahead.
The 6-foot-2 guard carried a 43% field goal percentage and a 31.7% mark from beyond the arc this past season. With another year of development and a starting role, expect him to take a big step forward.
And on the other side of the floor, his future bodes just as well.
Andrews displayed strong defensive instincts, racking up 11 steals across the season, the most among non-starters. He's the prototypical defender for Cronin's system, with the intuition and hustle to power him toward a Pac-12 All-Defensive Team selection.
The tools, opportunities and support are there. All that's left is for Andrews to take the leap and become Pauley Pavilion's next big star.
Ido David, men's volleyball
Ira Gorawara, assistant Sports editor
One Bruin showed up when push came to shove.
Towering at 6-foot-7, Ido David has the potential to be UCLA's X factor.
After a productive freshman campaign led to an MPSF All-Freshman Team selection for the outside hitter/opposite, David's physical prowess guided him to unparalleled heights in his sophomore season for UCLA men's volleyball.
The rising junior shone the brightest when it mattered most. His five matches of 20-plus kills were delivered at the most decisive moments, including his season high of 23 against Hawaiʻi to secure the 2023 national championship.
While David's size remains a constant source of concern for opponents, the First-Team All-AVCA All-American secured 38 service aces on the season as he exhibited marked improvements behind the line. And as if he wasn't doing enough on the floor, David elevated his defensive game, securing season highs of eight digs and seven block assists in the final regular-season game of the year.
With the departure of outside hitter Alex Knight — another cornerstone of UCLA's success — eyes are on David to take up the mantle as his minutes and impact on court are sure to increase.
And as David's synergy with rising sophomore setter Andrew Rowan strengthens, the duo's potential knows no bounds for their remaining two years together.
While UCLA searches for its 21st trophy in program history, the magnifying glass may lie in one Bruin's hand.
Lauren Betts, women's basketball
Alexis Hinkle, assistant Sports editor
When asked about rebounding, rising fifth-year guard Charisma Osborne and the rest of her teammates on UCLA women's basketball stressed the importance of crashing the boards.
"If we don't get them, we're usually running for it," Osborne said in February.
So when coach Cori Close picked up her only player from the transfer portal for the 2023-2024 season, it was clear that rising sophomore center Lauren Betts — a 6-foot-7 powerhouse — would be special.
Betts has already proven that she has unquestionable talent. This summer, she competed at the 2023 FIBA Women's Americup, where she broke USA Basketball's rebounding record — a skill that Close will utilize. Betts recorded a total of 76 rebounds at the tournament, surpassing the record from 1989.
Betts will finally be able to bring her talent to Pac-12 ball come fall season at UCLA. The two-time Colorado Gatorade Player of the Year spent her freshman season at Stanford, only averaging 9.7 minutes per game while competing for playing time against Cardinal phenoms such as Cameron Brink.
But as a Bruin, Betts will see more time on the court because her strength in the paint will benefit the team. Her presence will help other players shine. She'll have dual roles, dishing the ball to Osborne and rising sophomore guards Kiki Rice and Londynn Jones, while also taking care of business on the defensive end to guard other Pac-12 centers.
As an already solid team, UCLA women's basketball is rounded out by Betts' arrival in Westwood. Not only does she add her own touch of talent, but she will make the team better as a whole. With more time on the court, she will wow the world of collegiate women's basketball.
Emma Lineback, women's water polo
Felicia Keller, assistant Sports editor
The upperclassman void will certainly be felt by UCLA women's water polo this season, following the departure of three graduate student powerhouses in attacker Val Ayala, center Ava Johnson and utility Katrina Drake.
But rising junior attacker Emma Lineback — who led the team this year in goals scored with 52 — is poised to take over the mantle of leadership and most trusted go-to for coach Adam Wright.
In the first half of last season, Lineback went on a run of hat tricks in six straight games from Jan. 22 to Feb. 4. Only recording a brace in her next game, Lineback now shares the record for most consecutive hat tricks with Tanya Gandy, who also stands on top of the all-time UCLA record books for most goals in a single season with 79.
This year could see Lineback's name popping up on more record books as she takes on an even bigger role. The 2023 MPSF All-Academic and Second-Team honoree could potentially find a way onto the top-10 single-season goals list, an entry that will require a 65-goal season.
It's certainly a difficult feat, but if there's anyone on this roster that could pull it off, it's Lineback. A game without a goal from Lineback was a rarity this season, with only four of UCLA's 29 total games failing to see Lineback hit the back of the net.
With a chance at history, the No. 17 cap will be one to follow this season.
Emily Lee, gymnastics
Benjamin Royer, assistant Sports editor
Replacing Jordan Chiles is no easy task. The Paris Olympics hopeful is a consistent all-arounder who stuns at every meet.
Who wouldn't want that?
Luckily for coach Janelle McDonald, she did not need to sift through the transfer portal for a needle in a haystack — a difference-maker to fit into UCLA gymnastics.
She's already got one on her team.
Rising junior Emily Lee is ready to take that next step. After recovering from an Achilles tear in 2021, Lee was a constant force in the Bruins' lineups. She featured in all four events, including two stints in the all-around, and emerged as a budding star for the Bruins.
The Bruins will need Lee — along with rising sophomore Selena Harris — to clutch up and become a consistent high scorer in an effort to make up ground that Chiles otherwise would have covered for the Bruins.
Lee has already shown that she can.
To begin her collegiate career, Lee dropped on beam at last year's season-opening Super 16 meet, recording a season-low 9.300. From then on, the former Team USA gymnast scored 9.900 or above on beam in eight of the remaining 13 meets and scored 9.875 or higher at least once on the other three apparatuses.
Now, with a full year under her belt with McDonald's coaching staff, Lee could improve on her sophomore campaign and shine brightly in the Pauley Pavilion lights.
And she may even become the next Bruin to go viral.
Lexy Denaburg, beach volleyball
Cecilia Schmitz, assistant Sports editor
Lexy Denaburg's nickname assigned by her teammates is "Beast."
The rising graduate student has been a starter for UCLA beach volleyball since her freshman year and has mostly played on Court 1, typically associated with each team's elite pairing.
This season, Denaburg was predominantly at the ones with the Pac-12 Freshman of the Year, Maggie Boyd, where the pair went 24-6 against some of the best players in the country.
Denaburg has proven her versatility throughout her time at UCLA. Last season, she played both as a blocker for then-graduate student Lea Monkhouse and a defender for then-graduate student Abby Van Winkle. Either way, her athleticism, punctuated with powerful swings and sky-high blocks, has been acknowledged by numerous All-American and All-Pac-12 honors.
She has already begun to show her potential as a professional beach volleyball player.
This summer, Denaburg paired up with former Hawaiʻi player Carly Kan to take on the AVP Pros. The two finished third in the AVP Hermosa Beach Open after battling their way past higher-ranked opponents.
The 2024 season will be her last at UCLA because of COVID eligibility rules, and she and fellow rising graduate students Rileigh Powers and Devon Newberry have yet to claim a national championship.
This season could very well mean a first title for the fifth-year and 122nd for UCLA. With Denaburg likely back on the top court with Boyd, she will bring veteran composure and her signature explosive athleticism.
After that, expect to see her making the rounds through the AVP Pro Series, and maybe even a potential Summer Olympics appearance.