Theater Review: The musical 'Les Misérables' offers stellar displays and impassioned vocals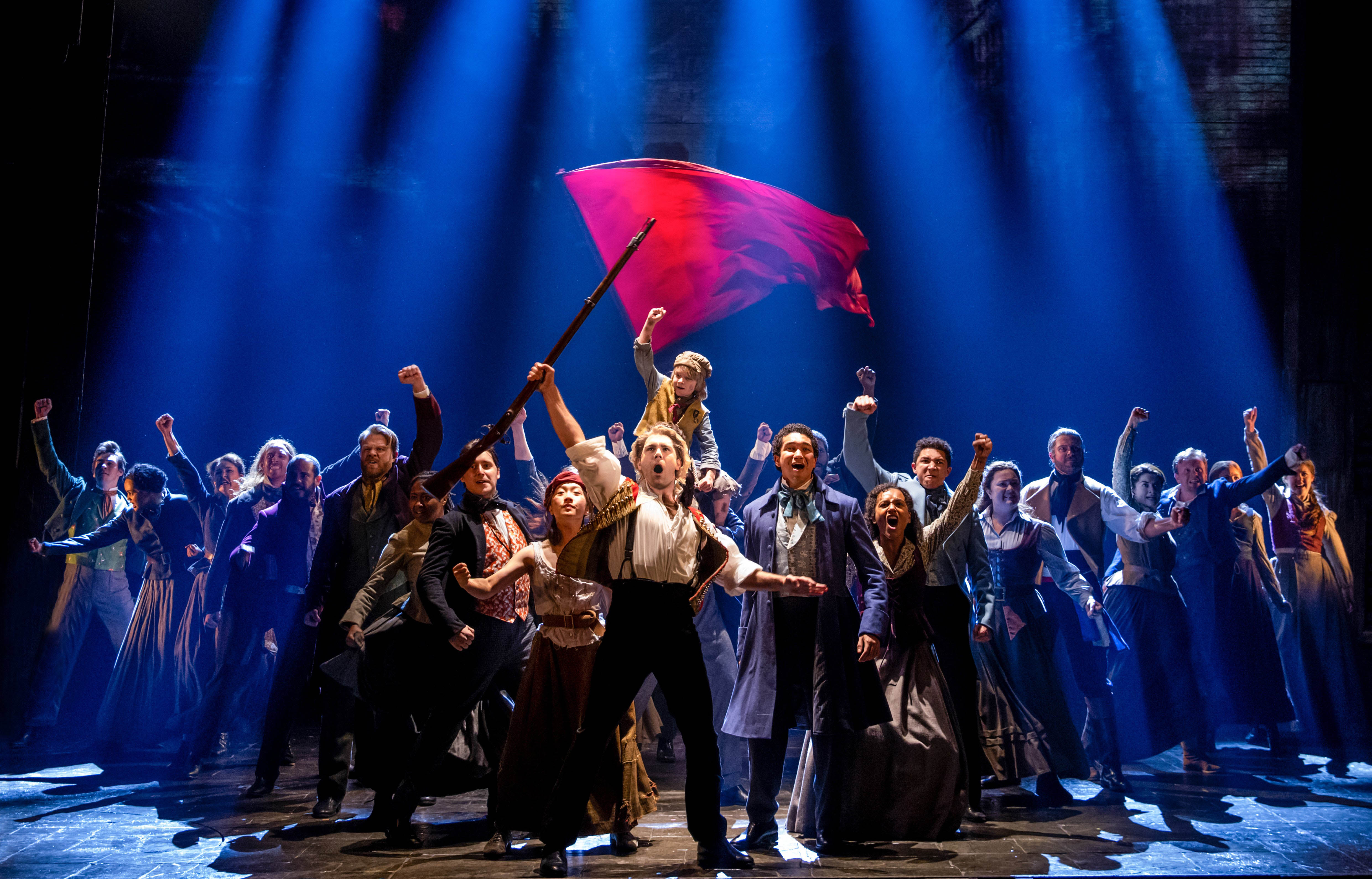 The company of "Les Misérables" sings "One Day More" with their fists held high to close out the musicians first act. Based on Victor Hugo's 1862 novel of the same name, the production will run at the Hollywood Pantages Theater through Sept. 10. (Courtesy of Matthew Murphy & Evan Zimmerman for MurphyMade)
"Les Misérables "
Aug. 1 - Sept. 10
Hollywood Pantages Theatre
$45 - $169
This post was updated Aug. 6 at 6:15 p.m.
"Les Misérables" has been revitalized with a fervor beyond audiences' wildest dreams.
Producer Cameron Mackintosh's reconception of the beloved musical has reached California on its North American tour, bringing a galvanizing French drama to the heart of Los Angeles. The stirring adaptation of the classic tale will grace the stage of the Hollywood Pantages Theatre through Sept. 10. With masterful set design and astounding vocal performances, "Les Misérables" utilizes visionary techniques to capture hearts even decades after its premiere, proving to be a phenomenon that will stand the test of time.
[Related: 'The Ants' is a 'biting, timely thrill' exploring artificial intelligence]
Based on Victor Hugo's 1862 novel of the same name, the musical details the life of runaway convict Jean Valjean (Nick Cartell) as he vows to start his life anew and raise a recently motherless child – all while spending years on the run from the callous police officer Javert (Preston Truman Boyd). Valjean eventually crosses paths with a group of student revolutionaries, leading to a story climax amid the June Rebellion that truly challenges his redemptive power. A nod to Hugo's story is visible as soon as guests enter the theater, with his signature resting upon a projected skyline resembling his own artwork.
This digital backdrop exhibits its essentiality to the production's storytelling using three-dimensional crashing waves to sweep in the French prisoners as they labor atop a boat in the musical's striking prologue. Throughout the show, stunning scenic projections place characters in front of a variety of immersive backdrops ranging from gentle snowfall to starry skies. In other moments, projected landscapes unexpectedly pan alongside moving actors, creating the illusion of confident strides along city streets and deep trudges into the sewer.
Surpassing the impressive technological components are the musical's practical sets, which boast large-scale pieces that dance across the stage with seamless transitions. Brick buildings, wagons and hospital beds glide in and out of scenes to fully transport performers between the story's various locations in France without delay. When paired with warm stage lighting, the high quality sets make it easy for audiences to completely connect to the show's emotional journey.
Even on the rare occasions the stage is bare, dazzling vocal performances ensure viewers are still captivated. As an entirely sung-through production, its music proves vital to the show's success and fortunately does not falter throughout its nearly three-hour runtime. Ensemble acts such as "At the End of the Day" and "One Day More" exquisitely ring through the theater with perfectly executed harmonies and crisp enunciation.
However, the solo numbers are what truly carry the drama's impassioned beauty. In the tragic "I Dreamed a Dream," the hopeless Fantine (Haley Dortch) commands attention with her smooth vocals and divinely held notes, leaving listeners broken-hearted while only four songs into the show. Cartell also brings an unrelenting power to Valjean's numerous ballads, with the hard-hitting "Bring Him Home" serving as a clear standout. The prayerful song he sings to implore that he dies in place of Marius (Gregory Lee Rodriguez) after the musical's climatic battle features an enchanting falsetto that pushes his desperation further. Even Cosette (Addie Morales) – whose soprano occasionally suggests a whine – effectively conveys her immense feelings for Marius in an elegant rendition of "In My Life."
Contrasting the show's frequent deliveries of weighted emotion, Thénardier (Matt Crowle) and his wife (Christina Rose Hall) uplift the theater with outstanding comedic performances every time they take stage. The duo's most notable number, "Master of the House," provides laughs with not only their humorous lyrics, but also clever prop work and intricate stage direction that sets up a thrilling watch. The young Gavroche (Milo Maharlika) similarly brings a bright energy to his scenes among the Parisian students, presenting the audience with audible joy – and making his climatic death on the barricade all the more distressing.
[Related: UCLA student expands reality in MFA thesis through AR technology]
The tense June Rebellion battle serves as a great point for the production's excellent stage design and skillful cast to coincide, creating one of the most memorable scenes of the entire show. The students' barricade is such a paramount set piece that it feels like a character itself, sliding into view with a daunting instrumental accompaniment. Atop the barrier, sharp physical performances pair with explosive sound effects and well-positioned lights to give a hair-raising depiction of war. And though act two adopts a slower pace after this moment that could begin to drop viewers' attention, pitch-perfect vocals continue to support the show through its culmination.
In a quite literally angelic finale, the musical's company delivers one last harmonious number with moving lyrics that leave the audience to reflect on the intersections of love, death and spirit. Brought to new life with innovative technical direction, the reconceived production of "Les Misérables" dares to assure that the celebrated classic will still be filling hearts when tomorrow comes.
At the end of the day, the love for "Les Misérables" may indeed be everlasting.