UCLA Dining shows resilience through the pandemic, remains No. 1 in nation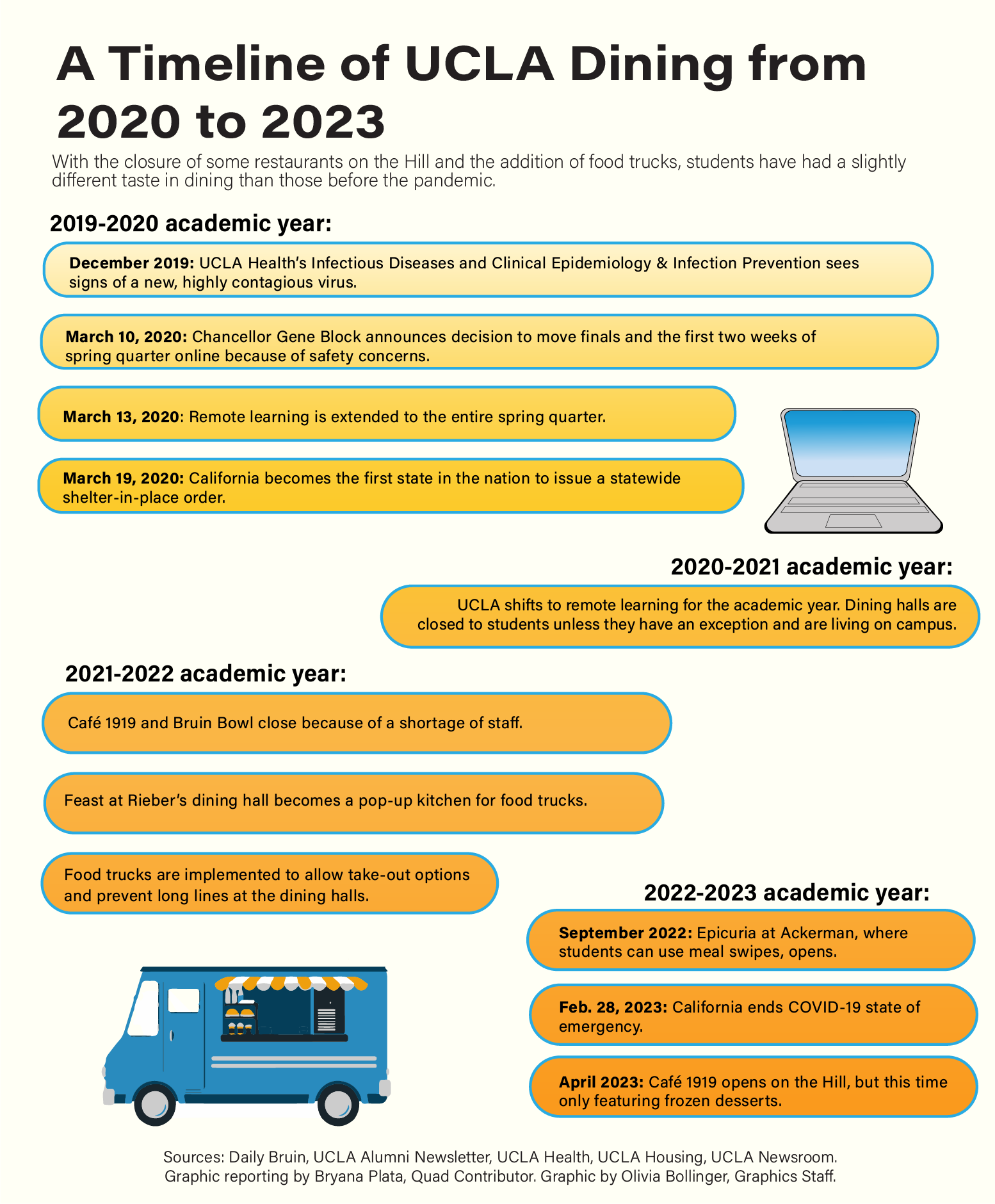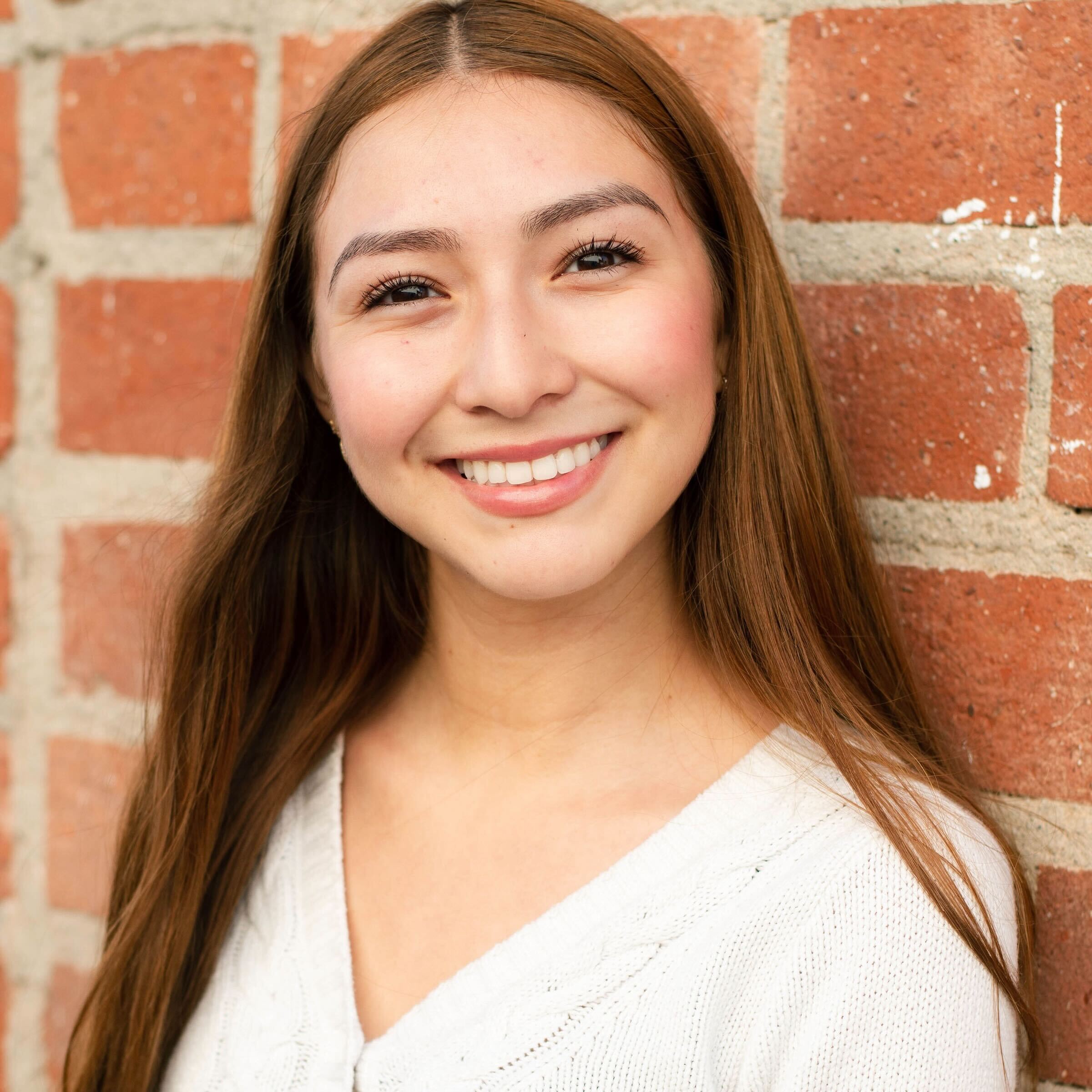 This post was updated July 10 at 6:50 p.m.
Ranked first in college dining by Niche for the fourth year in a row, UCLA's food remains recognized by both students and staff.
While some Bruins believe UCLA's dining is No.1, others believe the closure of some restaurants has weakened its ranking. The pandemic's impact on UCLA's dining services led to the closure of some restaurants as well as staffing shortages that the university is still looking to resolve.
UCLA's reputation for having the best college food stems from offering a variety of dining options such as multiple dining halls, cafes, food trucks and restaurants with quality food, according to an emailed statement from associate director of UCLA Dining Charles Wilcots.
Wilcots said this variety allows students to choose from a diverse selection of cuisines and meal options, which help contribute to a positive dining experience.
"These rankings are largely based on the feedback of students (85% of the overall score)," Wilcots said. "Which makes earning No. 1 particularly exciting for us."
Additionally, Rendezvous storekeeper Javier Martinez said UCLA's ranking can be attributed to the wide variety of food from European, Asian, Mexican and American cuisines as well as vegetarian and plant-based options.
Many Bruins also show the same appreciation toward UCLA's food variety.
Lindsey Perez, a UCLA alumnus who graduated in 2023, said she ate dining hall food for her three years living on the Hill and believes it is the focus on accommodating dietary restrictions that sets UCLA apart.
"It's BPlate (Bruin Plate) that gives us the number one aspect of it because it's the dining hall that serves strict vegetarian and vegan options holistically," Perez said. "I am not vegan or vegetarian and I go there all the time and I enjoy all the options."
Wilcots added that the university makes efforts to source local and sustainable ingredients, which may contribute to the overall quality of the food. According to UCLA Dining Services, Dining offers a range of options for a well-balanced meal, including plant-based products and organic fruits and vegetables.
"We are always striving to be innovative and conscious of what our students want and need," Wilcots said. "We are always open to feedback and how we can further improve."
While UCLA's dining services remain well-received, factors like public health concerns and staffing numbers have affected its operations. Wilcots said the COVID-19 pandemic has had an impact on dining operations across the nation, including those at UCLA.
Rasmussen Galvan, a food service worker at The Study at Hedrick, said UCLA administration continued to support staff members through the pandemic. At the beginning of the pandemic, Galvan was able to take a paid leave at home when her seven-year-old daughter's school shut down to prevent the spread of the virus.
New strategies and protocols were also put in place during the pandemic across dining halls to avoid the virus' transmission.
Martinez said staff needed to take COVID-19 tests twice a week and practice social distancing, including a limit on the number of members allowed in the kitchen and dining area.
The pandemic also led to long-term staffing shortages. According to the U.S. Chamber of Commerce, in 2022 more than 50 million workers, especially in the food services and hospitality industries, quit their jobs in search of improvements in work-life balance, flexibility, compensation and company culture.
Wilcots said that the current staffing shortage at UCLA dining is due in part to former staffers leaving in favor of remote positions. However, Galvan said the opportunity to work remotely was not the only factor that contributed to dining's staffing issues.
"A lot of our staff did leave due to shortness of hours," Galvan said. "Staff were either looking for more hours and at the time, a lot of students weren't on campus."
[Related: Long lines, short staffed]
Despite the staff shortage, Wilcots said UCLA Dining continues to recruit new team members to fill positions as of May 2023.
"We are actively recruiting 280 individuals to fill roles in our dining operations," Wilcots said. "228 student positions are also available."
Wilcots added that some of the efforts to recruit more members have included hosting and participating at regional job fairs, encouraging team members working in housing and hospitality to recommend dining jobs to friends and family, posting job information on social media and distributing flyers in local neighborhoods.
During the peak years of the pandemic, restaurants like Bruin Bowl, Café 1919, Feast at Rieber and Epicuria were closed entirely or open for fewer hours. Perez said the previous closures of Café 1919 and Feast at Rieber were a big factor in weakening UCLA's No.1 ranking.
According to Perez, Epicuria, which was previously known as Covel Commons Residential Restaurant, was open for both lunch and dinner before the pandemic, as well as brunch on the weekends. However, it was only open for lunch and dinner during the 2021-22 school year and was only open for dinner this past school year.
Staffing shortages also contributed to long lines at many restaurants on The Hill, along with restaurant closures. To alleviate these long lines, UCLA Dining introduced food trucks on the Hill.
According to UCLA Dining, students with meal plans can exchange a swipe for a coupon that grants them a meal at one of the food trucks located at UCLA or $9 credit at any ASUCLA restaurant on campus.
"The food trucks were huge because I think last year at the beginning of the year there was super duper long lines," Perez said. "The food trucks were kind of a remedy for that."
Wilcots said that the food trucks are a temporary measure that will remain in place for the benefit of residential students until dining can bring their staffing up to a suitable level.
Perez added that takeout food is more convenient for everybody, especially when students just want their food to go and prefer not to sit in the dining area.
"The food trucks that came in… allowed for more diversity," Perez said. "A lot of shutdowns called for kind of a minimal amount of choices, but food trucks are a plus."
Recent UCLA alumnus Jaci Glassick said the one positive that came out of the pandemic was the food trucks, as they are more convenient than sitting at a dining hall.
"I'm usually pretty busy, so I like being able to just grab a ticket and go," Glassick said. "It's really fun exposure to different types of food."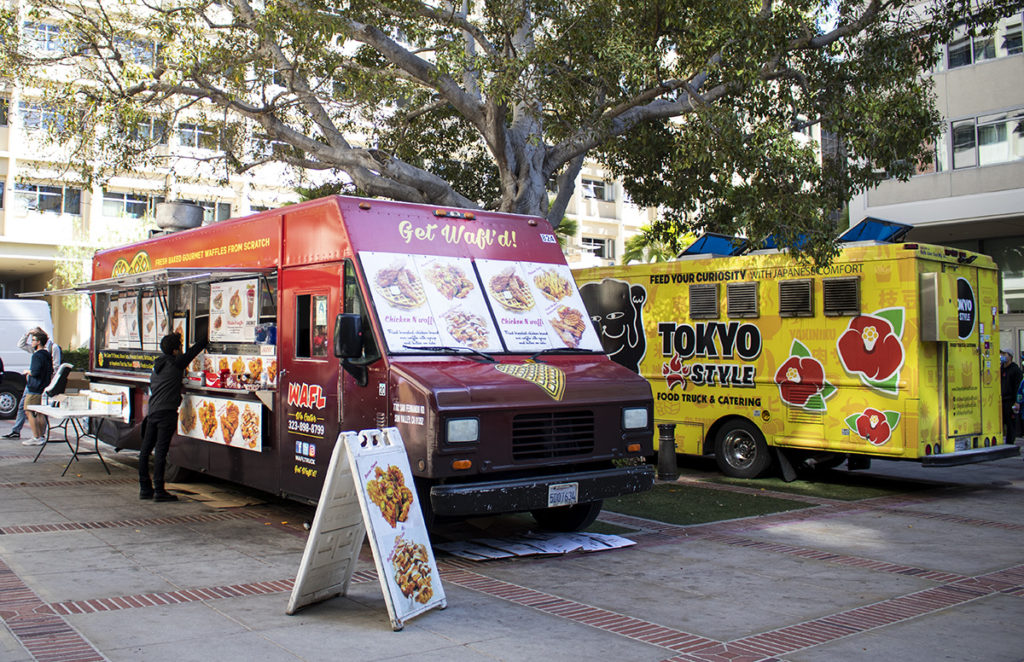 As COVID-19 cases decrease and students return to in-person learning, increased dining options have arrived for students. Epicuria at Ackerman opened on campus and Café 1919 returned for limited hours on the Hill.
Dining opened Epicuria at Ackerman in Fall 2022, allowing students to use their meal plans closer to campus. Additionally, Café 1919 now features frozen desserts Monday through Thursday.
Some Bruins believe the pandemic has weakened UCLA's No.1 ranking position. Meanwhile, some students believe that UCLA still has the country's best dining hall food.
UCLA alumnus Alan Raya, who graduated in 2023, said the pandemic caused changes to dining, but the food remained high quality.
"I was surprised when I came in and I didn't know UCLA was the so-called number one in dining," Raya said. "It did meet the expectations and it was really good."
Martinez said UCLA is one of the best-prepared colleges to overcome the issues that resulted from the pandemic.
"All the colleges went through… the same kind of problems," Martinez said. "I don't think that has weakened our position."
Wilcots said he and his entire team were thrilled to have the full student population back with the return to in-person learning. He added that they value students' experiences when it comes to having an enjoyable meal.
"We believe UCLA has the strongest dining program in the nation," Wilcots said. "The response of our students will always be our North Star when it comes to determining our success."