Daily Bruin alumnus K.X. Song releases debut novel 'An Echo in the City'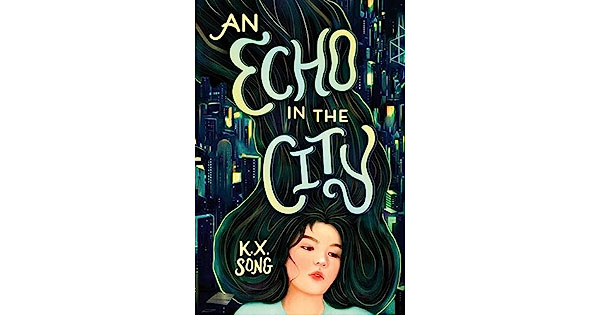 The words "An Echo in the City" are displayed on a girl's hair. The novel tells the story of star-crossed lovers during the Hong Kong protests. (Courtesy of Hachette Book Group)
This post was updated July 2 at 5:27 p.m.
Through her debut novel, K.X. Song is casting a light on the Hong Kong protests.
Released June 20, "An Echo in the City" follows two teenagers from contrasting backgrounds as they fall in love in the midst of demonstrations against a bill that would have tried Hong Kong residents accused of crimes in mainland China. Song, an alumnus and Daily Bruin videographer from 2016-2019, said she was inspired to write the book after spending the summer of 2019 in Hong Kong. There, she met with several young organizers and was able to understand the nuances of the movement that she thought weren't adequately captured by international media.
"I wanted to write something longer form, and that's why I love the novel because it gives you that space to explore characters with three-dimensionality and to give them the depth and nuance the story required," Song said.
The spark to write the novel didn't completely arise until she left Hong Kong, Song said. To ensure she was telling the story as accurately and sensitively as possible, she said she interviewed many individuals active in the movement, working around the 15-hour time difference between Hong Kong and California. Song also found demonstrators' social media posts and independent news sites to be valuable research sources, she added. Amanda Glaze, a fellow alumnus and author of "The Second Death of Edie and Violet Bond," said Song's depiction of Hong Kong is a testament to her attention to detail.
"She really brings Hong Kong to life, which I think is really exciting," Glaze said. "Books can travel you through time and they can travel you through space. This is a book where you're fully being taken into Hong Kong in a very real way."
[Related: LA Times Festival of Books day 1 broaches topics from womanhood to queer romance]
At the beginning of the novel, protagonists Phoenix and Kai are 16 and 17, respectively. Song said she chose these ages for the main characters because the protests were predominantly organized by young adults. Additionally, Phoenix and Kai's youthfulness, Song said, allowed her to examine the theme of finding one's place in the world. As a child of the diaspora, she said she often questioned her sense of identity – a concept Phoenix and Kai also grapple with in "An Echo in the City."
In terms of characterization, Song said the two protagonists serve as complementary opposites to one another. Phoenix is outgoing and comes from a large family, whereas Kai is more introverted and an only child, she said. By writing the characters to serve as foils to one another, Song said she could explore the question of whether two people of varying worldviews can truly understand each other. She also made a clear distinction between their narrative voices to further establish their differences, she added. Implementing a "character first, language second" mindset, Song said she would remove more flowery sentences if they didn't align with a character's thought process.
When crafting the story, Song said she wrote from two perspectives because she wanted to depict how the people of Hong Kong held polarizing views of the demonstrations. One thing Song noticed about the American media was its tendency to misconceive the citizens as having a single viewpoint about the movement, so she said she demystified this notion in her book. In addition, Song decided to craft a romance between Phoenix and Kai to illustrate the potent angst associated with first love, she said.
"You don't ever experience first love the way you do as a young adult, where everything is so new," Song said. "The pining you feel, the longing, even the lust – all of that is so heightened when you're that age."
[Related: Authors James Hannaham, Jonathan Lethem talk related influences in novel works]
Johnny Schmidt, an alumnus and friend of Song, said he respects her willingness to share this story. One challenge Song has navigated, Schmidt said, is accepting the myriad opinions the public will form about "An Echo in the City." In a similar vein, Song said she acknowledges some individuals might read the novel in bad faith. However, she said she has come to terms with the fact that once her story is out in the world, it is no longer hers, and she cannot control what people glean from it.
Ultimately, Glaze said she believes the novel will allow readers to understand the sacrifices residents make when trying to enact change in their community. She also added that she thinks the characters' bravery will inspire readers. Moreover, Song said she hopes the themes surrounding identity discussed in the book will resonate with those who have questioned their own sense of self.
"I hope they (readers) will be able to … better understand or even ponder these questions of belonging, whether or not it's about belonging in their own community, in the world around us, or even belonging in your own body and in your relationships," Song said.