UC employees reflect on UAW strike's impact on their future in academia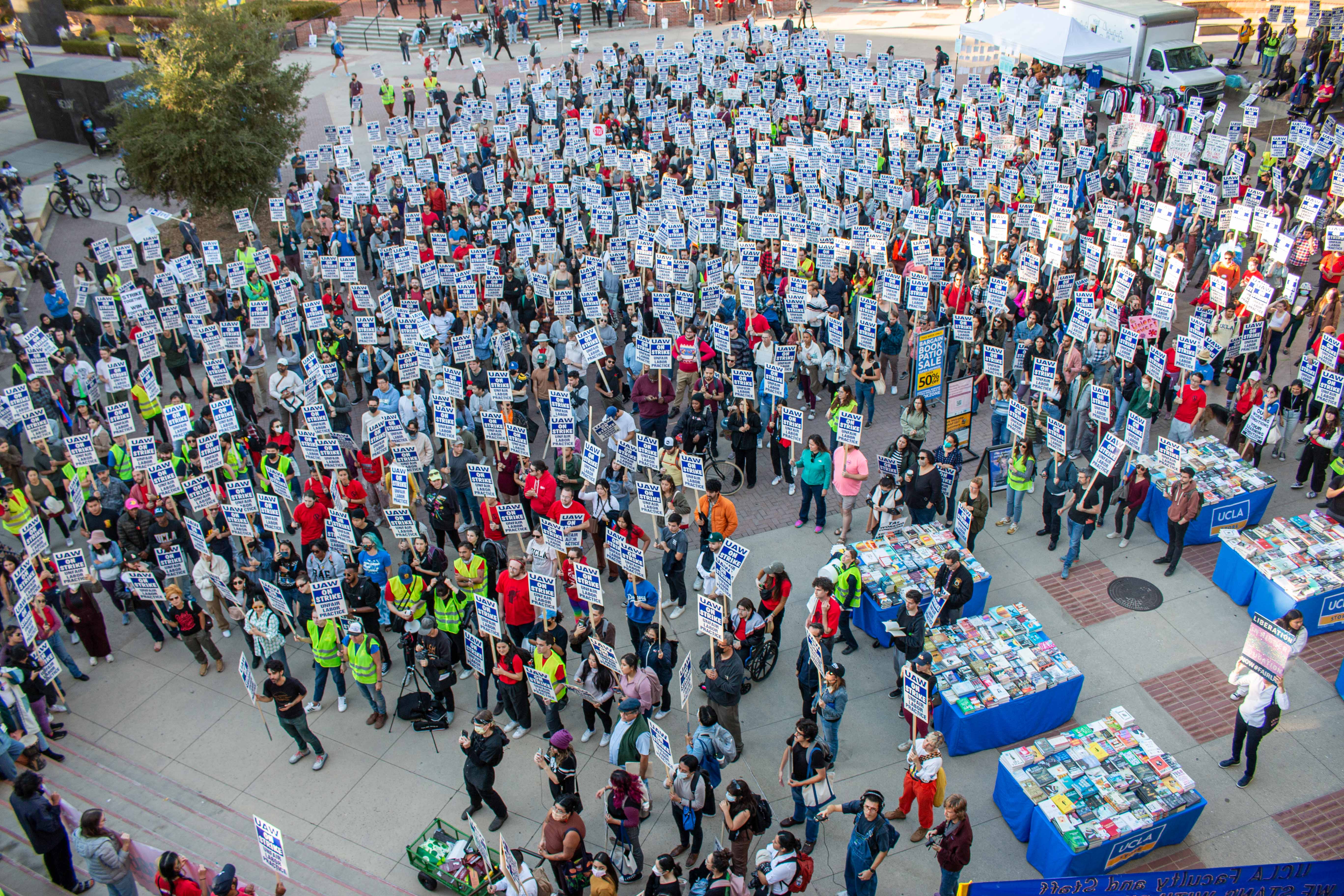 A crowd at the UC graduate student worker strike is pictured. Many graduate student workers plan to continue working in academia despite the issues shown before, during and after the strike. (Christine Kao/Daily Bruin staff)
For Rebecca Glasberg, the change students were able to enact through the UC graduate student worker strike was inspiring.
As a former public school teacher in Virginia – where teachers do not have the legal right to go on strike – she felt empowered by her newfound ability to strike despite the delay in research and disconnect from her students. Glasberg, a European languages and transcultural studies doctoral student, said she now feels encouraged to continue working in academia after she completes her Ph.D. at UCLA. She will begin a postdoctoral fellowship at the Taube Center for Jewish Studies at Stanford University after graduation this spring.
Although the strike has caused some UCLA graduate students to reconsider their career plans, many are choosing to stay in academia. With a new contract for graduate student workers that went into effect in December, these students said their love for research and learning, as well as their colleagues, has convinced them to stay in academia.
The strike, which occurred from Nov. 14 to Dec. 23, was the largest higher-education strike in United States history, with more than 48,000 graduate student workers demanding equitable wages and improved working conditions. Academic student employees including teaching assistants and graduate student researchers represented by United Auto Workers 2865, United Auto Workers 5180 and Student Researchers United ultimately reached a deal with the UC that will increase salaries for academic researcher by an average of 34% and postdoctoral scholars a maximum of 57%.
[RELATED: UC academic workers walk out in largest US strike since 2019]
Some graduate students said they plan to further their careers through postdoctoral fellowships despite the difficulties exemplified by the strike.
Nicholas Geiser, a physics doctoral student who will be starting as a postdoctoral researcher at the University of Michigan in the fall, said it was an easy decision to apply to postdoctoral jobs and continue research. He said he came to this decision because he has cherished his work in academia during his time at UCLA, as well as teaching undergraduate students and working as a research mentor.
Geiser said he was already planning to apply to postdoctoral fellowships across the country before the strike. After the wage increases were negotiated, he said he would have preferred to be at UCLA if he had received an offer to see the results of victories from the strike, he said. However, the wage increase has made working for the UC more competitive, he added.
Regardless of the increase in salary, which will rise to $36,500 following the strike, graduate student workers are still not paid enough to afford living costs in California, Glasberg said.
Despite some wins in the final contracts, including the raises, the strike made the job application process more stressful for graduate students planning futures in academia, as it reminded them of the strenuous conditions from low pay that they work in, Glasberg added.
"Trying to think about planning for the future when you are afraid of how you're going to pay your rent is hard, and then when you go on strike, it exacerbates all of the difficulties," Glasberg said.
Nick Ichien, a psychology doctoral student who will be working as a postdoctoral fellow at the University of Pennsylvania following graduation, said he believes the UC strike exemplifies a consistent issue of worker exploitation in academia. Ichien said the way the UC system treated its workers during the strike by using obstructive bargaining processes cemented his lack of optimism about the UC system.
However, Ichien said he still plans to continue working in academia, as he views this as a problem that is present in many fields, and he wants to continue the research he enjoys.
"Institutions maneuver to avoid paying their workers more money, but this seems like part and parcel of any large scale institution that extracts labor," Ichien said.
Glasberg added that the strike made her consider variables about a career in academia that she had not previously considered, including the importance of the right to go on strike.
Despite the difficulties, Glasberg said she is willing to compromise on the hardships of a career in academia because of her love for learning. Her time at UCLA has been full of support from colleagues and family who encouraged her to stay in academia, she added.
"Coming from my background of public school teacher in a right-to-work state where we had no say in what we got paid, … I was really heartened by the change that we were able to make," Glasberg said.