UC community members call for systemic change, action against caste discrimination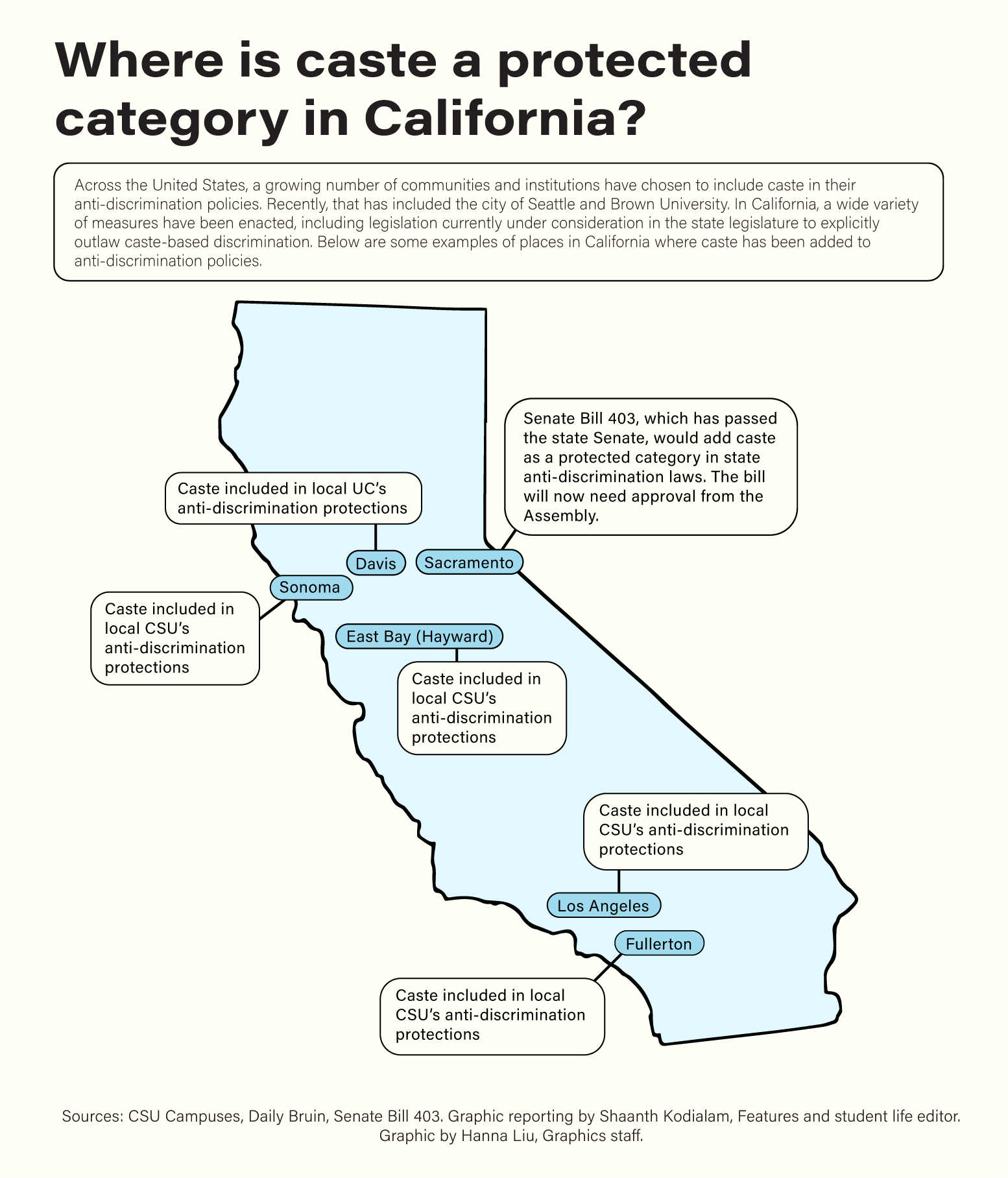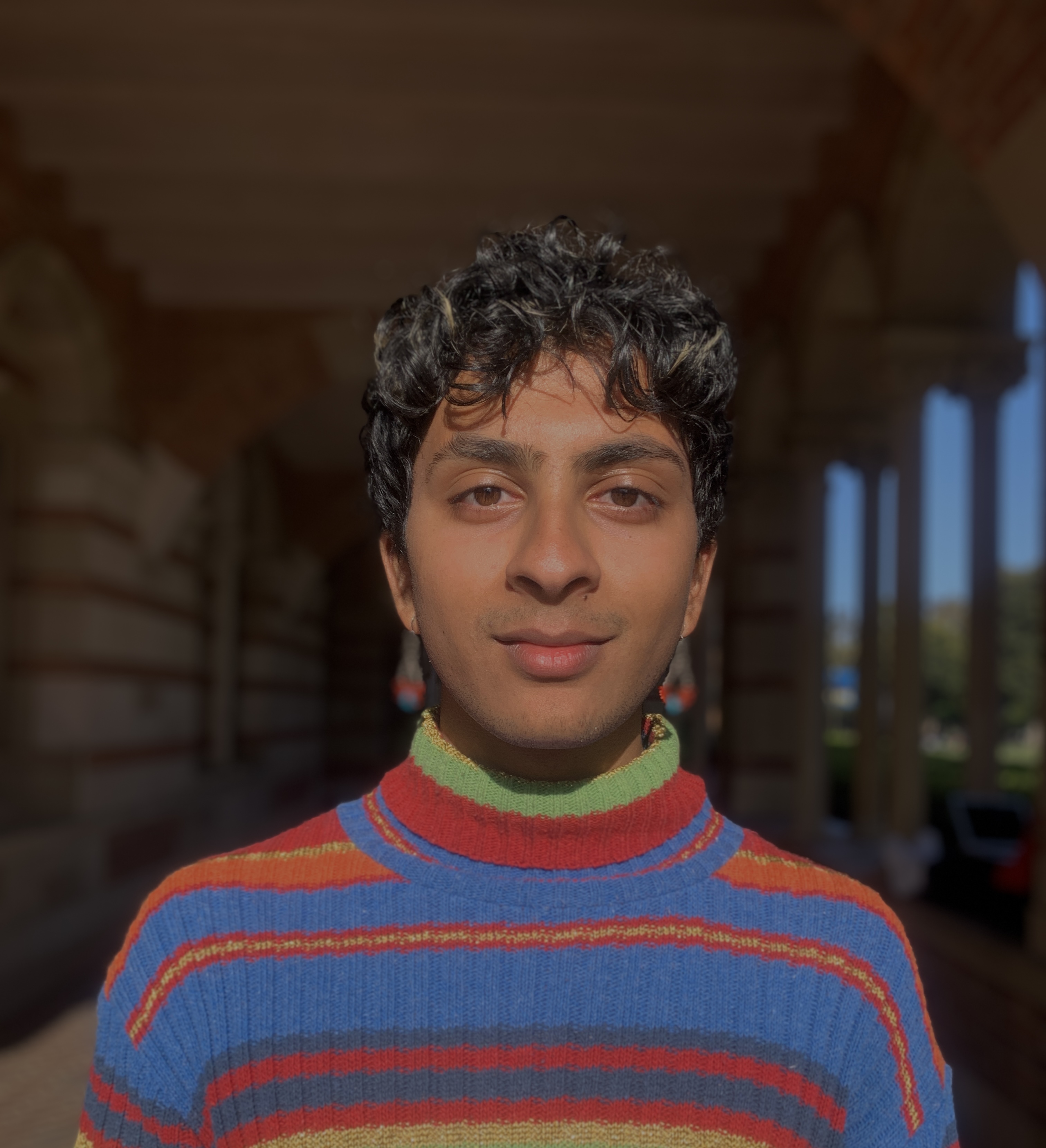 This post was updated June 11 at 7:49 p.m.
UC community members are calling for a ban on caste-based discrimination and further support for caste-oppressed students and faculty following similar movements in other California institutions.
The UC Collective for Caste Abolition – a group of UC faculty, staff and students advocating for an end to caste-based oppression – sent a letter in April petitioning UC leaders to include caste as a protected category in the University's anti-discrimination policy. The UC's current anti-discrimination policy protects race, religion, sex and ancestry, among other categories, but does not explicitly include caste.
Caste is a more than 3,000-year-old social and hierarchical structure of oppression based on inherited social class in South Asia. The petition – which received more than 300 signatures from faculty and staff – cites preliminary survey research from two advocacy organizations, the National Academic Coalition for Caste Equity and Equality Labs. Four in five caste-oppressed students, faculty and staff reported facing discrimination from their dominant-caste peers. When administrators lacked competency with caste discrimination or higher education settings didn't have explicit institutional protections, 75% of them chose not to report cases of caste-based discrimination, the surveys also found.
The petition's request would allow all UC community members – including staff, administrators, students and faculty – to file complaints of discrimination on the basis of caste, potentially resulting in formal investigations.
A draft of the University anti-discrimination policy was up for review from late January to April 24 across several departments of UC leadership as well as the UC Academic Senate and public feedback, said Ryan King, a UC Office of the President spokesperson, in an emailed statement. Several campuses' academic senates requested during the systemwide review that the University include caste as a protected category, with some citing the collective's petition. The Council of UC Faculty Associations also endorsed their efforts.
The calls for action follow recent precedent set by several universities in the past two years. Many institutions – including the California State University system, UC Davis, Columbia University, Brown University, as well as the City of Seattle – have chosen to include caste as a protected category in their anti-discrimination policies.
"This is part of a very long struggle. … There's so much work that anti-caste activists have been doing," said Anusha Kedhar, a member of the collective and associate professor of dance at UC Riverside who helped launch the petition. "We're (the collective) simply asking the University of California to follow the lead of so many other universities, colleges and university systems."
Some faculty in the review noted that California legislators are considering a similar measure that could apply to the University. Senate Bill 403 overwhelmingly passed the state Senate on May 11 and is currently waiting for approval from the state Assembly. If made law, the bill would make California the first state to ban caste-based discrimination, establishing the category in the state's civil rights laws for various sectors such as housing, employment and public schools.
A representative for SB 403's author – state Senator Aisha Wahab – did not respond to requests for comment on how the bill would impact the UC. The bill implies that it would apply to all agencies that receive state funding, in part or full, but does not include explicit mention of the UC.
Supporters of the policy changes argue that while the protected category status will begin to hold administrators accountable and increase resources available for caste-oppressed people, it is only the first step in addressing caste-based oppression.
Shaista Patel, an assistant professor of critical Muslim studies at UC San Diego, helped launch the collective after years of scholarship and previous efforts with anti-caste work, including some with Equality Labs, a Dalit civil rights organization. The word Dalit is a term of empowerment for those who have been excluded from the caste system at the bottom of its hierarchy, previously deemed the derogatory term of "untouchable."
"Those of us who are Dalit faculty, those of us who've been working in this for years – we have said it so many times, it's just that nobody listens to us," Patel said. "Caste is one of the oldest structures of incarceration and of dehumanization."
In South Asia, particularly India, caste-based violence against Dalits continues to persist. India banned caste-based discrimination in 1948 following its independence, later enshrining it in the constitution. However, Dalits remain routinely assigned degrading jobs and subjected to forced labor while having limited or unequal access to resources, according to a 2016 United Nations report.
Manu Kaur, a UC Davis alumnus who is Dalit, helped push the CSU to designate caste as a protected category. They said it's now time for the UC to do the same and go beyond this policy. That could look like the University establishing a Dalit studies department and educating students and staff about casteism through diversity, equity and inclusion training, said Kaur, a member of the collective who graduated in 2018.
Kaur, who is Punjabi, said they went to high school with mainly dominant-caste South Asians and were aware of their own caste identity but did not disclose it. However, in college, they began further exploring their caste and queer identities, Kaur said, as well as how those manifested in other South Asian spaces. They saw how their roommates and peers, some of whom were also Punjabi, would subtly discriminate against caste-oppressed communities through coded language, they added.
"Someone wanted to set me up on a date with someone, and as we were walking away from each other, she just kind of wanted a confirmation (of my caste)," Kaur said. "This is not a thing of the past. … This is something that's actively, actually still happening."
Many South Asian students turn to cultural organizations as a way of finding community and safety. But these groups have divisions of their own – peers can sometimes ask about last names, family hometowns, dietary preferences or cultural practices as a means of identifying others' caste, some students and faculty said. Other student groups are set up around specific nationalities or religions.
Roo Joshi, a second-year film and television student at UCLA, is working to support anti-caste advocacy and education. Joshi – who supports efforts to make caste a protected category – is the events director for the South Asian Students Union, a campus organization founded last year to create more space for diverse South Asian experiences. She said there has been a lack of willingness to discuss difficult issues among the diaspora, but she is starting to see more people taking steps to address them.
"A lot of times when you hear us (South Asians) talk about discrimination, it's kind of limited to external sources," she said. "Very rarely do we kind of shine that light back on ourselves."
Other students said they have experienced exclusion from their peers when trying to talk about similar topics, including Harshada Yadav, who said she was socially ostracized from her South Asian peers when she began to find support and and discuss her experiences with other caste-marginalized students.
"You want to actually go out and meet other people, and you feel that you might find community from people who come from your country," said Yadav, who was studying at the London School of Economics and Political Science at the time. "But (at) the same time you're super terrified."
Now a UCSD cognitive science graduate student, Yadav said that while she is still comfortable with speaking out on caste-based discrimination, she has become careful about her relationships with other South Asians in the diaspora. Though she said she hasn't experienced caste-based discrimination at the UC, she believes the petition's request could help create vocabulary for conversations around caste.
"These kinds of things happen pretty rampantly, … which can be very shattering experiences for people," said Yadav, who is Shudra and caste-marginalized. "There has to be a way for people who are experiencing it to communicate to others that that's not OK."
Radhika Marwaha, a member of the collective and a UCSD ethnic studies graduate student, said she has seen people in the UC system decide the parameters of their relationships and interactions with others on the basis of their caste.
She recalls having her caste questioned by a college roommate within their first week of living together, but she remains unsure of what would have happened if her answer had been different.
"I was afforded that protection because of being dominant caste – but what would it mean if that wasn't the case?" Marwaha said.
Caste-based discrimination can be reinforced through the systems of higher education, some students and faculty said. For example, administrators are often unaware of how to address caste-based discrimination, Patel said.
When the need arises to recognize casteism and hold people on campus accountable, she said current university resources have sometimes caused more harm than good. She remembers how anti-discrimination administrators did not understand the word "savarna," a word Patel said many caste-oppressed people often use. The word translates from Sanskrit to mean someone who is a part of the caste system, particularly for dominant-caste or caste-privileged people.
"They were like, 'Oh, what does the S word mean? Is it a really terrible word?'" she said.
Though there are classes in South Asian studies at the UC, Marwaha said there could be more classes that teach about the nuances of caste and how caste-oppressed communities are not monolithic. Many South Asian professors at the UC are dominant caste, Patel said. In addition, many white and dominant-caste scholars of India also argue that caste is a construct of British colonialism, a perspective Patel said ignores the existence of caste-based oppression even before the British arrived.
"Savarna academics now approach caste as a site of conquest. They want to write about it. They want to add it to university policies, which in itself is really good," Patel said. "But we need to go beyond that. And I think, along with getting it added to UC policies, we need to have strong anti-caste education as part of our curriculum, as well as in the UC system."
Some critics of SB 403 and proposals similar to the petition argue that the bill would perpetuate bias and bigotry against Hindu and Indian students, further marginalizing them. At a state Senate hearing, attendees who opposed the bill testified that it would unfairly target some South Asians.
Caste in South Asia has roots in Hindu scripture, though some supporters of the petition and SB 403 note that caste is present in multiple religious communities and countries throughout South Asia and other parts of the world. While the effects of caste are present in multiple South Asian religious communities, Patel said many caste-oppressed and dominant-caste people converted from Hinduism, with the effects of caste-based oppression following them.
Though Joshi understands some of the hesitancy to adopt the policy change, she said she personally believes much of the concern is coming from those who have not experienced caste-based discrimination. She added that she feels SB 403 prioritizes fighting discrimination rather than promoting it.
"I think that there's a flaw in that logic," she said. "I'm not trying to shame anyone or anything – I think it is a valuable teaching moment."
The UC Academic Council – the administrative body of the systemwide Academic Senate – discussed the anti-discrimination policy during an April meeting but declined to approve it, telling UC leaders they expect to comment on a new, revised draft. According to documents from the review, Susan Cochran, chair of the Academic Senate, cited concerns faculty reviewers had with other parts of anti-discrimination policy, such as its implications for academic freedom and the role of the Academic Senate in investigations of faculty misconduct. When caste was mentioned in the senate's review, no concerns were documented.
The draft policy includes an Aug. 1 implementation date, but it's unclear when a revised draft after systemwide review will be released. When asked about next steps for the anti-discrimination policy, the UC's position on SB 403 and resources available for those who experience caste-based discrimination, King declined to comment further.
As more advocacy movements grow among the diaspora, Patel said she believes a multifaceted approach that includes caste equity and caste abolition will be needed. The collective's use of "abolition" also acknowledges that caste often works and intersects with many other forms of oppression, she added.
​​"Otherwise, why are we struggling against anti-Blackness? Why are we struggling against anti-Indigeneity, against settler-colonial violence?" Patel said. "We do believe that they can be ended, and that's why, in that same way, caste can also be."
Kodialam is a News senior staff reporter for the Bruin. They were previously the 2022-2023 features and student life editor and a 2021-2022 News reporter for national news and higher education and features and student life. They are a third-year communication and geography student.
Kodialam is a News senior staff reporter for the Bruin. They were previously the 2022-2023 features and student life editor and a 2021-2022 News reporter for national news and higher education and features and student life. They are a third-year communication and geography student.