Sriha Srinivasan works to promote sex education one TikTok at a time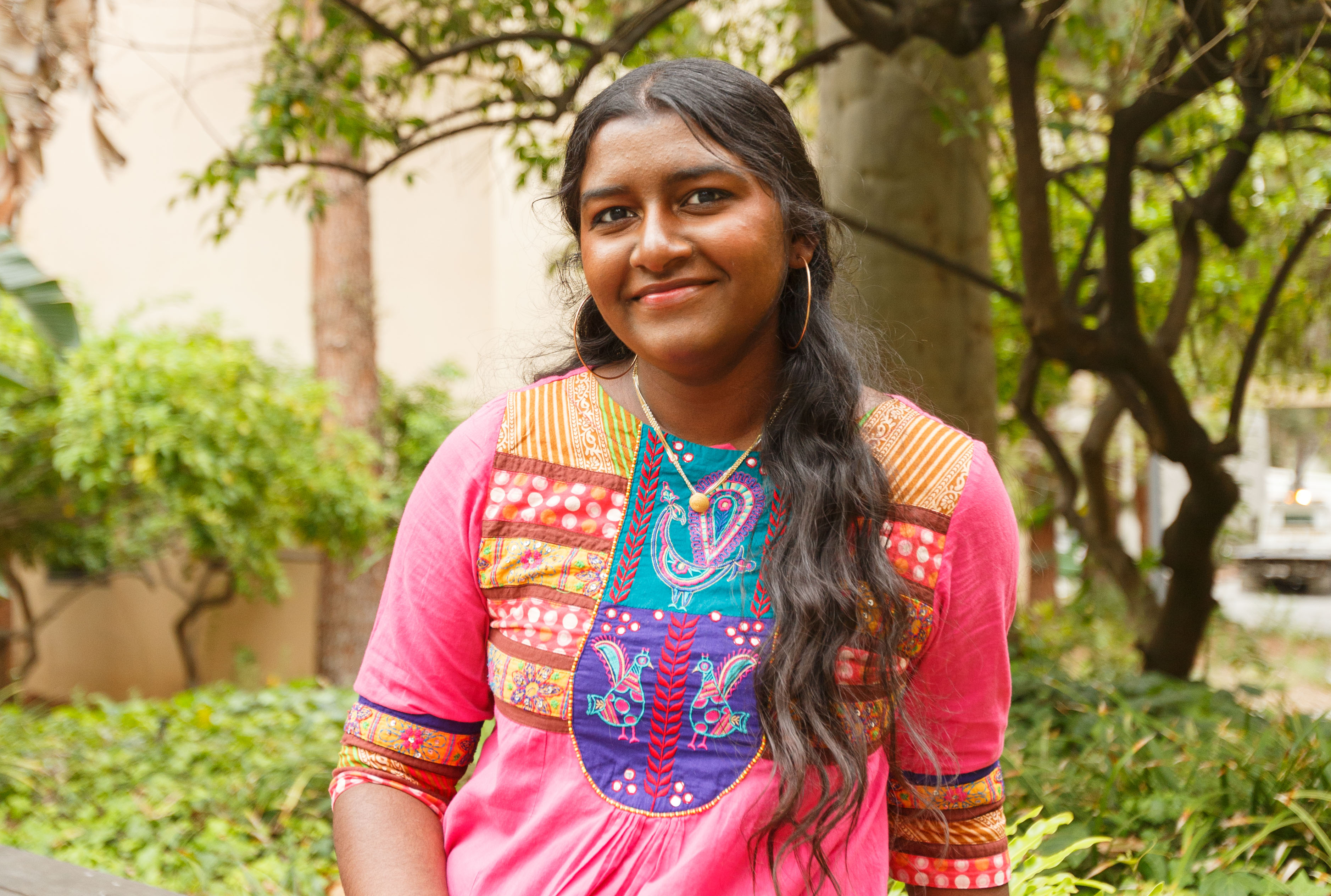 Donning traditional Indian attire, Sriha Srinivasan gazes into the camera. The third-year human biology and society student runs a TikTok account dedicated to destigmatizing sex education. (Ella Greenberg Winnick/Daily Bruin)
Sriha Srinivasan is battling stigma with her TikTok @sexedu.
Graduating a year early, the third-year human biology and society student said she started her TikTok page in the spring of 2020 to amplify discourse on sex education. Accumulating 196.4K followers and 5.8M likes on TikTok, she said her account primarily targets 13 to 25-year-olds. Her videos attempt to open up the conversation around sex in an interactive manner such that everyone is aware of their bodies and sexual identities, Srinivasan said.
"My account's motto is 'De-stigmatisation is the name, sex education is the game' … because that's the core of everything," Srinivasan said. "My passion for sex-ed comes from a place of wanting to do good and put good into the world, but it also comes from a place of having experienced stigma in my own life."
As the child of Indian immigrant parents, Srinivasan said there was a limited dialogue on topics involving sex growing up. However, the spark began when she realized her mother, who received a college education, was unaware of a key aspect of female biology, propelling her into sex education to ensure that such knowledge is made available to everyone. Beginning physical work in South India's sex-ed system, she said she ultimately shifted her focus to the inadequate sex curriculum in the U.S. and finally started her TikTok page when the COVID-19 pandemic hit in 2020.
Sriha Srinivasan has always been a forthright person, which made speaking up about controversial topics second nature, said her younger sister Sriya Srinivasan. In the same vein, third-year biology student and close friend Adam ElSayed said Sriha Srinivasan's extroverted personality aids her success as an educator in the modern world. This paired with her passion for the circulation of sex education, specifically, women's issues surrounding anti-abortion legislation and safe-sex resources, make the field an appropriate fit, ElSayed said.
[Related: Diversifying her portfolio, student Stacy Kim fuses content creation and business]
Prior to starting her sex education page, Sriha Srinivasan said she created TikToks for fun, a familiarity that made using this platform a natural step. Internalizing her newfound knowledge from student organizations including UCLA Sexperts and Advocates for Youth has made for new, informed content, she said. The support from these organizations facilitated her growth and foundation in the sex education field, Sriha Srinivasan added.
Furthermore, ElSayed said Sriha Srinivasan handles the pressures and skills demanded by social media with admirable grace, which makes her content stand out. As a short-form content platform, TikTok is optimum for communicating uncomfortable topics through humor, with Sriha Srinivasan jumping onto TikTok trends such as viral dances and memes while incorporating pertinent information on sex education, Sriya Srinivasan said.
For instance, she adopted the famous 'tea' analogy for explaining consent, thus simplifying a complex subject into understandable terms, Sriya Srinivasan said. Reflecting on the fast-paced nature of social media, ElSayed said Sriha Srinivasan has capitalized on the trends and TikTok's content algorithms. By assuming these relatable formats in contrast to long lectures on sex education, Sriha Srinivasan has expanded her account's reach and facilitated a greater understanding of unfamiliar topics, Sriya Srinivasan said.
"These concepts are easy to understand if you put it in a way that's understandable, and I think that's what makes her TikToks so special," Sriya Srinivasan said. "That's definitely what caught people's attention was like, 'Oh, wow, she's talking about a quote-unquote "outrageous" topic, but she's making it comfortable for people who may not have seen it as comfortable by doing dances that they're used to seeing."
As a full-time, first-generation student, Sriha Srinivasan said the academic demands at UCLA often overshadowed her commitment to creating content. However, the audience's encouragement and patience through her journey eased the process as she found her footing at college, she said. Diminishing the stigma that hinders her followers' acceptance of their bodies is her priority, all while informing and empowering people who do not have access to inclusive sex education, she said. Through building the account, she herself has grown, having come full circle with her family – from abrasive stigma to pride for her achievements, Sriha Srinivasan added.
[Related: Q&A: Law school alumnus Dellara Gorjian speaks on becoming TikTok star 'legalbaddie']
"I think a lot of immigrant kids relate to the feeling of wanting to make your parents proud (because of) how much they sacrifice for you to be in this country," Sriha Srinivasan said. "My mom gets why I'm doing this, but I think I made her proud a little bit. And it feels really freaking good."
Despite her success thus far, Sriha Srinivasan said she is hesitant to translate her TikTok page into a future business – a step that could cause the work to become solely about money. Moreover, the impetus to ensure people are informed of their sexual and reproductive rights as the path to an equitable existence for all shines through in her decision to pursue medical school. Inspired by a meeting with reproductive justice activist and personal idol, Loretta Ross, Sriha Srinivasan said she strives to bring radical change to sexual health as a medical professional while running her TikTok as a passion project.
"We need more radical people in higher education to become the providers that will then take care of their patients in the lens of reproductive justice and autonomy," Sriha Srinivasan said.