'Growth, community and creation': UCLA student fosters change in music industry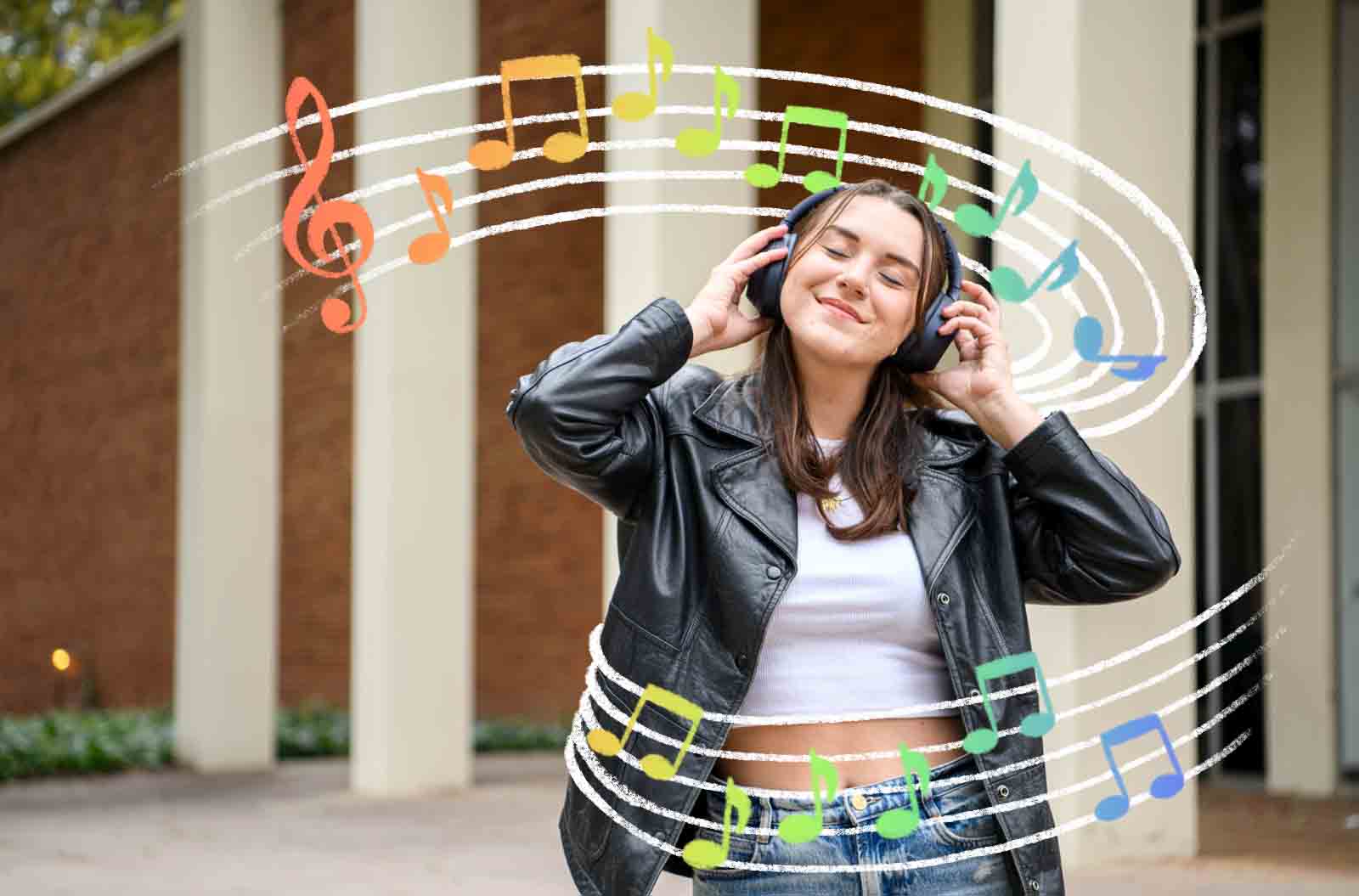 With a rainbow of music notes surrounding her, Samantha Heller listens to music on her headphones outside of the Schoenberg Music Building. The fourth-year music history and industry student co-founded Sam x Sam as part of her capstone. (Photo by Christine Kao/Daily Bruin staff. Photo illustration by Isabella Lee/Illustrations Director)
Correction: The original version of this article incorrectly stated that Samantha Berger is a student at the University of Southern California. In fact, she is a USC alumnus.
This post was updated June 13 at 5:58 p.m.
Samantha Heller is fostering representation in the music community.
The fourth-year music history and industry student said that growing up, she was always engaging with music, whether it was in jazz or marching bands, choir or theater. Heller said she always knew she was going to pursue music. She said she started her career in music on TikTok, listening to an album and creating a review video every day in 2021, which gained her around 46,000 followers by the end of the year. The social media platform was a catalyst for opportunities, as it helped her land an internship with a division of Universal Music Group, she said.
"There was no chance I was going to do anything else," Heller said. "There was never another option for me." Heller said she chose to be a promoter in an effort to spread the work of smaller artists and help them reach their potential. She said there is a lack of diversity among music industry executives, which is not representative of the people making music. One of the ways Heller is trying to change this is through Sam X Sam, a music promotion company aimed towards women, non-binary and LGBTQ+ individuals, co-created with Samantha Berger, a University of Southern California alumnus Heller said she met through an internship at Interscope Records.
[Related: Second Take: 'Sad girl music' label limits artists, reinforces gender stereotypes]
When Roe v. Wade was overturned June 24, the duo created Sam X Sam as a way to raise funds for Planned Parenthood and as a response to the lack of representation of women in the music industry, Heller said. Through the company, Heller said she wants to create producer workshops for individuals of underrepresented gender identities who want to enter the production world. Her goal is to create a communal space for these individuals to grow and create, she said.
"I want Sam X Sam to be known within the (music) community as a safe space for growth, community and creation," Heller said. "I just want it to be a resource for people who are looking to … be amongst people who get it, who understand what it's like to be in this industry, to not be a cis man, and the struggles that come with that."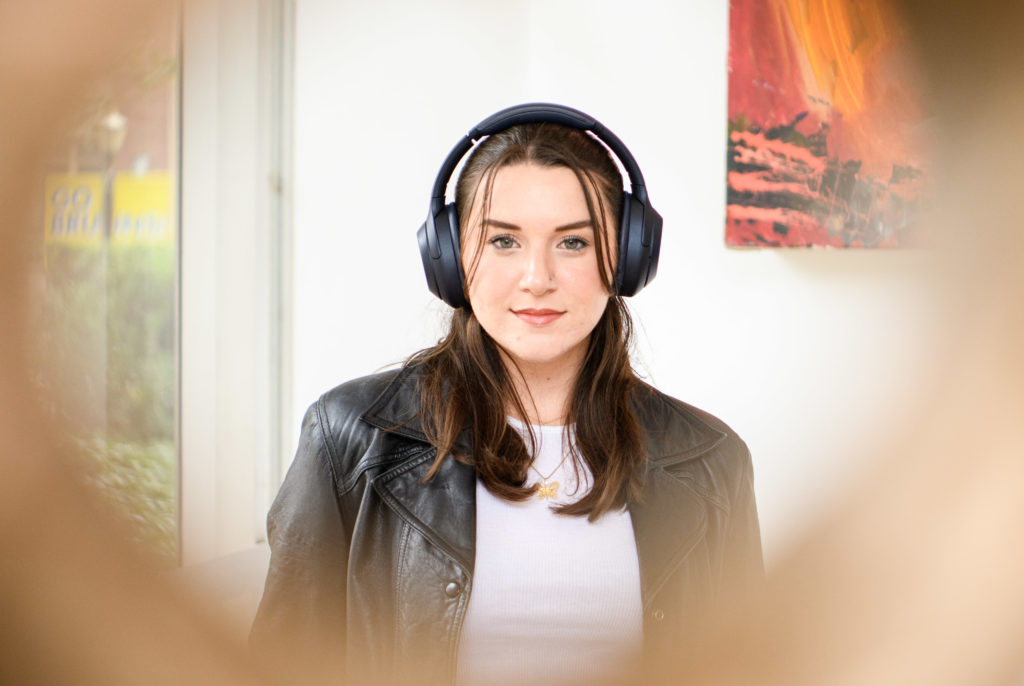 Ever since creating the nonprofit, Berger said she witnessed Heller's knowledge of music and ability to connect with people in the music industry growing. Furthermore, Berger said she is always intrigued to hear the latest music Heller has found as she refines her skills.
"She (Heller) has such an intense passion for everything surrounding music," Berger said. "Genuinely, what keeps her going throughout the day is listening to music, making music, or just being around it. I don't know what else I could see her doing that doesn't involve music."
[Related: Rising Artists: Artists spring to action with personal lyricism and bold sound]
Even though Heller does not want to commercialize her music, she said she still finds joy in creating it for herself. Doris Ivandic, Heller's roommate and a fourth-year sociology student, said Heller has continuously worked to improve her own music and even has a setup at home for music production. Heller also surrounds herself with people of different music tastes to broaden her horizons, Ivandic said. Furthermore, she said Heller jots down her lyric and melody ideas or records a voice memo after a moment of inspiration.
After graduating, Heller said, she hopes to start a full-time job in music marketing or artist and repertoire representation. Additionally, for Sam X Sam, she said she will be working on putting together the nonprofit's third music benefit and starting her passion project – a songwriting camp. While those are in the works, she said, she is going to keep working with the music she loves and sharing her passion for it.
"There was just no other option for me," Heller said. "There's still no other option for me. There will never be another option for me. I'm in too deep."