Re:SET 2023: Festival's food scene brings little to the table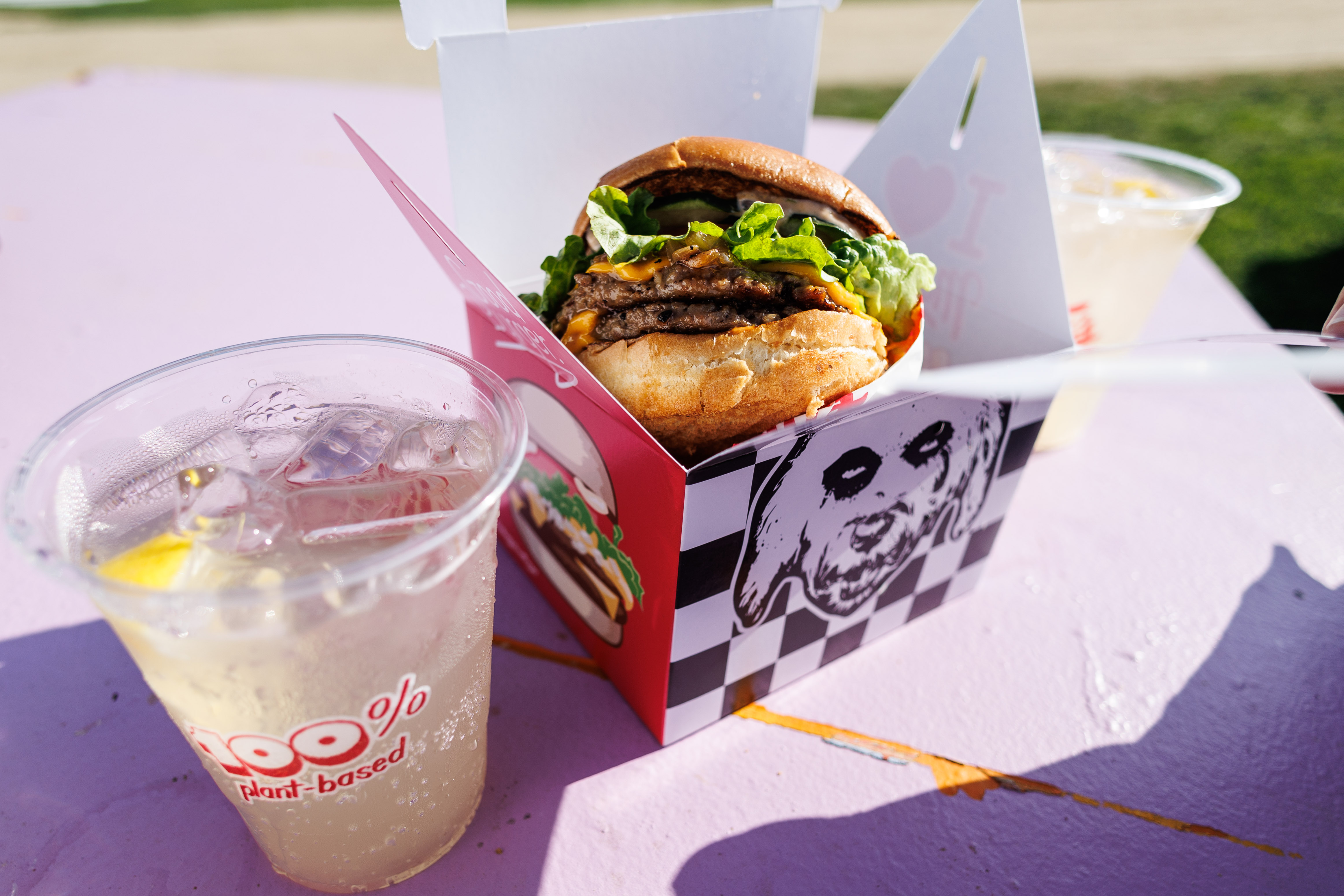 Although Monty's Good Burger was the most popular vendor at the festival, its quality did not match the expensive price. (Anika Chakrabarti/Photo editor)
"Re:SET Concert Series"
Pasadena, CA
June 2 - 4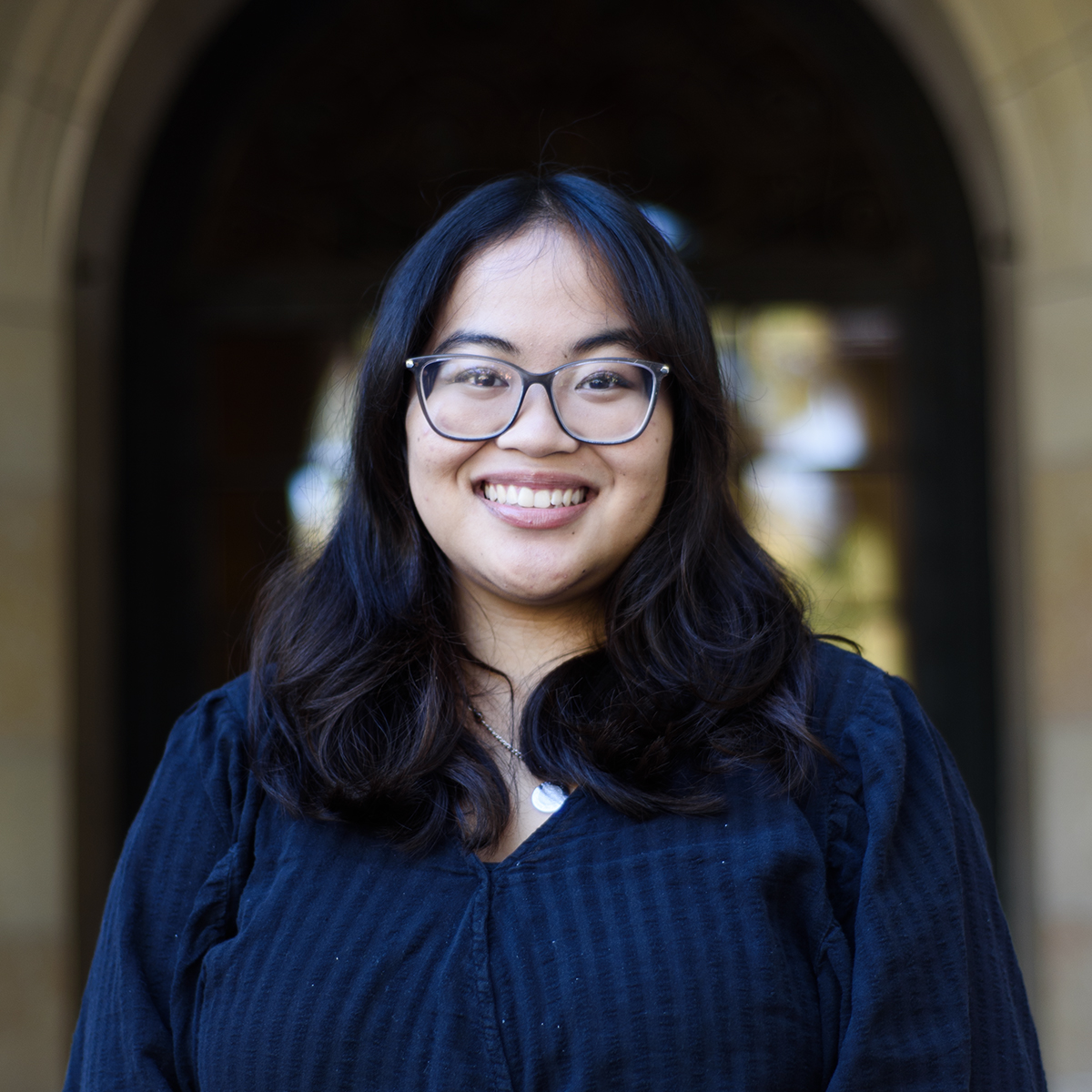 This post was updated June 7 at 9:30 p.m.
Re:SET might be reinventing summer music festivals, but it won't be bringing anything new to the food scene.
The inaugural edition of the concert series hit the Rose Bowl last weekend, bringing with it a bevy of artists including Steve Lacy, boygenius and LCD Soundsystem as headliners. Local specialty food vendors joined the hubbub alongside a variety of classics such as chicken tenders, as well as six separate bar stations. With performances beginning in the late afternoon as opposed to the morning, many attendees opted to sit and eat on the grass for a picnic at dusk – just as well, for there were few benches scattered throughout the venue.
Given that Re:SET is brand new, it was no surprise that there were fewer options compared to larger events such as Coachella and Stagecoach. Nevertheless, after three consecutive days spent at the Rose Bowl, the lack of diverse options was certainly felt. Despite advertising itself as a "fan friendly alternative to the standard summer concert experience," the high food prices unfortunately remained consistent with festival standards.
[Related: Re:SET 2023: boygenius enthralls crowd under the moonlight to close out day 2]
Monty's Good Burger was the most popular vendor of the weekend, with lengthy lines stretching across the field even as artists played onstage. The plant-based burger joint sold its twist on quintessential American items, perfect for vegans, vegetarians and meat lovers alike. Presented in a printed box with the restaurant's canine namesake, akin to a McDonald's Happy Meal, the packaging was certainly Instagram-worthy, as evidenced by the flock of festival goers snapping meal photos.
For $25, customers received a double cheeseburger, a glass of lemonade and a mixture of tater tots and french fries. The double burger featured two Impossible patties, fresh tomatoes and crisp pickles sandwiched between two buns. This was filling for a plant-based option, replicating the taste and texture of a beef patty well enough. Even though Monty's housemade sauce was nothing extraordinary – bordering on tasteless – the melted vegan cheese and mouthwatering grilled onions added sufficient flavor to the burger.
The homemade lemonade was certainly refreshing under the balmy June sun, but it lacked the extra tang of acidity that can elevate the classic drink. And though mixing tater tots and fries alongside a burger is novel, they were an afterthought. This meal simply left more to be desired, especially for its price point. Indeed, this was Monty's "Good" Burger – and it fell short of greatness.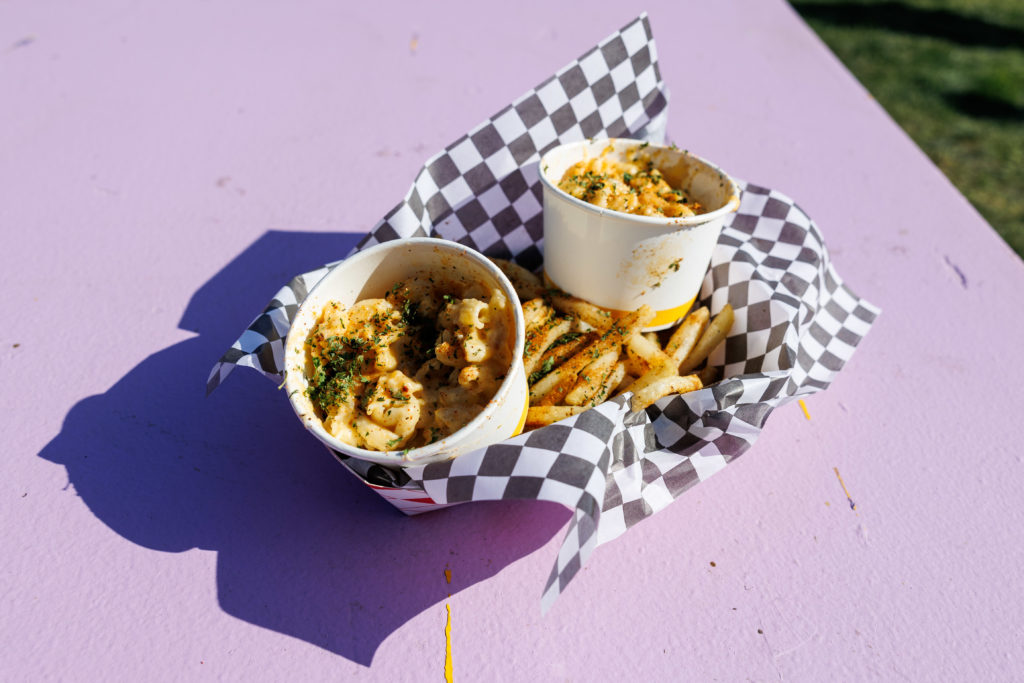 Big B the Chef was perched next door to Monty's. The food truck boasted a selection of classic soul food, albeit at high price points. For instance, a tiny cup of mac and cheese and a box of cajun fries came out to $20. The small but mighty cup of mac and cheese was flavorful, with a delightful cheesy pull that indicated it was freshly made. However, the diminutive portion meant hungry attendees were relegated to nibbling at tiny spoonfuls in order to preserve its longevity.
The fries, while a decent size to share with a friend in between sets, were merely adequate. The garlic and paprika seasonings put them a step ahead of those from Monty's, but they would have benefited from a side of sauce. Overall, Big B's captured the essence of home-cooked soul food, but its tiny portions in relation to cost kept it from reaching heavenly status.
Besides the unique Los Angeles offerings, Re:SET also provided more traditional festival fare, such as vegan pizza from Forever Pie. The $11 slice of cheese pizza was solely perfect for tiding over the tired concertgoers. Easily the most cost-effective option at the venue, the enormous slice had enough cheese and sauce to keep the flavor without turning the thin crust into a soggy mess. Like any solid pizza, it was simple, with no attempts at artisanal adornments – it excelled in its mundanity.
[Related: Head in the Clouds 2022: Diverse food options bring savory, sweet flavors to festivalgoers at a sour price]
Despite less-than-stellar savory options, McConnell's Fine Ice Creams provided a sugary edge with four distinct flavors. Bright and full-bodied, the Santa Barbara Strawberry flavor's delicious, silky base featured chunks of real berries, making for an exciting texture juxtaposition. The fruit added a tart touch of summer freshness that prevented the flavor from taking on the artificial, medicinal quality that tends to overwhelm lesser competitors.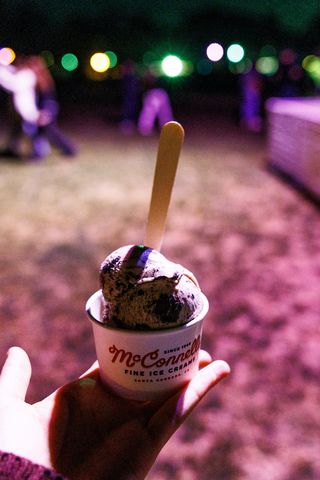 The true star came in the shape of the Churros con Leche flavor. A pleasant cinnamon aroma emanating from the stall made mouths water. People in the queue turned excitedly when a passerby clutching a cone strolled by – and for good reason. The scoop, which used a cinnamon vanilla base with churro pieces folded in, was the perfect combination of spiced and smooth. Bits of tender, chewy churro provided a needed contrast to the rich ice cream without crossing the line into "stuck-in-teeth" territory. Truly, the only challenge for McConnell's was trying not to scarf the ice cream all down at once and risk a stomachache. Even at an inflated $11 for the two flavors, the ice cream hotspot proved to be the single worthwhile treat.
Though it hit the sweet spot with McConnell's, Re:SET ultimately provided its attendees with too little variety. Organizers might benefit from more choices in the future, especially for a three-day affair. This year's culinary options offered just enough to keep guests' stomachs from rumbling louder than the artists themselves, but whether the festival can truly satisfy the taste buds just as well as the ears remain to be seen.
Re:SET might be music's freshest concept, but its food – not so much.
Lagrimas is the 2022-2023 lifestyle editor. She was previously an Arts contributor from 2021-2022. She is also a second-year communication and political science student from Temecula, California.
Lagrimas is the 2022-2023 lifestyle editor. She was previously an Arts contributor from 2021-2022. She is also a second-year communication and political science student from Temecula, California.