Community discusses revised blood donor criteria for men who have sex with men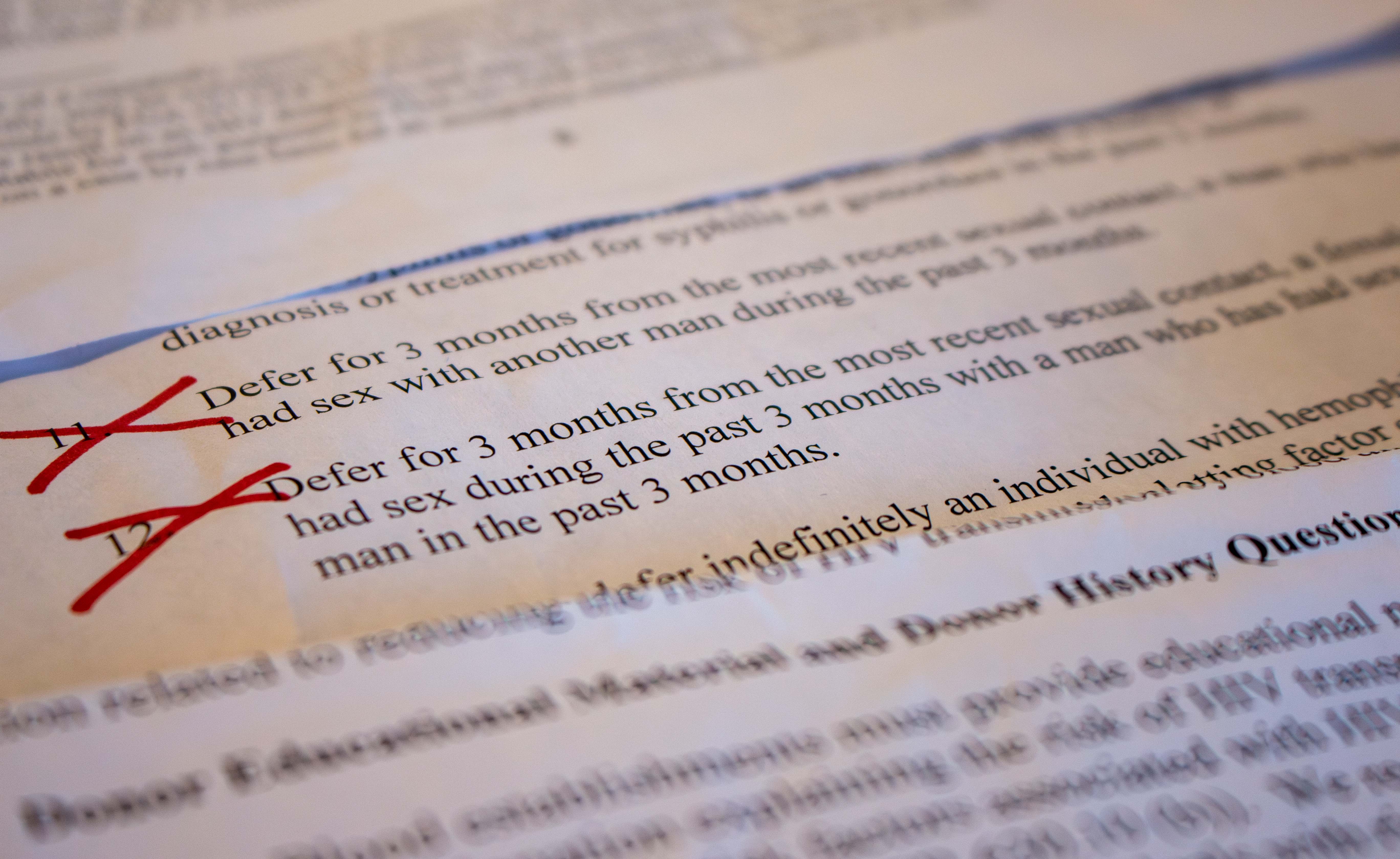 Recommendations from the United States Food and Drug Administration for blood donors are pictured, with those requiring a deferral period for men who have sex with men crossed out. The agency announced May 11 that it will be shifting to a risk-based, more gender-inclusive assessment of donor eligibility, which will allow some MSM to donate without a deferral. (Christine Kao/Daily Bruin staff)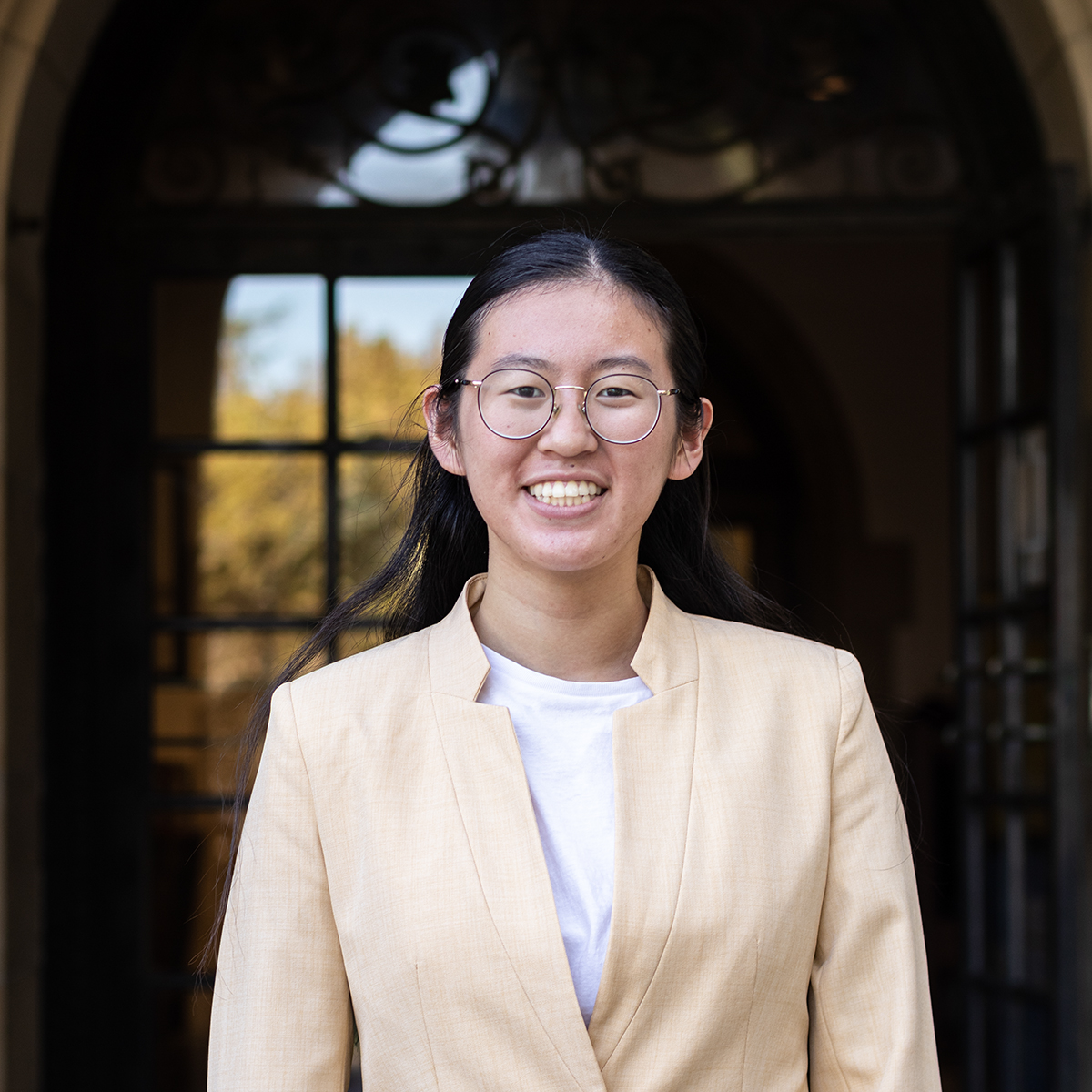 Students, faculty and staff expressed support for new gender-inclusive guidelines for blood donation but noted they may have limited efficacy.
The United States Food and Drug Administration announced May 11 it will implement new guidance that will allow men who have sex with men to donate blood without a deferral period for the first time since 1985. Donors will now be assessed for eligibility based on individual risk-related behaviors such as intravenous drug use and recent change in sexual partners based on findings from the Assessing Donor Variability and New Concepts in Eligibility study, which examined HIV risk factors among MSM, according to the FDA. Under the version of the guidelines updated in 2020, only men who had not had sex with another man for three months could be eligible to donate blood because of concerns that they would be more likely to transmit HIV.
[Related: Experts discuss blood transfusion restrictions for men who have sex with men]
Many groups that advocate for changing these restrictions have argued that modern advances in HIV testing allow blood donations to be screened for HIV with a high degree of accuracy, said Matthew Mimiaga, the director of the UCLA Center for LGBTQ+ Advocacy, Research and Health, in an emailed statement.
"It also represents an important step towards greater inclusivity and equality in healthcare. By recognizing the need for evidence-based policies that are not based on stigmatizing and discriminatory assumptions, the FDA is helping to build a more equitable and just system," said Mimiaga, who is also a professor of epidemiology, in the statement.
Tom King, the campus blood donor recruiter for the UCLA Blood and Platelet Center, said the new criteria will not be fully implemented until the end of the year when the questionnaire is revised and the staff receive new training. However, he said he believes the change was long overdue.
Previous guidelines were frustrating for students and employees unable to donate, especially those who were in monogamous relationships and felt that their blood was safe to give, King said.
"Students would say to me, 'Why does UCLA have this policy?'" he said. "Well, it's the FDA, you know – we don't set these guidelines. They're set by the federal government."
Aryan Sood, a fourth-year human biology and society student, said when he first started his major program, he was passionate about understanding more about blood donation, as he had been a frequent donor before college. However, he said as he learned more, he began to realize that making change would require more than just individual advocacy.
"I think most people I talked to also felt like it was silly," Sood said. "Fellow people, like the LGBT community, were like, 'Yeah, it makes no sense.' Even people I talked to that worked in blood were like, 'It's at the FDA level.'"
He said he was surprised by how quickly the FDA responded to the results of the ADVANCE study, but he added that he feels like the agency is making a change that could have been made years ago.
While most questions on the previous version of the donor questionnaire focused on potentially risky behaviors, Sood said it was frustrating to see a blanket ban on men who have sex with men without taking into account the frequency or safety of sex.
"If you're consistently in a relationship with one person, … it's (HIV) not going to fall out of the sky," Sood said. "Just because they're romantically inclined in a different way does not magically mean it's going to target them, or it's somehow more likely to pop up when they're in a relationship."
For some blood recipients, the change is also welcome.
Jane Bricklin, a first-year linguistics and psychology student who had leukemia as a child, said in her experience the current national blood shortage makes it hard to find compatible blood quickly. Leukemia is a blood cancer that can require transfusions as part of treatment.
[Related: UCLA medical centers seek blood donors for liver transplant patients amid shortage]
She added that the previous restrictions created a stigma that should not have existed and that removing these restrictions might allow that stigma to fade away.
Bricklin, who is part of the Leukemia and Lymphoma Society Club at UCLA, said she hopes these changes will help her club and others reach a wider range of people at blood drives.
"There's all these screenings that have to be done before you can donate the blood," she said. "The screening turned away so many people. We would only get maybe 80 donors out of 200 people who came in to sign up and give blood."
But there may be limits to how far these changes can go. Sood said because many of his friends in the LGBTQ+ community have become used to the idea that they are not able to donate blood, it may become difficult to reverse that mentality.
Additionally, the new guidelines still prohibit anyone who has taken pre- or post-exposure prophylaxis – medications to prevent HIV infection that are used by some MSM – within the last three months from donating blood.
However, Sood added that he is excited to see how the FDA's response to community health studies might set a precedent for the future.
King said he hopes more people will donate as a result of these changes. The Blood and Platelet Center rarely collects as much as it needs, so every donation counts, he said.
Bricklin added that she hopes people have a more open mind when it comes to the intersection of health-related issues and topics such as race and gender, as people should not be blocked from receiving lifesaving support by issues unrelated to health.
"I don't want anyone – blood cancer patient, anyone who needs a transfusion – to be limited in options. I think if there's blood that can be donated and it's clean, why not?" she said "Their sex, gender, identity, race, ethnicity – it doesn't matter. Blood doesn't have anything. It is universal."
Contributing reports from Christopher Buchanan, Daily Bruin contributor.
Dai-Liu is a News reporter on the science and health beat and a Copy contributor. She is currently a a second-year neuroscience student.
Dai-Liu is a News reporter on the science and health beat and a Copy contributor. She is currently a a second-year neuroscience student.