Editorial: 'UCLA students cannot stay apathetic' toward student government endeavors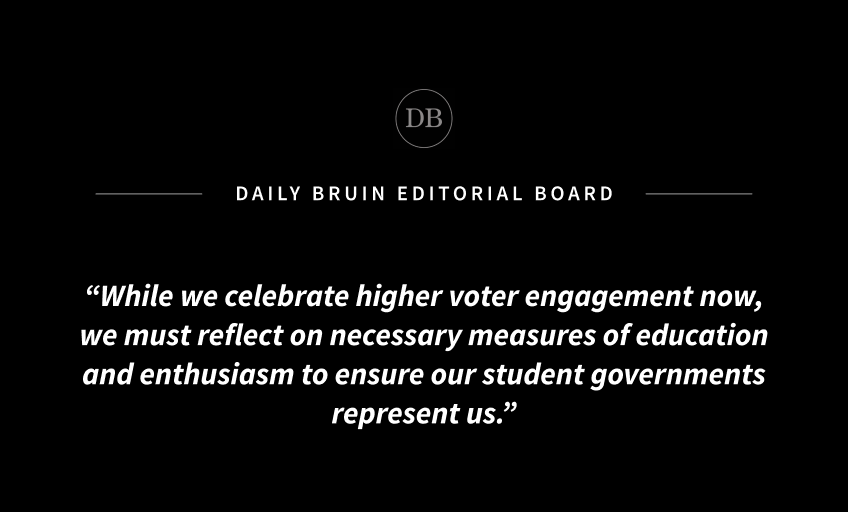 By
Daily Bruin Staff
May 21, 2023 9:07 p.m.
Editor's note: Editorials do not represent the views of the Daily Bruin as a whole. The Board encourages readers to respond to our editorials at dailybruin.com/submit.
As UCLA welcomes its 2023-2024 Undergraduate Students Association Council, the student body must reflect on voter engagement.
Out of all UCLA students, 23.03% cast their votes in the 2023 USAC elections, a large improvement from previous years. Last year's election saw a shockingly low turnout rate of 15.19% – the lowest in over a decade. In contrast, this year's participation was the highest since 2020, a move in the right direction.
While rising voter turnout is something to be celebrated, the fact that less than a quarter of UCLA students exercised their right to vote is worrying – and something that cannot continue.
In a post-pandemic election, candidates' evolving campaigning measures likely led to broader awareness of the USAC elections. Through reinvigorated campaigning on social media and Bruin Walk, students were able to learn more about the election's timeline and importance. Some candidates stationed at or around Bruin Walk engaged students with their platforms and the concerns they intended to address.
Significant participation has also been seen among various campus clubs and organizations actively endorsing candidates and referenda. According to Bruins for Better Transit, the passing of the transit referendum received 36 endorsements from groups such as the Institute of Transportation Engineers and Bruin Democrats, as well as the Daily Bruin Editorial Board. This notable level of involvement from diverse campus entities underscores a heightened engagement in this year's elections.
Bruins for Better Transit also created an interactive Instagram account to encourage voting for the transit referendum. In collaboration with the USAC Facilities Commission, they hosted an art contest for students to design the new TAP cards that would be issued to Bruins if the referendum was passed.
While these measures may have contributed to greater voter turnout, UCLA students' enthusiasm for student government as a whole is far from sufficient. This was exemplified by low engagement within the Graduate Students Association Forum, which will have an empty seat for the 2023-2024 academic year. The three candidates who were elected for a position ran uncontested.
Low awareness and interest surrounding these student government organizations, both from within and outside of the councils, indicate a lack of understanding of their importance. The enticing promise of unlimited public transportation and the large number of candidates participating this year may have naturally drawn attention to the election. But there may not always be more than 40 candidates or a widely popular referendum to help.
UCLA students cannot stay apathetic. With millions of dollars in the USAC budget each year, they must remain engaged with their representatives and student government in general. On USAC's end, the offices must prioritize reaching out to a larger portion of the student body and making sure they have all their interests in mind to keep them engaged.
Ensuring a representative government is not a one-sided responsibility. It requires collective commitment from students to remain active, informed and involved, as well as USAC and GSA to be communicative and transparent, actively solicit feedback, and address Bruins' varied interests and concerns.
While we celebrate this election's increased voter engagement, we must reflect on necessary measures of education and enthusiasm to ensure our student governments represent us.