2023 USAC Elections: Daily Bruin Editorial Board candidate endorsements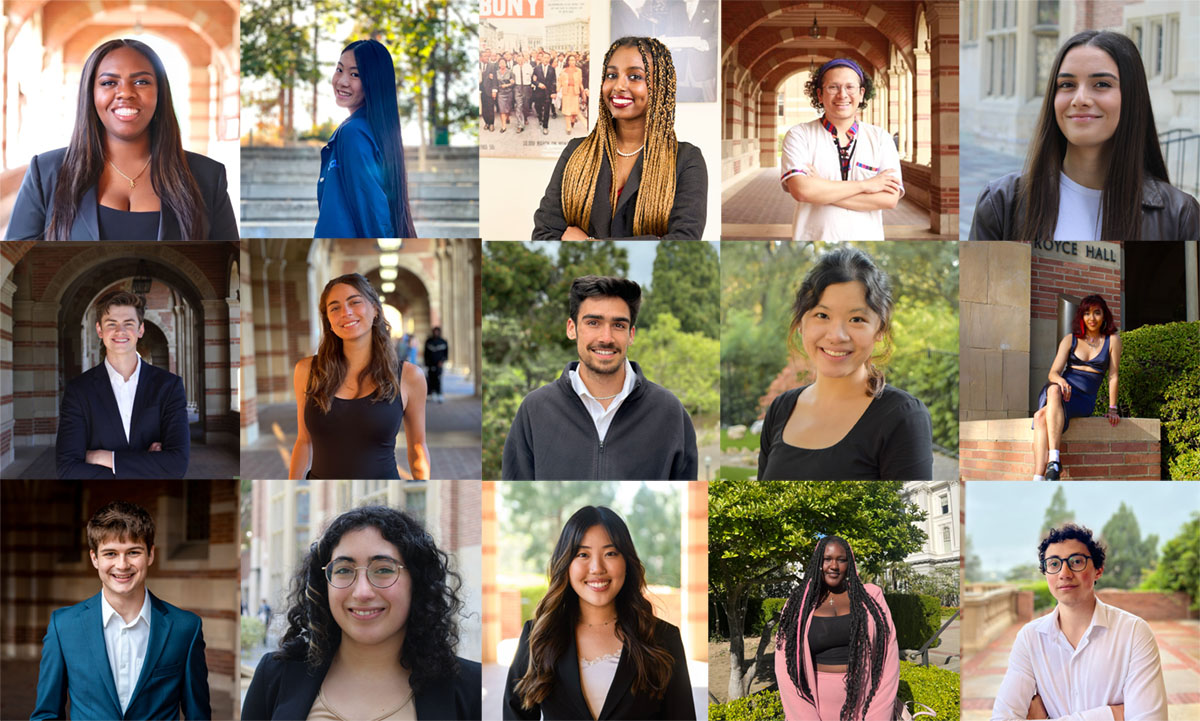 Candidates running for the Undergraduate Students Associated Council who have been endorsed by the Daily Bruin Editorial Board are pictured. (Courtesy of USAC candidates)
Correction: The original version of this article misspelled Ethan Ferrara's name.
This post was updated May 10 at 4:43 p.m.
Editor's note: This post was updated to remove a referendum about inclusive access textbooks that is no longer on the ballot at the time of voting.
As election season rolls around, undergraduate Bruins once again have the opportunity to choose 15 new Undergraduate Students Association Council officers for the upcoming academic year. This year, voters have the opportunity to consider at least 40 students all competing for a spot in UCLA's governing student body, as well as the Universal Access Transit Pass referendum, which would instate a small fee to provide access to an unlimited-use Los Angeles Metro card.
Voting begins May 5 at noon and will conclude May 12 at 2 p.m.
After considering factors such as qualifications and platforms in deliberations, the Board endorsed the following people.
The Board reached out to all individuals who wrote candidate profiles on the Elections Board website. Unless noted otherwise, the Board was able to interview all candidates for each position.
President – Naomi Hammonds
Naomi Hammonds has the experience, platforms and political acumen to lead USAC next year.
As general representative 2 this year, the third-year psychobiology student has taken a proactive role in student government, hosting mental health events for the student body and working with the Black Bruin Resource Center to further establish its presence on campus. Working in the offices of previous USAC presidents, Hammonds has also developed a comprehensive understanding of what it takes to be president and how the council can be reformed to make its impact felt more widely by the student body.
As an undergraduate teaching assistant for several life science courses, Hammonds has also demonstrated a great deal of passion and academic excellence. As a Black woman and South Campus student, her intersectionality brings many underrepresented perspectives to the council, which could certainly benefit from being more representative of the student body as a whole.
Furthermore, the Board believes that her platforms are actionable and will bring substantive benefits to the relationship between the council and its constituents. Whether it be through hosting dinners with clubs and other student organizations to facilitate greater support or communicating directly with the student body about what USAC does, Hammonds' proposals would facilitate trust and transparency between students and their elected representatives.
Hammonds also hopes to reform USAC's culture internally, focusing specifically on reducing turnover and providing more mentorship opportunities to help USAC officials fulfill their proposals after they get elected.
Given her impressive record and clear but pragmatic plans for the future, the Board endorses Naomi Hammonds for president.
Internal vice president – Megan Law
After two years working in the internal vice president's office, Megan Law is ready to take the position itself head-on.
The second-year political science student and the current director of transparency and accessibility in the IVP office understands the ins and outs of the position. Moreover, she already knows the obstacles and challenges that she may face in the pursuit of her well-thought-out platforms.
However, the Board believes she is ready and able to navigate them.
Law's goals are grounded in the search for a better overall student experience. Above all else, she is a fierce proponent of the well-being of the student body, a trait that makes her an extremely well-rounded candidate in how it informs her ideas and ambition.
Law's four platforms cover many different facets of the student experience. If elected, she would work to improve communication between her office and student organizations on campus, utilize the internal vice president's housing relief fund to provide more support for economically disadvantaged students, and work to improve student safety and mental health through coordination with other campus institutions.
The Board was particularly impressed with her proposal to distribute the anti-overdose drug Narcan across campus. The Board applauds Law's advocacy for programs to make Narcan more accessible on campus and train students on how to reverse an overdose should it occur, especially as the Board has previously written about the dangers of fentanyl and other opioids.
Her experiences in the internal vice president office, as well as in the vice president of the San Francisco Unified School District Student Advisory Council, showcase her abilities to represent a broad student population and achieve remarkable change.
The Board is confident that all Bruins would benefit under Law's ideas to promote student well-being, safety and other needs.
External vice president – Hiyab Misghina
Hiyab Misghina is a passionate and dedicated candidate whose personal experiences have shaped her platform of equity, inclusion and empowerment.
As a proud first-generation student and daughter of an immigrant single mother, she can relate to many of her fellow Bruins and understands the importance of ensuring that underrepresented groups receive the attention they deserve.
The third-year political science student believes that all students should know about the vast resources available to them on campus, many of which she only heard when beginning her campaign for USAC. She also aims to improve food security, acknowledging the great work of the Community Programs Office Food Closet but believing it should be made more robust. She aims to create more food closets with healthy and nutritional options while partnering with franchises in the greater LA area to sponsor food packages.
Her commitment to the inclusion and empowerment of different cultures and groups is evident through her involvement in the first statewide East African Student Association conference and her plans to continue bringing people together through cross-UC campus conferences on various interests, including cultural and career topics.
The Board endorses Misghina because of her determination and passion. With her impressive experiences interning at the San Diego mayor's office, working for food security organizations and lobbying at the state level as a precinct captain for the American Civil Liberties Union, she'll be well-suited for the position.
In addition, her platform is centered on creating positive change within UCLA and with other organizations and communities, and the Board believes she has the potential to make a significant impact.
The Board is confident that Misghina's leadership as external vice president will result in increased awareness, access and support for underrepresented groups and all Bruins.
General representative 1 – Jonathan Valenzuela Mejia
Jonathan Valenzuela Mejia will lead with experience and empathy. That's why the Board is endorsing him for general representative 1.
A member of USAC since his freshman year, he knows what it's like to navigate student government and its many procedures. Valenzuela Mejia is currently chief of staff for the office of the general representative 2 while also administering textbook funds and raising awareness about internet funding resources in the Academic Affairs Commission.
The third-year global studies and public affairs student was one of the only candidates to bring up COVID-19 in his platforms. Acknowledging that the pandemic is not yet completely over, Valenzuela Mejia hopes to work with UCLA to build "a community of health" that empowers students – especially immunocompromised students – to make their own health decisions and to continue providing resources such as masks and hand sanitizer free of charge.
His wide-reaching roots on campus, both within USAC and beyond, are reflected in his attention to a variety of student issues. One of his primary goals is to help create an out-of-state representative office in USAC, to give a voice to the roughly 16% of students who come to California from another state. This would follow in the footsteps of international student representative and transfer student representative positions created in 2019 and 2014, respectively, to similarly support students with unique experiences and concerns.
Valenzuela Mejia's other platforms aim to remedy long-standing issues students in clubs face when renting costly, poor-quality equipment as well as the day-to-day with his plan for digital Bruin Cards. His plan for creating dual-degree programs with universities in Europe and improving exchange student procedures is ambitious. But where he thinks big, he has also done the research to back up why these issues are important. It's clear that his intent is what's best for UCLA and its students.
As more and more voters voice concerns about student fees or the USAC budget, Valenzuela Mejia vows to respond directly to these students and unite them around what's best for the student body as a whole.
Valenzuela Mejia promises to be a resource for students. It's clear from his experience and passion that he'll carry out this promise.
General representative 2 – Gabrielle Lasry
As a dedicated commuter student with a passion for political change, Gabrielle Lasry will drive the general student body to success.
The first-generation, third-year political science and Middle Eastern studies student is an energetic representation of multiple communities on campus. As an involved member of USAC for two years, she has become well-accustomed to student government through diverse lenses by currently serving as the Financial Supports commissioner's chief of staff and the graphic designer for general representative 3 last year.
Her political advocacy extends far beyond the borders of UCLA. Serving as a legislative intern for former state Sen. Bob Hertzberg for two summers, Lasry is well-prepared to use her past experiences as leverage in her position as general representative.
In this role, Lasry plans to advocate for increased campus safety by implementing a program called "Bruin Watch" to ensure that students remain safe walking to parking lots at night. After commuting to UCLA for three years, she understands the financial burden of buying parking permits and seeks to reduce costs. Lasry also strives to build community amongst first-generation students through a partnership with First-to-Go in her passion to celebrate their successes of attending college while addressing their struggles.
The Board values Lasry's clear determination to improve the mental health resources on campus. From extending the eight annual sessions accessible in Counseling and Psychological Services, hosting workshops to educate students on how to properly respond to mental health emergencies, to collaborating with Active Minds, Lasry has undoubtedly practical goals for improving the wellness of students on campus.
With the vast array of issues she plans to address, we can't wait to see where Lasry takes the office next.
General representative 3 – Ethan Ferrara
Ethan Ferrara is gearing up to fight for communication, accessibility and sustainability on UCLA's campus.
As a lifelong boy scout and member of the Reserve Officers' Training Corps, the first-year political science student has a demonstrable commitment to serving his community – no matter the cost. He made clear that his desire to represent the student body is a result of his genuine passion for community service.
Ferrara intends to improve communication by increasing awareness and transparency surrounding fund allocation. He intends to enact a progress tracker, enabling club leadership to always have up-to-date information regarding funding. To ensure students are tangibly aware of USAC's spending and how it works for them, he is looking to distribute stress toys, snacks and drinks to help out the student body during finals and even throughout the regular school year.
Beyond this, Ferrara is committed to making UCLA accessible for all of its students. He is looking to make UCLA's campus more accessible to students with disabilities, increase funding for the BruinBus, and mandate that lectures be recorded.
Lastly, Ferrara is proud of UCLA's innovative sustainability initiatives and intends to continue to steer Bruins in this direction.
The Board appreciates Ferrara's genuine care for his community and is looking forward to watching his tangible thought pattern ameliorate our campus.
Academic Affairs commissioner – Natalie Ashkar
Natalie Ashkar, an international student hailing from Lebanon, wants no more than to serve the entirety of UCLA's student body. Ashkar brings passion, perspective and experience to the role of Academic Affairs commissioner.
For this reason, the Board endorses Natalie Ashkar for next year's Academic Affairs commissioner.
The Academic Affairs commissioner is tasked with finding efficient ways to support the academic success of students. With such a diverse student body, not every student's needs are the same. This poses unique challenges to the role, but Ashkar understands this extremely well – and she's more than capable of finding innovative solutions.
The second-year environmental science student is running on specific, actionable goals that will make the academic experience of each student at UCLA smoother than ever.
Among others, Ashkar's accessibility platform wishes to make classes more digestible for the general population of students. While the university has helpful resources, students do not always know how or where to take advantage of them. Ashkar wants to expand academic counseling services so that students know how best to navigate their curricula. She also wants to streamline Center for Accessible Education accommodations, making sure that students who need them are not faced with obstacles, wait times and flurries of email communication with the CAE office.
The Board was extremely impressed with how Ashkar wishes to embrace the intersectionality that exists within our student body. Ashkar understands that students' unique backgrounds and social identities inform how easy or difficult their academic experiences are at this institution.
Ashkar, for instance, wants to make closed captioning more available in a greater number of languages. This is reflective of her commitment to serving every student with the funding and power offered to the Academic Affairs Commission.
The Board also believes that Ashkar's experiences as a resident assistant, a learning assistant and the vice president of the Lebanese Student Association at UCLA are ones that provide her with a broad knowledge of the UCLA student body, along with their needs on a personal level. Simply put, Ashkar has integrated herself extremely well into the UCLA community and has positioned herself for success in this new role.
The Board is very excited for Ashkar to make a lasting impact on our student body in many ways.
Campus Events commissioner – Mason Miller
For his outreach savvy, prior experience and commitment to revitalizing entertainment on campus, the Board is endorsing Mason Miller for Campus Events commissioner.
We believe Miller is uniquely positioned as a member of the Campus Events Commission's marketing department to understand what students want to see. Motivated by students' feedback on social media, he aims to revive events that appeal to a broader audience rather than catering to niche interests.
The third-year sociology student promises to capitalize on UCLA's reputation and location in the entertainment industry hub of LA, using and building the university's connections to bring "A-list entertainment" to campus. At the same time, the Board appreciated his attention to diverse and unique programming, a cause evident in his work this year on the marketing teams for a sex work panel and a Q&A with transgender travel TikToker Devin Halbal.
The same marketing expertise will be crucial to another important aspect of Campus Events Commission's events: effective publicity. Beyond just doing more social media, Miller hopes to collaborate more with other student organizations, such as the Cultural Affairs Commission and UCLA Radio. Bridging the disconnect between USAC and the general student body is an enduring battle that we think he'll be able to address best.
Although the size of many USAC commissions can be unwieldy, Miller's long-running experience in this one will help him. Miller knows the Campus Events Commission and the Campus Events Commission knows him.
Miller instills in the Board the confidence that work will get done.
Community Service commissioner – Chia Ying Wong
Having been involved in community service organizations on campus herself, second-year education and social transformation and English student Chia Ying Wong is no stranger to the challenges faced by community service organizations.
Wong is currently an executive coordinator of the youth empowerment program as part of SCOPE, a service program geared toward addressing health and education disparities in the greater LA community. In this work, Wong has gained valuable insight into how intimidating the process to secure funding and transportation for community service organizations can be.
Being also a part of the Community Service Commission for two years as a fellow in her first year and program support director in her second year, Wong is well equipped with the knowledge of how to get the job done. Her familiarity with how the commission operates is evident in her ability to have skillfully co-planned large-scale service events such as the Houselessness Day of Service, Mental Health Awareness Weekend and Basic Needs Town Hall.
Overall, her experience in community service has allowed her to become more empathetic toward student volunteers and has shaped her platforms to be geared toward fixing the current gaps in funding and transportation that volunteering organizations face.
The Board believes Wong is passionate about advocating for the needs of community service organizations on campus and has what it takes to navigate the bureaucratic nature of the position in a way that creates meaningful change.
Kobe Dar, another candidate for Community Service commissioner, did not respond to repeated requests for an interview from the Board.
Cultural Affairs commissioner – Alicia Verdugo
There's so much culture to explore within UCLA and within our city.
Despite facing no competition this year, the Board wholeheartedly supports Alicia Verdugo's bid for reelection.
Within the university, the second-year education and social transformation and sociology student hopes to use their role to fight for the repatriation of stolen Indigenous lands. Verdugo's Beyond Acknowledgement platform plans to restore the pieces and belongings of Indigenous communities.
Verdugo also hopes to continue advocating for their platform, Grounding the Future, to create a safe community space for students to congregate. As part of the reason why she wanted to become cultural affairs commissioner in the first place, the platform holds a special place in Verdugo's heart – and with current conditions at UCLA always changing, they believe this is the prime time to make the community center a reality.
Although Verdugo struggled this year with a lack of staff and support in establishing the Arts Restoring Community Fund, she plans on focusing on reconstructing ARC as one of their largest priorities for next year. By utilizing this fund to help cultural organizations put on events that promote education and entertainment, they also believe this will simultaneously raise awareness about the sociopolitical conditions that affect us through art.
As the incumbent, Verdugo has brought a unique joy to the community while inspiring creativity and cultural awareness.
The Board believes there is no one better to build on the plans that Verdugo has already accomplished.
Facilities commissioner – Evan Curran
As a second-year public affairs student, Evan Curran has already shown a deep understanding of the issues facing the UCLA community, particularly when it comes to traffic safety in Los Angeles. Curran, who has been hit by a car not once but twice in the past two years, has a unique perspective on the importance of proper urban design.
The second-year public affairs student's platforms are both ambitious and realistic. His plan for Westwood Connected addresses the safety concerns of pedestrians and vehicle riders alike. Curran plans on accelerating transit projects, creating protected bike lanes and improving sidewalks, all of which will greatly benefit the UCLA community. His work on the Sepulveda Transit Corridor demonstrates his commitment to advocating for sustainable transportation solutions and increasing accessibility for students.
To focus on supporting sustainability efforts on campus, Curran would push for an increase in transparency and accessibility of the Green Initiative Fund, as he understands students at UCLA can feel isolated from these funding bodies. By finding ways that USAC can empower student organizations focused on sustainability, Curran would ensure that green efforts are more inclusive and effective.
Moreover, Curran recognizes the importance of environmental justice and is looking beyond Westwood to address the needs of communities disproportionately affected by past negative environmental decisions. His dedication to leveraging UCLA's resources to help these communities is admirable and necessary for a more just and sustainable future.
His experience as director of local relations and his connections with UCLA administration and city government will be invaluable in tackling the issues facing campus. Additionally, his passion for city planning and experience with organizations like the LA Tenants Union and UCLA Gun Reform demonstrates his commitment to making a positive impact in the community.
While there will undoubtedly be obstacles facing Curran as facilities commissioner, the Editorial Board is confident that he is up to the task.
Hamza Milbes, another candidate for facilities commissioner, declined an interview with the Editorial Board.
Financial Supports commissioner – Sara Broukhim
Riding the highs of this year's success, Sara Broukhim is prepared to overcome any obstacle that comes her way.
With extensive leadership experience both within and outside of USAC, the third-year cognitive science and political science student is highly attuned to the campus climate with a niche for student finances. The Board endorses Broukhim to continue in the role of Financial Supports commissioner.
Over the past year, Broukhim partnered with various student organizations to hold four financial literacy workshops, including an introduction to investing and budgeting. She plans to expand the workshops to address a wider range of issues by collaborating with the Mother Organizations coalition and basic needs clubs.
Collaboration across organizations extends far beyond planning these workshops for Broukhim. She is advocating for a basic needs fund for students in the hopes to create alongside the Student Wellness Commission. As the cost of living increases, she anticipates that this fund will provide emergency relief for any individuals who need it.
Broukhim has also heard the calls for transparency in USAC's operations. To address this, she plans on creating an oversight board to determine that student fees are being used responsibly, as well as opening up a financial expenditure viewer for students to see data on what USAC spends money on. In addition, Broukhim also hopes to create a budget spreadsheet for any clubs on campus that apply for funding in order to monitor their own progress.
The Board is excited to see both breadth and depth in Broukhim's platforms – and we can't wait to see them come to fruition with full financial transparency.
Student Wellness commissioner – Jennis Kang
Jennis Kang's No Bruin Left Behind platform is a powerful and much-needed statement for today's campus. As a third-year cognitive science student, Kang has a deep understanding of the population she hopes to serve and, more importantly, is open about her own experiences in seeking support for her mental wellness.
Kang's personal journey with mental health and wellness is what drives her passion for advocacy and connection. She has firsthand knowledge of the challenges that students face when navigating campus resources such as CAPS, and she is committed to ensuring that all Bruins have access to the holistic health resources they need.
Kang has also worked with addressing basic needs on the Student Wellness Commission and as co-director of BruiNecessities, successfully distributing gift cards to students. She is determined to leverage the commission's resources for the benefit of the student body.
As a three-year member of the commission she is running for, Kang possesses a wealth of knowledge and experience regarding the inner workings of USAC. This makes her an ideal candidate to lead the commission toward meaningful change.
The Board endorses Kang and believes that her vision of advocacy, connection and holistic health will be a guiding force in ensuring that no Bruin is left behind.
Transfer student representative – Thyra Anastashia Cobbs
There is no doubt that Thyra Cobbs is wholeheartedly committed to enhancing the transfer student experience.
After attending four community colleges and serving as student body president at one of them, Cobbs noticed the many injustices in the higher education system for transfer students and has demonstrated a strong dedication to advocating for change.
As a low-income, financially independent and first-generation Black woman, Cobbs' intersectional identities and vast array of lived experiences provide her with the background to deeply understand transfer students' diverse educational and social needs.
Cobbs' work and qualifications speak for themselves. The fourth-year African American studies and history student is currently serving as the chair for the Black Bruin Transfer Extravaganza and recognized that Black and brown transfers are disproportionately impacted by the lack of resources allocated by the university.
As a McNair Research Scholar, transfer success coordinator for the Afrikan Student Union, co-membership coordinator for Umoja and current transfer student representative, Cobbs has more than enough experience that will equip her with the tools to excel in her position.
During her short term as transfer student representative beginning in winter quarter, Cobbs allocated $100,000 to support a wide variety of transfer communities at UCLA, from transfers with dependents and commuters to former foster youth. If she can accomplish this in only a few months, one can only imagine the strides she can make in a whole academic year.
Beyond her qualifications, the Board was impressed by her platforms. She seeks to build coalitions with the Mother Organizations to foster cross-cultural unity, elevate transfer student wellness by collaborating with CAPS, increase internship opportunities for transfer students and work with California community colleges to ease the transition to UCLA.
The Board is confident that Cobbs' innovation and passion for improving the transfer experience make her unequivocally the right person for the job.
Samy Kohanteb, another candidate for transfer student representative, did not respond to repeated requests for an interview from the Board.
International student representative – Adam Tfayli
Adam Tfayli strives to support international students and make sure their needs are met, which is why the Board is endorsing him for international student representative.
As international student representative, Tfayli plans to collaborate with the UCLA Career Center to create international student programming, including visa guidance as well as work toward additional CAPS resources, including bringing in multilingual counselors and advocating for increased international student scholarships. He also hopes to increase financial aid for international students in order to ensure more equitable access.
The Board sees these as well-defined ideas that will undoubtedly make the process of adapting to UCLA easier for international students. We are proud to endorse Tfayli as the next international student representative.
The first-year biology student from Lebanon is no stranger to representing other students, exercising leadership as a UCLA On-Campus Housing Council representative and two-time student body president for his international high school. He is also involved with multiple cultural clubs, a reflection of his commitment to Bruins of diverse backgrounds.
The Board appreciated Tfayli's realistic goals, emphasis on transparency and focus on increasing mental health resources. He has the firsthand experience to represent the needs and challenges of international Bruins to UCLA administration and the campus at large.
We look forward to seeing what Tfayli accomplishes as the international student representative.
Universal Access Transit Pass referendum – Yes