'un/ending' performances showcase 'circularity of life' with original choreography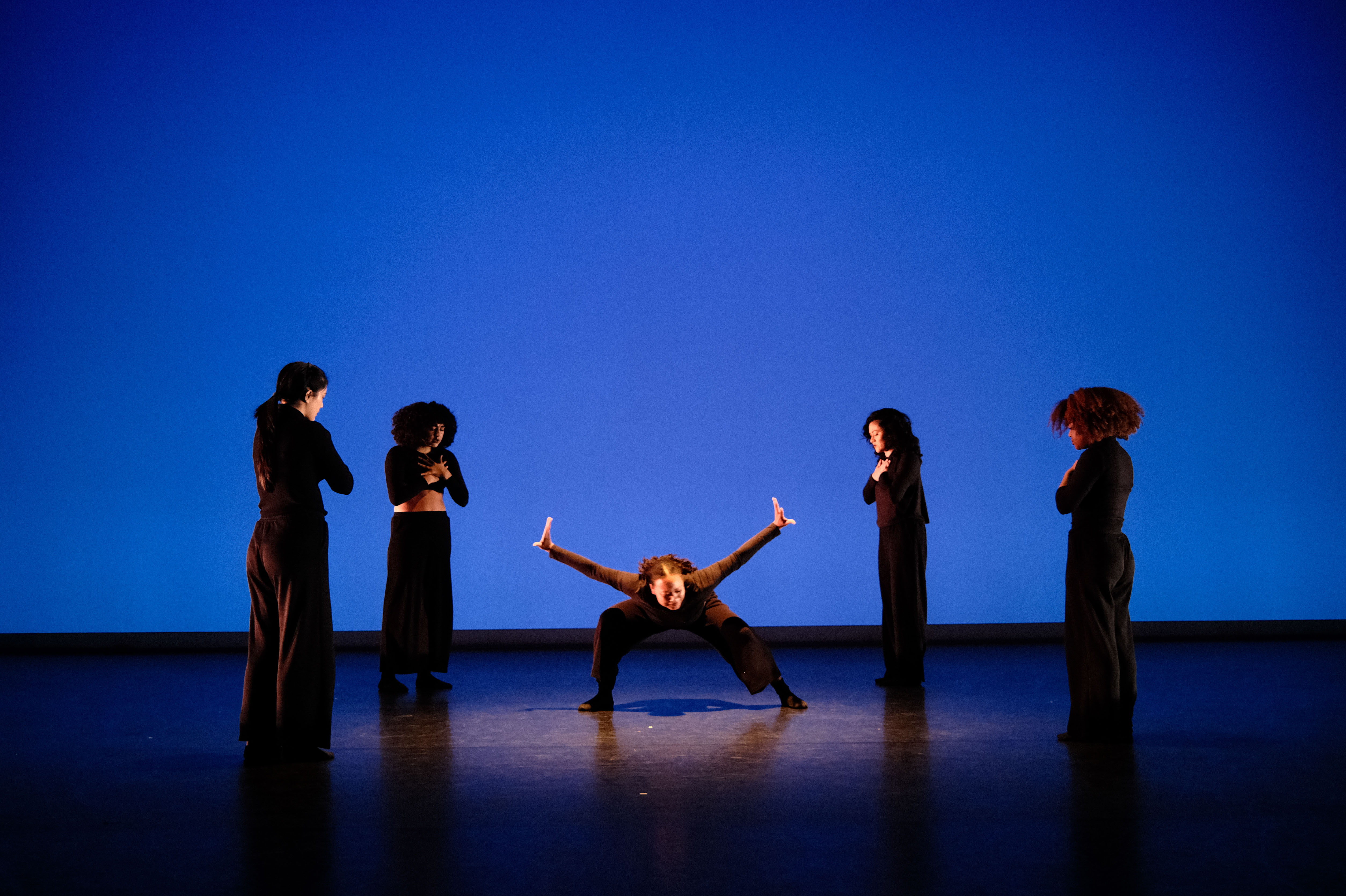 In front of a blue backdrop, performers dressed in black surround an individual with their arms stretched out as part of "un/ending." The showcase includes 12 choreographed works from 12 graduating dance students. (Shengfeng Chien/Daily Bruin staff)
"un/ending"
Glorya Kaufman Dance Theater
May 12-13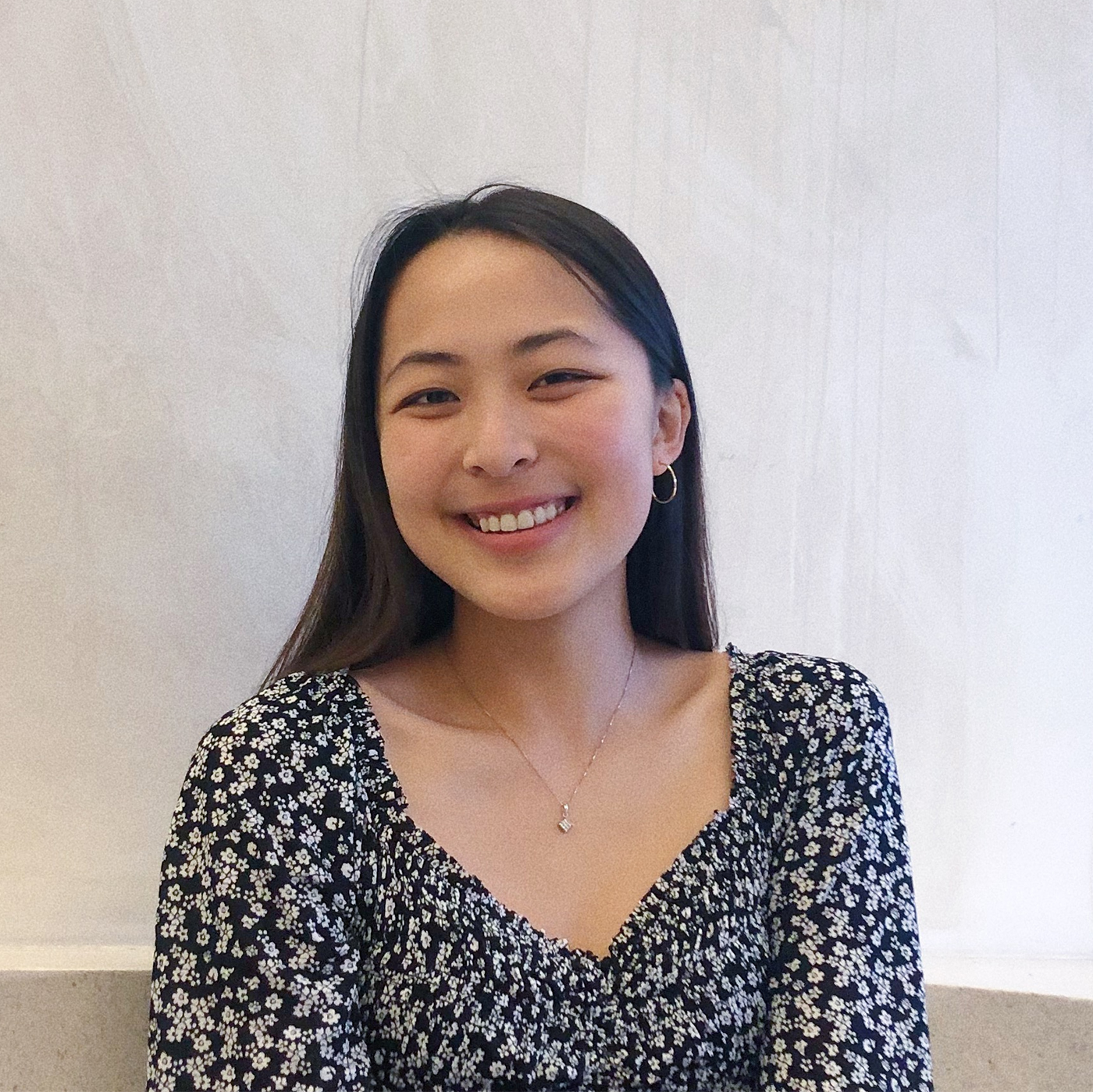 As spring quarter nears its end, the choreographers of "un/ending" see a new beginning.
This Friday and Saturday, 12 choreographers from the Department of World Arts and Culture/Dance will present their original pieces at the Glorya Kaufman Dance Theater. The performances will feature various dance styles – from dance theater to contemporary to ballroom – that deal with a wide range of thematic matters. The program is titled "un/ending," which fourth-year dance major Emma-Rose Allen said the choreographers instinctively came upon due to the circular nature of the many themes.
"We came up with the title, 'un/ending,' because so much of the work was naturally about transitions and the circularity of life," Allen said.
[Related: Student-led showcase 'Metamorphosis' explores transformation, interpretation]
Many of the choreographers drew from different aspects of their lives and experiences to derive the themes of their pieces, said fourth-year dance and visual performing arts education student Jessica Warshal. She said her piece is the culmination of personal and academic research she conducted on the incarceration of Japanese American and Jewish peoples, from which her own identity comes from. Titled "Camp," the piece demonstrates the reality of encampment through her family's experiences, she said.
"A lot of times, history books explain (incarceration), but you don't really get to experience it on a more personal level," Warshal said. "I reference a lot of the ideas of wartime … but also of displacement and needing to rely on family when they were incarcerated and sent to camps."
On the other hand, Sophia Fan, a fourth-year dance student, said she created a love story between a well and the moon, set to piano music by Ryuichi Sakamoto. She said she was inspired by a metaphor in an LGBTQ+ Spanish movie about the romantic tension between a well and a moon and the beauty that comes with the pain of longing.
As for Allen, she said her piece is an ode to her late father and the process of grieving and self-discovery that followed his passing, told through a dance-theater duet about two sisters celebrating New Year's Eve together.
"I was really interested in the dynamic of movement and text and how they can be skewed separately, or they can tumble and collide into one another," Allen said.
The artists started drafting their ideas late fall quarter, Allen said, and the pieces look very different in their finalized stages from how they were initially. She said it is difficult to discern which version of the dance to honor – her current self or who she was five months ago – because her feelings about the subject matter and dance have changed as she processed them, but she still had the desire to stay true to both versions of herself.
Integrity and artistry are two elements integral to her process, but Allen said she realized that it is sufficient to make her piece meaningful to herself because it is her own, and she hopes that audiences find it just as special. There is a lot of uncertainty that comes with the process of creation, Fan said, but in moments of difficulty, her peers encouraged her to go back to the space of pure creation unhindered by the different emotions that rose up in the process.
[Related: Spirituality, ancestral roots flourish in 'behind the house is the garden']
Similarly, Warshal said her piece evolved over time and cited feedback sessions that the collective of choreographers called "braintrust" as an impactful space to aid each other's growth as artists. As such, the showcase is a culmination of the dancers' college careers, Warshal said, and a way for the senior choreographers to connect as a tight cohort one last time.
"Being able to be part of this process where you're really vulnerable with each other and share with each other, and you get to see everyone grow and watch their pieces from the beginning to this finalized, beautiful work has been just a really special experience," Warshal said. "I know it's unending because it's this beautiful beginning with all these people as something new is coming out of our time closing as students here."