Editorial: UCLA should address fentanyl overdose through education, treatment distribution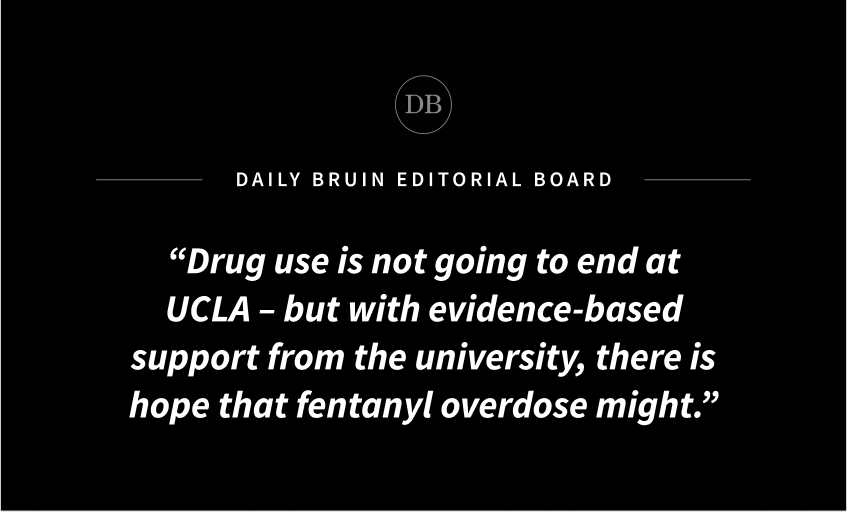 This post was updated Jan. 22 at 2:27 p.m.
Editor's note: Editorials do not represent the Daily Bruin as a whole. The board encourages readers to respond to our editorials at dailybruin.com/submit.
A new public health emergency is growing in schools and universities.
According to the California Department of Public Health's Overdose Surveillance Dashboard, 771 people under 24 died of fentanyl overdoses in California last year.
Fentanyl is a dangerous opioid many times more potent than morphine. According to the National Institute on Drug Abuse, many drug dealers are mixing fentanyl with other drugs, including cocaine, heroin and ecstasy. Because of its strength, fentanyl can cause a deadly overdose even when consumed in small amounts.
Adolescent deaths from drug overdoses increased dramatically over the pandemic, with fentanyl association in the vast majority of cases, according to a study led by researchers from the David Geffen School of Medicine at UCLA.
Los Angeles in particular has been devastated by the fentanyl epidemic. A number of fentanyl-associated overdoses at LA high schools led the LA Unified School District to begin supplying naloxone, a medication that can treat fentanyl overdose when administered right away, and teaching school nurses how to administer it.
The University should follow in LAUSD's footsteps. The UCs must do more to educate students about the risks of fentanyl and provide quick and easy access to both fentanyl test strips and naloxone.
The importance of these measures has already been recognized statewide.
On Aug. 29, Governor Newsom signed Senate Bill 367 into law, mandating that some public higher education institutions in California provide educational information about preventing opioid overdoses and distribute naloxone and other drugs that treat the effects of an opioid overdose.
However, the only institutions which are mandated to act by the bill are the California State University system and California community colleges. For the UC system, on the other hand, the act only applies if the UC Board of Regents decides to act independently to follow the law. Instead, the bill only meekly requests the UC system follow suit with California's other public institutions of higher learning.
The UC system should move immediately to effectively implement the act's proposals regardless of whether or not it is legally obligated to. Ensuring students are safe and healthy on campus is absolutely vital.
UCLA, situated near one of the epicenters of the crisis in California, has not done nearly enough to respond to the rise of overdoses and protect students.
A BruinPost from the Office of the Chancellor on Oct. 4 touched on the dangers of substance abuse. However, the message focused principally on the legal and disciplinary consequences of possessing or distributing drugs on campus. The post also did not mention fentanyl, opioids or overdose, but does repeatedly mention marijuana, a substance which, except for a handful of controversial fringe cases, does not increase risk of overdose mortality.
This is not to say that no resources are currently available to Bruins. End Overdose at UCLA has distributed over 10,000 fentanyl test strips and trained 1,200 students in overdose recognition and response.
While End Overdose at UCLA has done commendable work, student advocacy should not be UCLA's first line of defense against the fentanyl epidemic.
Drug use is not going to end at UCLA – but with evidence-based support from the university, there is hope fentanyl overdose might.